Friends, spring is just a few short weeks away!
With spring comes flowers, sunshine, baseball, and…STRAWBERRIES! In a couple months, it will be time to don our sun hats, grab some baskets, head out to the fields, and pick some strawberries. This is one of my favorite springtime traditions to share with the kids. With big aspirations to pick enough strawberries allowing us to make and can jam to last me through the winter, we take the short drive to Sauvie Island's berry farms. Every year my big aspirations are immediately adjusted as most of the strawberries end up in the mouth's of my kids before ever hitting the bottom of the baskets. But the messy hands and sugar highs all part of the tradition.
I may be (most certainly am) a bit ahead of myself in sharing this Spinach Strawberry Salad today, but with each passing year I get more and more eager for spring's arrival and so today we are fast-forwarding a moment into late spring.
This Spinach Strawberry Salad is inspired by a salad at my first restaurant job, the one that I love to talk about so much. That salad was fairly similar. It was, however, made with feta cheese and dressed in a sweet poppy seed dressing that I am still working on recreating.
For this recipe, I swapped out the feta for avocado to give the salad a neutral creaminess. I also added toasted pecans for some hearty protein and I used my classic Balsamic Vinaigrette to dress this salad which gives you the zesty zing that you would otherwise get from the feta.
The result? Spring in a bowl!


This Spinach Strawberry Salad takes some of my favorite flavors:
The sweet tartness of strawberries
The creamy richness of avocados
The earthy crunch of fresh spinach
And the zesty zing of balsamic vinaigrette
And combines them into a simple salad that will satisfy your senses and wake up you up to spring (even when it's technically still winter).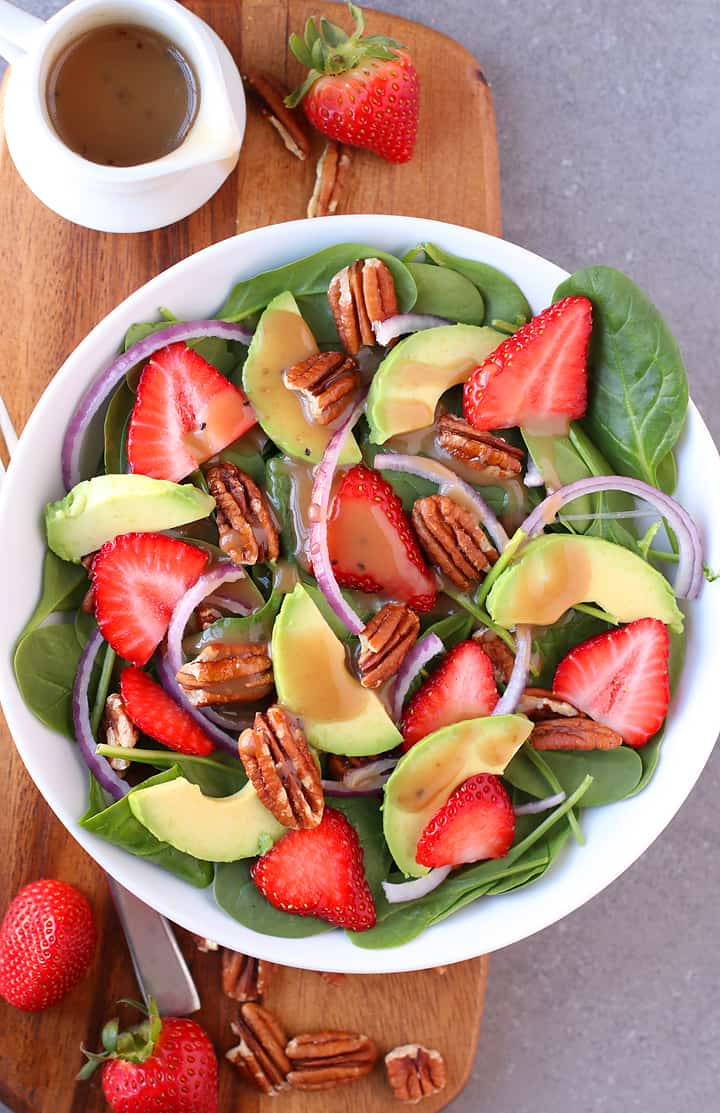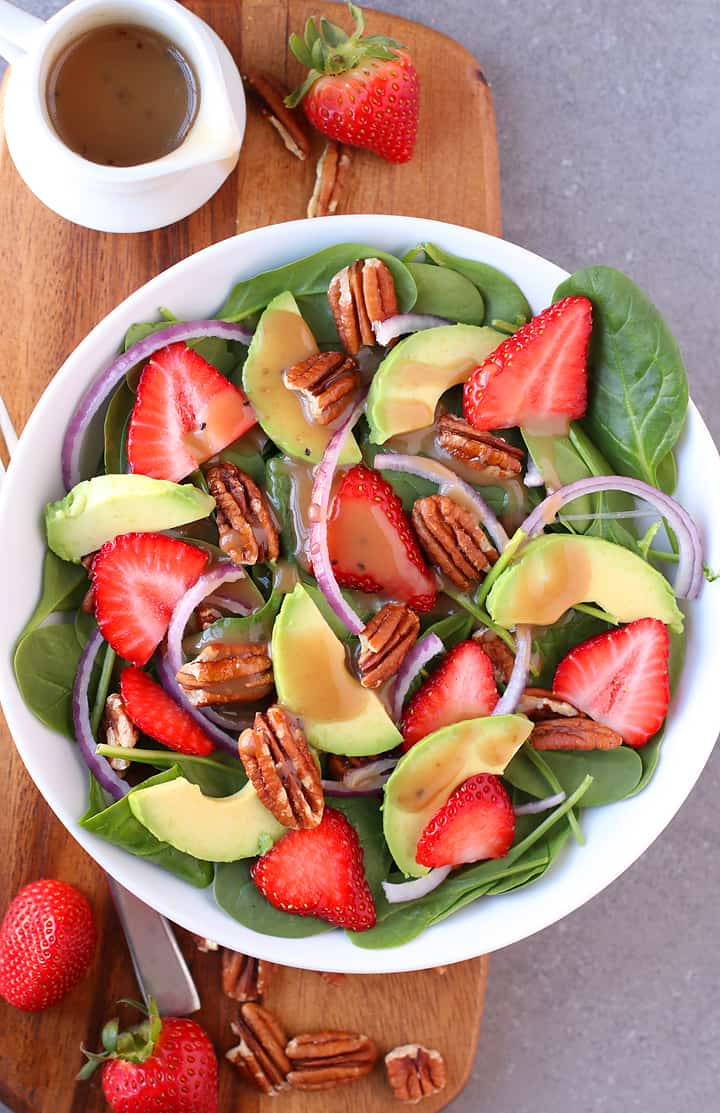 Spinach Strawberry Salad
Ingredients
Spinach Strawberry Salad
2

large handfuls

fresh spinach

4

large

strawberries,

sliced thin

1/2

small

avocado,

pitted and sliced

1/4

cup

pecans,

1/4

cup

red onions,

sliced thin
Instructions
In a small blender, combine the ingredients for the Balsamic Vinaigrette and set aside.

Roast the pecans at 400 degrees for 5-7 minutes, until lightly brown. Remove from oven and let cool.

Divide spinach between two plates and top with the remaining salad ingredients. Serve immediately with Balsamic Vinaigrette
Recipe Notes
This recipe will make extra Balsamic Vinaigrette. You can store the remain dressing in an airtight container in the refrigerator for up to 2 weeks. 
Nutrition Facts
Spinach Strawberry Salad
Amount Per Serving
Calories 525
Calories from Fat 567
% Daily Value*
Total Fat 63g 97%
Sodium 95mg 4%
Potassium 169mg 5%
Total Carbohydrates 14g 5%
Protein 2g 4%
* Percent Daily Values are based on a 2000 calorie diet.
This post contains affiliate links.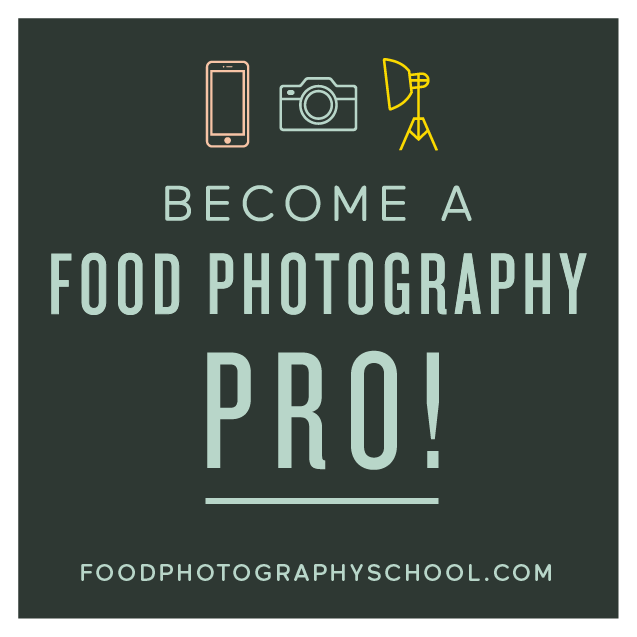 Sign up for
My Darling Vegan Newsletter
get a FREE copy of my Clean Eating Vegan ebook
Advertise Here