A culinary fusion! Made with curried tofu "cheese" and Indian-spiced spinach gravy, these individual vegan palak paneer pizzas are served over toasted naan for a quick and easy weeknight meal.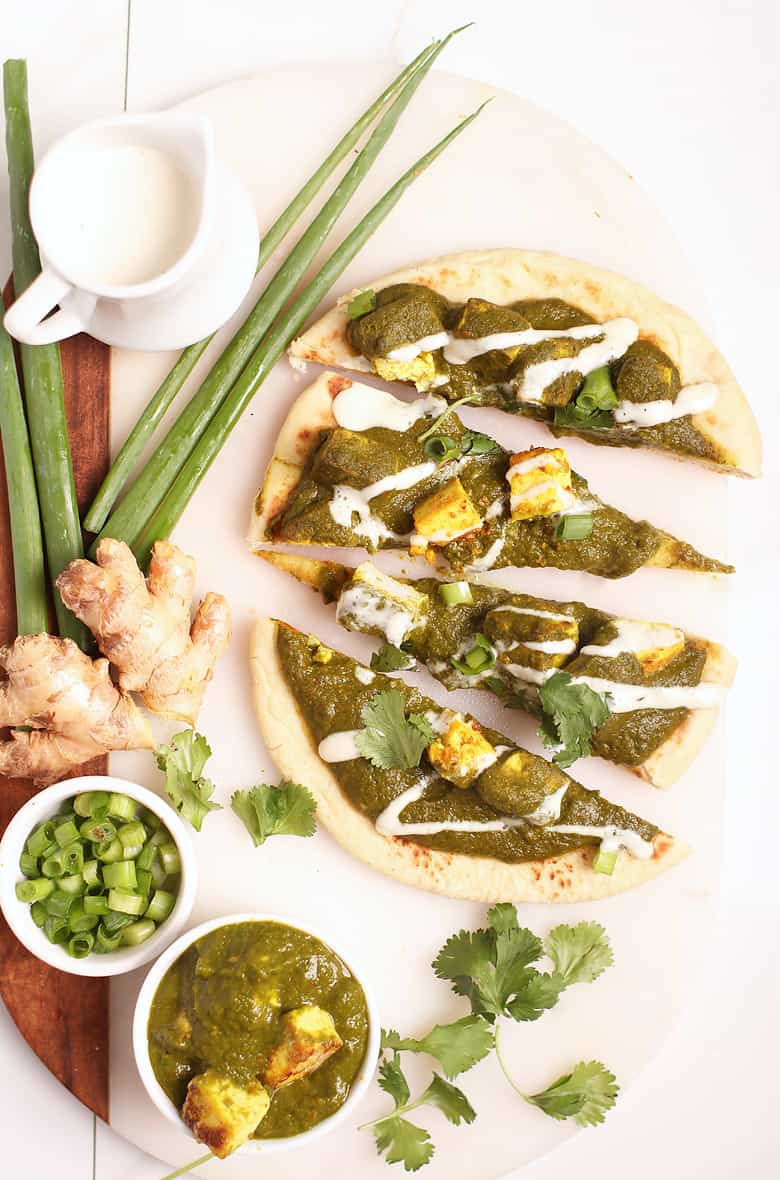 This post contains affiliate links. For more information, check out my privacy policy.
This post was originally published 2/20/2013. Last updated on 7/04/2019
Portland is a wonderful place with some of the best food for vegans and non-vegans alike. But one thing that Portland lacks in a whole lot of good Indian food. Sure, we have some places. I LOVE The Sudra, of course, but unlike the time I spent in the midwest (where there was good Indian food on nearly every corner), you have to be willing to travel to get your Indian food fix on.
A few years ago, after being frustrated too many times about the Indian food options here, I decided I was going to take some time and figure out how to cook Indian food on my own. I read Vegan Richa's Indian Cooking front to back, stocked up on all the spices, and started experimenting.
One of my favorite Indian dishes is Palak Paneer (made vegan, of course). And one of my favorite ways to eat Palak Paneer is with warm vegan naan. So, why not put it together and call it a meal?
That's exactly what I did.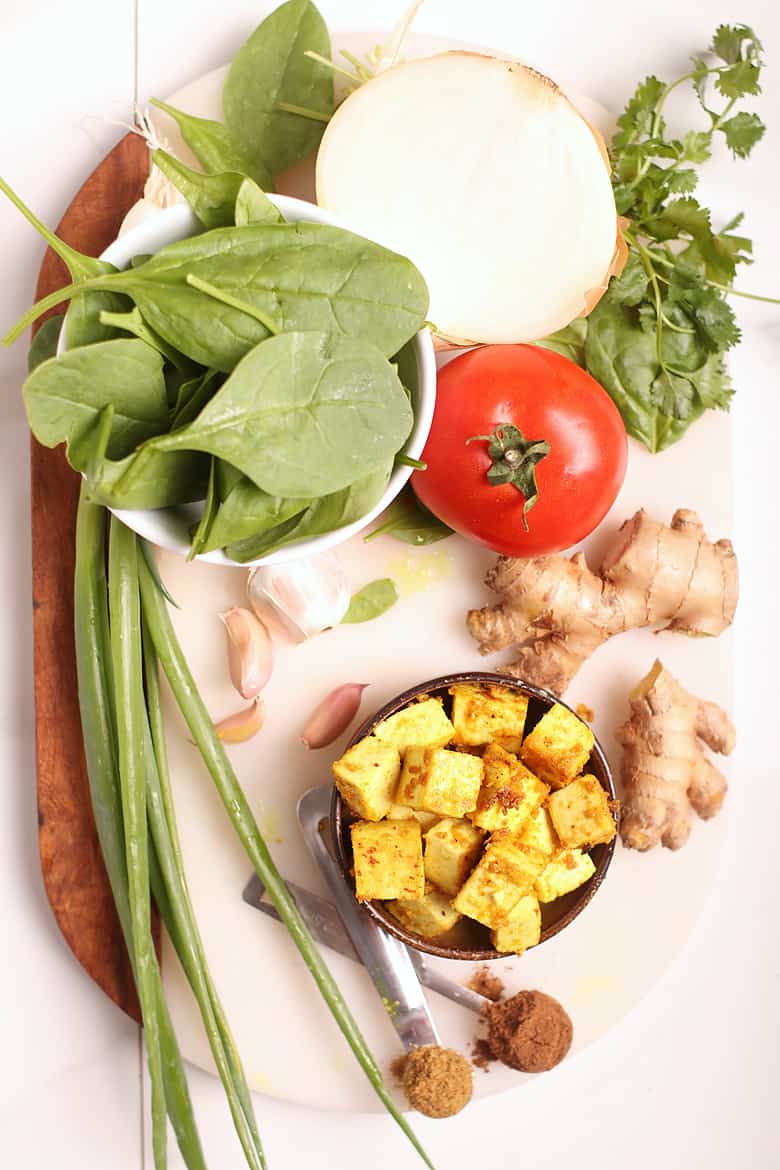 What is Palak Paneer?
Palak Paneer is an Indian dish that consists of two major components:
Palak –  a thick spinach gravy made from puréed spinach that is seasoned with onions, ginger, garlic, and Indian spices.
Paneer – a soft Indian cheese
Palak Paneer is one of the most popular dishes in Indian cuisine and can even be found canned here in the United States and Canada.
How to make vegan Palak Paneer?
Since a large component of Palak Paneer is the cheese, one must ask, how do you make vegan Palak Paneer?
For years, I have been using seasoned tofu as a cheese substitute in this popular dish. While tofu won't fool omnivores into believing they are eating cheese, tofu makes a great addition that adds flavor, texture, and protein.
Best tofu to use for paneer
For tofu paneer, I recommend using medium or firm tofu. You want the tofu to be a bit softer than extra-firm so that it more closely resembles paneer. If you are buying water-packed tofu make sure to press as much water as you can out of it first by using a tofu press or a weighted, towel-lined cutting board.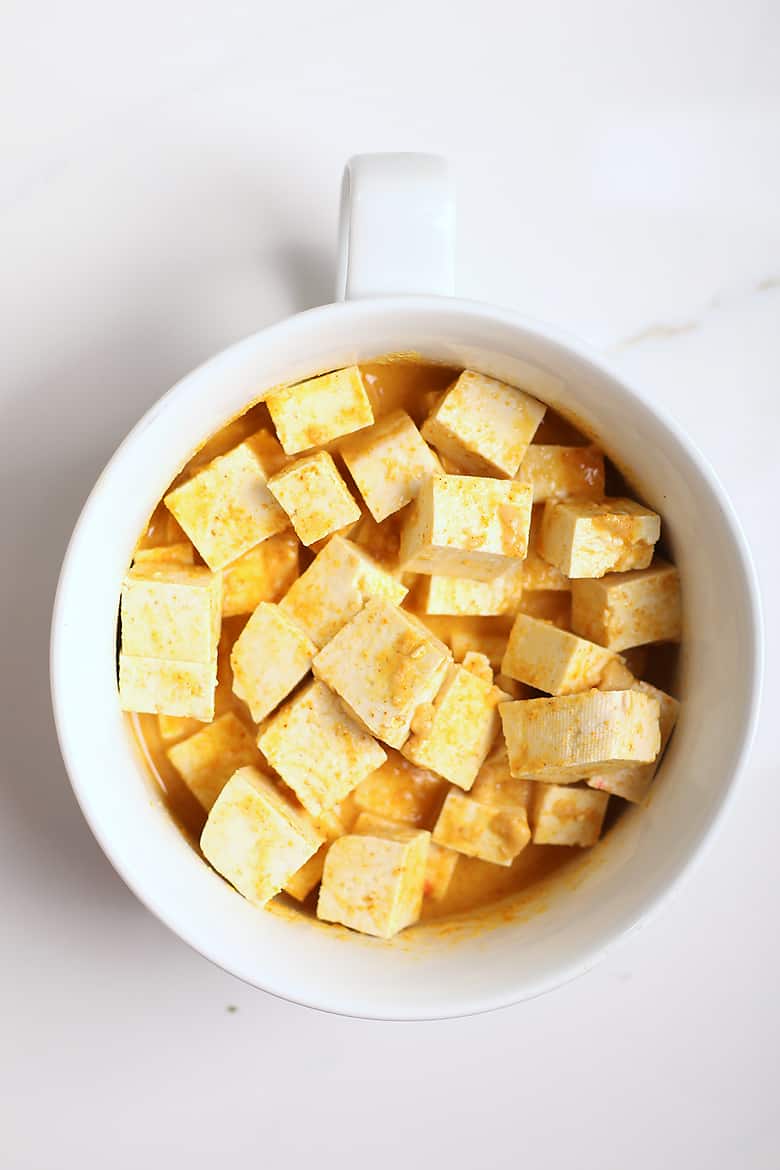 How to make Palak Paneer
This recipe requires a few steps. We must first make the tofu paneer and spinach gravy. Once those are made, we can assemble our pizzas and bake.
Tips for making Curry Tofu Paneer
Whether you had to press the tofu or not, dab it dry with a kitchen towel. Place it on your cutting board and, with a sharp knife, cube the tofu as evenly as possible. This will ensure an even fry. Toss the tofu along with the other paneer ingredients.
Use a large cast iron skillet for pan-frying your tofu.  Cast iron is best because it heats up SUPER HOT and when oiled properly has a non-stick surface. You should use at least at 10″ pan so that there's enough surface area that the tofu doesn't stick together, preventing an even fry.
Heat the skillet SUPER HOT before adding the oil. Add your oil, rotating the skillet so that it evenly covers the bottom. Heat the oil until it sizzles. Test the heat with a drop of water. If it sizzles immediately, you're ready to add the tofu.
Add the tofu to the hot oil. Rather than stirring with a spoon, I find that shaking the tofu in the pan allows for more even frying. Grab the handle and shake, while still over the heat, for 10 seconds at a time, shaking hard enough so that the tofu is popping around and getting cooked on all sides. Do this every 30 seconds or so.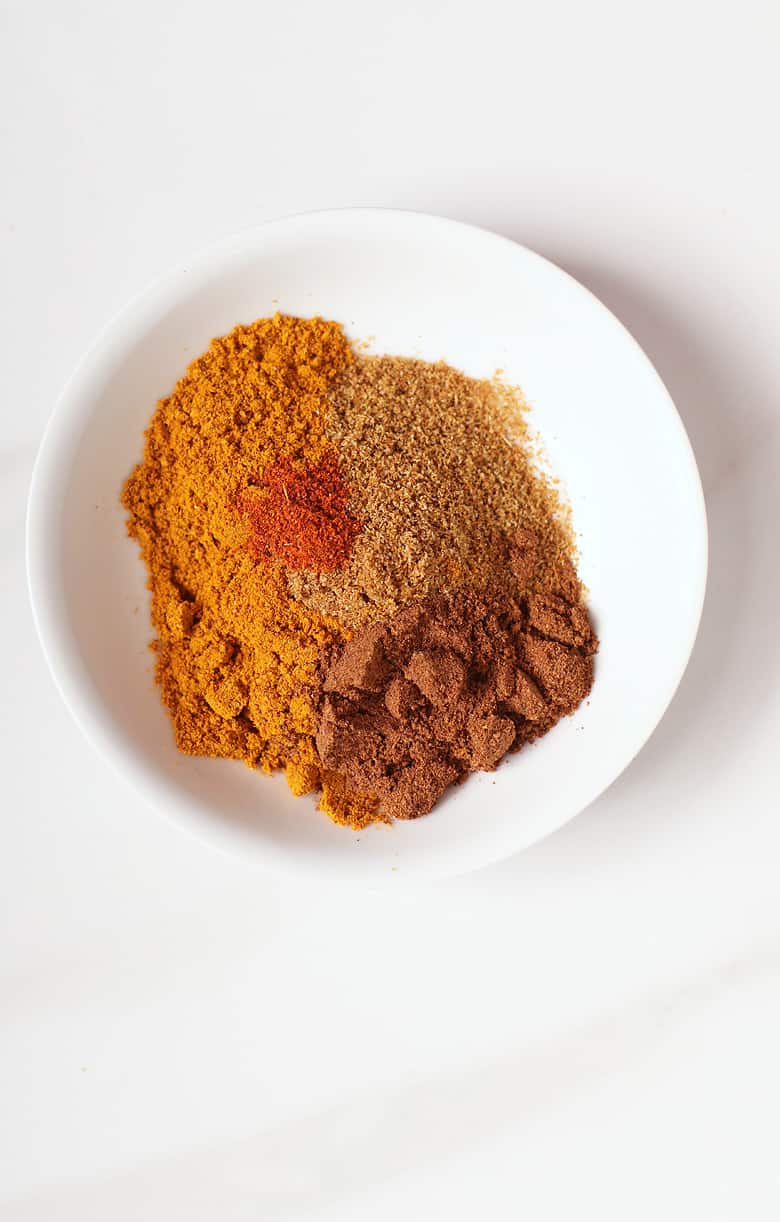 Make the Spinach Gravy
Next, we are going to make the spinach gravy. To start, we need to sauté onions, garlic, and ginger in a large pot. Cook until garlic and ginger are fragrant. Add spices and tomato and cook to coat.
Transfer the onions/tomato mixture into a blender and blend with about 5 cups of fresh spinach. Blend until smooth. Return to saucepan, add the tofu and stir together.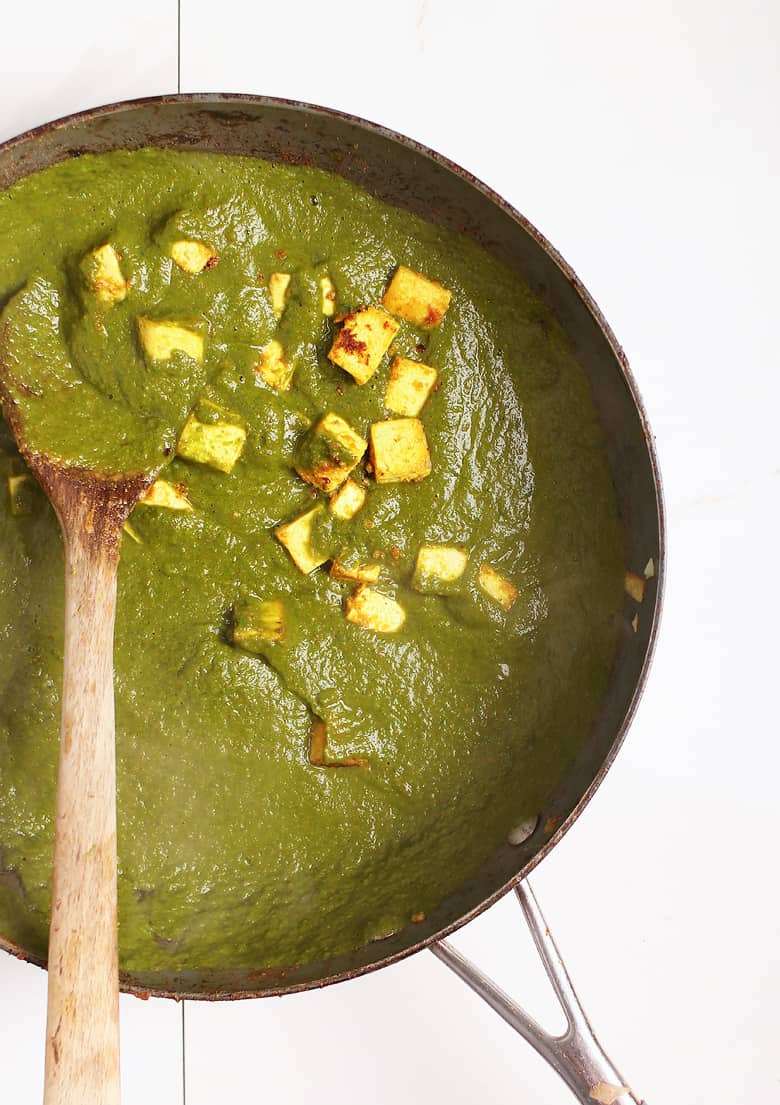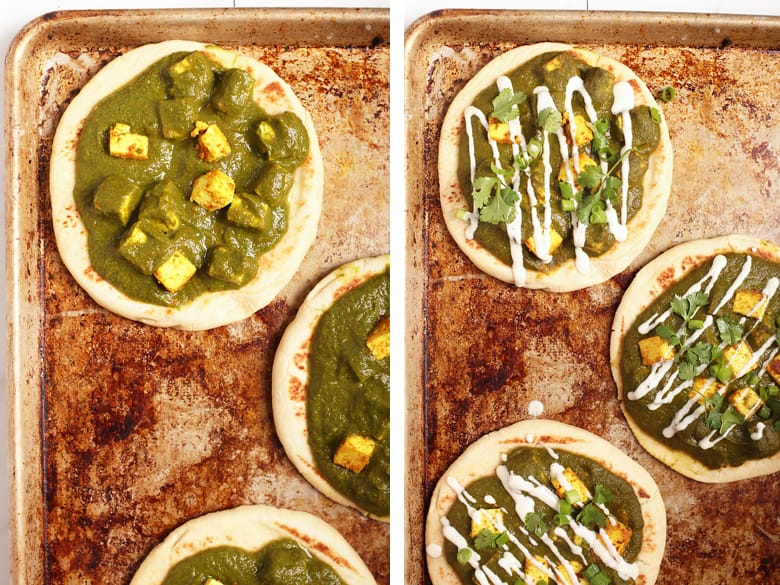 Assemble the pizzas
Brush a thin layer of olive oil over the top of each piece of naan. Bake the naan for 5 minutes to allow the naan to crisp up. Remove from oven and spread a thin layer of Palak Paneer on each pizza – this should cover 4 naans but that will vary depending on the size of your bread. With small naan you might be able to make 5 or 6.
Return to the oven and bake for 8 more minutes until the naan is crispy. Remove from oven and top with cashew cream, green onions, and cilantro.
Make the cashew cream
To balance out the Palak Paneer, I drizzle a little fresh cashew cream onto the pizza. Cashew cream is a mixture of raw cashews water and salt. Sometimes other flavors are added to give it a cheesy flavor but for this recipe, I keep it simple.
When it comes to cashew cream, you really should use a high-powered blender. I recommend a Vitamix.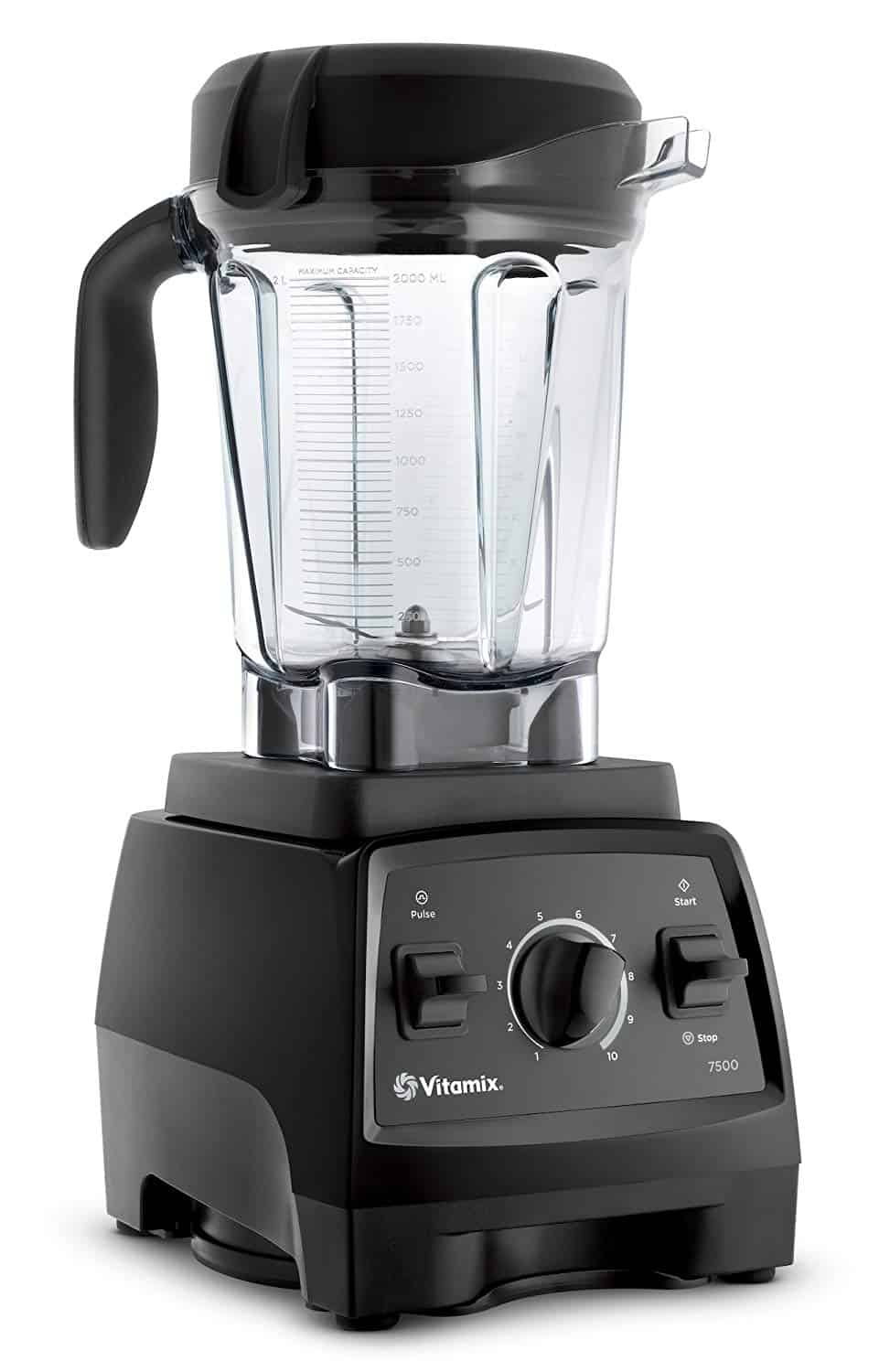 These blenders can be pricy, but my Vitamix is one of the most used gadgets in my kitchen. Most other blenders simply do not have the power to create a cream out of cashews and you'll end up with gritty cashew cream. However, if you don't have a high-powered blender, you can soak the cashews for about 6 hours ahead of time and they will blend up fairly well.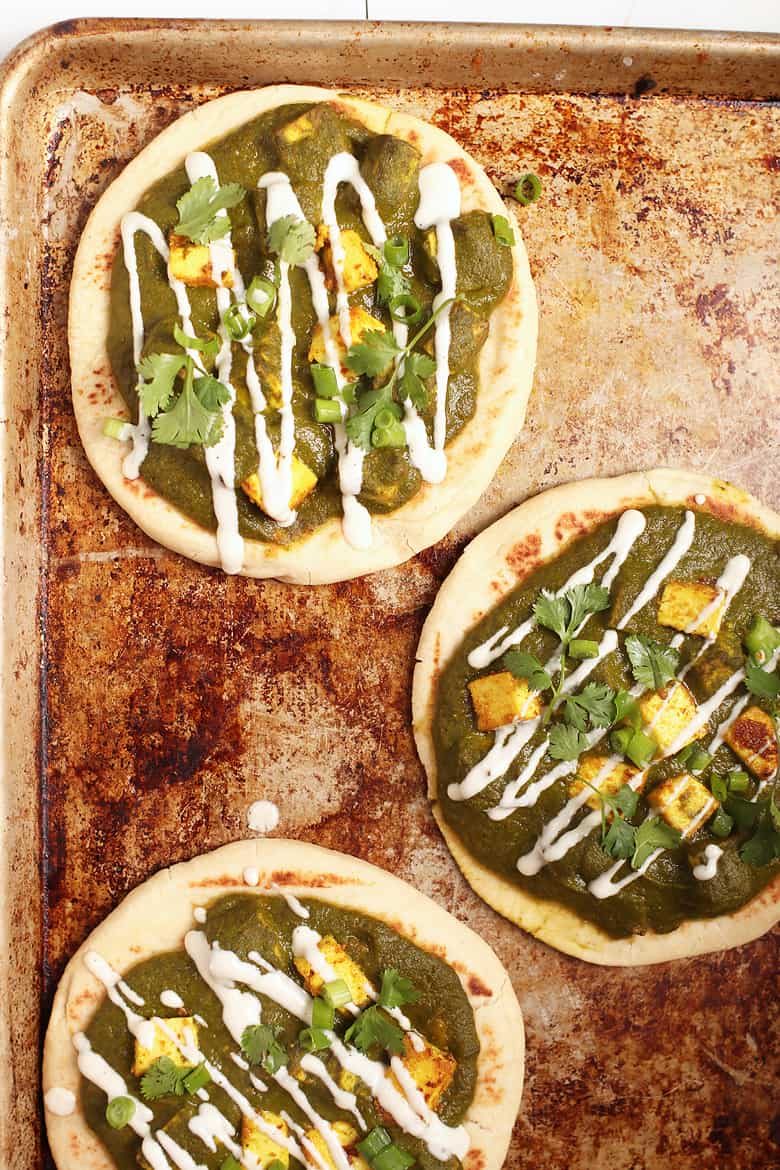 Can this be traditional Palak Paneer
Yes, you can serve this more traditionally. Follow the paneer instructions and drizzle with cashew cream. Serve on its own or over rice.
Is naan vegan?
Not all naan is vegan but there are many vegan options in the frozen section of well-stocked grocery stores. Just make sure you read the ingredients. This is the brand I use. You can also make your own.
Serving and Storing
Leftover Palak Paneer can be stored in the refrigerator for up to 5 days. When ready to eat, gently reheat over the stove or in a microwave.
Once the pizzas are assembled, they should be eaten within one or two hours to prevent the bread from getting soggy.
Serve this vegan palak paneer pizza with fresh cashew cream, green onions, and cilantro.
More Vegan Indian Recipes
Now that I'm a huge fan of cooking my own Indian food, I've loved experimenting with other recipes. Here are a few of my favorite vegan Indian recipes:
Now, let's check out the recipe card below.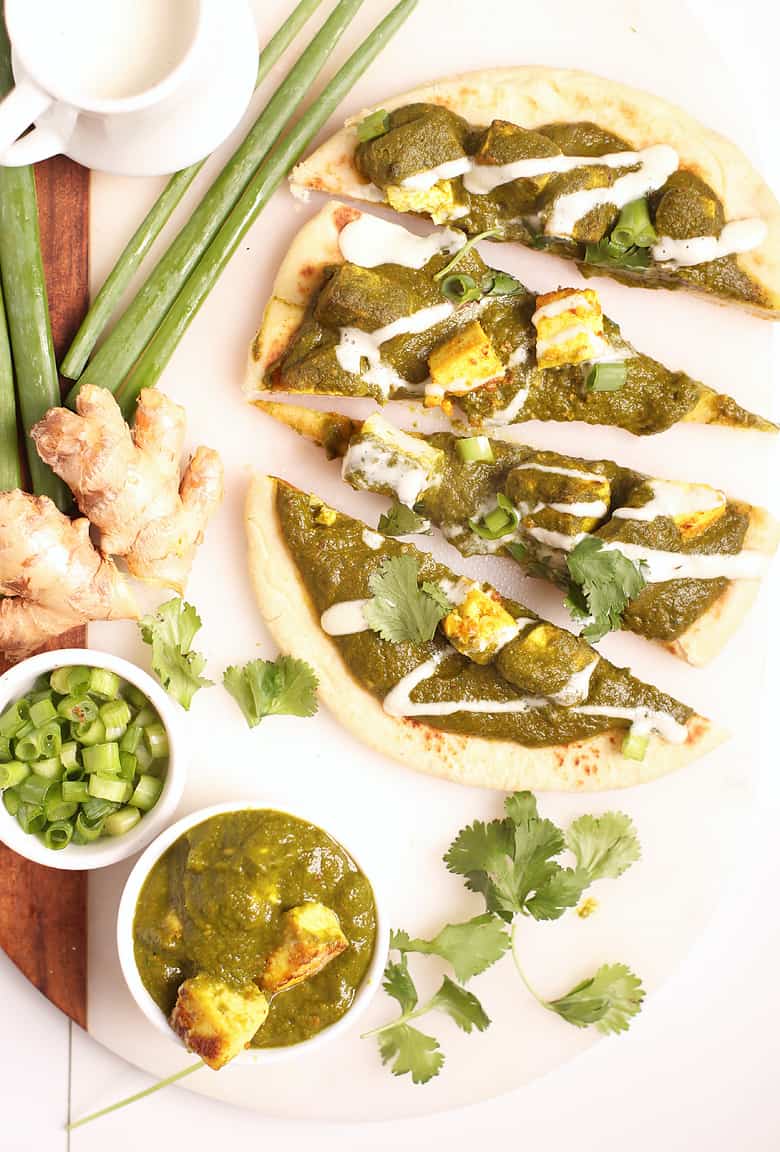 Individual Vegan Palak Paneer Pizzas
A culinary fusion! Made with curried tofu "cheese" and Indian-spiced spinach gravy, these individual vegan palak paneer pizzas are served over toasted naan for a quick and easy weeknight meal.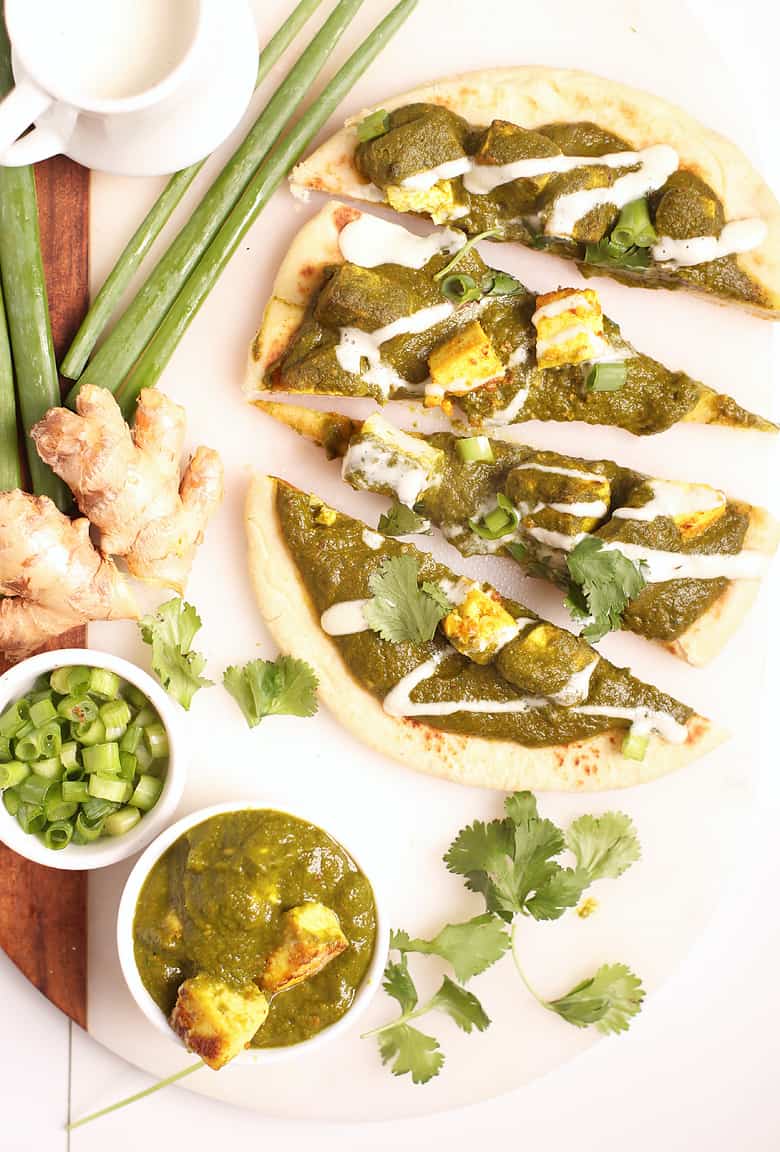 Course:
Main Dish
Cuisine:
Vegan
Keyword:
Vegan Palak Paneer
Servings
:
4
people
Calories
: 233 kcal
Author
:
Sarah McMinn
Ingredients
Spinach Gravy
1

medium onion, roughly chopped

1

tbsp fresh ginger, peeled and minced

2

cloves garlic, minced

2

tsp. cumin

1

tsp. coriander

1/2

tsp. turmeric

pinch

of cayenne

1

medium steak tomato

5

cups

loosely packed spinach

2

tsp. garam masala

1/2

tsp. salt
Everything Else
2

tbsp. avocado oil, divided

4

pieces of vegan naan

a

few sprigs of cilantro

2-3

green onions, chopped

2-3

tbsp cashew cream
Instructions
Begin with marinating the tofu. Cut tofu into small 1/2 in x 1/2 inch squares. In a shallow, flat container combine all the ingredients for the marinade. Add tofu and toss to fully saturate.

Preheat the oven to 400 degrees.  

In a large frying pan heat oil over medium heat. Add onions and sauté until translucent – about ten minutes. Add garlic and ginger and sauté for 2 more minutes. Add spices, stirring to coat vegetables. You may need to add a couple of tablespoons of water to get spices fully incorporated. Stir in the chopped tomato and remove from heat.

In a food processor or blender, puree the onion/tomato mixture with spinach. Return to sauté pan and add tofu. Cook for 5 more minutes.

Lightly brush olive oil on all 4 pieces of naan. Cook for 5 minutes. Remove from oven and spread a thin layer of palak paneer on each piece of naan. Bake for 8-10 more minutes. Remove from oven and top with cashew cream, green onions, and cilantro. Serve immediately.
Recipe Notes
To make cashew cream, soak 1/4 cup of cashews in water. Drain and place in a high powered blender with 1/4 cup water and 1/2 tsp salt. Blend until completely smooth. Store cashew cream in an airtight container in the refrigerator for up to 7 days. 
Nutrition Facts
Individual Vegan Palak Paneer Pizzas
Amount Per Serving
Calories 233
Calories from Fat 54
% Daily Value*
Fat 6g9%
Cholesterol 1mg0%
Sodium 804mg35%
Potassium 690mg20%
Carbohydrates 16g5%
Protein 6g12%
Vitamin A 4390IU88%
Vitamin C 34.2mg41%
Calcium 107mg11%
Iron 4.6mg26%
* Percent Daily Values are based on a 2000 calorie diet.
If you give this recipe recipe a try, snap a photo and share it on Instagram. Make sure to tag
@mydarlingvegan
so I can see your creations!