Vegan Chocolate Chip Pancakes
These decadent vegan Chocolate Chip Pancakes show your loved ones you care as the perfect breakfast in bed for Valentine's Day or Mother's Day
This post contains affiliate links. For more information read my privacy policy.
I've got 4 words for you: vegan chocolate chip pancakes.
Soft and fluffy, sweet and spicy, and filled with chocolatey goodness in every bite, then topped with coconut whipped cream and maple syrup. Um…yes, please! I'm not gonna lie; these pancakes are kinda the best.
I've said it before, I'm not the biggest pancake person.
Given the choice, I would almost always choose savory over sweet for breakfast. Give me a tofu scramble and I'm the happiest person on the planet. Avocado toast? Sure! In fact, I can't remember the last time I went out to brunch and ordered something sweet. However, I am a firm believer that there is a time and place for (nearly) everything. And that includes a decadent sweet breakfast.
That time: Valentine's Day
That place: in bed.
And, what would I choose given the choice of sweet and decadent breakfast? Why, these vegan chocolate chip pancakes, of course!
HOW TO MAKE VEGAN CHOCOLATE CHIP PANCAKES?
Fortunately making the perfect vegan pancakes is super simple! Just follow these three easy steps.
STEP ONE: MAKE THE BATTER
Combine your dry ingredients – that's your flour, baking powder, cinnamon and salt – in a large bowl and set aside.
Combine the wet ingredients – that's the soy milk, oil, maple syrup, and vanilla extra.
Add the chocolate chips and fold the wet ingredients into the dry, mixing gently, until a thick uniform batter has formed.
STEP TWO: COOK THE PANCAKES
Once your pancake batter is made, it's time to cook them!
Getting an even cook on your pancakes is crucial. You want to get both sides of the pancakes lightly golden and crispy while making sure that the center is cooked. This can be difficult so it's important to be able to get your temperature just right. I have found that setting my electric griddle to 375F has given me the best results.
BEST PANCAKE GRIDDLE FOR THE JOB
While an electric griddle is not completely necessary for pancakes, I highly recommend one. Electric griddles are fairly cheap. This is the one I use: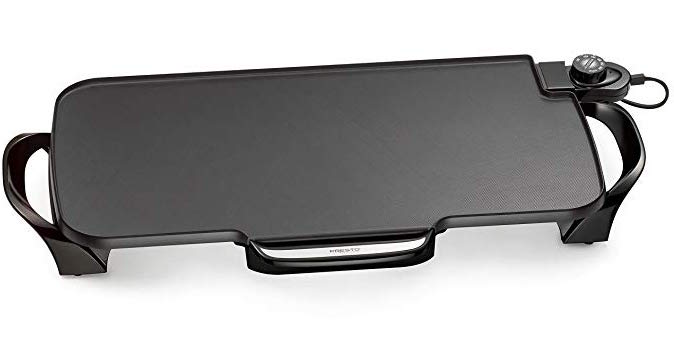 which is under $40 on Amazon and it's something I use nearly weekly!
With the electric griddle, I can make these pancakes in 2 batches pancake (rather than a couple at a time) and get the luxury of setting the temperature to exactly what I want. That means not having to worry about the pancakes burning or cooking unevenly. However, if you don't have an electric griddle, you can do this on a skillet. It may involve trial and error in terms of getting the right temperature.
Make sure to generously spray your preheated griddle and pour about 1/4 cup of batter onto the griddle per pancake, leaving about 2 inches between each one. Cook the pancakes until they start to bubble, flip and cook the remaining side until the pancake has risen slightly. This should take 3 to 4 minutes per side.
STEP THREE: SERVE THE PANCAKES
Serve the pancakes immediately with sliced banana, maple syrup, and, if you're feeling very decadent, extra chocolate chips.
If you do have leftover pancakes, you can tightly wrap them in plastic wrap and store them in the refrigerator for 2-3 days or the freezer for 2 months. Gently reheat them in the oven or microwave to enjoy.
TIPS AND TRICKS FOR MAKING THE PERFECT VEGAN PANCAKES EVERY TIME.
1. Take care that these pancakes are not over-mixed. I've never quite understood the appeal of blender pancakes because in the process the gluten gets overworked and becomes tough. By hand, you can be careful when you're adding your wet ingredients to the dry to mix only as much as necessary – a few lumps are always okay and these chocolate chip pancakes will have more lumps than regular pancakes. The less you mix, the more tender and delicate the texture of the pancake will be.
2. The pancake batter is fairly thin. For this reason, make sure the griddle is preheated and spray between each batch. This is important in getting that golden crispy outside. When the batter hits the hot oiled griddle, it should immediately start to form a crust which gives the pancake it's perfect texture while also preventing it from spreading.
4. Pancakes should be eaten immediately. After 10-15 minutes, they start to lose their lightly fried crispy outsides and get soggy.
I think that's all you need to know about how to make fail-proof easy vegan pancakes. Ready to give it a try yourself? Let's check out the recipe below.
Vegan Chocolate Chip Pancakes
These decadent vegan Chocolate Chip Pancakes show your loved ones you care as the perfect breakfast in bed for Valentine's Day or Mother's Day
Course:
Breakfast
Cuisine:
American
Keyword:
Vegan Chocolate Chip Pancakes
Servings
:
4
Calories
: 601 kcal
Author
:
Sarah McMinn
Ingredients
Instructions
Preheat skillet or pancake griddle over medium heat.
In a small bowl whisk together soy milk and apple cider vinegar. Set aside to allow milk to curdle.
In a larger bowl combine flour, baking powder, salt, and cinnamon.

Add oil, maple syrup, and vanilla to curdled soy milk and whisk together. Add to the dry ingredients and stir together. Fold in chocolate chips.

Pour about 1/4 cup of batter onto the hot skillet or griddle and cook 3-4 minutes until bubbles start to appear on the surface. Flip and cook for another 2 minutes. Serve immediately with desired toppings.
Nutrition Facts
Vegan Chocolate Chip Pancakes
Amount Per Serving
Calories 601
Calories from Fat 288
% Daily Value*
Fat 32g49%
Sodium 219mg10%
Potassium 607mg17%
Carbohydrates 95g32%
Protein 13g26%
Vitamin A 535IU11%
Vitamin C 9.8mg12%
Calcium 416mg42%
Iron 7.1mg39%
* Percent Daily Values are based on a 2000 calorie diet.
If you give this recipe recipe a try, snap a photo and share it on Instagram. Make sure to tag
@mydarlingvegan
so I can see your creations!