Vegan Pound Cake with Lemon Glaze
A vegan Pound Cake that is so rich and decadent no one will believe it's vegan. Topped with a lemony glaze for a delightful sweet morning or midday snack.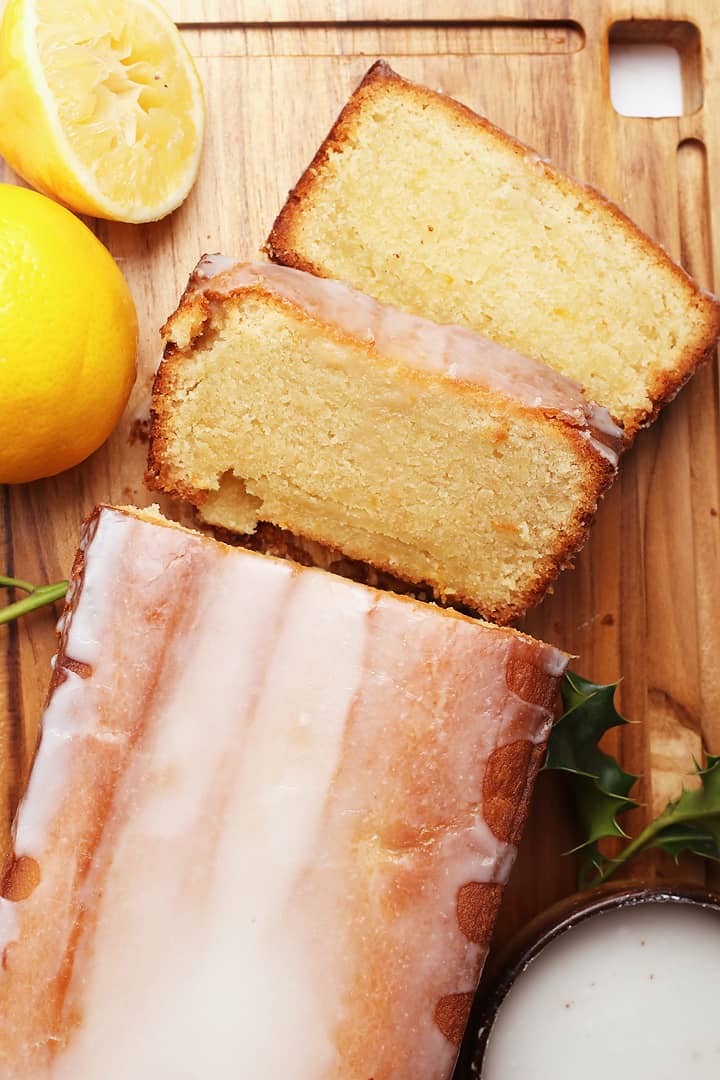 Course:
bread
Cuisine:
Vegan
Servings
:
12
people
Calories
: 296 kcal
Author
:
Sarah McMinn
Lemon Glaze
1

cup

powdered sugar

1-2

tbsp lemon juice
Preheat the oven to 350 degrees F. Spray 1 loaf pan and set aside.

In a medium bowl mix together flour, baking powder, and salt. Set aside. In a separate bowl, combine coconut oil and lemon juice. Set aside.

In a stand-up mixer or an electric handheld mixer, beat together the butter, sugar, and lemon zest until light and fluffy. With the motor running, add vegan sour cream, scraping down the sides as necessary. The mixture will appear to have separated at this point, but it will come back together.

Alternating wets (oil and lemon juice) and dries (flour mixture) add in three batches, scraping down the sides as needed, ending with the flour mixture until it just comes together. Do not over-mix.

Pour batter into prepared loaf pan and smooth top. Bake until cake is golden brown (about 50-55 minutes), and a toothpick comes out clean when inserted in the middle. Remove from the oven and let cool for 30 minutes. Flip out onto wire racks and allow the loaf to cool completely.

To make the lemon glaze, combine powdered sugar and lemon juice until smooth and pourable. Pour over the cooled loaf pan. The glaze will harden as it cools. Keep at room temperature, tightly wrapped, for up to 3 days. This cake can also be stored in the freezer for up to 6 weeks. 
Serving and Storing - Serve immediately or place it in the refrigerator until ready to serve. Store for up to 3 days in an airtight container in the refrigerator. This cake can also be store in the freezer for up to 2 months. When ready to serve, simply pull out and let thaw at room temperature.
Recipe Tips
Don't over-mix the batter. By alternating the dries and wets into the batter, we are ensuring the batter does not get over-mixed and gummy.
Generously spray your loaf pans. We do not want any of this delicious cake sticking to its edges.
Do not open the oven door while the cake is baking. This causes the structure to fall leaving you with a dent in the middle of your cakes. You can check for doneness after 50 minutes.
Let the cake cool at least 30 minutes in the loaf pans before turning it onto a wire cooling rack to cool completely. 
Frequently Asked Questions
Why Alternate Wet and Dry Ingredients? By alternating we are making sure the batter stays as tender as possible. By adding all the liquid ingredients first, the butter would start to separate from everything. Yet, adding all the dry ingredients first would cause the batter to get thick and require over-mixing in order for it so even out. And, as we know, over-mixing results in a gummy glutenous texture – not what we're looking for in a cake.
Can this recipe be made in advance? Yes! This cake can be made in advance. To do this, bake the cake according to the instructions. Once the cake is cool, wrap it tightly in plastic wrap and place it in the freezer. This cake can be frozen for up to 2 months. When ready to frost, let the cake thaw at room temperature for 3-4 hours.
Can this recipe be gluten-free? Yes. I have had a lot of luck with Bob's Red Mill 1:1 Gluten-Free Baking Flour. (<<affiliate link). That is the only gluten-free flour I've tried for this cake but I'm sure other 1:1 ratio flours would work as well.
Variation - Make my Orange Poppy Seed Pound Cake by swapping out the lemon juice/zest with orange and adding 1 1/2 tbsp of poppy seeds to the dry ingredients.
Calories Per Serving:
296
% Daily Value