Vegan Olive Oil Cake with Lemon
This vegan olive oil cake is filled with lemon zest and topped with powdered sugar and fresh berries for deliciously subtle flavors and an ultra moist delicate crumb. It's a decadent and beautiful dessert perfect for any occasion.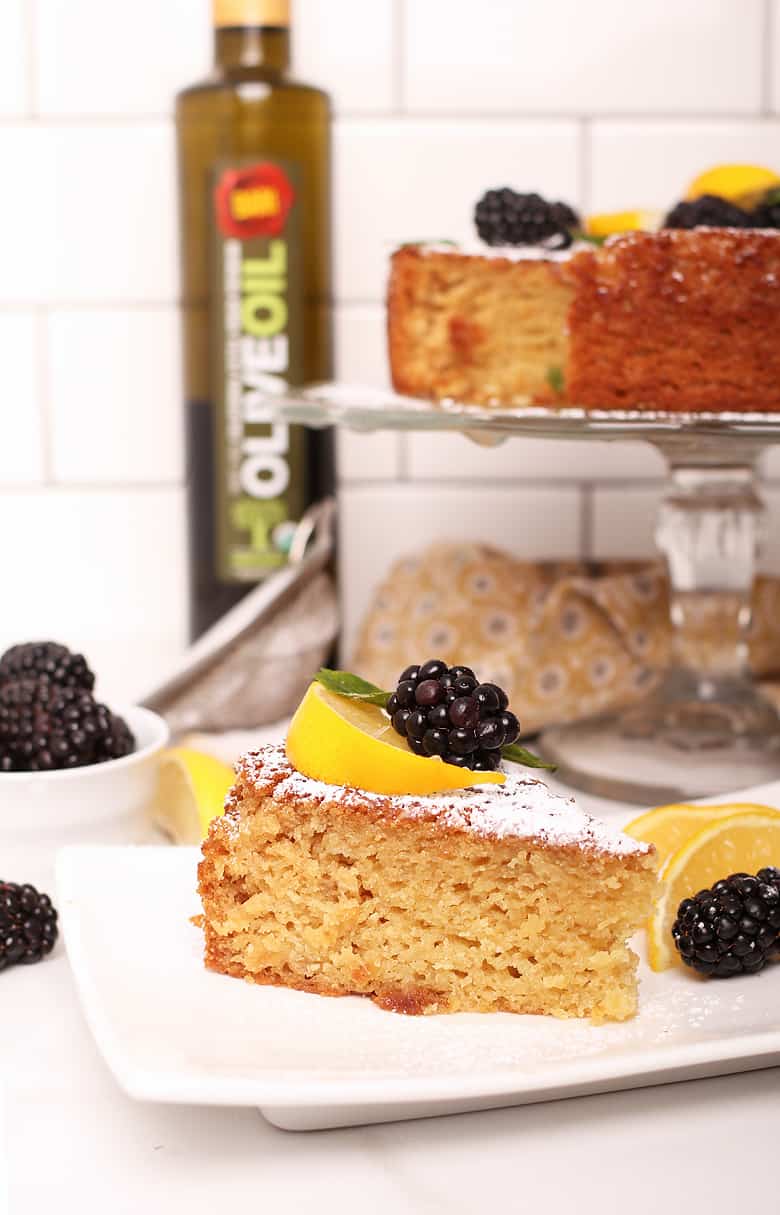 This post contains affiliate links. For more information please see my privacy policy.
This is a sponsored post written by me on behalf of Bari Olive Oil Co. All opinions are 100% mine.
We've made it to February. Just a month and a half of winter left!
This winter has been mild in Oregon but regardless, it's been rough on me. The short days and cold airs have taken a toll. I'm ready for the clouds to part and give way to some much-needed sun. But with 6 weeks of winter left, there's not much to do but accept this season for what it is. And so, I'm going to celebrate these winter days the best way I know how – with cake!
This Lemon Olive Oil Cake is perfect. It pulls in the citrusy flavors of winter with the freshness of spring for a transitional dessert between seasons that I know you're going to love.
Let's take a closer look, shall we?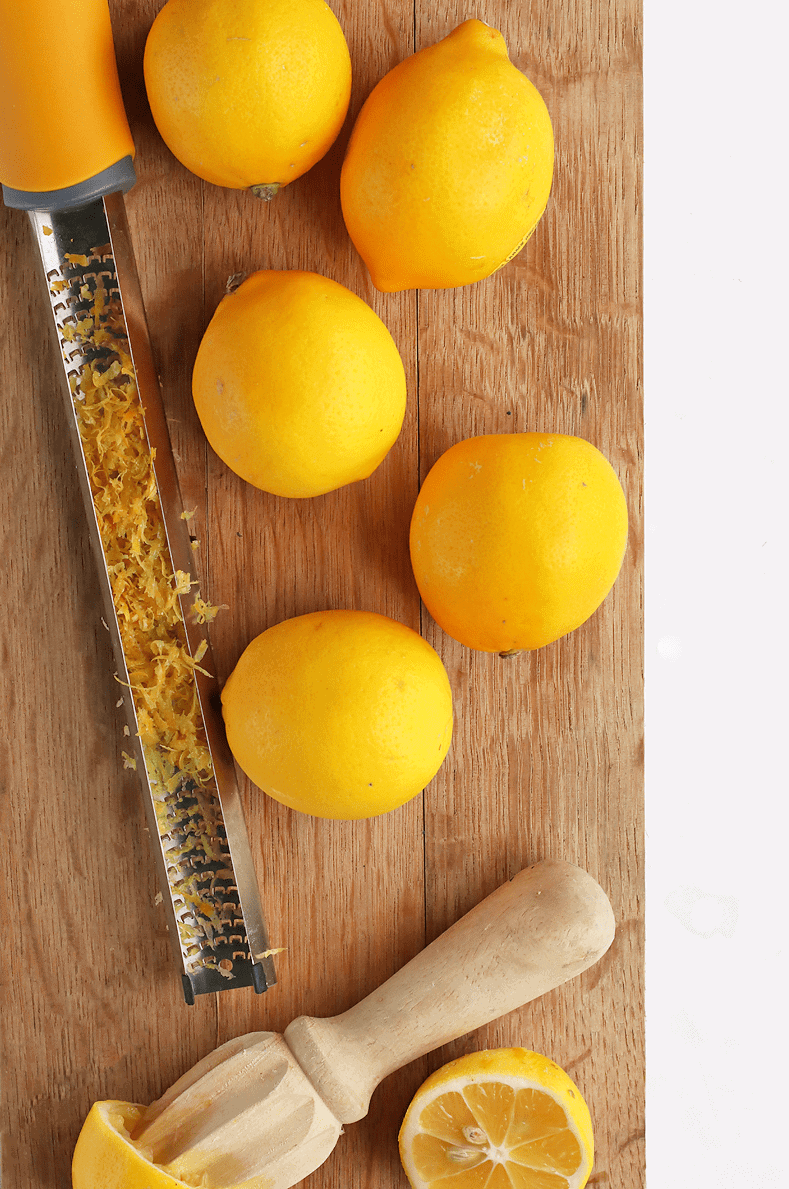 What is an olive oil cake?
Olive oil cake is a rich, moist cake that uses – you guessed it – olive oil rather than butter as the fat. Because olive oil provides a subtle savoriness, this cake tends to be less sweet than most cakes. It's one that can be served with fruit for dessert or alongside morning coffee as a breakfast cake.
While some other cakes and quick bread use oil rather than butter, olive oil provides the savory flavors of pepper and herbs. These subtle flavors pair deliciously with citrus and sugar for a simple cake this is wildly complex in flavor.
Best egg replacers for vegan olive oil cake?
Typical cakes rely on butter to give it extra air for that perfect crumb whereas conventional olive oil cake relies on eggs.
For a vegan olive oil cake, I had to get creative. The eggs provide both moisture and leavening powers so I needed to find the best egg replacer for the job. I first tried this cake first with aquafaba, but the structure of the aquafaba could not hold up against the heaviness of the oil and ended up collapsing.
For my second attempt, I tried a combination of applesauce and baking powder. And it was perfect! The applesauce provides moisture that gives the vegan lemon cake that delicious dense texture. But, as to not make it too dense, I added a 1/2 extra baking powder which helps the cake rise.
Why I love olive oil cake
Olive oil cakes have several benefits that make this one of my favorite cakes.
There is less room for error than with cakes that use the creaming butter method, making it the perfect cake for beginners.
They are made with one of the most digestible fats available while providing a deliciously complex flavor that pairs perfectly with the citrus and fruity flavors.
They are far moister than butter cakes meaning they last longer and store better.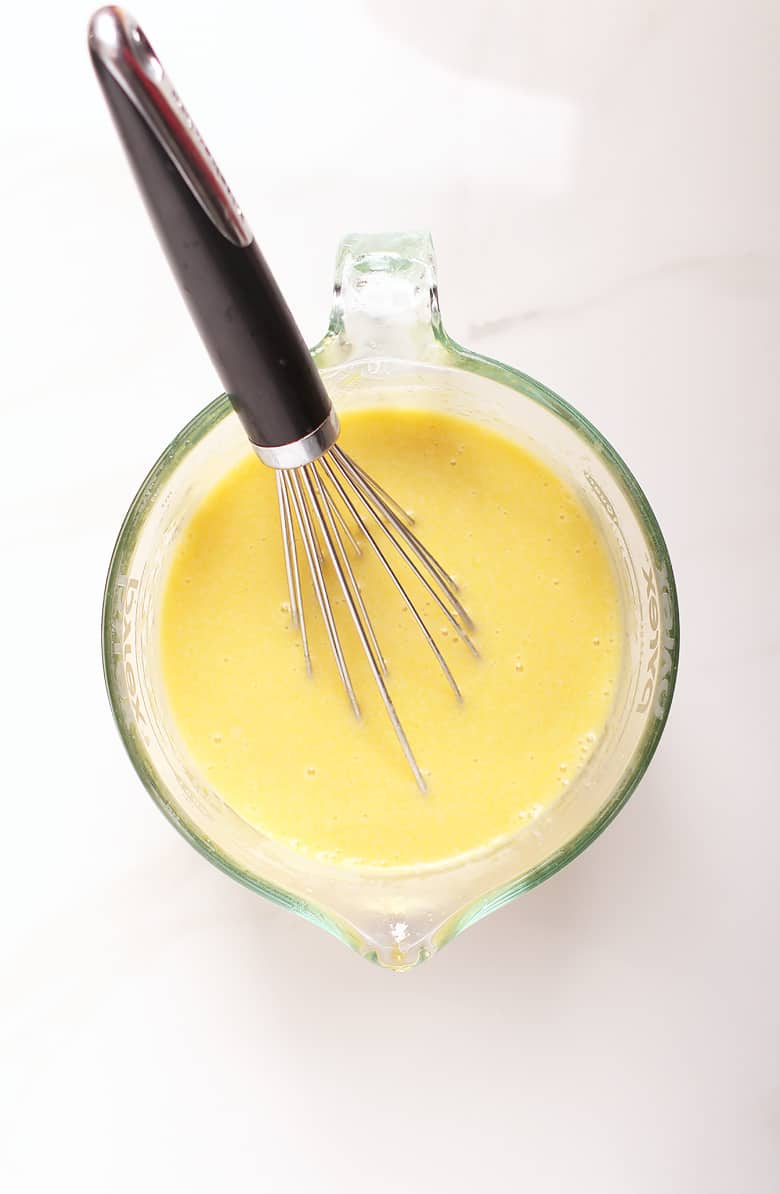 Best oil for olive oil cake
Because the flavor is so pronounced, you have to choose the best quality olive oil for this cake. For that reason, when choosing an olive oil to provide the foundation of this dish, I turn to Bari Olive Oil Co.
Bari Olive Oil Co. is a California-based company that has been making high-quality olive oil for over 80 years. They are a family run company that is dedicated to producing the highest-quality products available. All their olives are grown in California, supporting local growers and organic small-batch processing, ensuring that their promise of high-quality is never compromised. And it shows!
Over the years Bari's olive oils have won many awards. Throughout competitions in California, Bari Olive Oil Co. continues to come out on top with their premium olive oils, making them widely known as one of California's oldest and finest producers of olive oil. (And also my favorite olive oil on the market!)
Bari's products are found throughout stores in California. But, fear not all you non-California dwelling readers. You can find all their incredible products online, too. So, go ahead and do a little shopping – perhaps some last-minute gifts for this Valentine's Day – and fill your cupboards with these beautiful, high-quality oils and vinegar.
I mean look at that bottle. It's beautiful!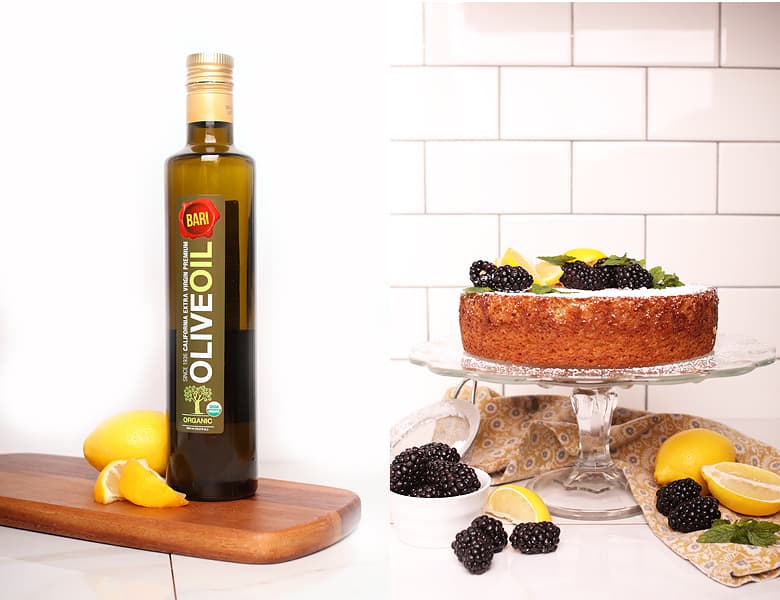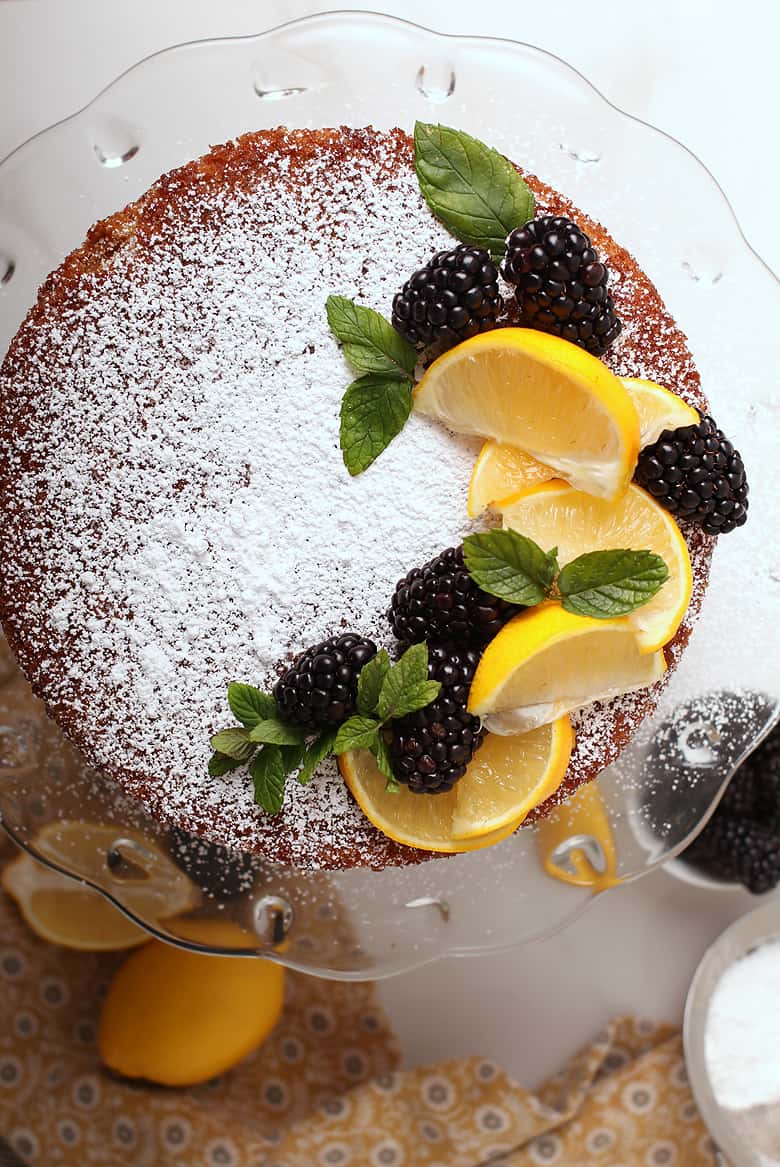 How to Make Vegan Cake
With our top-shelf olive oil selected, it's time to make the cake. Making an olive oil cake is similar to any quick bread. The wets and dries are mixed together separately and then gently folded together until the dries are evenly hydrated. In the end, you should have a thick, pourable, smooth batter.
The cake is then poured into an 8″ or 9″ cake pan and baked between 45 and 60 minutes. When the cake is done, you'll notice that it has begun to pull away from the edges slightly. At that point, you can insert a toothpick into the center. If it comes out clean, then it's all ready to go!
Note: an 8″ cake will be thicker and therefore take a little longer in the oven. 
Serving and Storing
Once the cake is ready, remove the cake from the oven and let it cool at least 30 minutes in the cake pan before flipping it out onto a wire cooling rack. This is very important as the structure of the cake is still firming up. If you flip it over too early, it may fall apart or stick to the pan.
Let the cake continue cooling on a wire cooling rack until it is completely cool. To speed this up, you can place the cake in the refrigerator at this point. It's important that the cake is completely cool before powdering it with sugar to prevent the sugar from melting.
Once your cake is cool, dust a layer of powdered sugar over the top and decorate it with lemon, berries, and fresh mint.
Look at that thing of beauty!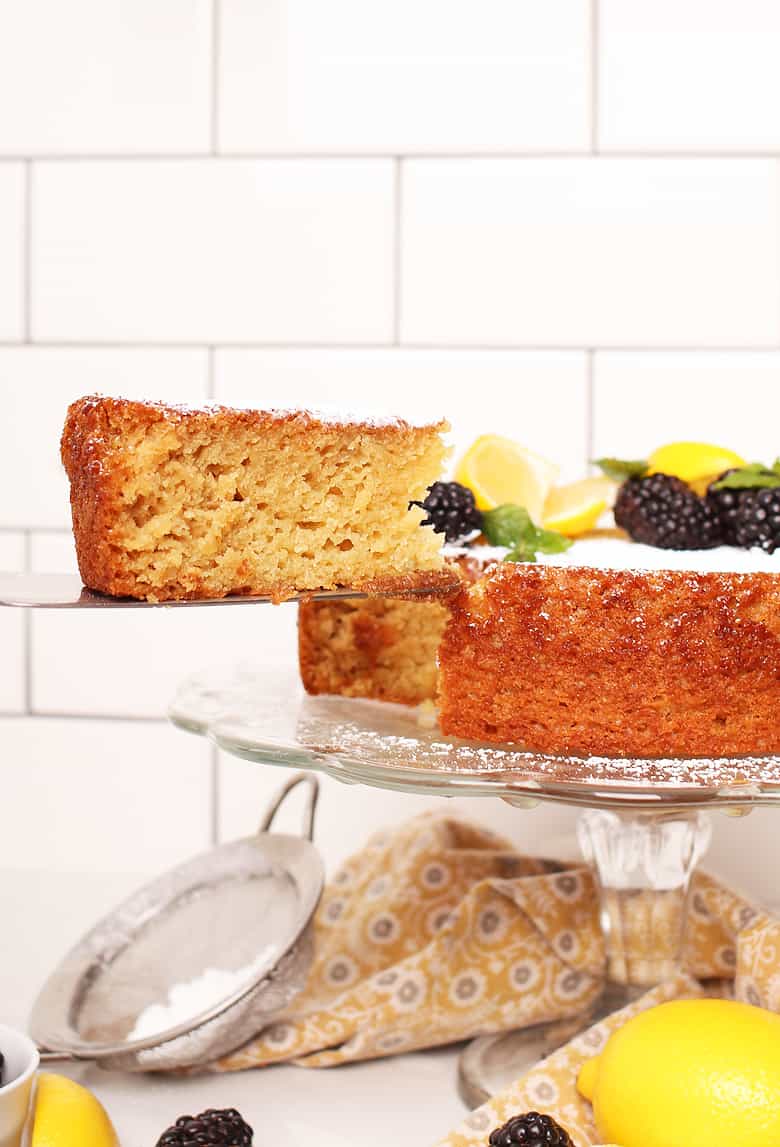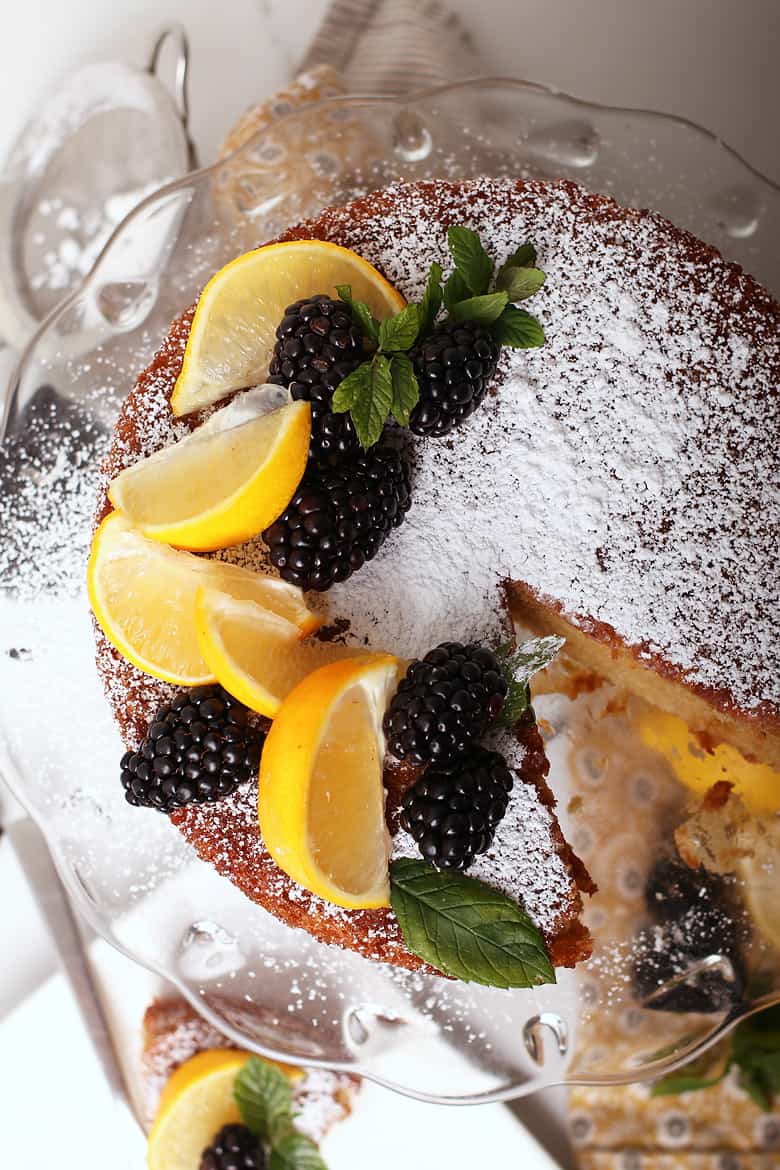 Tips and Tricks
When making any kind of cake or quick bread, take care not to overmix. Overmixing allows the gluten strands to develop making the cake gummy. Mix until just combined to ensure a light, delicate crumb.
Do not open the oven door while the cake is baking. This causes the structure to fall leaving you with a dent in the middle of your cake. You can check for doneness after 45 minutes.
To prevent the cake from sticking, put a parchment paper at the bottom of the cake pan. You can do this by placing the cake pan on top of a piece of parchment paper and tracing the outside. Cut it to fit exactly and place it snuggly on the bottom. After your parchment paper is in place, generously spray the pan with cooking oil.
Let the cake set for at least 30 minutes in the pan before flipping out. If you try and flip it out too early, the cake structure may not have fully set and will fall apart.
Let the cake cool completely before decorating to prevent the powdered sugar from melting.
Store in an airtight container at room temperature for up to 5 days.
Sound good? I thought so. Why don't you grab a bottle of Bari's Extra Virgin Olive Oil and let's bake!
More Vegan Cake Recipes
Do you love vegan cake as much as I do? Then make sure to check out a few of my other favorite vegan cake recipes.
Now, let's take a look at the recipe below.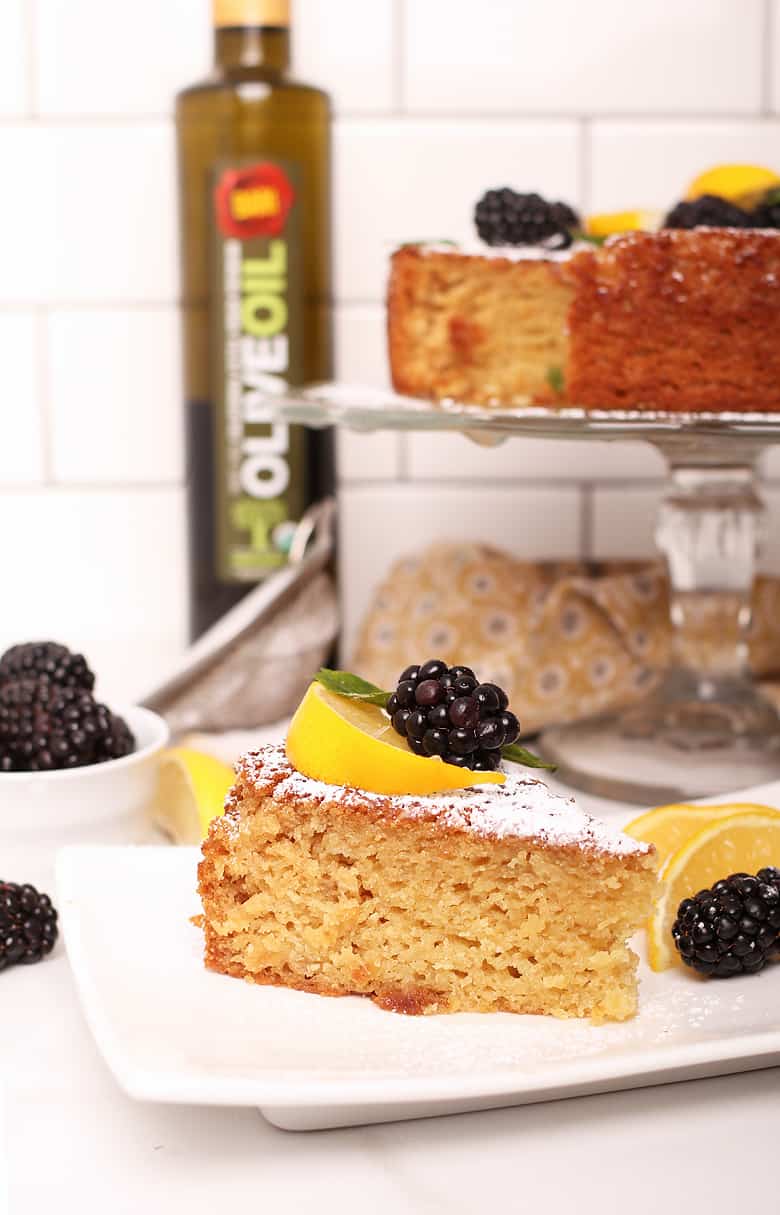 Lemon Olive Oil Cake
Vegan olive oil cake filled with lemon zest for deliciously subtle flavors and an ultra moist delicate crumb; a decadent and beautiful dessert.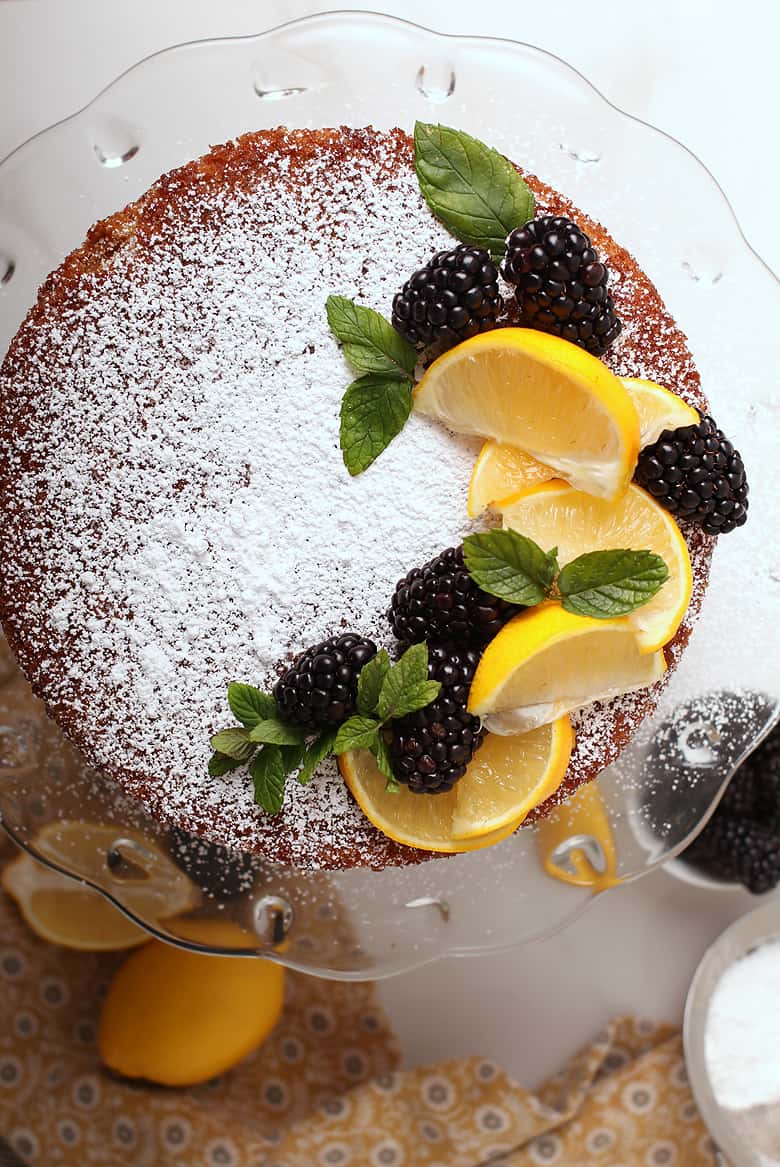 Course:
Dessert
Cuisine:
Vegan
Keyword:
Vegan Olive Oil Cake
Servings
:
12
people
Calories
: 319 kcal
Author
:
Sarah McMinn
Ingredients
Toppings
2

tbsp. powdered sugar

1

lemon, cut into wedges

1/4

cup

fresh blackberries
a few sprigs of fresh mint
Instructions
Preheat the oven to 350 F. Line the bottom of an 8" or 9" cake pan with a piece of parchment paper. Generously spray the pan with cooking spray and set aside.

In a mixing bowl whisk together olive oil, apple sauce, non-dairy milk, lemon juice, lemon zest, and sugar until the mixture is thick and consistent. In a separate bowl, combine flour, baking powder, baking soda, and salt.

Gently fold the dry ingredients into the wet, stirring until the dry ingredients are evenly hydrated and the batter is thick and smooth.

Pour cake into the prepared cake pan and bake for 45-60 minutes. The cake is done when a toothpick inserted in the middle comes out clean. Remove from oven and let cool 30 minutes before flipping onto a cooling rack to cool completely.

Once cool, dust with powdered sugar. Top with blackberries, lemon, and fresh mint. Serve immediately.
Recipe Notes
Let the cake sit for at least 30 minutes in the pan before flipping out. If you try and flip it out too early, the cake structure may not have fully set and will fall apart. The cake should be completely cool before decorating to prevent the powdered sugar from melting.
Store in an airtight container at room temperature for up to 5 days.
Nutrition Facts
Lemon Olive Oil Cake
Amount Per Serving
Calories 319
Calories from Fat 126
% Daily Value*
Fat 14g22%
Sodium 227mg10%
Potassium 136mg4%
Carbohydrates 46g15%
Protein 2g4%
Vitamin A 75IU2%
Vitamin C 10.4mg13%
Calcium 63mg6%
Iron 1.3mg7%
* Percent Daily Values are based on a 2000 calorie diet.
If you give this recipe recipe a try, snap a photo and share it on Instagram. Make sure to tag
@mydarlingvegan
so I can see your creations!