Vegan Cobb Salad with Ranch Dressing
This Vegan Cobb Salad has it all! It is made with tempeh bacon, chicken-spiced chickpeas, eggy tofu, avocado, cucumber, and fresh tomatoes all served over a bed of fresh Romaine lettuce. Enjoy as a hearty lunch or light and refreshing dinner.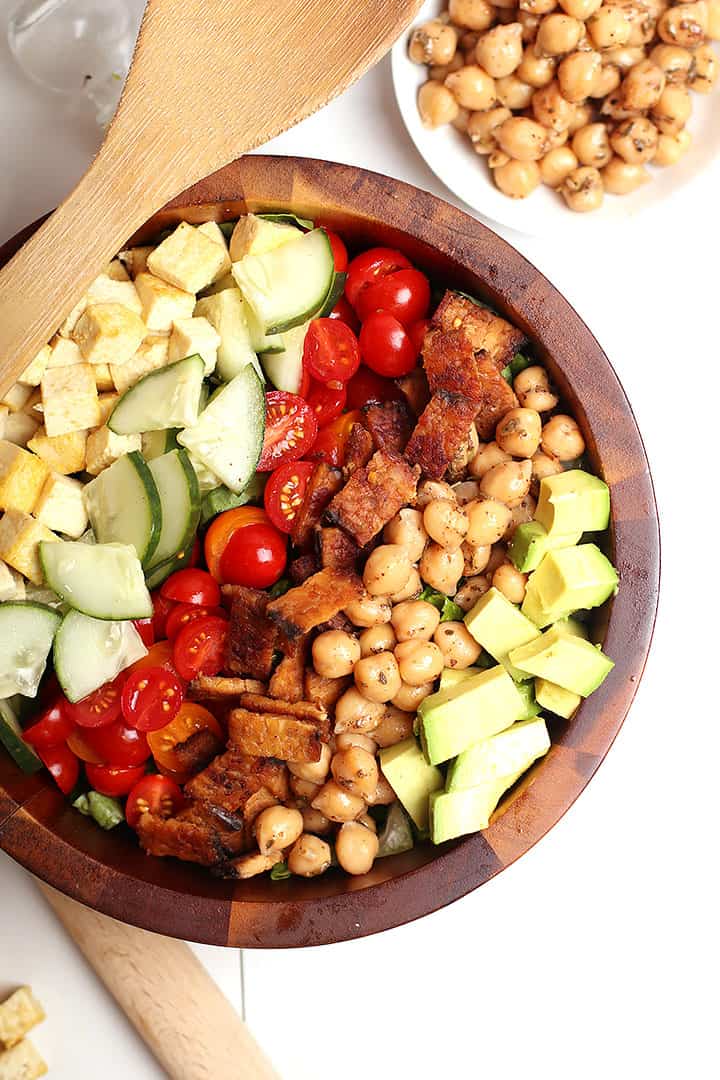 This post contains affiliate links. For more information please see my privacy policy.
This post was originally published on 4/23/2013. Last updated on 9/18/2019
This September has been truly beautiful. The heatwave (aka, the month of August) has turned into crisp mornings, grey skies, and all the excuses in the world for that daily chai tea latte. But before I completely give into fall and start sharing pumpkin recipes exclusively, I'm gonna sneak in one more summer salad recipe.
It is still technically summer, after all.
This Vegan Cobb Salad is an updated recipe from one of my first posts on the blog. However, rather than celebrating the goodness of whole foods, the original relied far too much on processed plant-based meats and cheeses. Over the years, I actually grew embarrassed by the recipe and deleted the original from my blog.
But now it back and better than ever! Let's take a closer look.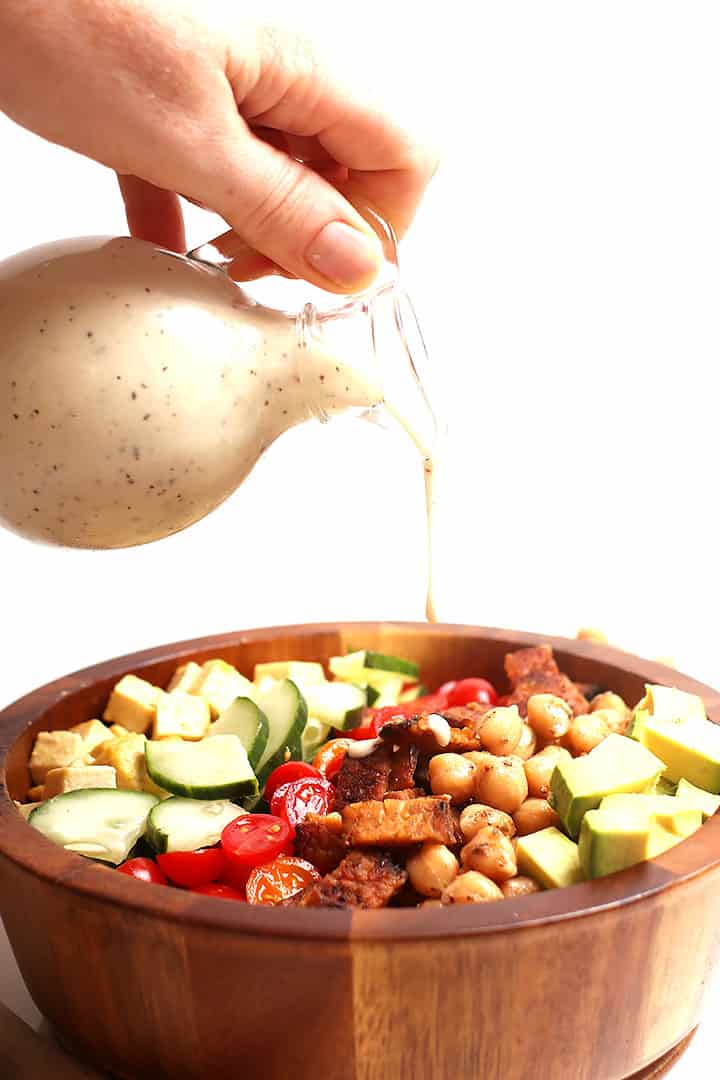 What is a Cobb Salad?
Cobb Salad originated in American in the 1930s. It is a garden salad meant to be served as an entree. Tradition Cobb Salads are made with a base of mixed chopped lettuce (romaine, iceberg, and watercress), bacon, hard-boiled eggs, roasted chicken, tomatoes, avocado, and cheese.
In other words, it's not a very vegan-friendly salad.
Fear not, my animal-loving friends! We, too, can enjoy this hearty salad recipe.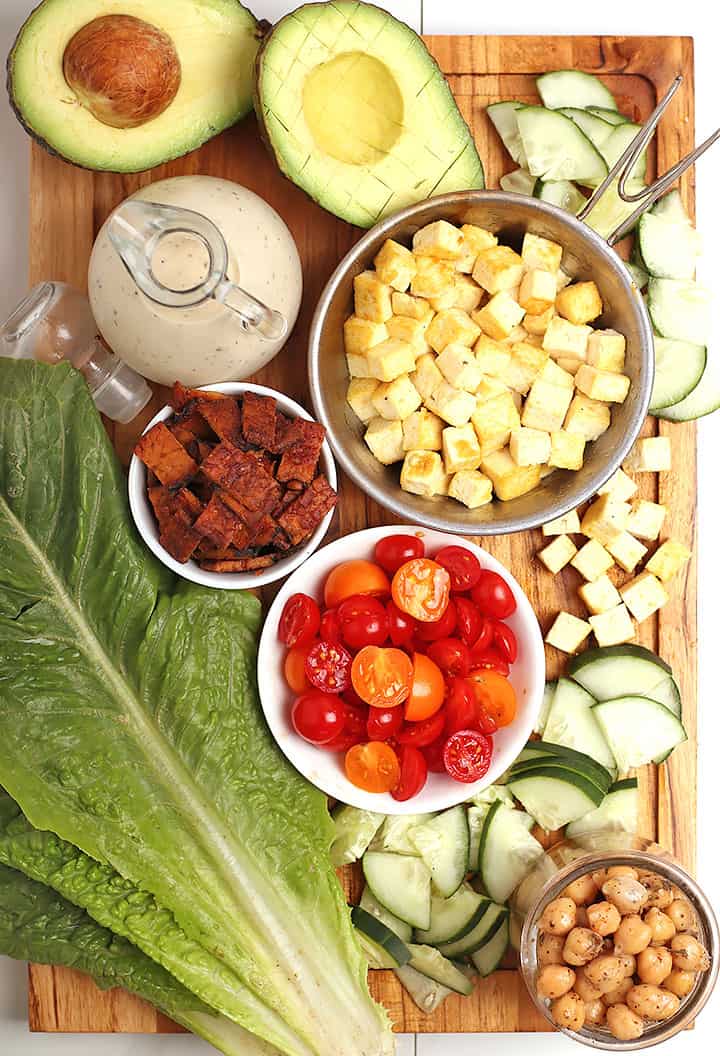 How to make vegan Cobb Salad
To make vegan Cobb salad we just need to replace a few ingredients. Namely the bacon, chicken, eggs, and cheese. No problem!
Replacing the bacon
To replace the bacon in this recipe, I used store-bought tempeh bacon. You can buy tempeh bacon at most well-stocked grocery stores. You'll find it in the refrigerated section. You can also make tempeh bacon at home or substitute tempeh for eggplant bacon, mushroom bacon, or tofu bacon!
Replacing the chicken
To replace the chicken, I used one of my favorite whole food chicken replacements, chickpeas. While chicken and chickpeas are drastically different in taste and texture, the chickpeas offer a full, buttery flavor while giving the salad extra proteins and textures. To make the chickpeas more chicken-like, I tossed them in poultry seasoning and lightly pan-fried them in a bit of oil.
Replacing the eggs
To replace the hard-boiled egg, I made eggy tofu. For the perfect eggy tofu, use a water-packed medium or firm tofu. Cut it into small cubes, toss it in nutritional yeast and black salt, and lightly sauté the tofu so that the edges just begin to crisp up.
Black salt, or kala namak, is an Indian volcanic rock salt that contains sulfur. The sulfur provides a similar taste and smell to that of eggs which takes your vegan tofu eggs to the next level. Curious? You can pick some up online here.
Replacing the cheese
Rather than using store-bought vegan cheese or trying to make my own at home, I decided to forgo the traditional dressing of this salad (red wine vinaigrette) and use my homemade ranch dressing recipe to give this vegan Cobb Salad the needed creaminess.
And it's perfect!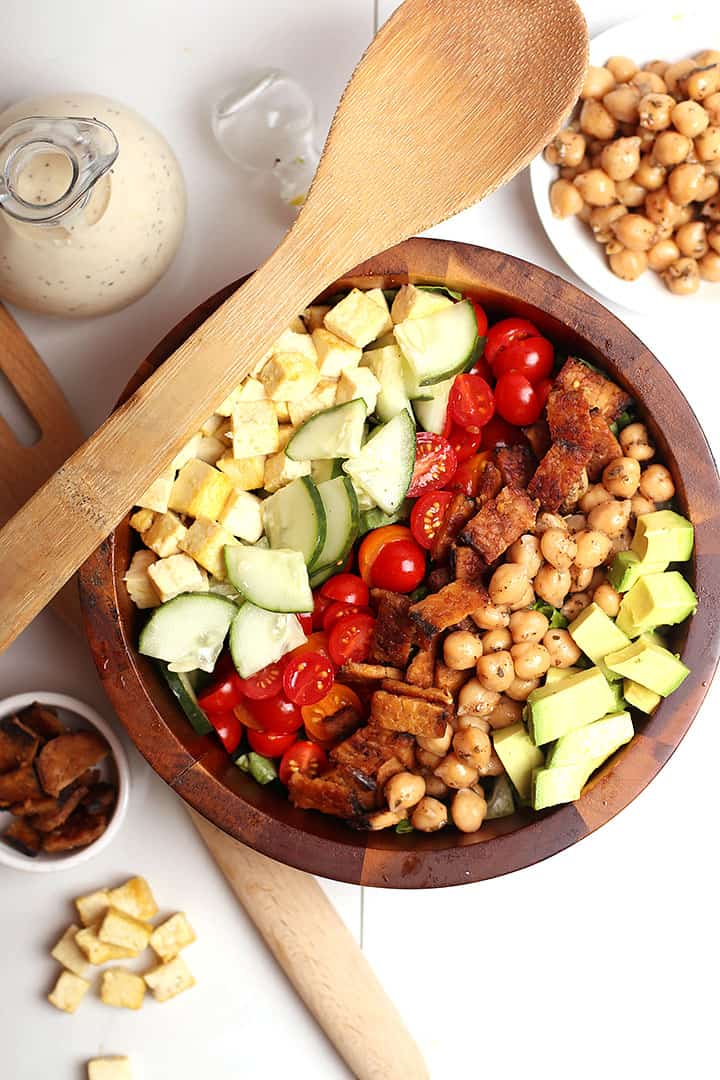 How to prepare the Cobb Salad
There are several things to prepare when making this Cobb Salad but none of them take very much time.
Begin by making a batch of the vegan ranch. You can also pick vegan ranch up at the grocery store.
Next, make the eggy tofu and chicken-flavored chickpeas, which can both be served cold. Place them in the refrigerator to chill while you prepare the rest of the salad.
Prepare the lettuce, tomatoes, cucumber, and avocado. Set aside.
Finally, heat up the tempeh bacon. This only takes 2-3 minutes. Once it is cooked on both sides, you can assemble the salad by following the picture above.
Can this be made in advance?
Yes! In fact, I recommend it. You can make the eggy tofu and chicken-flavored chickpeas several days in advance and store them in an airtight container in the refrigerator. Making them in advance allows the flavors to absorb into the protein. Additionally, they are served better cold. The vegan ranch can also be made several days in advance and stored in the refrigerator.
If you want a lunch that will last you several days, make a big batch of the tofu and chickpeas. Prepare the ranch in advance. When it is time to make the salad, heat up the tempeh bacon, chop the vegetables, toss everything together.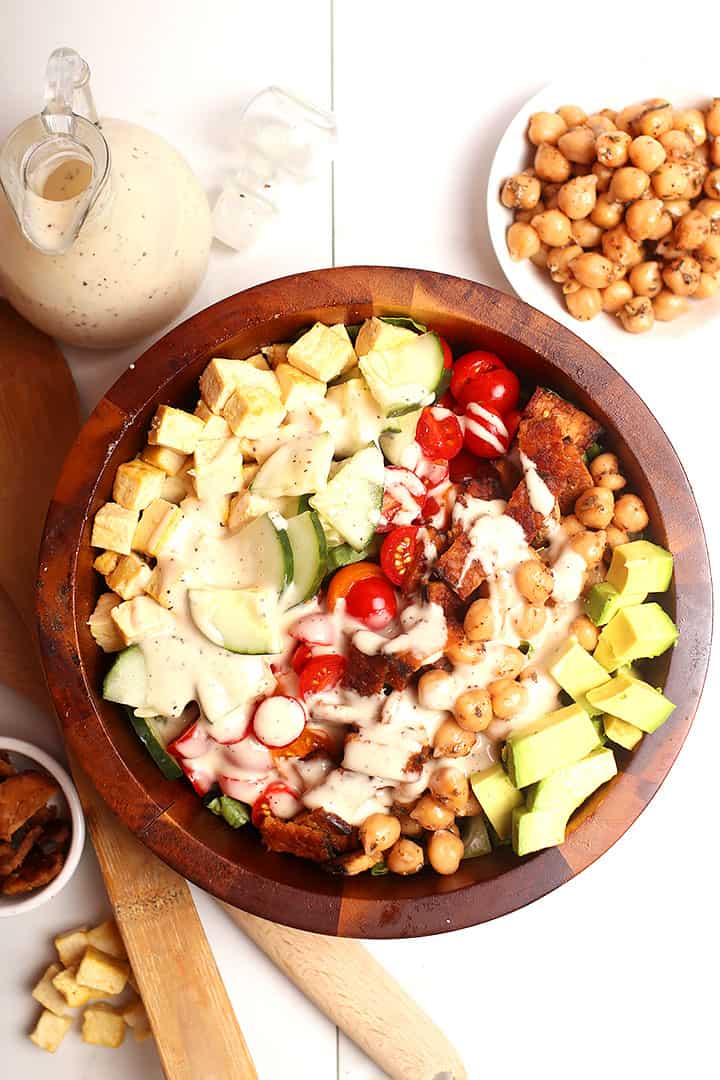 Serving and storing vegan Cobb Salad
A few things to keep in mind when preparing this salad.
This salad should be eaten within several hours of assembling it. When you are ready to eat, toss it with the dressing and enjoy immediately
This makes a great on-the-go lunch. Layer it in a salad jar and pack the dressing separately.
Make the components in advance, store them in the refrigerator, and enjoy a lunch salad all week long.
Makes a hearty lunch or dinner. High in protein, low in net carbs, delicious in flavor!
 More healthy salad recipes
But before you go, let's take a look at this vegan Cobb Salad recipe below.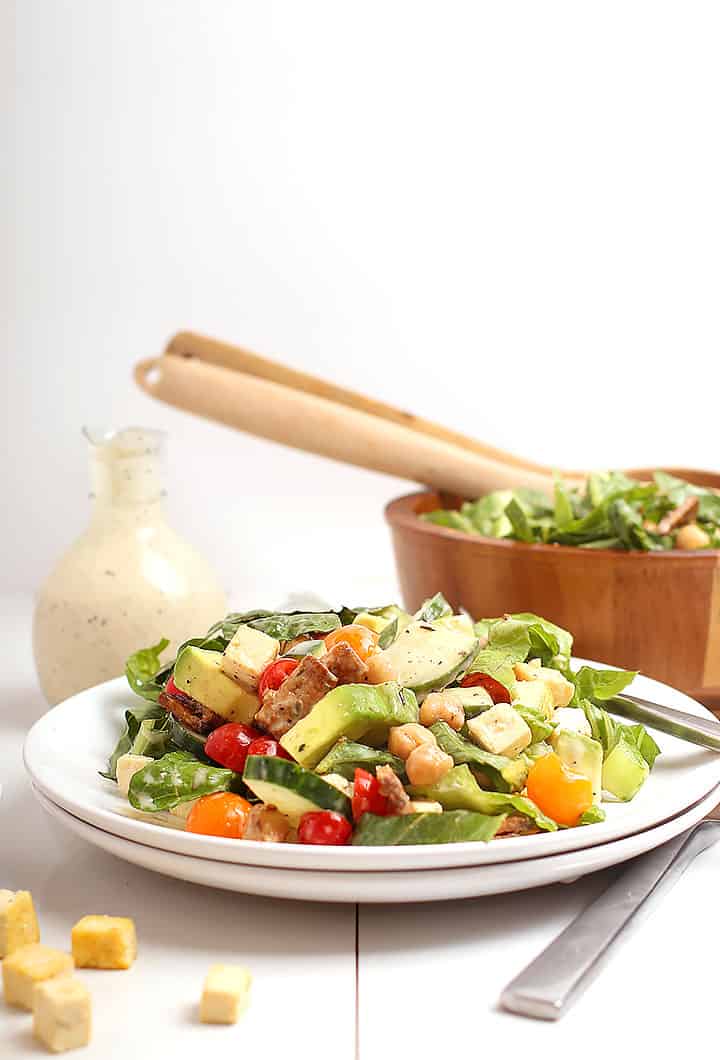 Vegan Cobb Salad
This Vegan Cobb Salad has it all! It is made with tempeh bacon, chicken-spiced chickpeas, eggy tofu, avocado, cucumber, and fresh tomatoes all served over a bed of fresh Romaine lettuce. Enjoy for a hearty lunch or light and refreshing dinner.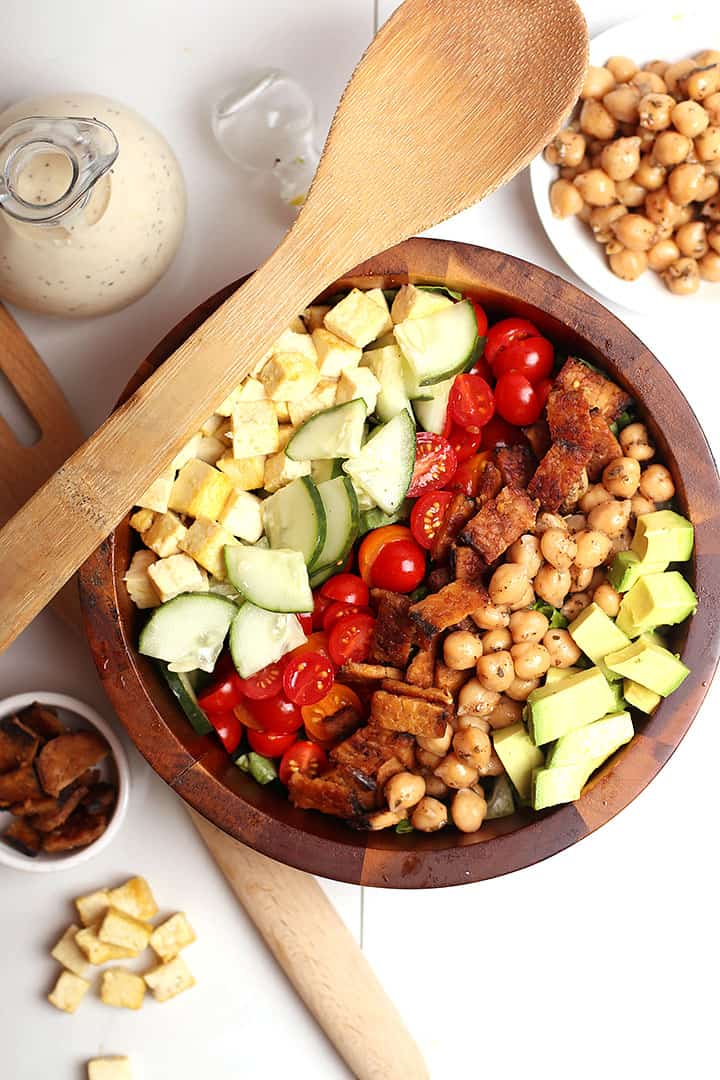 Course:
Salad
Cuisine:
Vegan
Keyword:
Vegan Cobb Salad
Servings
:
2
people
Calories
: 350 kcal
Author
:
Sarah McMinn
Ingredients
Vegan Cobb Salad
1/2

head of romaine lettuce, chopped

4

strips tempeh bacon, homemade or store-bought

4

oz. eggy tofu, recipe follows

1/2

cup Poultry-Spiced Chickpeas

1/2

cup

cherry tomato, halved

1/2

avocado, cubed

1/4

small cucumber, cut into slices

pinch

of salt
vegan ranch dressing, homemade or store-bought
Poultry-Spiced Chickpeas
1/2

cup

cooked chickpeas

1/2

tsp. poultry spice
pinch of salt
Instructions
Start by making the eggy tofu. Heat a griddle over medium heat and add 1 tbsp. oil. Add tofu and sauté for 5-7 minutes, stirring often, until a light crust begins to form. Stir in the nutritional yeast and black salt. Remove from heat and set aside.

In the same sauté pan, heat up the chickpeas. Add poultry seasoning and salt and stir to combine. Cook until heated thoroughly. Remove from heat.

Cut the tempeh bacon into 1/2" slices. Heat it up bacon according to package instructions. Set aside.

To assemble the salads, spread romaine lettuce evenly between two plates. Add the remaining ingredients in rows. Top with vegan ranch dressing and enjoy!
Nutrition Facts
Vegan Cobb Salad
Amount Per Serving
Calories 350
Calories from Fat 180
% Daily Value*
Fat 20g31%
Sodium 16mg1%
Potassium 640mg18%
Carbohydrates 31g10%
Protein 15g30%
Vitamin A 256IU5%
Vitamin C 15mg18%
Calcium 117mg12%
Iron 4mg22%
* Percent Daily Values are based on a 2000 calorie diet.
If you give this recipe recipe a try, snap a photo and share it on Instagram. Make sure to tag
@mydarlingvegan
so I can see your creations!