Enjoy these Grain-Free Granola Bars for a vegan and gluten-free snack that is filled with superfoods for an automatic energy boost.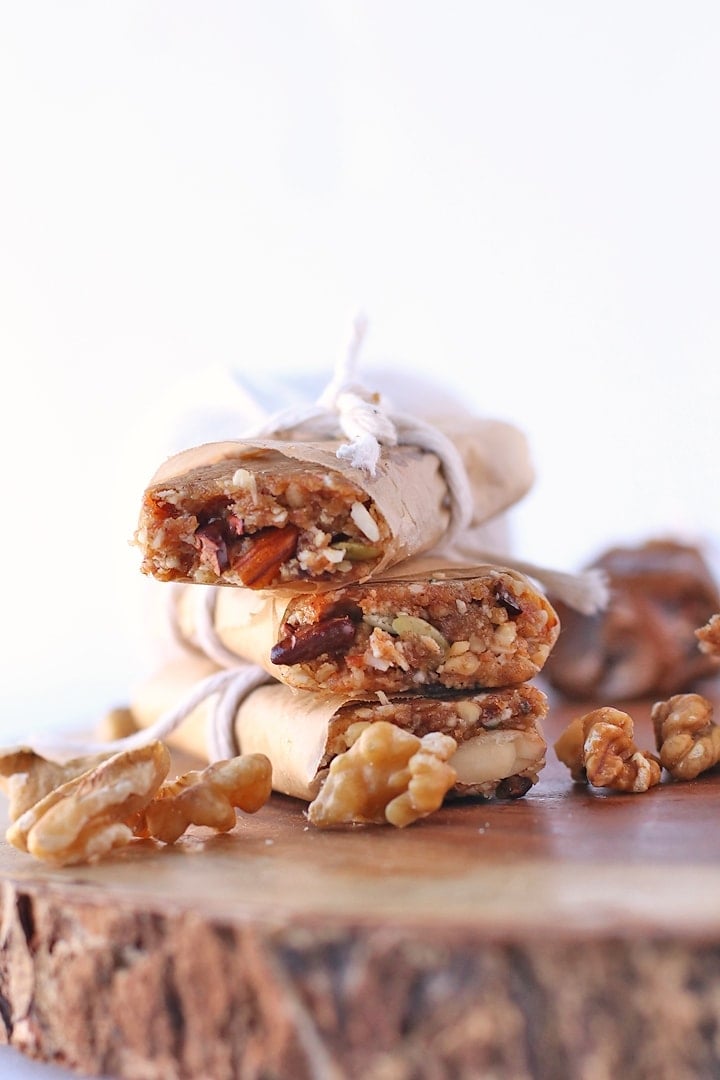 This post contains affiliate links. For more information, check out my privacy policy. 
One of the lessons I have learned over the years of cleansing is that when eating a whole foods, plant-based diet, you can get hungry often. It's hunger that comes from nowhere and hits you like a hurricane, possessing all your thoughts until you are completely useless until you eat again.
You must know what I'm talking about, right?
It took me years to learn (as is the case with most of life's lessons) that for that reason, when cleansing I should be stocked up on healthy, hearty, wholesome snacks. Right now my kitchen is filled with an assortment of nuts, veggies, hummus, and homemade granola bars. And these grain-free granola bars are one of my favorite 30 day cleanse snacks. Beyond being grain-free they are made with no added sugar and filled with some of my favorite superfoods (why hello goji berries and cacao nibs!). Plus, fortunately for all of us, they are super easy to make!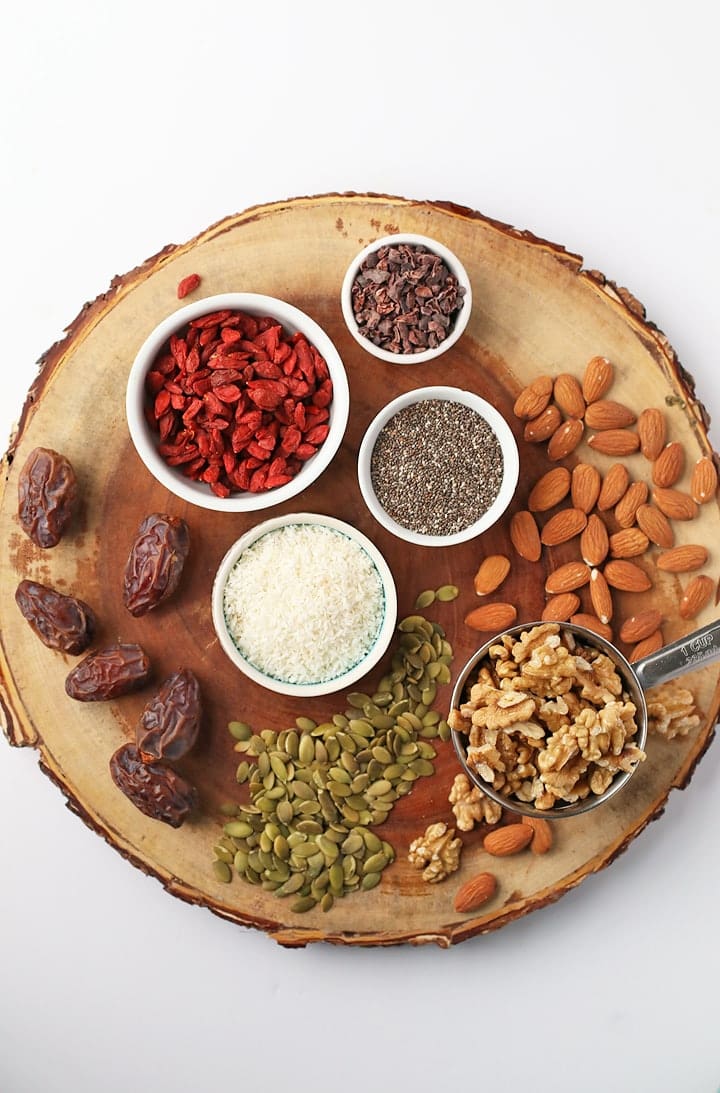 These "granola" bars are a variation of my Raw Trail Mix Bars similar in that the base is made from walnuts and unsweetened coconut (rather than oats), sweetened with dates, then held together with a little bit of nut butter. These ingredients are blended together to create a sweet and nutty dough-like base for the Grain-Free Granola Bars.
It's important to note that when making the bars, you'll need to use Medjool dates. They are bigger and juicier than traditional dates which help bind the nuts and coconut together. Without Medjool dates you'll risk getting a crumbly bar.


Once you have your base, it's time to add your mix-ins. You can really add anything. Some other foods that I have added in the past are raisins, sunflower seeds, chia seeds, and pistachios. Just remember, it's important to keep the mix-in/walnut base ratio as the recipe. If you add extra mix-ins to the base you'll again risk getting a crumbly bar.
Most commonly I like to use a mixture of cacao nibs, goji berries, and pumpkin seeds along with a few other things. I like the flavor combination of bitter cacao nibs with the tartness of the goji berries and earthiness of the pumpkin seeds. Plus it's basically like giving medicine to your body.
Between the three of them, you'll get benefits like
Mood and energy enhancements
Tons of antioxidants
Detoxification properties
Immune support
Anti-Inflammatory benefits
Anti-Aging properties 
Yay, superfoods! 
Because these granola bars are full of all these amazing benefits plus healthy fats and fiber, they have become a great snack to have on hand during this cleanse. The past two years I've made a batch of these at the beginning of the cleanse and put them in the freezer. They thaw quickly so that whenever I'm ready for a snack I can pull one out and have it ready in 30 minutes. No more immobilizing hunger for me.
A true superfood lifesaver!
Grain-Free Granola Bars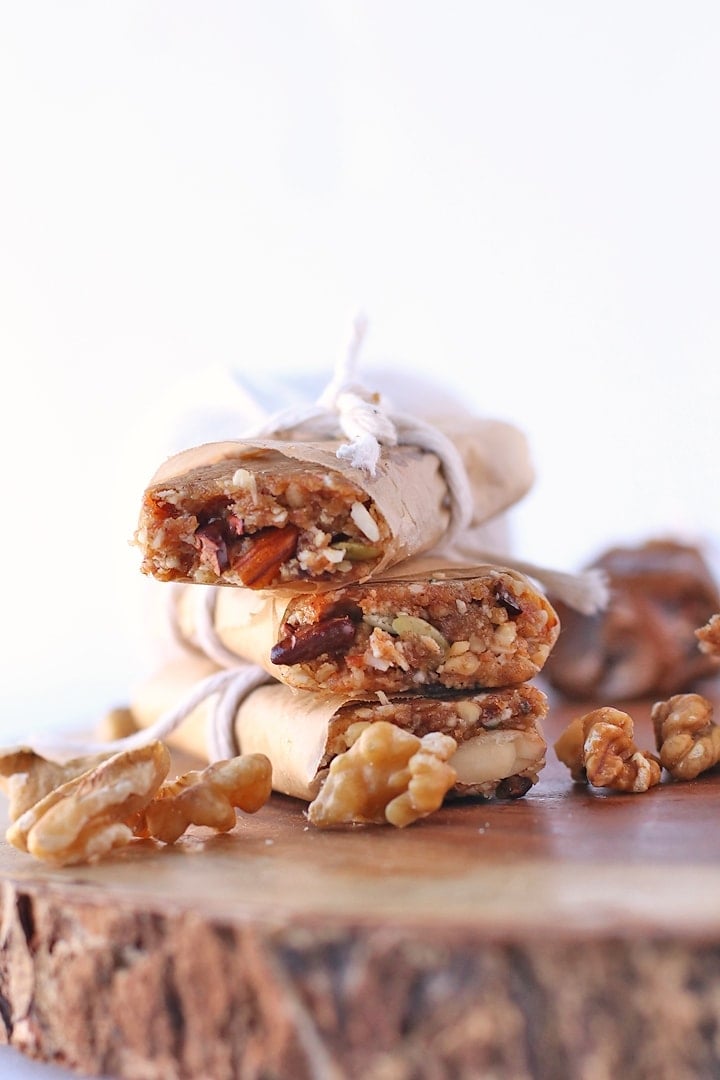 Enjoy these Grain-Free Granola Bars for a vegan and gluten-free snack that is filled with superfoods for an automatic energy boost.
Course:
snacks
Cuisine:
American
Keyword:
Grain-Free Granola Bars
Servings
:
12
bars
Calories
: 290 kcal
Author
:
Sarah McMinn
Ingredients
Instructions
In a food processor combine walnuts, dates, 1/2 cup shredded coconut, and almond butter. Blend until well combined and moist. The dough should hold together when pressed between your fingers.

Transfer walnut/date mixture into a large bowl and add remaining ingredients including the extra 1/4 cup of coconut. Stir together until well combined.

Line an 11x7 baking dish with parchment paper. Transfer the bars into the pan then top with another piece of parchment paper. Evenly spread or roll the granola bars throughout the pan.

Refrigerate for at least 4 hours.

Remove the bars from refrigerator, cut into 12 equal pieces and transfer to an airtight container. Granola bars can stay in the refrigerator for up to 5 days or the freezer for 2 months.
Recipe Notes
It is important to get Medjool dates. The juiciness of these dates help hold the bars together. Otherwise you will get a crumbling bar.
These bars only take 20 minutes to prep, but plan for 4 hours of setting time as well. 
Nutrition Facts
Grain-Free Granola Bars
Amount Per Serving
Calories 290
Calories from Fat 216
% Daily Value*
Total Fat 24g 37%
Sodium 3mg 0%
Potassium 298mg 9%
Total Carbohydrates 16g 5%
Protein 7g 14%
* Percent Daily Values are based on a 2000 calorie diet.
If you give this recipe recipe a try, snap a photo and share it on Instagram. Make sure to tag
@mydarlingvegan
so I can see your creations!