Green Goddess Buddha Bowl
Enjoy a healthy vegan and gluten-free Green Goddess Buddha Bowl filled with quinoa, broccolini, kale, and homemade green goddess dressing.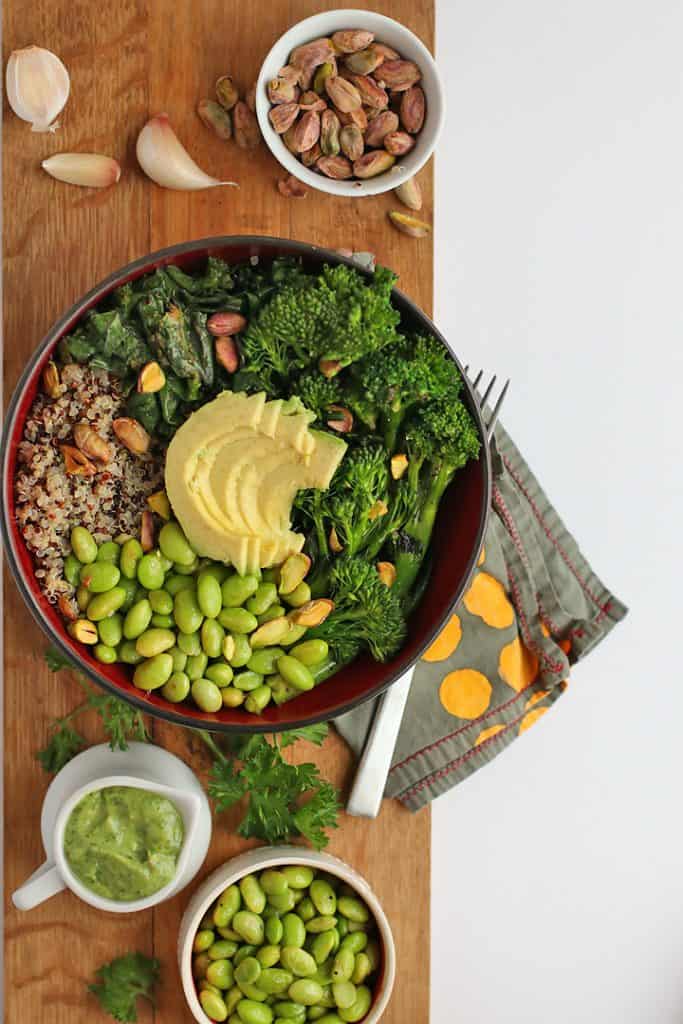 This post contains affiliate links. For more information, check out my privacy policy. 
Happy Friday, friends!
Two weeks of the 30 day cleanse are almost behind us. How are you feeling? I'm feeling great! Energetic, hydrated, and sleeping better than I have in a long time. It's surprising that with how good I feel every time I cleanse, I ultimately go back to my old ways. But I also notice that with each cleanse, a little more of the healthy habits sticks around throughout the year. Fingers crossed 2018 will be the year it sticks for good!
Today I'm sharing another Green Goddess recipe, as promised. A deliciously green-in-every-way bowl filled with vegetables, and grains and packed with protein and flavor, this Green Goddess Buddha Bowl has quickly become part of my weekly rotation.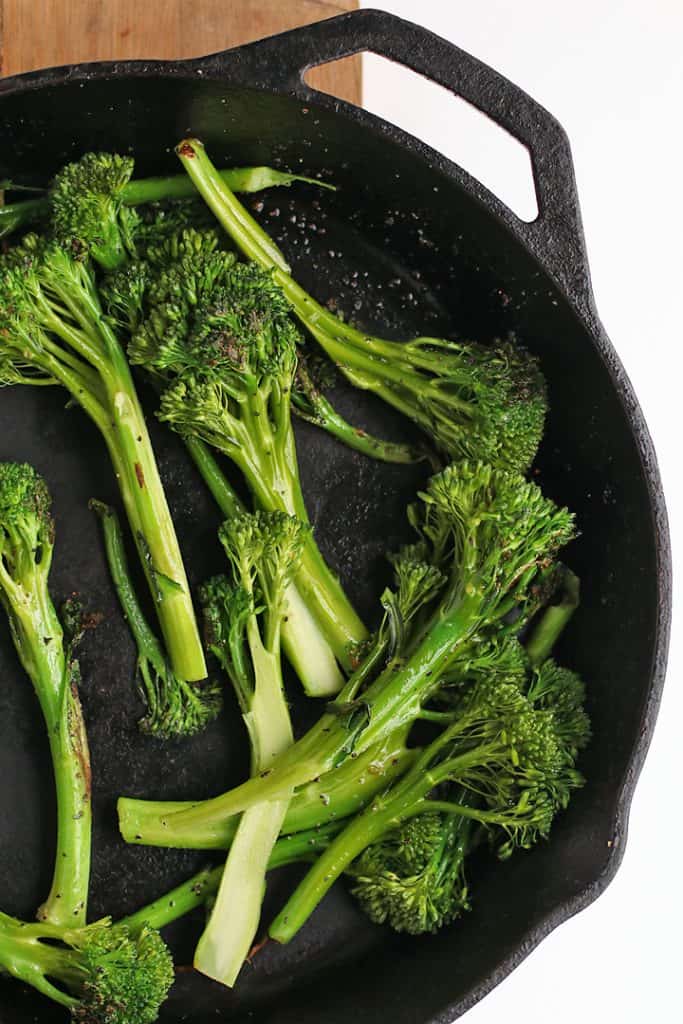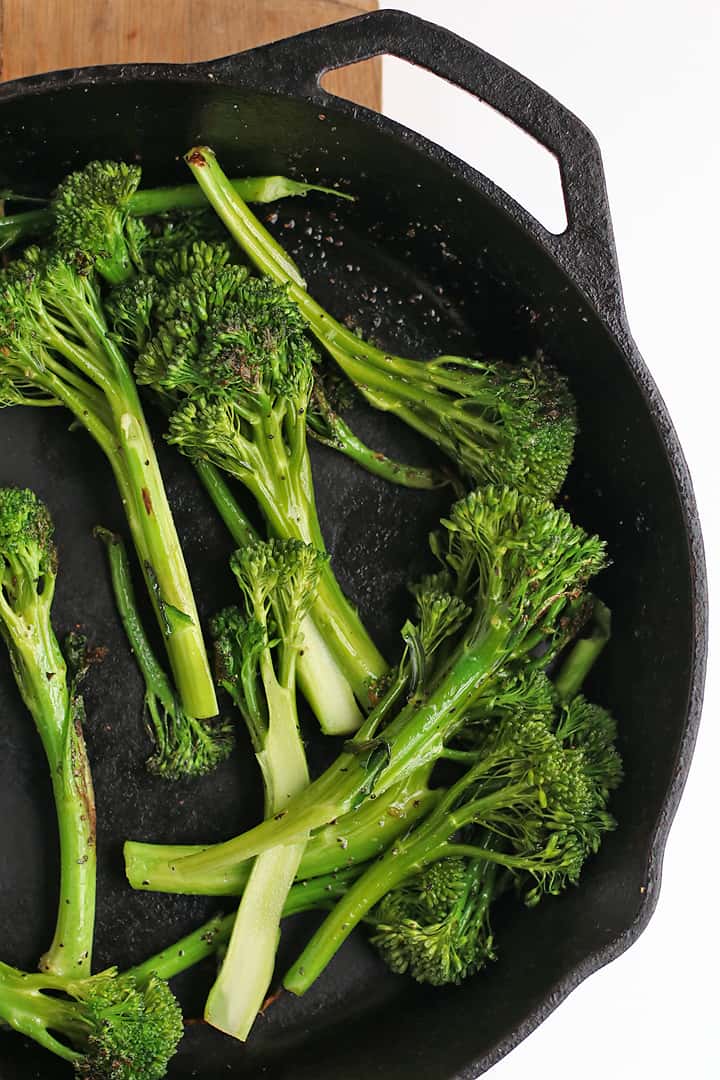 What is a Buddha Bowl?
But let's back up a minute. First of all, some of you may be asking, "What is a Buddha Bowl?".
A Buddha Bowl, or Nourish Bowl, is a one-bowl meal filled to the brim with vibrant colors, wholesome vegetables, and plant-based proteins.
The idea behind the Buddha Bowl is one of balance. The meal combines healthful foods that vary in flavor, texture, and health benefits to reflects the balance sought after in Buddhism. The term has been adopted and adapted so that it now strays from its origins. You can now find Buddha Bowl recipes that contain animal proteins such as lean meats or boiled eggs. Sadly, we can no longer assume that all Buddha Bowls offer a one-bowl vegan meal.
Of course, this beautiful bowl filled with rainbow vegetables is 100% vegan, gluten-free, and refined sugar-free!
During my cleanses, I rely heavily on these vegan bowls, eating a variation of them 3-4 times a week. They are hearty, filling, and always delicious. It took me several years to perfect the Buddha Bowl, but 100s of bowls later, I think I got it down.
Follow the rules below to build your own deliciously flavored bowl.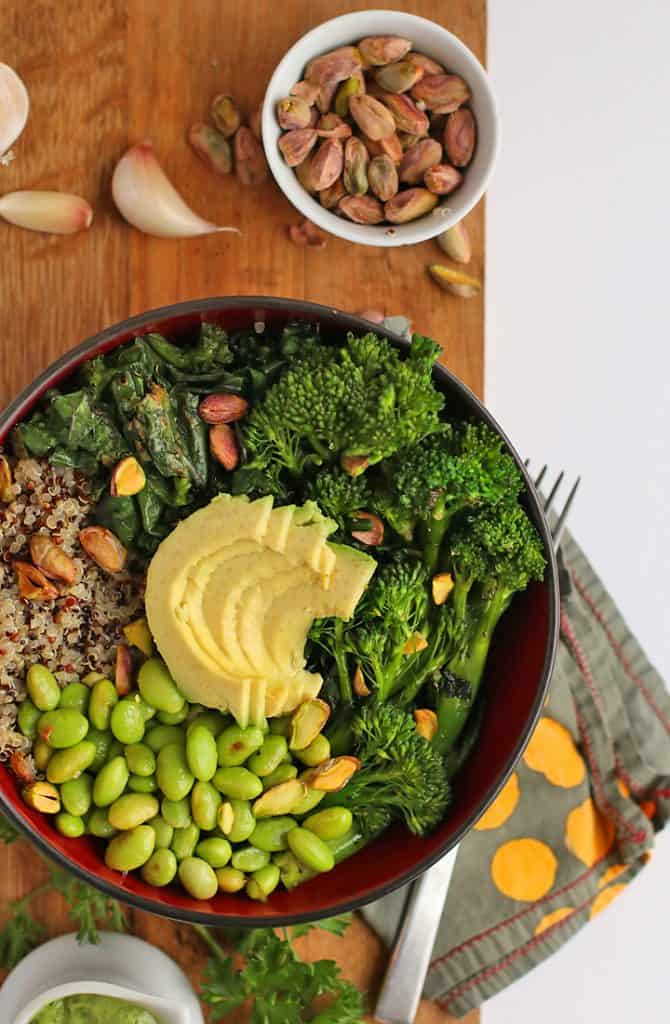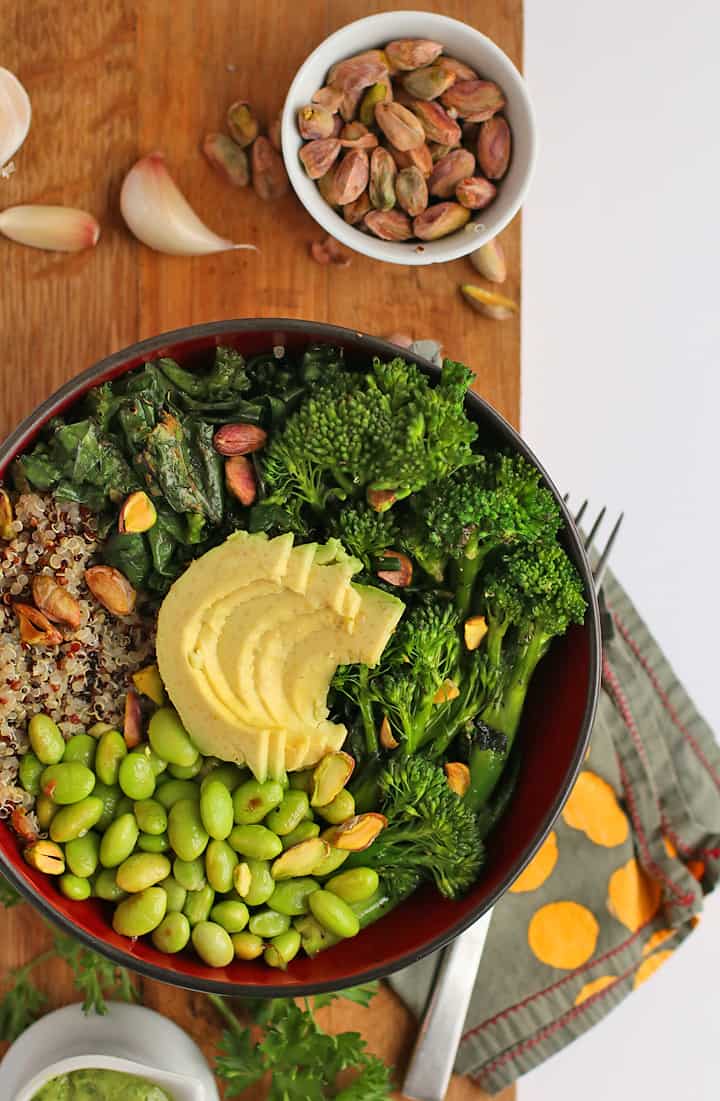 Building the Perfect Buddha Bowl:
Start with a base. I almost always use quinoa for its nutty flavor, fiber, and many other benefits. For example, quinoa is packed with all 9 essential amino acids, making it a complete protein, which is especially important when cutting out other sources of protein. Other grains that work well are farro, brown or wild rice, and barley.
Add the protein. In the case of most of my Buddha Bowls, my protein of choice are chickpeas, tofu, or tempeh. One of my favorite plant-based proteins for a typical Buddha Bowl is my noochy tofu. For this Green Goddess bowl, I was thinking green so I choose edamame as the protein booster.
Then the veggies. Some of my favorite vegetables for Buddha Bowls are kale, broccolini, and sweet potatoes. They provide a great texture, flavor, and taste that highlight the grain and protein of choice. Other great (but lesser-used) vegetables include mushrooms, zucchini, and cabbage.
Sauce it. This is really where the flavor comes in. Sometimes you may start with the sauce and then add the vegetables and grain that best suit it. A few of my popular Buddha Bowl Sauces are my Creamy Garlic Sauce and my Cheesy Cashew Sauce. I also love a good Lemon Tahini Sauce.
Top it off! To finish the bowl I add a variety of nuts, seeds, avocado, and herbs. I think a combination of the crunch of nuts and seeds with the silky smoothness from avocado is a nice addition. Although, sometimes a creamy sauce and crunchy cabbage slaw will give you what you need.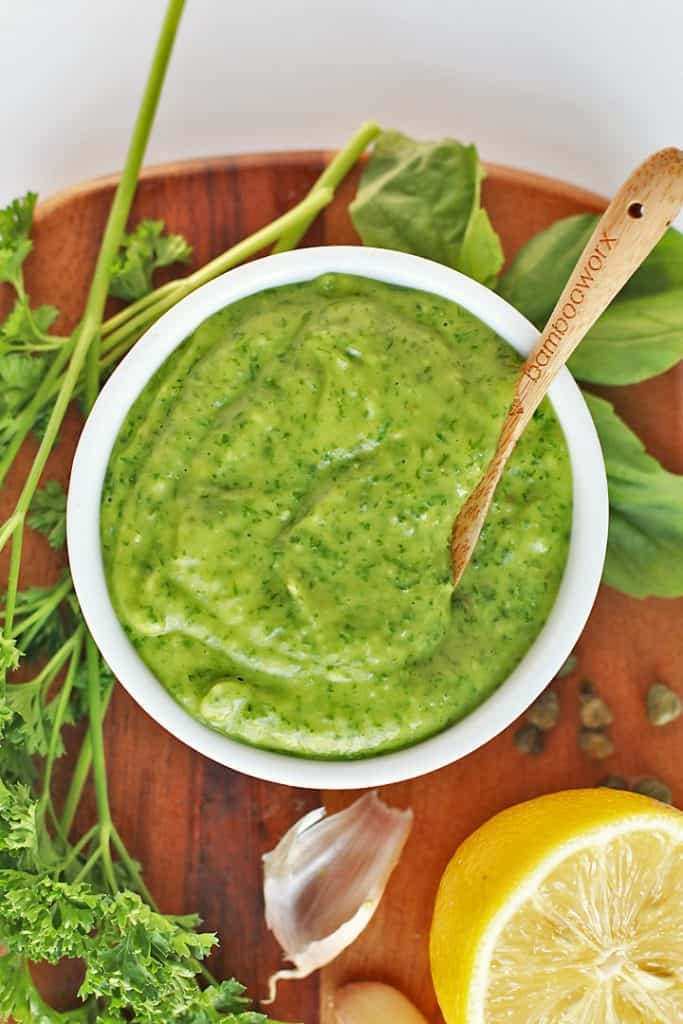 Buddha Bowl Recipe Variations:
Because it comes down to combining different components, there are endless combinations of vegetables, grains, and sauces. This means you can make a different Buddha Bowl every time! Get your inspiration from a variety of cuisines, featuring different seasonal vegetables, or make it all about the sauce.
Here are a few Buddha Bowl recipes worth checking out:
Benefits of Green Goddess Buddha Bowl:
Not only is this Green Goddess Buddha bowl super delicious. It is also good for you. Here are some of the many benefits of this vegan Buddha Bowl.
High in Antioxidants
Heart and Bone Health
High in calcium, iron, and fiber
Low in calories and fat
Energy-boosting
And great flavor!
Are you ready to try it for yourself now? If you make this Green Goddess Buddha Bowl, take a picture and tag me on Instagram so that I can share it with the MDV community.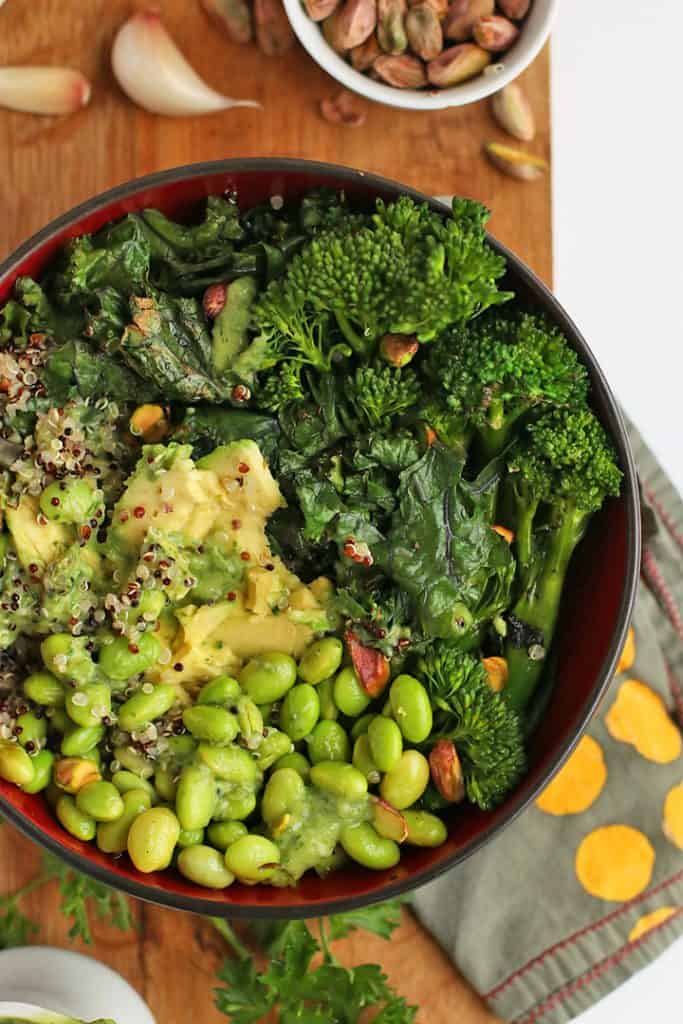 Green Goddess Buddha Bowl
Enjoy a healthy vegan and gluten-free Green Goddess Buddha Bowl filled with quinoa, broccolini, kale, and homemade green goddess dressing.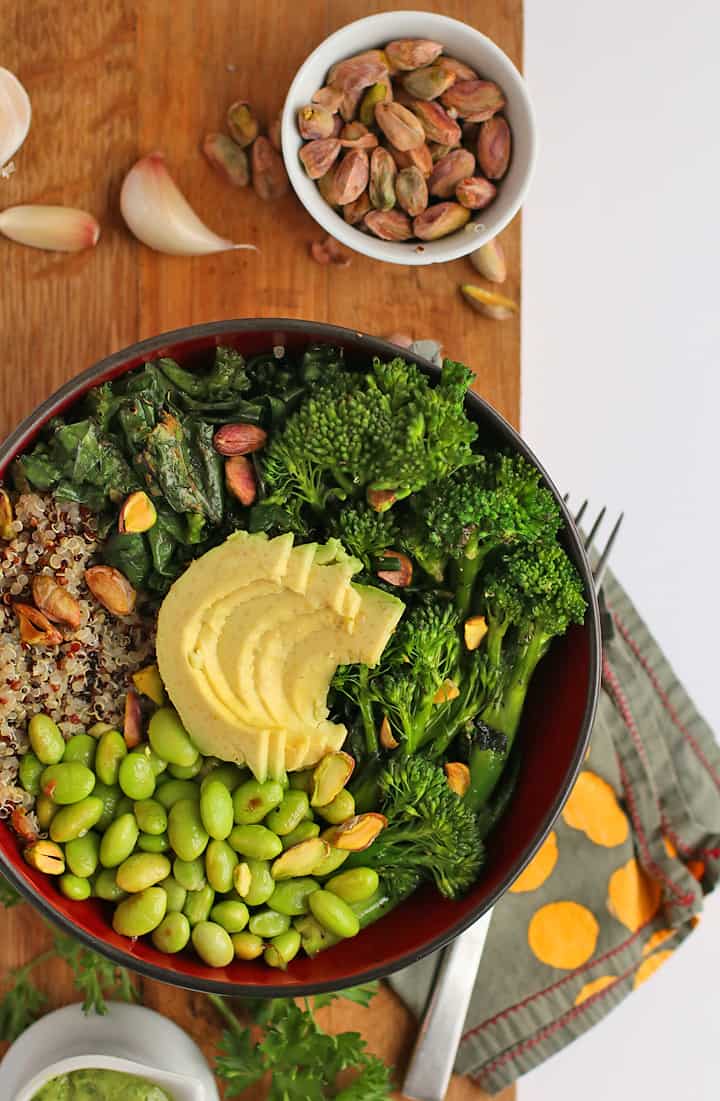 Course:
Main Course, Main Dish
Cuisine:
American
Keyword:
Green Goddess Buddha Bowl
Servings
:
4
Calories
: 347 kcal
Author
:
Sarah McMinn
Ingredients
Instructions
Cook the quinoa according to package instructions. Once done, fluff with a fork and set aside.

Prepare the Green Goddess Dressing.

Snap about 1" off the ends of the broccolini and toss it in 1 tbsp of olive oil and salt and pepper. Heat a large cast iron skillet over medium-high heat and add broccolini. Sauté for 10 minutes, stirring often, until broccolini is wilted and slightly blackened.

Remove broccolini and set aside. Using the same cast iron skillet, add kale and sauté for about 5 minutes until wilted.

Heat the edamame in a small pan with a little bit of water until heated all the way through.

To assemble the bowls, divide quinoa between four bowls. Add broccolini, kale, edamame evenly between the four bowls. Top with avocado, pistachios, and Green Goddess Dressing. Serve immediately.
Nutrition Facts
Green Goddess Buddha Bowl
Amount Per Serving
Calories 347
Calories from Fat 135
% Daily Value*
Fat 15g23%
Sodium 24mg1%
Potassium 645mg18%
Carbohydrates 39g13%
Protein 15g30%
Vitamin A 2435IU49%
Vitamin C 61.7mg75%
Calcium 115mg12%
Iron 4mg22%
* Percent Daily Values are based on a 2000 calorie diet.
If you give this recipe recipe a try, snap a photo and share it on Instagram. Make sure to tag
@mydarlingvegan
so I can see your creations!