Eat healthy with these 11 wholesome and delicious buddha bowl recipes. Every recipe is vegan and gluten-free for a meal the whole family can enjoy. You'll find everything from Mexican to Thai-inspired, BBQ, and roasted vegetables alike!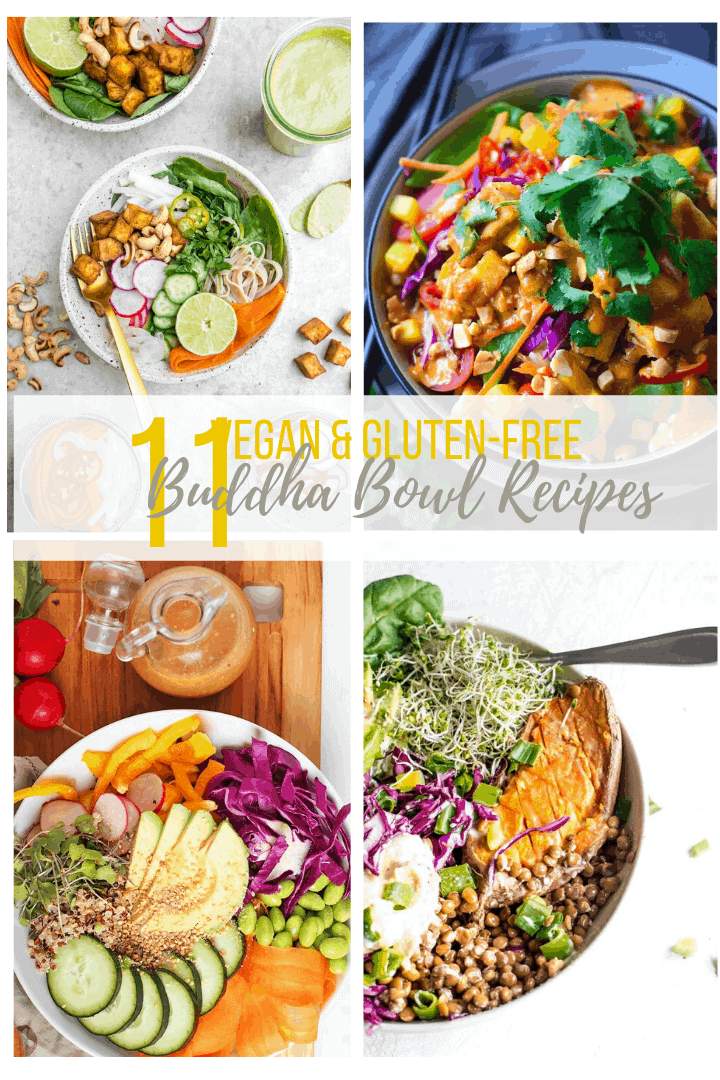 Over the years I have learned that one of the best go-to meals during the 30-day cleanse is a good old-fashioned Buddha Bowl.
A Buddha bowl is a hearty and wholesome meal that is packed with flavor and so versatile you can make it a different meal each night of the week. I've never had a Buddha Bowl the same way twice and that is the magic behind this meal.
---
What is a Buddha Bowl?
Basically, it's a one-bowl meal filled to the brim with vibrant colors, wholesome vegetables, and plant-based proteins.
The idea behind this meal is balance. The Buddha Bowl combines healthful foods that vary in flavor, texture, and health benefits to reflects the balance sought after in Buddhism. The term has been adopted and adapted so that it now strays from its origins. You can now find recipes that contain animal proteins such as lean meats or boiled eggs.
Sadly, we can no longer assume that all Buddha Bowls offer a one-bowl vegan meal.
---
How to Make a Buddha Bowl
While the term might be a bit vague now as it's been liberally adapted, there are still guidelines to perfecting the Buddha Bowl.
Let's take a look at several key components.
Recommended Ingredients
Grain - Although this isn't wholly necessary, most buddha bowls start with a base of healthy grains. The grains can be brown rice, quinoa, couscous, rice noodles, etc. Grains provide protein, fiber, and healthy carbs while bulking up the bowl with hearty and wholesome calories.
Protein - A second component of the perfect bowl is a plant-based protein. Proteins can often be in the form of tofu or tempeh. However, if you are looking for soy-free options, consider adding beans, lentils, or protein-rich vegetables into your dish.
Vegetables and herbs - A variety of vegetables make up the bulk of a good bowl. You will often find sautéed or roasted vegetables alongside crunchy vegetables (like cabbage or slaw) and dark leafy greens. A mixture of vegetables offers a ton of flavor and a variety of major health benefits.
Dressings and sauces - Top your Buddha Bowl with a delicious homemade dressing. This can be anything from vegan ranch to tahini dressing to this simple Lemon Turmeric dressing pictures above. The dressing is a key component to the flavor direction you're going with, so choose wisely!
Nuts and seeds - For added taste and texture, nuts, seeds, hemp hearts, and herbs are tossed on top to give your Buddha Bowl recipe just a little more flavor and flair while pumping up the superfoods inside your one-bowl meal.
---
Vegan Buddha Bowl Recipes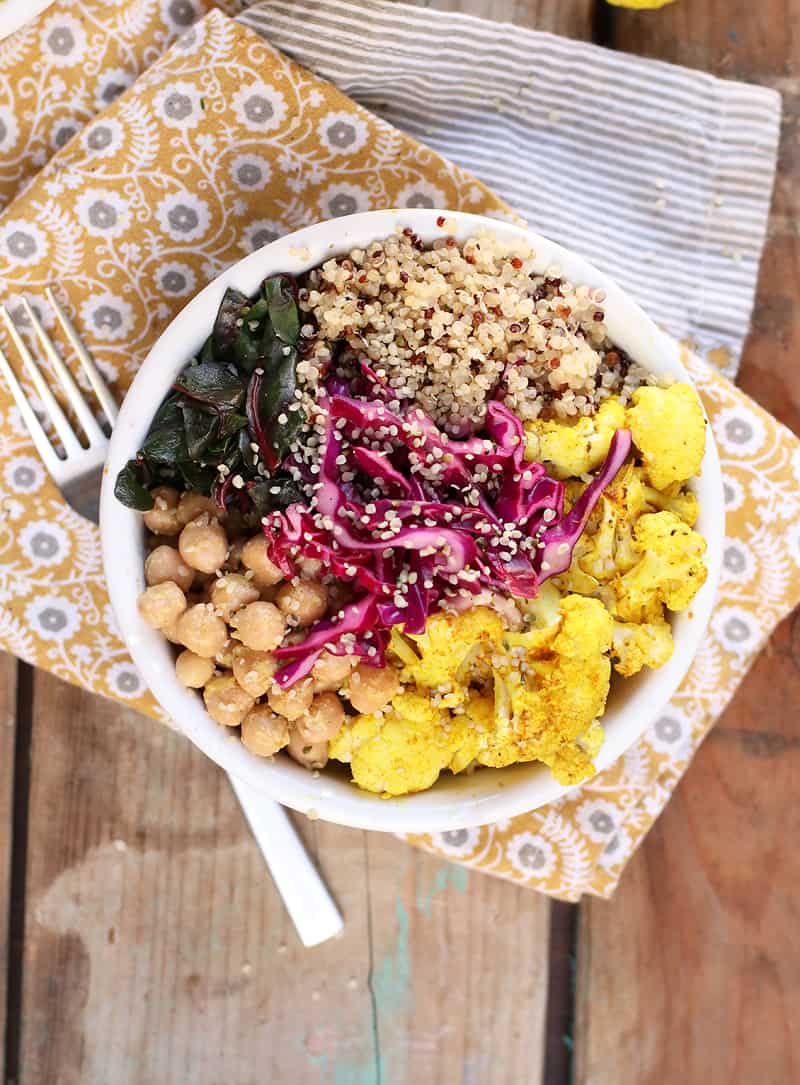 Golden Roasted Cauliflower Buddha Bowl
You're going to love this Golden Roasted Cauliflower Buddha Bowl recipe from My Darling Vegan. Turmeric roasted cauliflower served with quick pickled cabbage, sautéed Swish Chard, and cheesy chickpeas all served with a lemon cashew cream for a wholesome and hearty meal.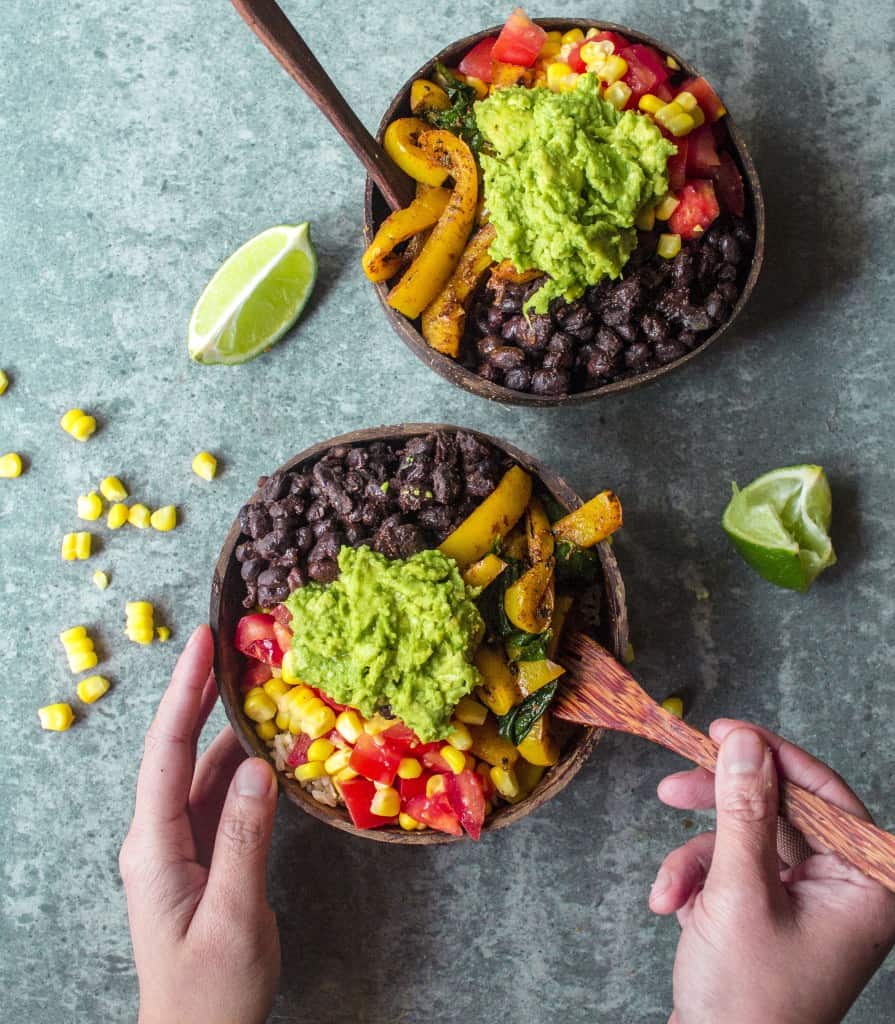 This quick and easy Mexican Nourish Bowl from Rainbow Nourishments is a classic! It's a perfect combination of grains, vegetables, proteins, and healthy fats (yay, avocado!). Spiced to perfection for a delicious meal that will satisfy and energize you throughout the day.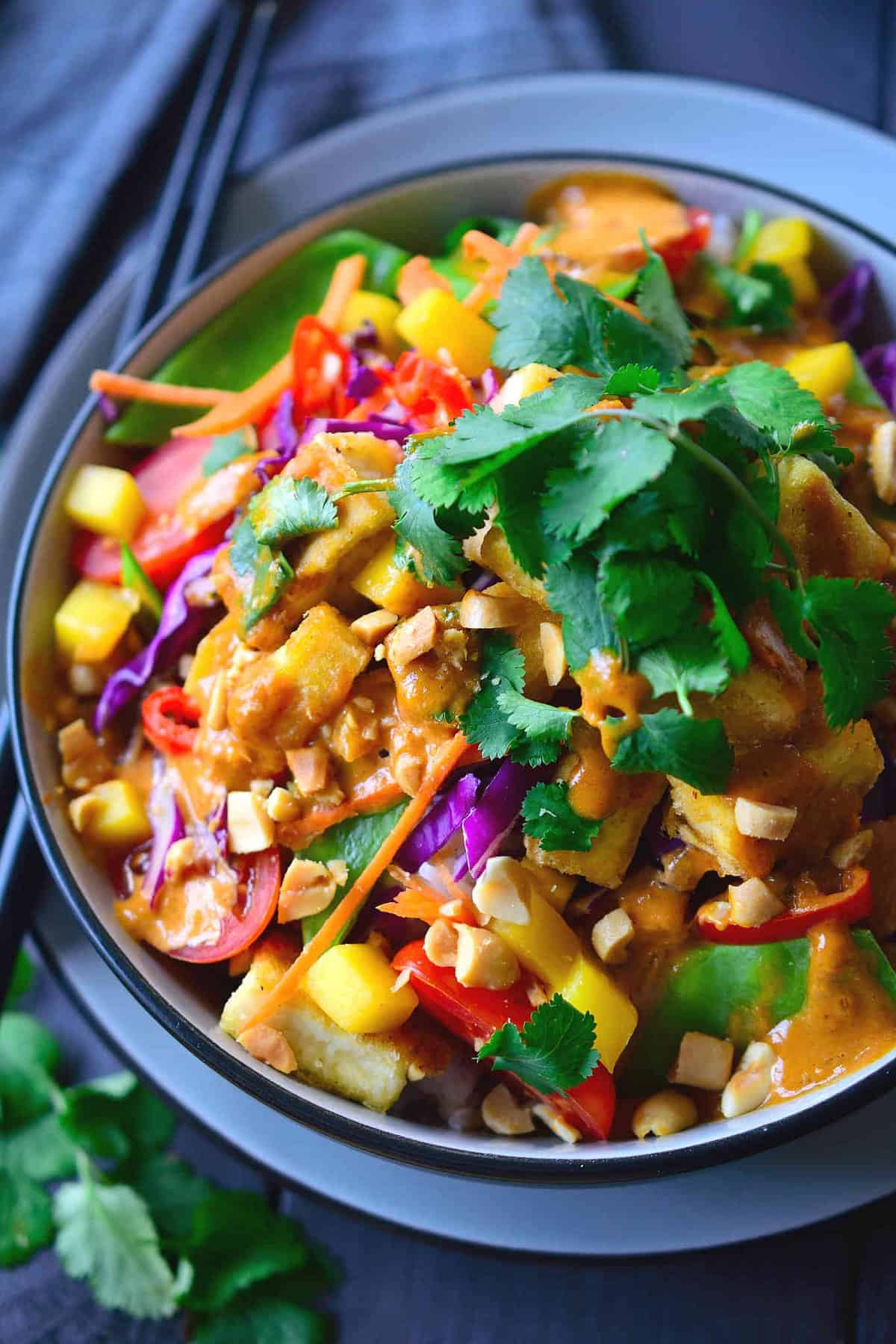 Look at the vibrant colors in this Thai Buddha Bowl from The Stingy Vegan! A delicious combination of crispy tofu, fresh vegetables, and Thai peanut sauce (yum!) all served over coconut rice. A 15-minute weeknight meal that you're going to want to have over and over again!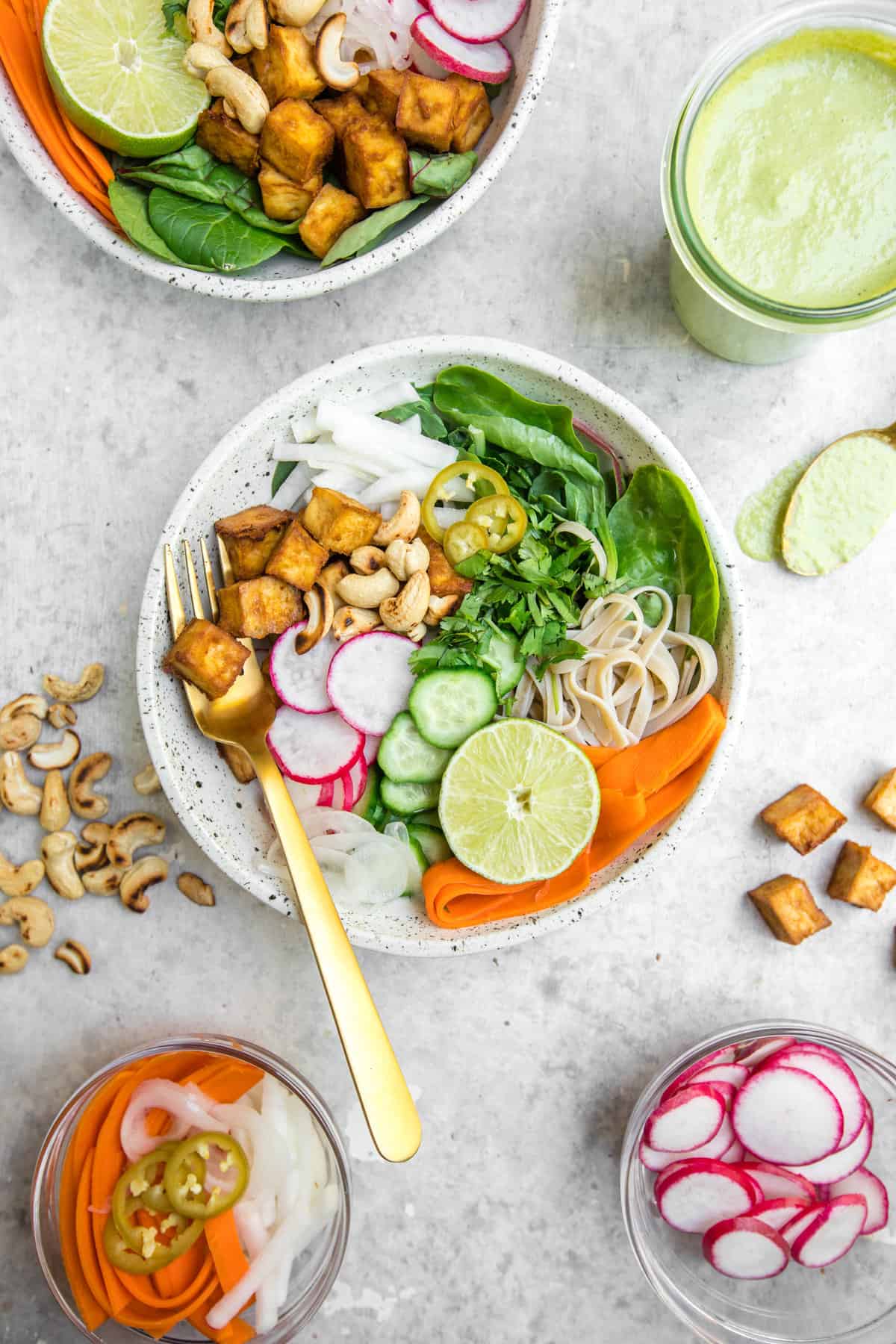 Everybody loves Banh mi and it just got a little bit better with this Banh mi Buddha Bowl from From My Bowl. The fresh and zesty bowls are made with crunchy pickled vegetables, crispy tofu, and fresh herbs and greens all served over brown rice noodles for a refreshing bowl that is packed with flavor and nutrients.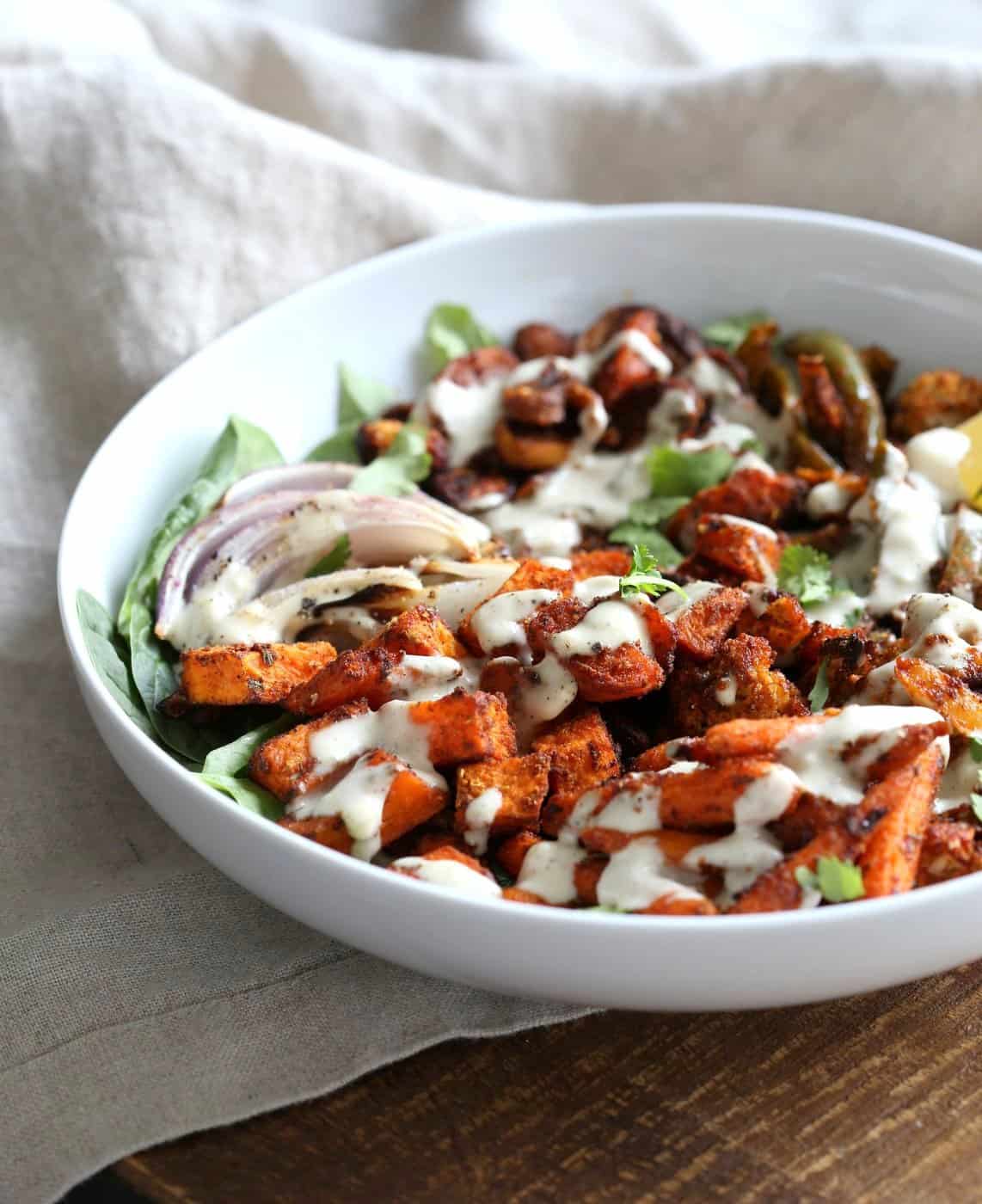 Vegan Richa always impresses me with her flavors and this Cajun Roasted Vegetable Bowl with Garlic Sauce is no exception. It's a bowl made with fiery roasted vegetables tossed in a homemade cajun spice blend and served in a bowl with crunchy greens and a creamy garlic sauce. So good!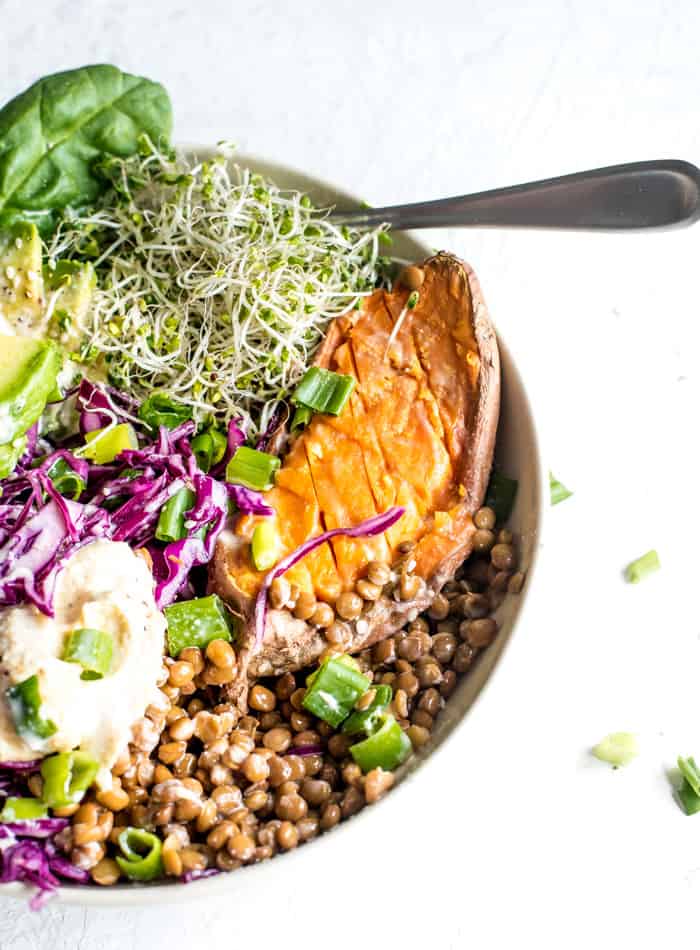 I love everything about this Sweet Potato Buddha Bowl from Running on Real Food. Packed with nourishment and flavor, these buddha bowls are filled with lentils, avocado, red cabbage, sprouts, hummus, and greens and topped with lemon tahini sauce and cilantro for a high protein, high fiber, high flavor meal.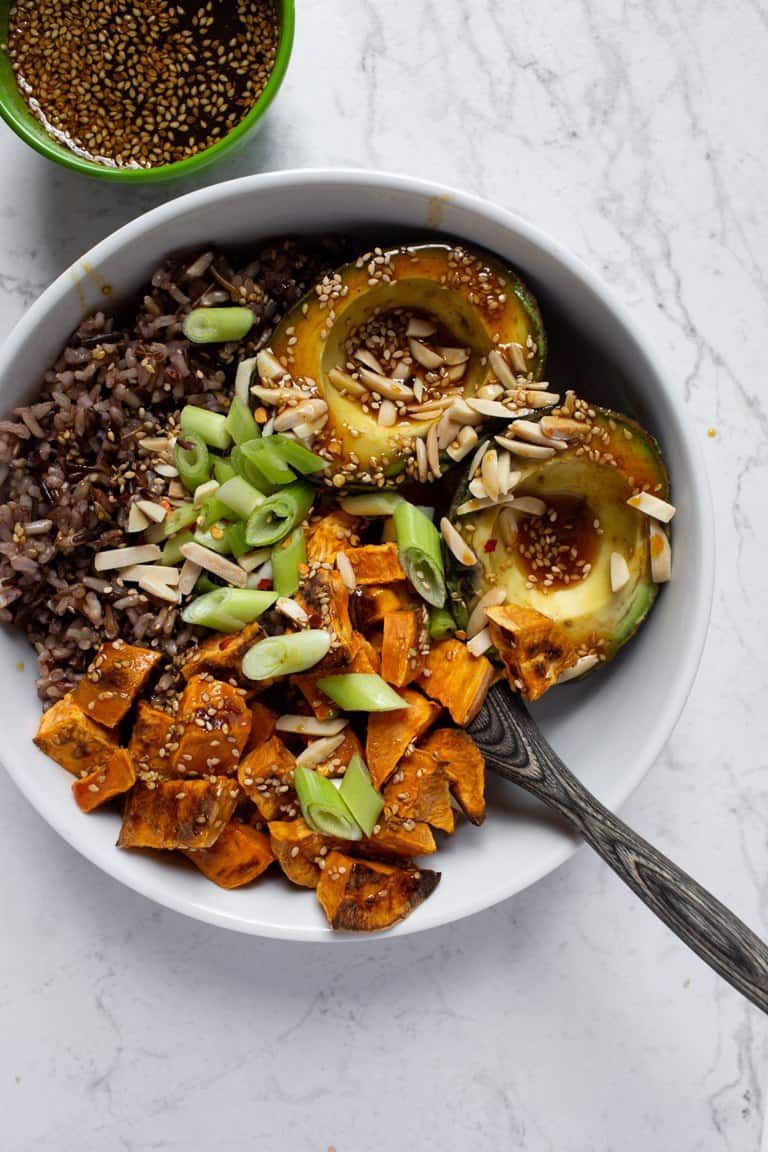 Here's another take on the sweet potato in this Teriyaki, Sweet Potato, and Avocado Bowl from The Vegan 8. A Buddha bowl with just 8 wholesome ingredients including a homemade curry teriyaki sauce. Packed with nutrients, protein, and healthy carbs, this is one satisfying meal.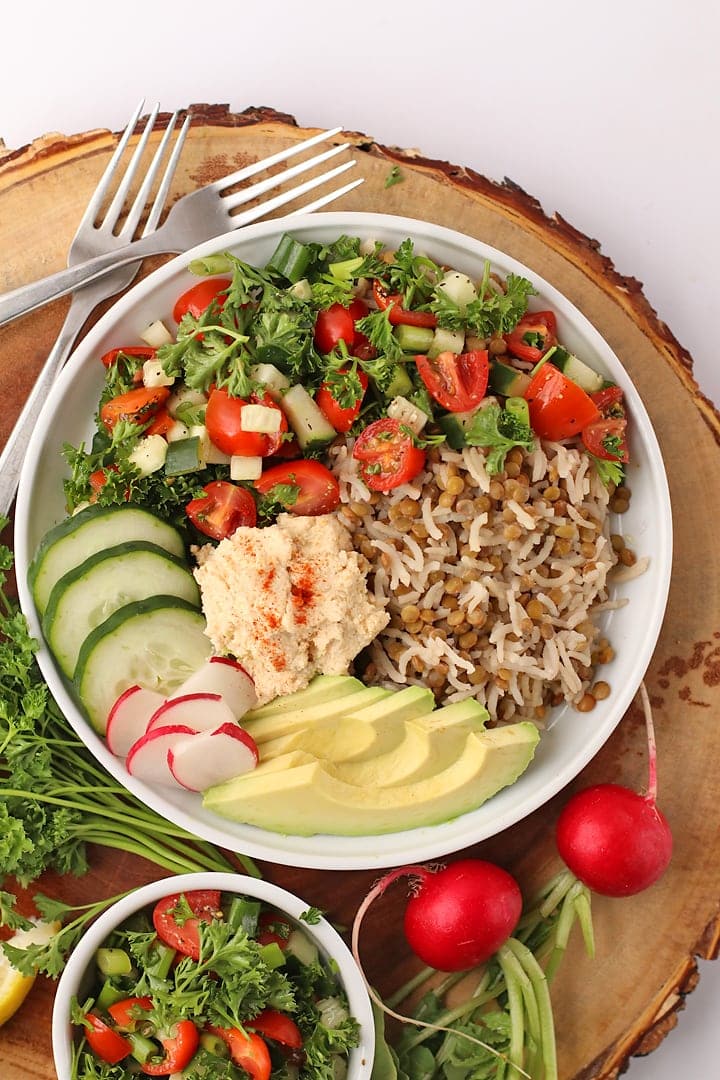 This Mediterranean Rice and Lentils Bowl from My Darling Vegan is the epitome of the word fresh. Made with brown rice and lentils, a fresh tomato cucumber salad, hummus, and crunchy vegetables, this hearty meal offers a complete protein while being rich in fibers and nutrients.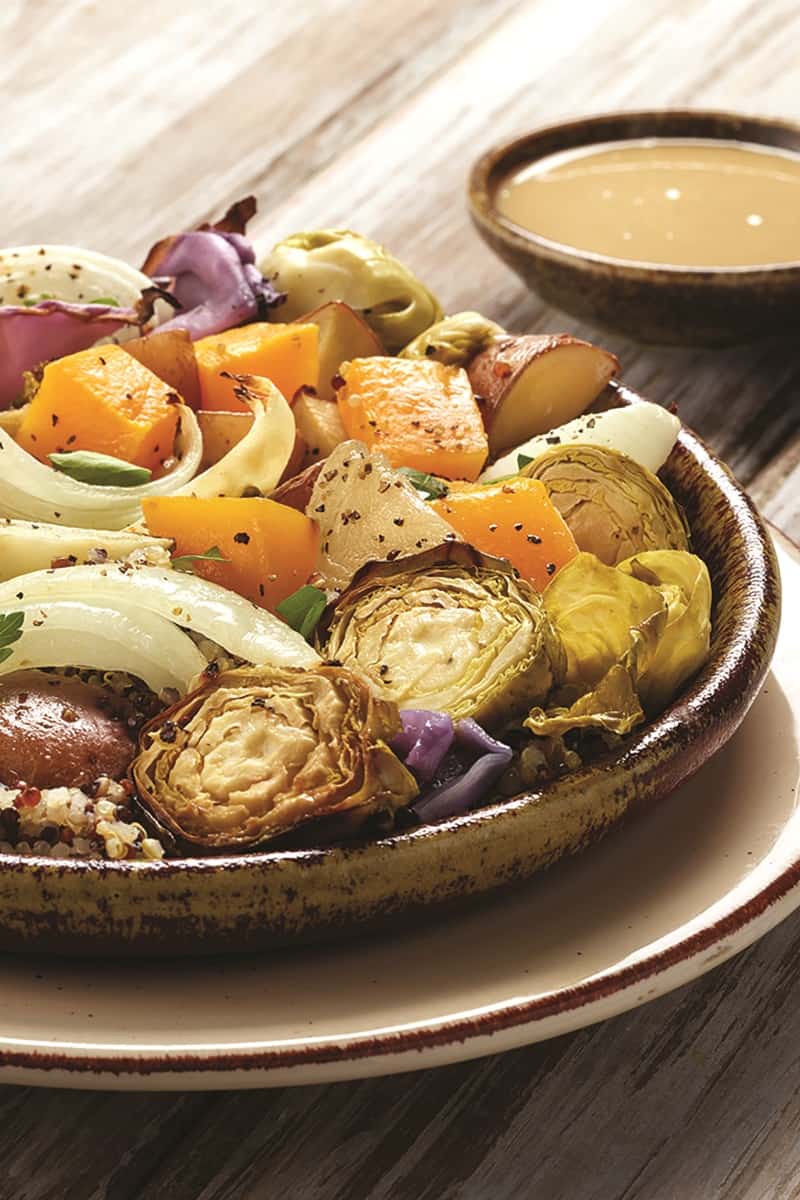 It's the perfect time of year for this Buddha Bowl with Roasted Winter Vegetables by Go Dairy Free. A Buddha Bowl recipe that celebrates winter with onions, cabbage, potatoes, squash, and my favorite vegetable of all, Brussels sprouts. All served with a lemon tahini sauce for a warm and comforting meal.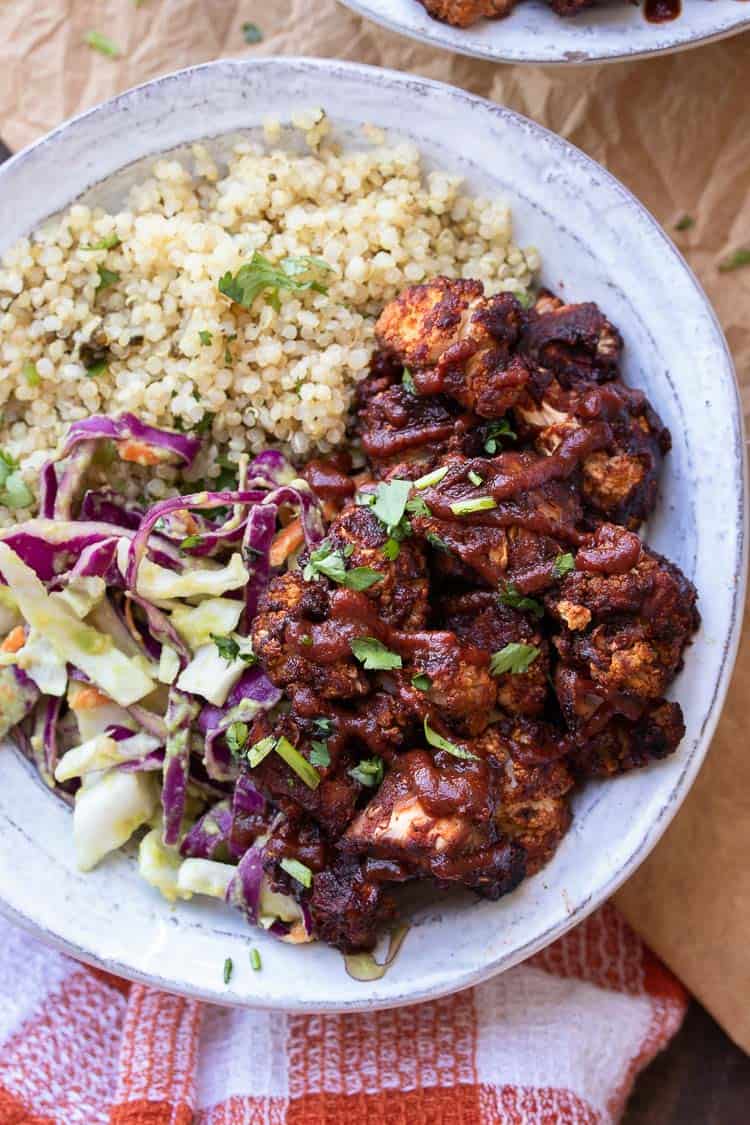 I can't get enough of this BBQ Cauliflower Bites Bowl with Tangy Avocado Slaw from Veggies Don't Bite. This delicious bowl is made with oven-roasted BBQ cauliflower and zesty avocado slaw served over Cilantro Lime Quinoa; an incredible flavors combination combined into one amazing Buddha Bowl recipe.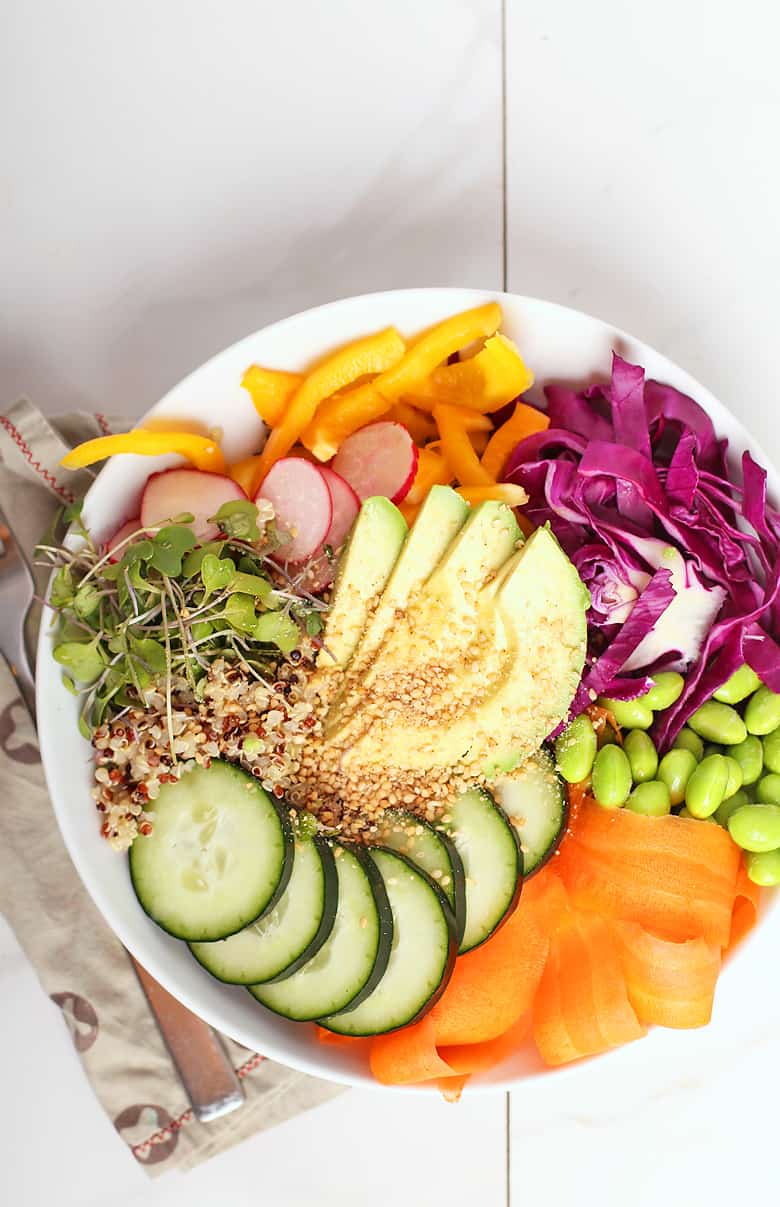 Brighten up with this Rainbow Nourish Bowl from My Darling Vegan. Made with a base of quinoa, filled with vibrantly colored vegetables, and tossed in a Sesame Miso Dressing, this Buddha Bowl makes the perfect light and refreshing meal.
---
More Vegan Recipe Roundups
That's it. 11 of the best vegan and gluten-free Buddha Bowl recipes. If you make one of them, let us know how it turns out in the comments below.
Written by Sarah McMinn
If you give one of these recipes recipe a try, snap a photo and share it on Instagram. Make sure to tag
@mydarlingvegan
so I can see your creations!