These healthy Carrot Muffins are sweetened naturally and filled with fruits and veggies for a delicious and healthy morning pastry. Don't start your day without one!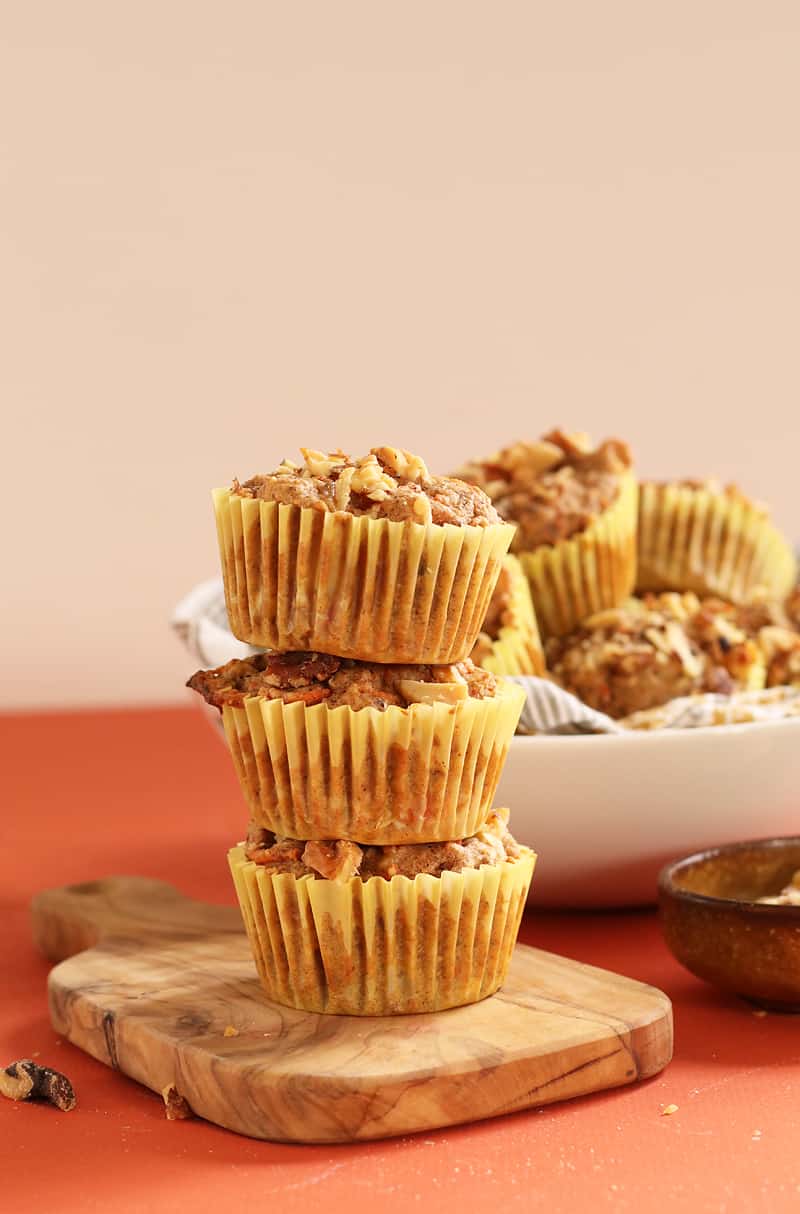 Disclosure: This post may contain affiliate links.
I am excited to share with you today's recipe. These healthy carrot muffins are one of my favorite muffin recipes of all time. Naturally sweetened and filled with fruits and vegetables, what's not to love?! Oh, did I mention, they are delicious to boot!
This recipe is inspired by a muffin at one of my favorite (late) vegan bakeries, Dovetail Bakery, which sadly closed down several years ago.
Since then I have been diligently working to recreate their recipes at home as to not let such a wonderful bakery be forgotten forever. See: Chocolate Chip Walnut Scones if you want a real treat.
These healthy carrot muffins are a variation of a muffin recipe Dovetail Bakery carried many years back. When I worked in the Whole Foods bakery - a lifetime ago - we would get these incredible carrot muffins delivered several times a week. Those were my favorite mornings in the bakery. I can still remember the delicious, comforting smell of buttery cinnamon spices that hit me when I first opened the lid to that box.
Oh sweetly spiced carrot muffins, how I loved you!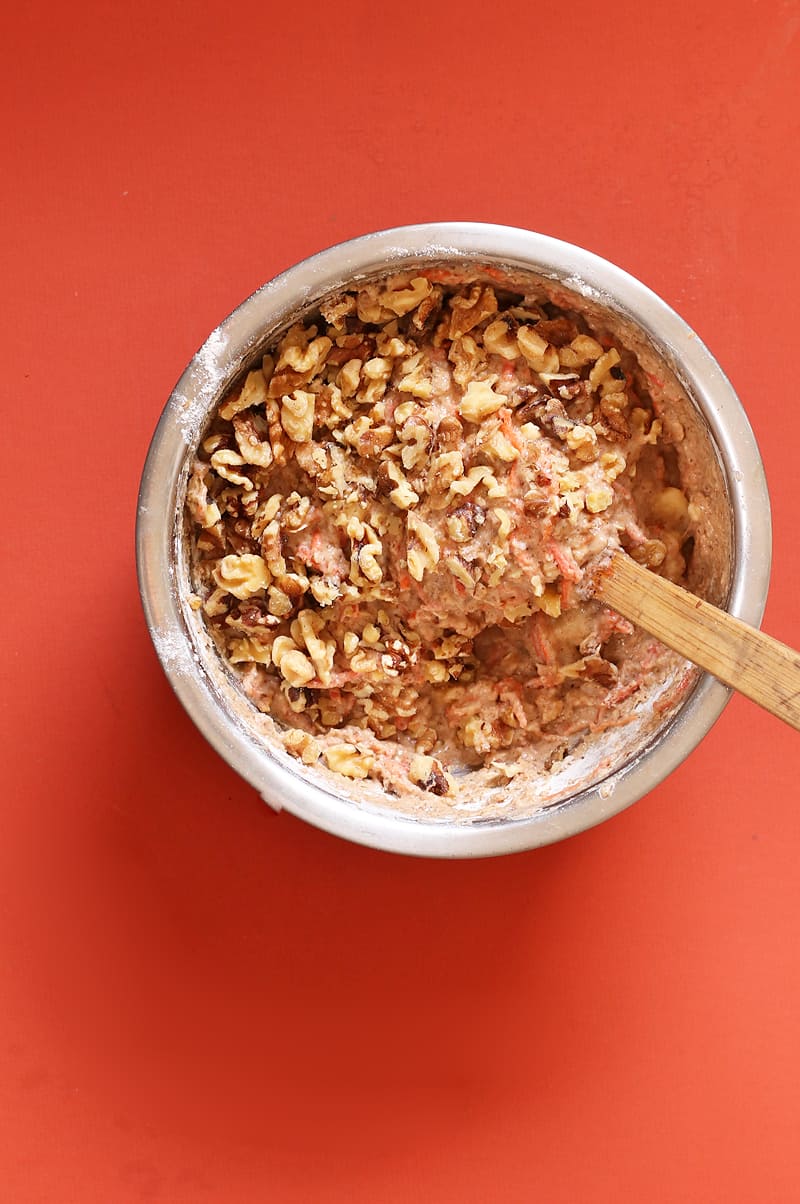 HOW TO MAKE Vegan Carrot Muffins
Like all my vegan muffin recipes, these carrot muffins are super simple to throw together. Just follow these simple steps:
STEP ONE – MIX TOGETHER THE DRY INGREDIENTS.
That's the gluten-free flour, baking powder, baking soda, baking powder, spices, and salt. Whisk it together until everything is uniformly combined.
STEP TWO – SHRED THE CARROTS
Using the shredding attachment of your food processor or handheld grater, shred the carrots. Add the carrots to your wet ingredients and combine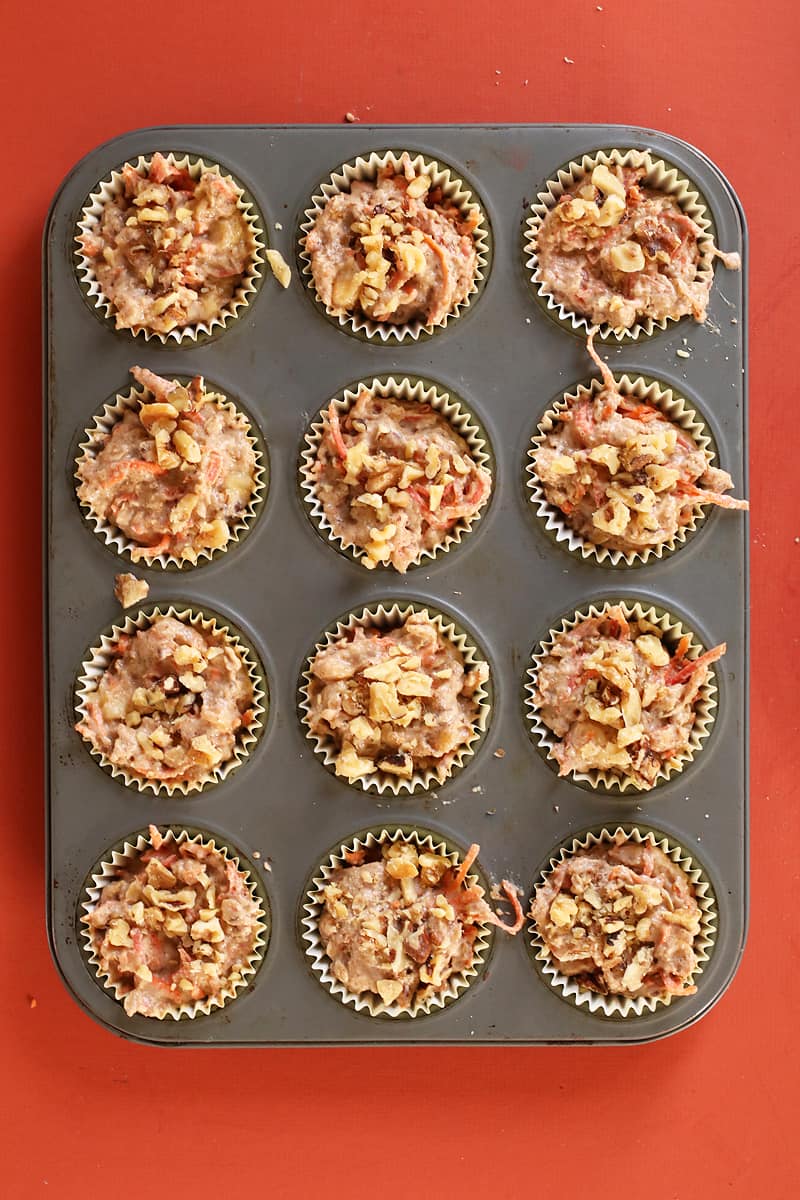 STEP THREE – COMBINE WET AND DRY INGREDIENTS
Add the wet ingredients to the dry ingredients and gently mix in until the flour is evenly hydrated. Gently fold in the walnuts.
STEP FOUR – BAKE THE VEGAN ZUCCHINI MUFFINS
Generously spray a muffin tin. Fill each muffin mold ¾ of the way full and bake for 25 minutes.
That's it. It really doesn't get much easier than that!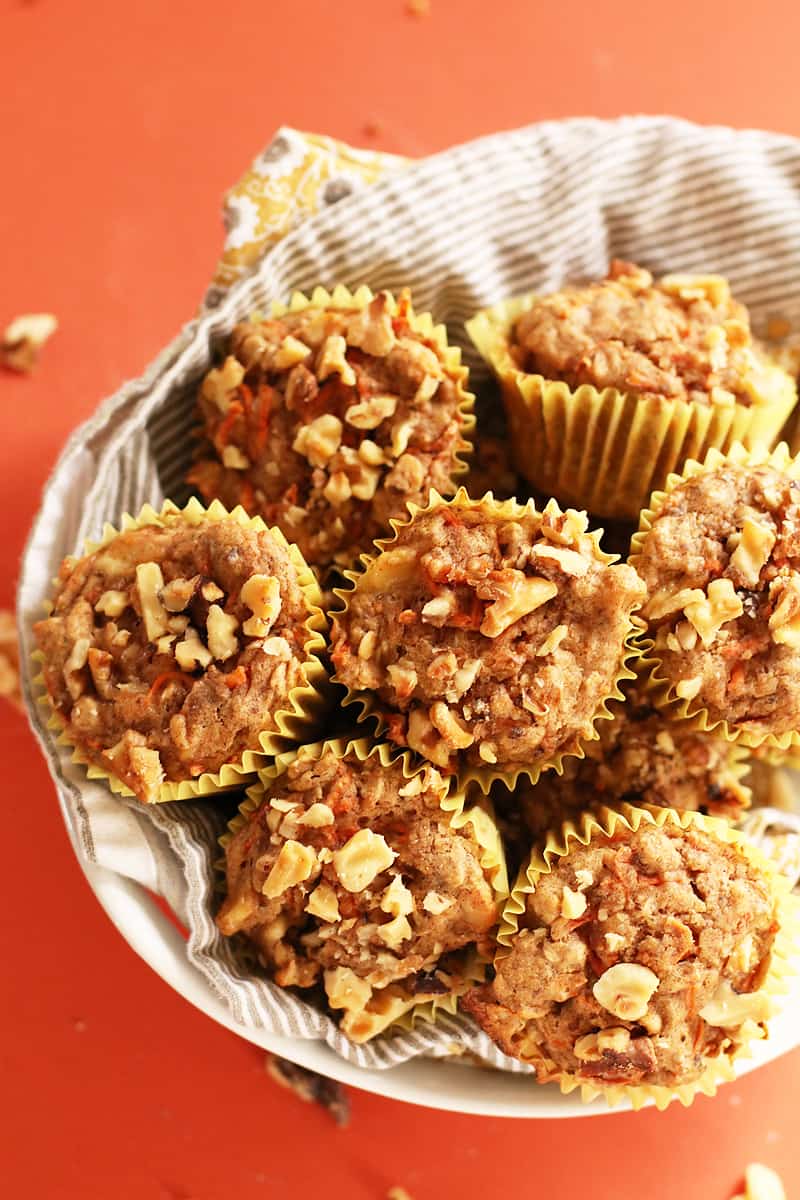 WHY I LOVE THESE CARROT MUFFINS
Similar to my zucchini muffins, these muffins are incredibly moist. Carrots are an automatic egg replacer meaning there are no weird or hard to find ingredients in this recipe.
Additionally, this is also a very straight-forward recipe. Some quickbread recipes can be a bit tricky with textures and baking times, but these carrot muffins are nearly fool-proof and can be thrown together in just about 10 minutes. Whip it up, throw it in the oven, then sit back and relax.
And these carrot muffins are a great use for all that excess carrots you're gonna have growing wild in your garden pretty soon.
Oh, and of course, they are bursting with delicious flavor in every bite for a veggie-packed muffin that tastes just like a carrot cake.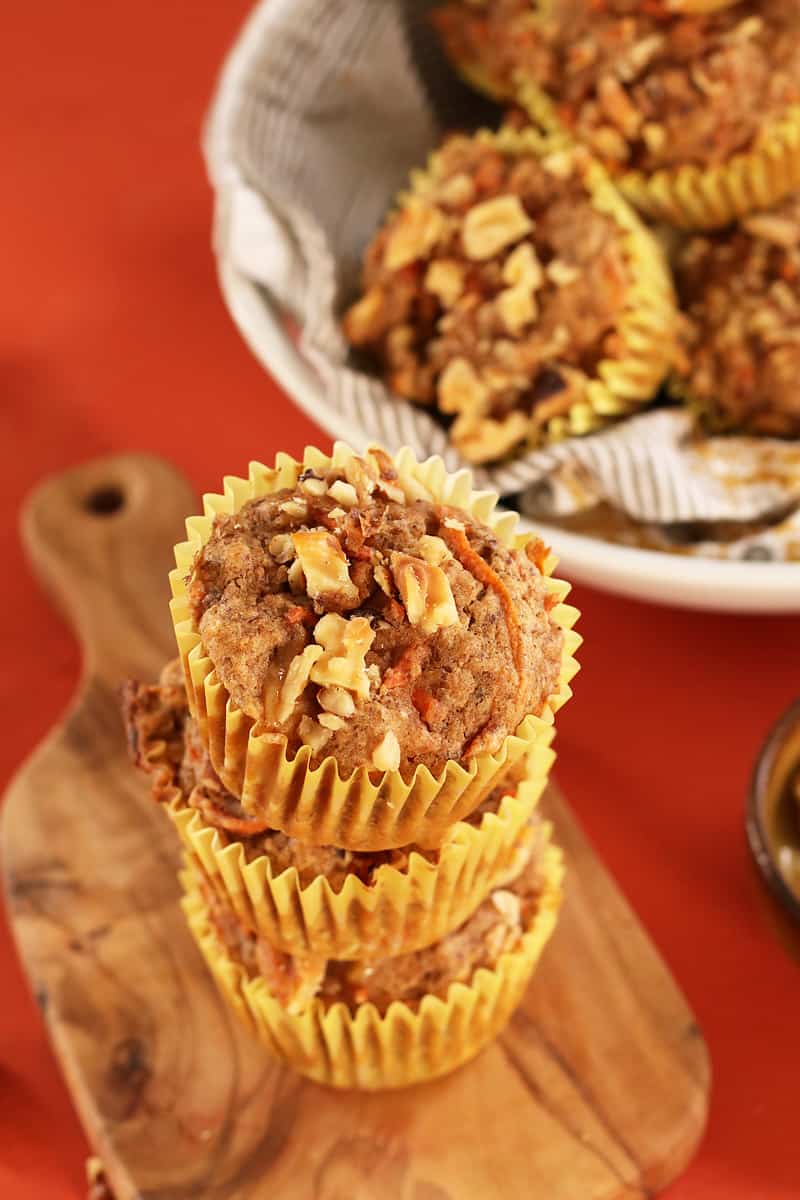 TIPS AND TRICKS FOR MAKING THE PERFECT VEGAN CARROT MUFFINS:
Do not over-mix the batter. Mix until the wet and dry ingredients are just combined to prevent extra gluten from forming, making the pastries gummy. A few lumps are okay.
Generously spray your muffin tins or use cupcake holders to ensure the muffins don't stick to the pan.
Let the muffins cool 10 minutes in the muffin tin before flipping them onto a wire cooling rack to cool completely. Otherwise, they may break apart as they finish setting.
Store uneaten muffins in an airtight container at room temperature for up to 3 days. Ore store them in the freezer for up to one month. Just pull them out the night before to let them thaw completely before chowing down.
---
More vegan muffin RECIPES
Love vegan muffins as much as I do? Make sure to check out some of my favorites:
You're going to love these vegan carrot muffins. They are lightly sweetened, dense and moist, and filled with sweet and spicy flavors, they are the perfect morning pastry to get you energized and excited about the day.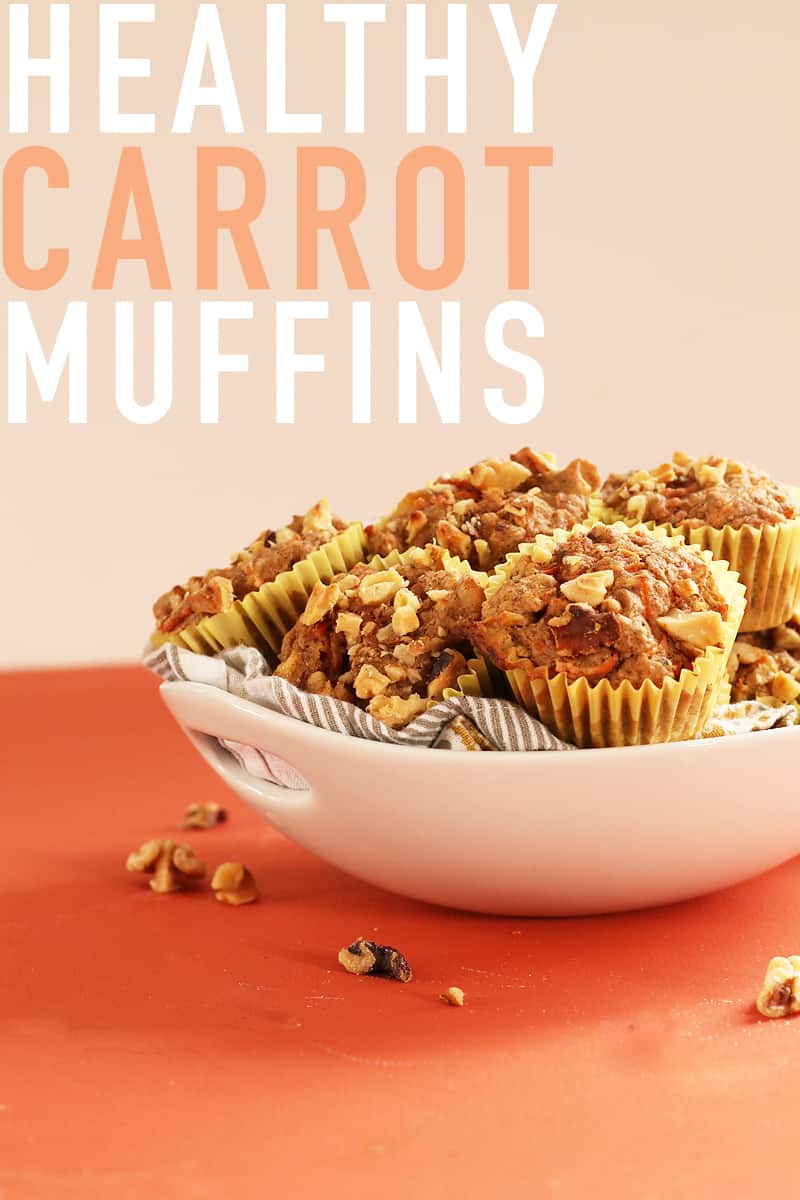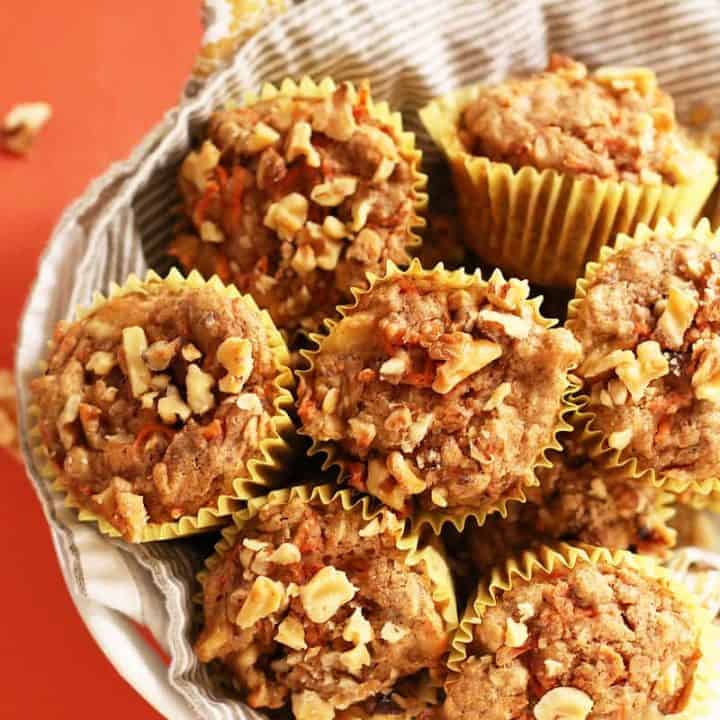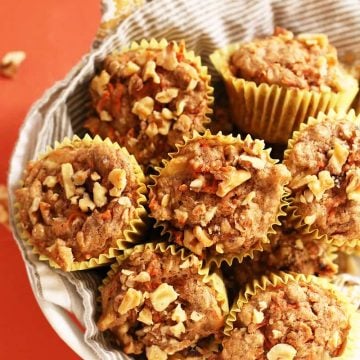 Healthy Vegan Carrot Muffins
My vegan carrot muffins are the make-ahead vegan breakfast you need! These delightfully fluffy and flavorful pastries are full of protein and fiber AND made without any refined sugars. They're also perfectly portable, making them an ideal choice for your morning commute.
Print
Pin
Rate
Ingredients
2

Flax Eggs

½

cup

Rolled Oats

½

cup

Non-Dairy Milk

1 ¾

cup

All-Purpose Flour

1 ½

teaspoon

Baking Powder

½

teaspoon

Baking Soda

½

teaspoon

Salt

1

teaspoon

Cinnamon

½

teaspoon

Ginger

¼

teaspoon

Nutmeg

1

rounded cup

Shredded Carrots

1

very ripe

Banana

⅓

cup

Applesauce

⅓

cup

Maple Syrup

¼

cup

Coconut Oil

melted

1

cup

Walnuts

chopped
Instructions
Preheat the oven to 375. Spray a muffin tin with cooking spray. Line it with muffin holders and set aside.

Begin by making your flax eggs. Ground 2 tablespoons of flaxseeds to a fine powder. Add 6 tablespoons of water and whisk together. Set aside until the mixture is thick and gelatinous.

In a medium sized bowl combine the soy milk and rolled oats. Set aside for 10 minutes to allow the oats to soften. Note: Don't skip this step. Soaking the oats is important if you want fluffy muffins.

While the oats soak, mix together the flour, hemp hearts, baking powder, baking soda, salt, and cinnamon. Set aside.

In a food processor with the shredder blade, shred 2-3 carrots. Alternatively, you can shred by hand until you have 1 rounded cup. Combine carrots with the rest of the wet ingredients. Mix the dry ingredients into the wet until the flour is evenly hydrated and you have a uniform batter. Fold in walnuts.

Scoop your batter into a greased muffin tin. Fill each muffin mold about ¾ of the way full and bake for 20-22 minutes, until a toothpick inserted in the middle comes out clean.

Remove the muffins from the oven and let them cool in the muffin tin for 10 minutes before flipping out to a wire cooling rack to cool completely.
Notes
Serving and Storing - For some added richness, feel free to slather with a bit of vegan butter or cream cheese. You can also serve these with some nut butter for added protein. These muffins will keep at room temperature for up to 5 days. Be sure to keep them well sealed to prevent them from going stale. You can also freeze these muffins for up to a month.
Make in Advance - If you want to make this muffin batter in advance, store the batter in an airtight container in the refrigerator for up to 48 hours.To bake the muffins, preheat the oven and bake according to the instructions. However, these muffins may take a few minutes longer to bake since the batter will be chilled. The muffins will also be slightly denser as the baking soda begins to activate once it's mixed into the batter, causing it to be slightly less potent.
Recipe Tips
The most accurate way to measure flour is to spoon it into your measuring cup, leveling it off with the back of a knife.
Do not overmix your batter. Overmixing allows the gluten to develop and too much gluten will give you gummy and dense muffins.
Baking soda becomes activated as soon as theliquid is added. To ensure that you don't waste the leavening power, be sure to put the muffins in the oven as soon as your batter is divided among the cups.
I find that using an ice cream scoop is the cleanest and easiest way to get the batter into the muffin molds. With an ice cream scoop, you can ensure the muffins are equally sized as well.
Do not open the oven door while the muffins are baking. This causes the structure to fall leaving you with a dent in the middle of your muffins. You can check for doneness after 20 minutes.
Variations - For a gluten-free version use Bob's Red Mill 1:1 Gluten-Free Baking Flour.
Nutrition
Calories:
231
kcal
|
Carbohydrates:
27
g
|
Protein:
4
g
|
Fat:
12
g
|
Saturated Fat:
4
g
|
Sodium:
153
mg
|
Potassium:
248
mg
|
Fiber:
3
g
|
Sugar:
8
g
|
Vitamin A:
895
IU
|
Vitamin C:
2
mg
|
Calcium:
69
mg
|
Iron:
1.4
mg
If you give this recipe recipe a try, snap a photo and share it on Instagram. Make sure to tag
@mydarlingvegan
so I can see your creations!