Vegan Quinoa Salad with Asparagus and Peas
This easy vegan quinoa salad is mixed with asparagus, peas, and fresh basil then tossed in a lemony vinaigrette for a quick and simple springtime salad. Made in just 30 minutes.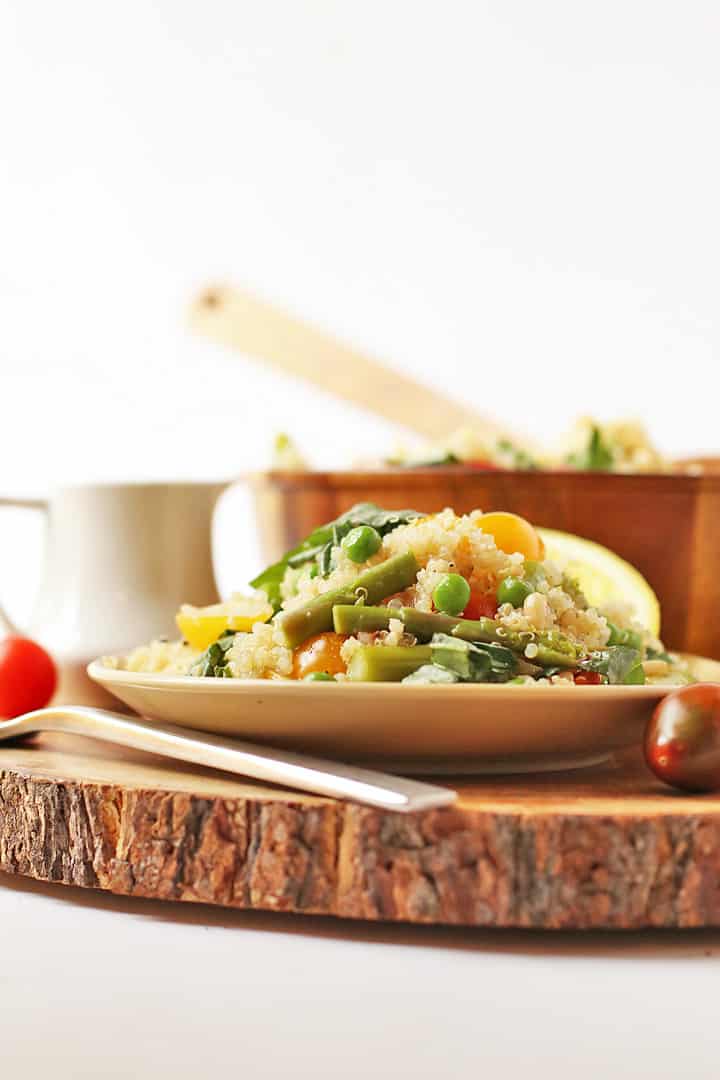 This post contains affiliate links. For more information, please see my privacy policy.
I love a good vegan quinoa salad.
I also love spring. So today I'm combining two of my truest loves and bringing you this quinoa salad with vegetables and lemon vinaigrette – it's the perfect vegan spring salad! With some of the year's earliest vegetables, this salad is filled with peas, asparagus, tomatoes (okay, not a spring vegetable) and fresh basil for a delightful light meal that is filled with protein and packed with flavor. I think you're going to love it.
Let's take a closer look, shall we?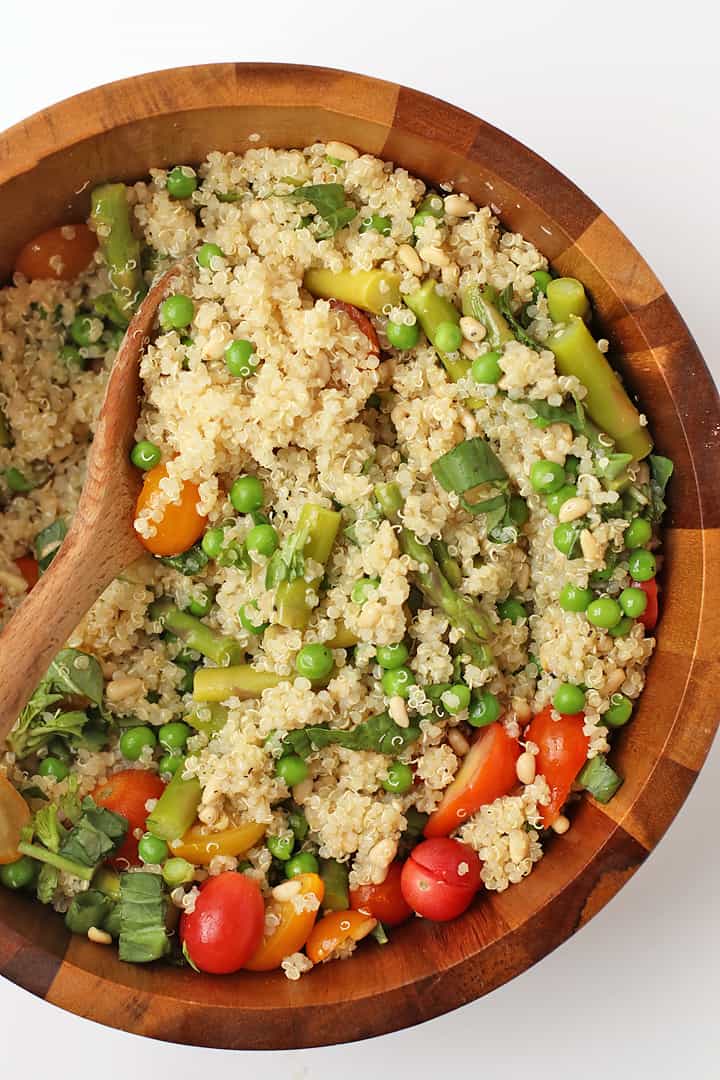 One of the reasons I'm such a fan of vegan quinoa salad is that quinoa is so packed with nutrients (it's a superfood, folks!) that it's perfect for so many occasions. Quinoa salad can be a filling lunch to bring along for a day of hiking and adventures (will fuel you for hours), a light summer dinner that will leave you satisfied and refreshed, or a hearty side dish to bring to potluck gatherings that may be lacking in vegan food.
What makes quinoa so good for you?
I'm glad you asked! Let me tell you.
One serving has 8 grams of protein and 5 grams of fiber.
It also contains a healthy amount of important vitamins and minerals such as zinc, magnesium, folate, iron, and so much more.
It's one of the few plant-based foods that naturally contains omega-3 fatty acids.
Quinoa has all NINE essential amino acids.
And it is very high in antioxidants.
And that's not all. Read about more of its amazing benefits here.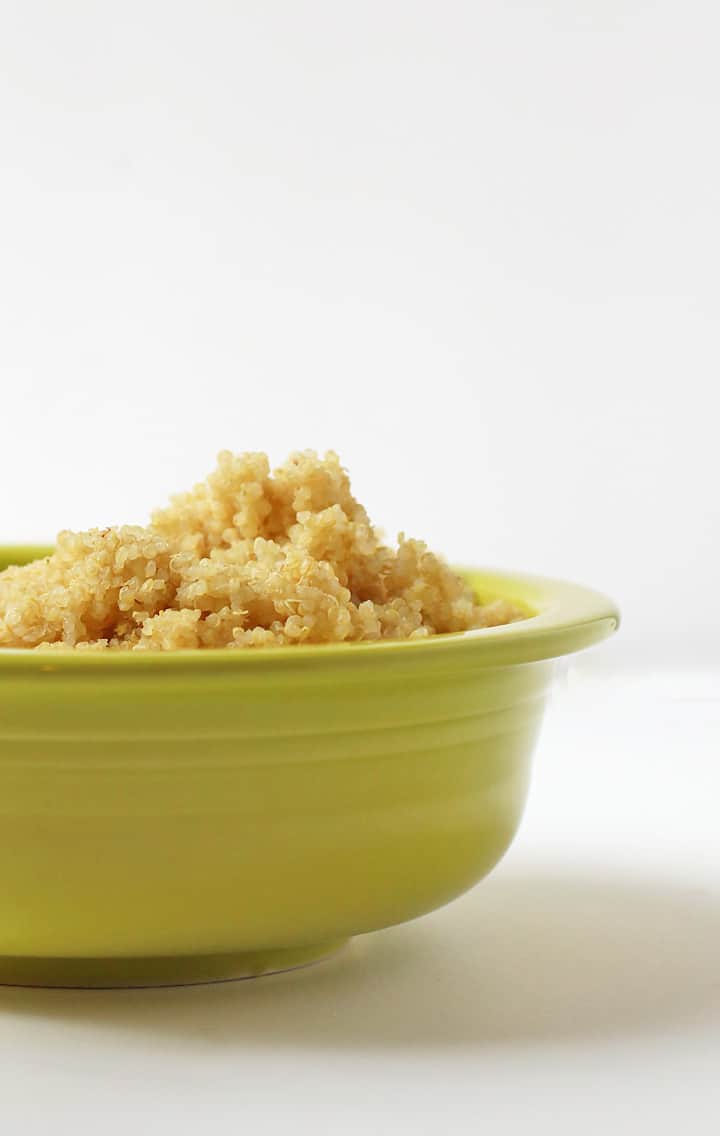 With all the superpower of quinoa, how can one not love a good vegan quinoa salad?
Is quinoa gluten-free?
But it gets even better. I love quinoa also because it's naturally gluten-free, making it a great dish for people who, like me, need to limit their gluten and a perfect party dish that everyone, despite their dietary restrictions, can enjoy it.
Despite being a gluten-free superfood, quinoa is delicious! It has such a delightfully nutty taste and fluffy texture, it pairs so well with most vegetables, nuts, fruits, and all sorts of herbs and spices.
How to make quinoa salad
This vegan salad recipe is super simple to make. It's a matter of cooking the quinoa, chopping some veggies, and whipping together some dressing. Let's start by looking at the quinoa.
How to cook quinoa
Cooking quinoa is very similar to cooking rice. To begin, quinoa should always be first rinsed in a fine-mesh sieve until water runs clear. This is key for getting a clean, nutty flavor. Otherwise, quinoa can sometimes taste dirty and gritty. Once it's rinsed, drain the water and transfer it to a sauce pot. Add 2 parts water for every 1 part quinoa and bring to a boil. Cover, reduce heat to a simmer and cook until the water is completely absorbed about 20 minutes. Remove from heat and let it set an additional 5 minutes before uncovering and fluffing with a fork.
Once the quinoa is cooked, transfer it to a shallow bowl and place it in the refrigerator for at least 30 minutes to let to quinoa cool down before adding the remaining salad ingredients.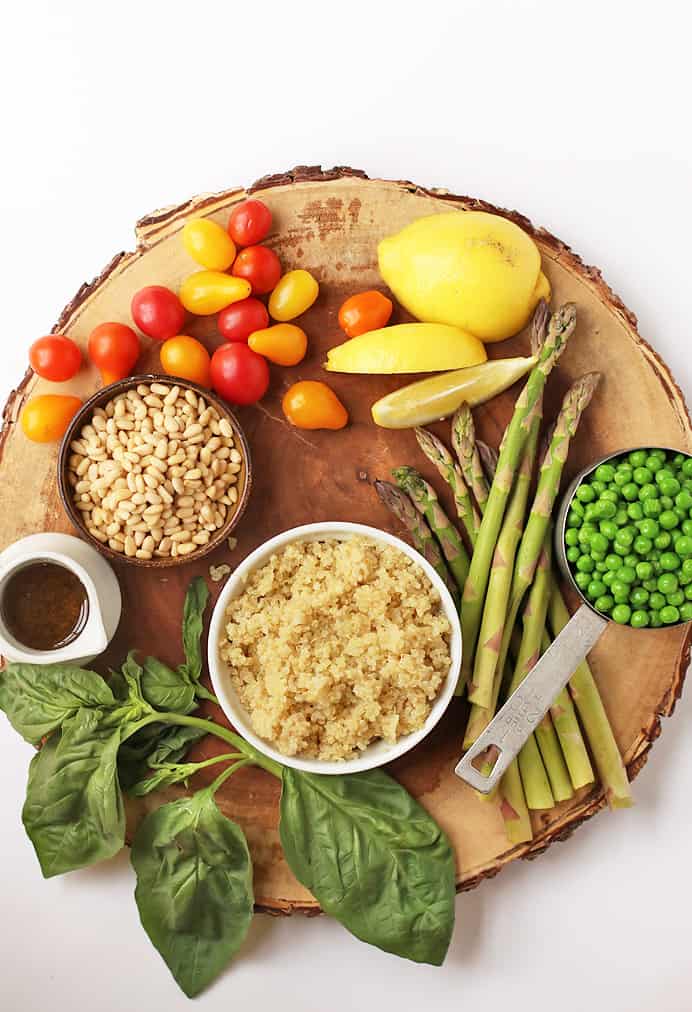 While the quinoa cooks, you can prepare the vegetables. The peas and asparagus are boiled lightly and then immediately placed in an ice bath to stop the cooking. Chop the tomatoes and basil. You can also make Lemon Vinaigrette at this point. Add all the ingredients to a small blender and blend until the ingredients are evenly combined.
Once the quinoa has cooled down, you can add the vegetables, top it with the dressing, and you have yourself a delicious and fresh vegan quinoa salad.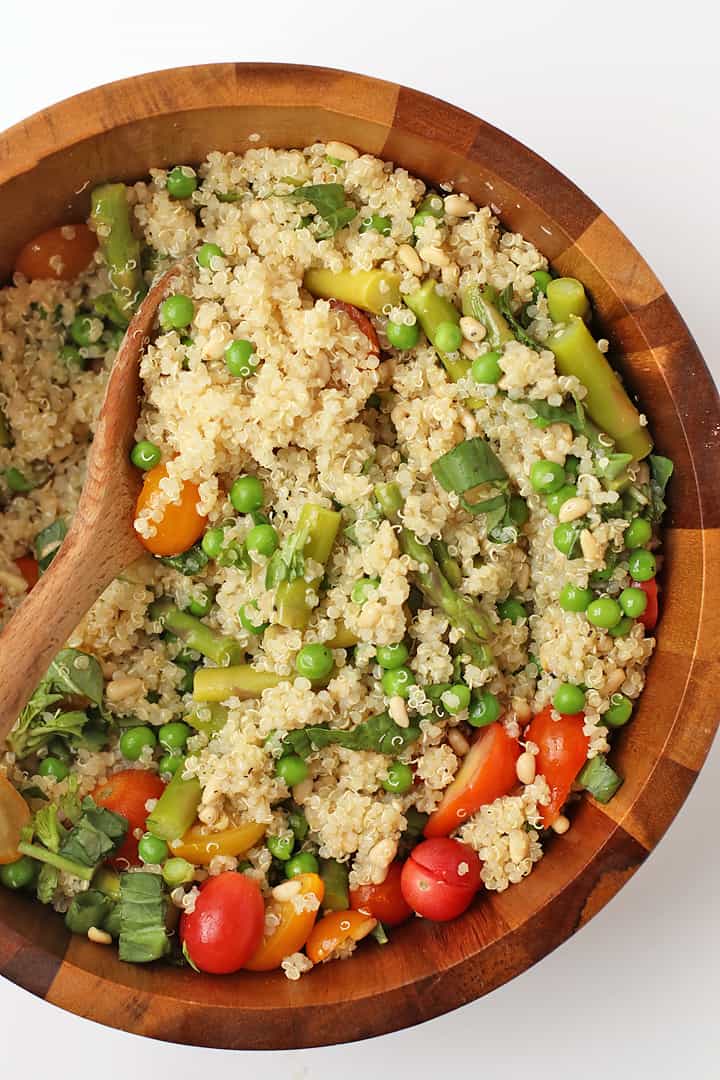 Variations of quinoa salad
Among the many reasons I love quinoa salad, is there are so many variations to the quinoa base. Here are a few of my favorite vegan quinoa salads:
With endless possibilities, you can have a different quinoa salad every day.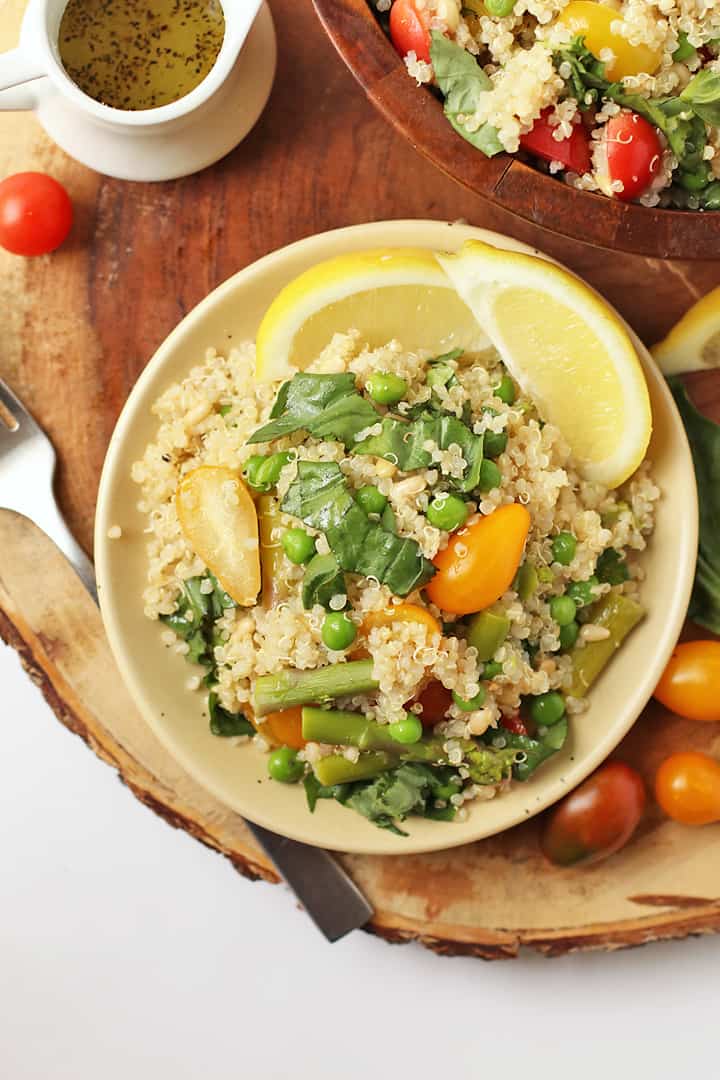 Serving and storing vegan quinoa salad
This salad can be eaten the same day it's made or made a day or two in advance. Let the salad chill in the refrigerator for at least 1 hour before serving. This allows the salad to cool down and lets the flavors marinade. It can be served as part of a summer potluck or for a light lunch or afternoon snack. Uneaten quinoa salad can be stored in an airtight container in the refrigerator for up to 4 days.
Ready to give this quinoa salad a try? I think you're going to love it!
Vegan Quinoa Salad
This easy vegan quinoa salad is mixed with asparagus, peas, and fresh basil then tossed in a lemony vinaigrette for a quick and simple springtime salad. Made in just 30 minutes.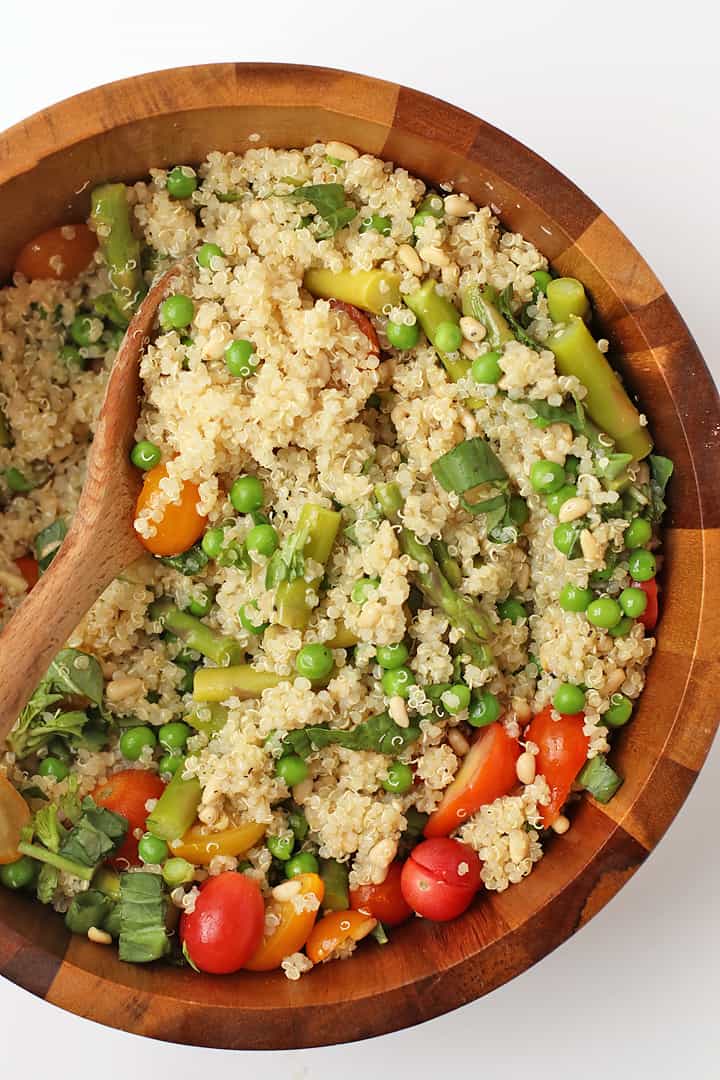 Course:
Salad
Cuisine:
Vegan
Keyword:
Vegan Quinoa Salad
Servings
:
8
people
Calories
: 195 kcal
Author
:
Sarah McMinn
Ingredients
Quinoa Salad
1 1/2

cup

quinoa, uncooked

1

cup

cherry tomatoes, halved

1

cup

frozen peas

about 10

stalks asparagus, chopped into 1" pieces

1/4

cup

fresh basil, chopped

1/4

cup

toasted pine nuts
Instructions
Cook quinoa according to package instructions. While quinoa is cooking, prepare the rest of the salad.

Bring a small pot of water to boil and boil peas and asparagus for 3 minutes. While vegetables are boiling, prepare an ice bath. When vegetables are tender, strain through a colander and place the vegetables immediately in the ice bath to prevent further cooking.

In a small blender combine the ingredients for the lemony vinaigrette.

Once quinoa is ready, remove from heat and fluff with a fork. Transfer quinoa to a large bowl and refrigerate for 30 minutes to let quinoa cool.

Once quinoa is cool, add the remaining ingredients. Toss with the dressing and serve immediately or store in an airtight container in the refrigerator until ready to serve.
Recipe Notes
This recipe can be made a day ahead of time. Store it in an airtight container in the refrigerator. 
Nutrition Facts
Vegan Quinoa Salad
Amount Per Serving
Calories 195
Calories from Fat 72
% Daily Value*
Fat 8g12%
Sodium 150mg7%
Potassium 289mg8%
Carbohydrates 24g8%
Protein 6g12%
Vitamin A 270IU5%
Vitamin C 11.6mg14%
Calcium 23mg2%
Iron 2.1mg12%
* Percent Daily Values are based on a 2000 calorie diet.
If you give this recipe recipe a try, snap a photo and share it on Instagram. Make sure to tag
@mydarlingvegan
so I can see your creations!