Vegan Fajitas Bowls with Portobello Steak
Amazing vegan fajitas made with portobello steak, cilantro-lime rice, and sautéed onions and peppers. Filled with delicious fresh flavors and topped with LA VICTORIA® Salsa Thick'n Chunky Medium and Salsa Verde for a wholesome vegan and gluten-free meal.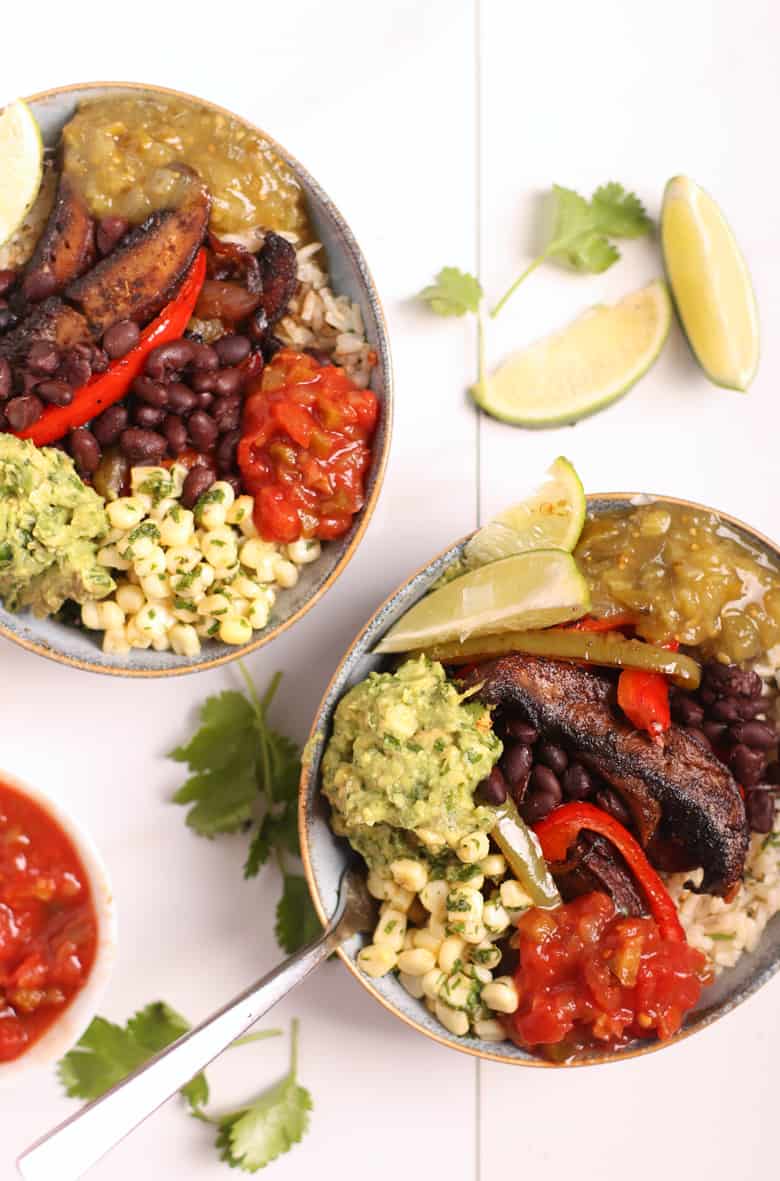 This post has been sponsored by the makers of the LA VICTORIA® brand. All thoughts and opinions are my own.
Please make sure the following sentence is linked out: Click here to read all about the LA VICTORIA® brand and find more delicious recipes! 
It's vegan fajitas time!
I am a HUGE fan of fajitas, yet somehow I have never shared a recipe for them on the blog. My friends, up until now, I have let us all down. Okay, okay, truth be told, this isn't exactly a fajitas recipe either. Today, I'm sharing with you the vegan fajita bowl—aka the deconstructed fajita.
What is a deconstructed fajita? Why, it's seasoned portobello steak with sautéed onions and peppers that are served over a bed of cilantro lime rice and then topped with a combination of salsas that season the entire meal to perfection. It's an ideal meal for plant-based eaters and omnivores alike who love good flavors and lots of wholesome foods while enjoying the ease and convenience of a quick weeknight meal.
Let's take a closer look.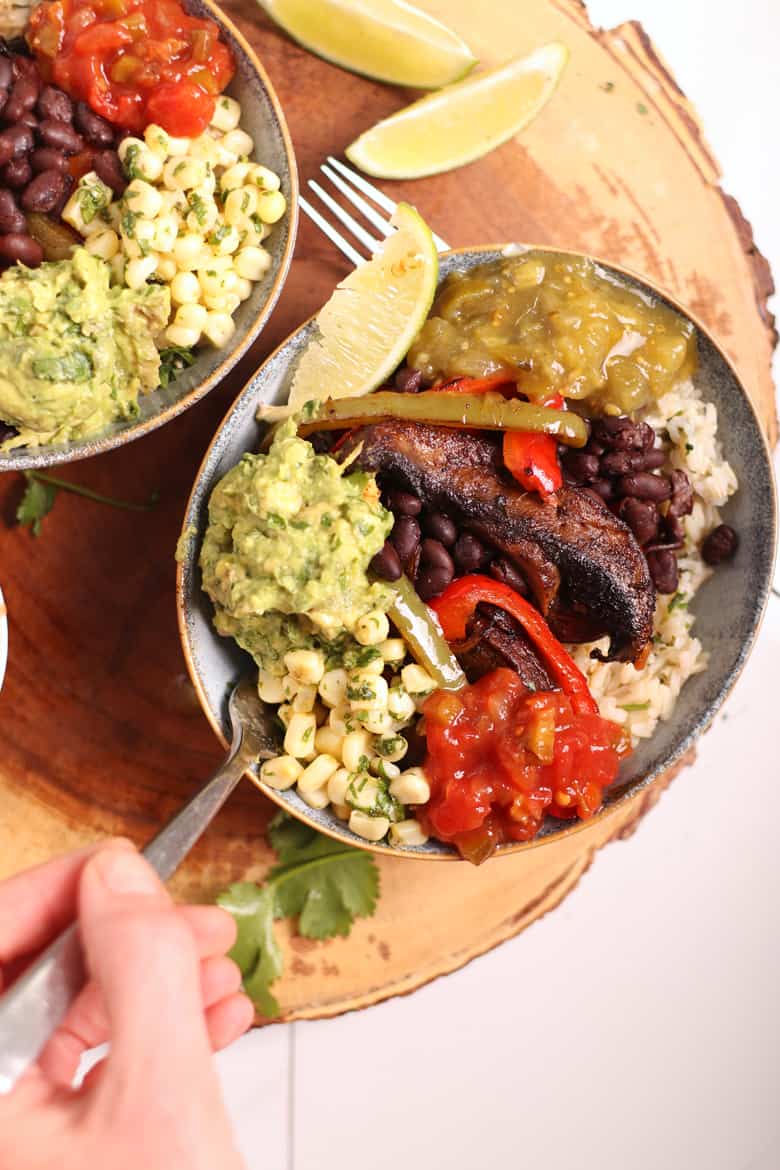 A good fajita bowl is truly all about the condiments. Finding the perfect mixture of zesty, creamy, and spicy is key to the perfect vegan fajitas.
Best Salsa for vegan fajita bowls
So, of course, we should start with the salsa. For these fajita bowls, I used two different LA VICTORIA® salsas: the Thick'n Chunky Salsa and Thick'n Chunky Salsa Verde, which add so much freshness, balance, and flavor to this bowl that I couldn't choose between just one. La Victoria also makes a new line of Organic Chunky Salsas if that's more your speed!
You've probably heard of the LA VICTORIA® brand before (since they pioneered jarred salsa) but you might not know that this wonderful brand was established over 100 years ago and all of its salsas and sauces are inspired by a century-old family recipe that lies at the heart of American food culture today. The LA VICTORIA® brand is committed to honoring Mexican culinary traditions while keeping stride with today's need for exciting flavors yet simple ingredients. They create a field-to-table experience using tomatoes picked at the peak of ripeness from the same fields of California's Central Valley for over 100 years!
Because of this, you will taste the delicious and simple flavors of ripe tomatoes in every jar of LA VICTORIA® Salsa. Which is why, over the years, the LA VICTORIA® brand has become my go-to shelf staple salsa for everything.
Click here to read all about the LA VICTORIA® brand and find more delicious recipes!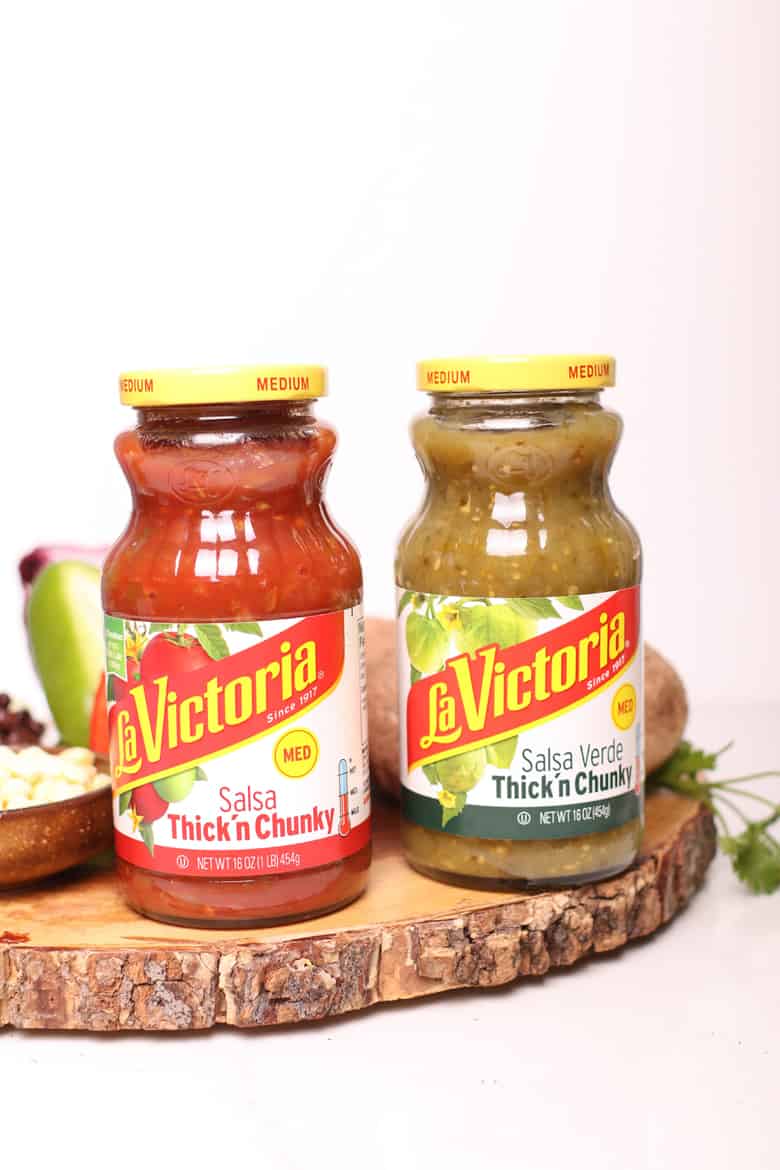 Other condiments for vegan fajitas bowls
Now that we've got our salsa sorted, there are a few other condiments that are needed for a good fajita bowl.
Guacamole – Guacamole adds a lovely creaminess to this meal. You can either 

make your own guacamole

 

or buy it at the store. Sliced avocado will also do the trick.
Vegan Sour Cream – I am not particularly a fan of sour cream, but I do love the added tangy creaminess that it provides.
Corn or Corn Salsa – Corn adds both texture and sweetness to these fajita bowls. When I'm feeling fancy, I make a corn salsa by adding lime juice, cumin, salt, and cilantro. The sweet and citrusy flavors of this salsa balance the savoriness of the portobello steak and sautéed vegetables.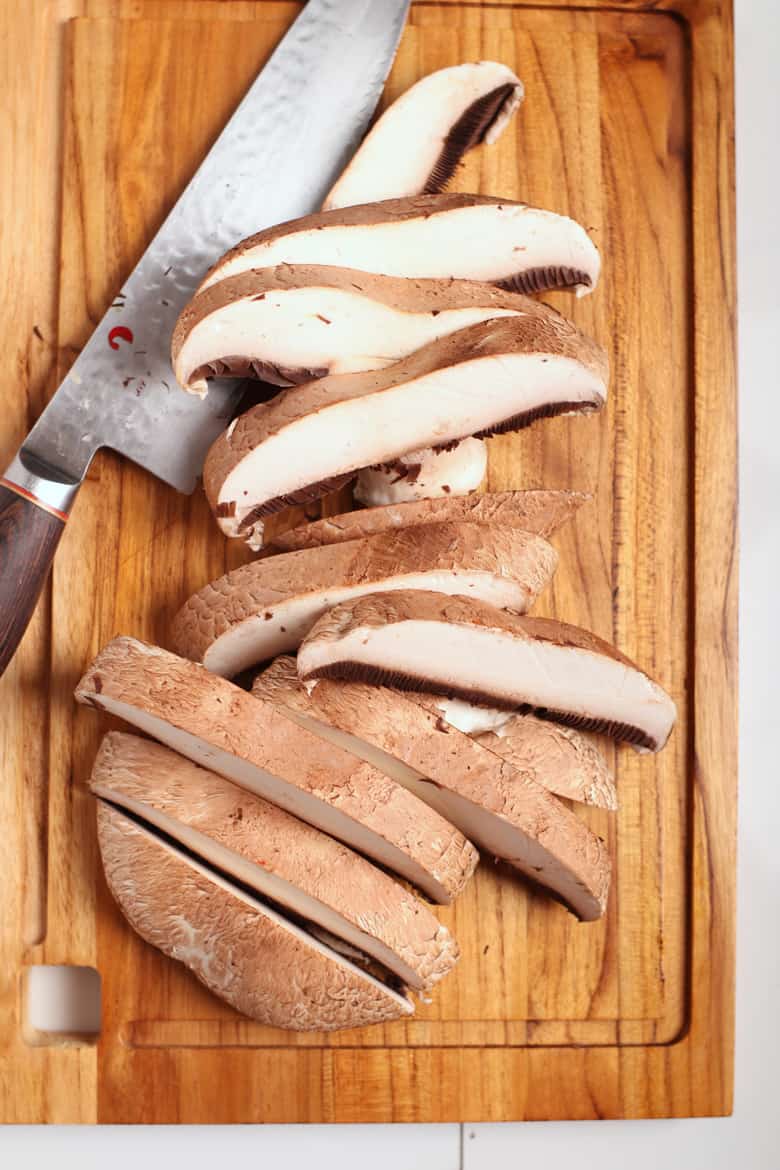 In addition to having the BEST condiments, we need to choose a vegan meat substitution for these fajita bowls.
Best Plant-Based Substitute for Vegan Fajitas
Traditionally, fajitas are made with steak or chicken. You could certainly make this recipe with store-bought, plant-based meat substitutes but in an effort to eat less processed foods, I decided to look for a whole food alternative.
The answer was obvious. Portobello is one of the best whole food meat substitutes you can find.
We already know it makes an amazing steak and meaty taco filling. This is because portobellos have a rich, juicy, deep, and meaty texture that, although will never be mistaken for meat, can be equally satisfying to vegans and omnivores alike.
How to make the portobello steak
Just like you would a steak, the portobello gets marinated in a chili pepper/oregano spice blend. After it is seasoned, it is sautéed over high heat until the portobello slices become slightly charred on both sides.
Just look at that juicy, chewy, and savory portobello steak.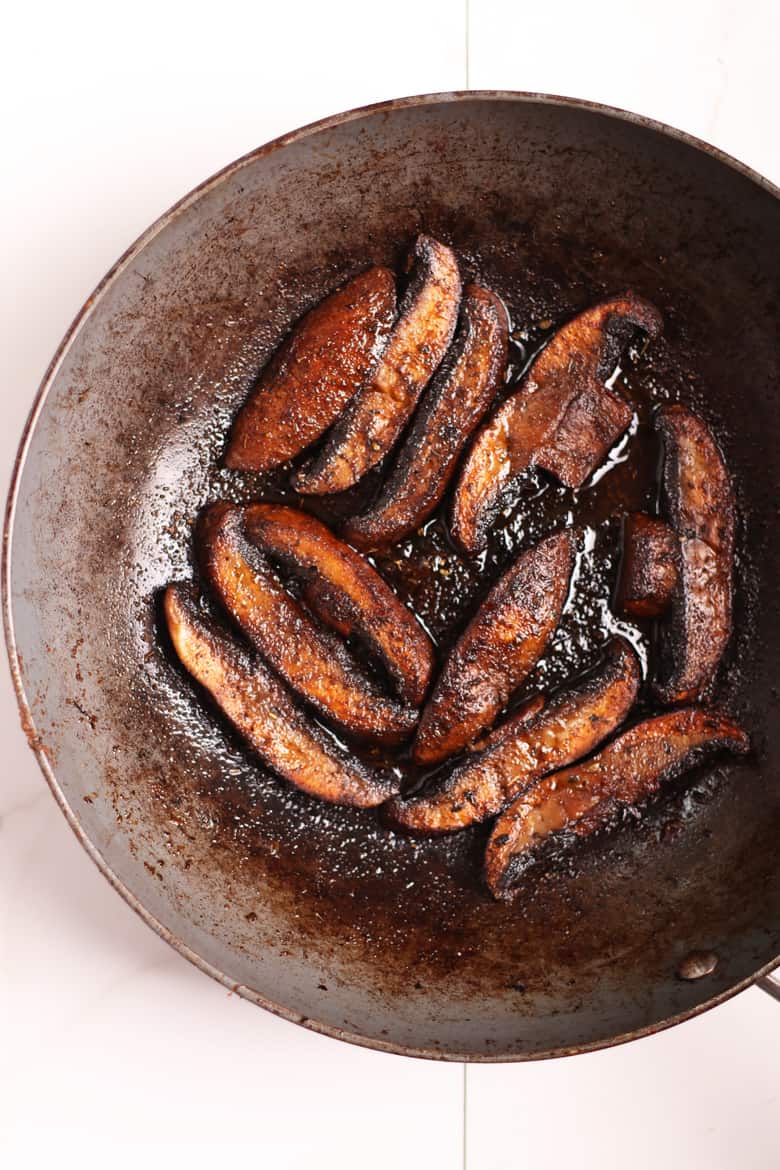 The last component we need for our vegan fajita bowls is sautéed fajita vegetables.
Vegan Fajitas Bowl Vegetables
Traditionally, fajitas are made with a mixture of onions and bell peppers that are combined with the meat. To make my bowl more colorful, I used a mixture of red and green peppers, but you can use any peppers you'd like. Other common fajita vegetables are zucchini, summer squash, and jalapeños.
To cook the onions and peppers, add oil to a large sauté pan over medium-high heat. When the oil is hot, add the onions and peppers. Sauté, stirring occasionally, until the edges of the peppers begin to char. Don't stir too often or the peppers won't get a chance to brown.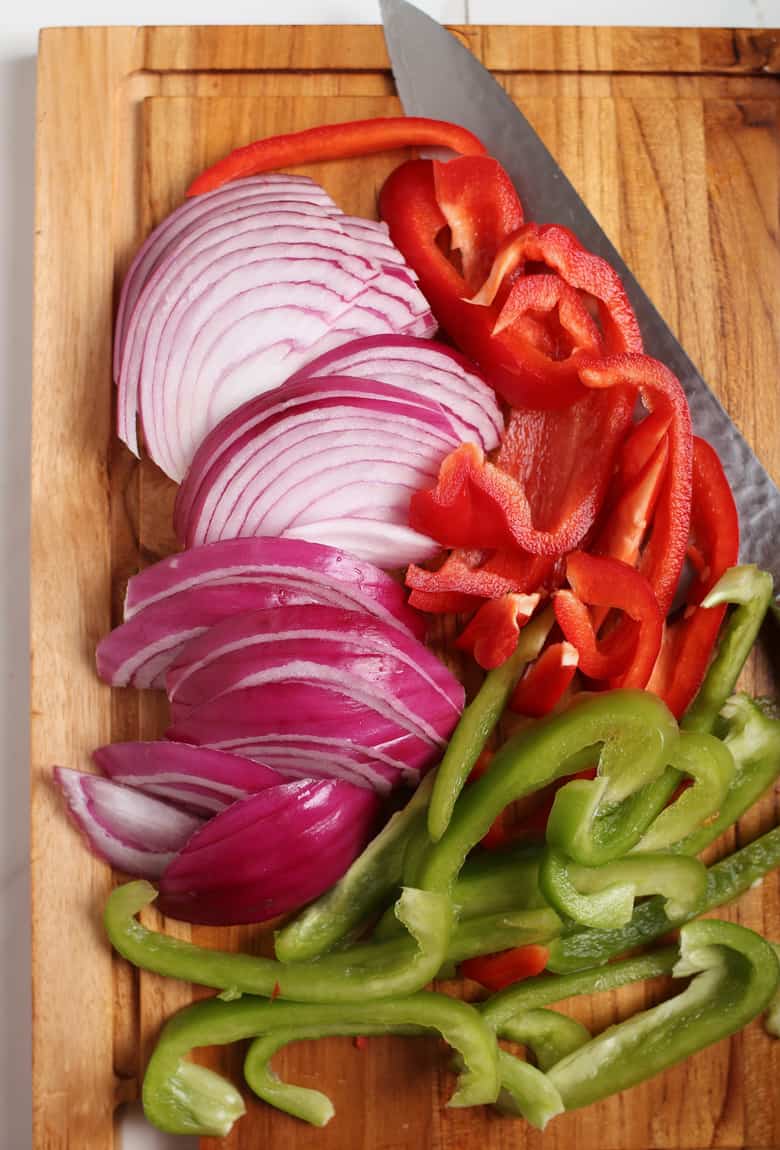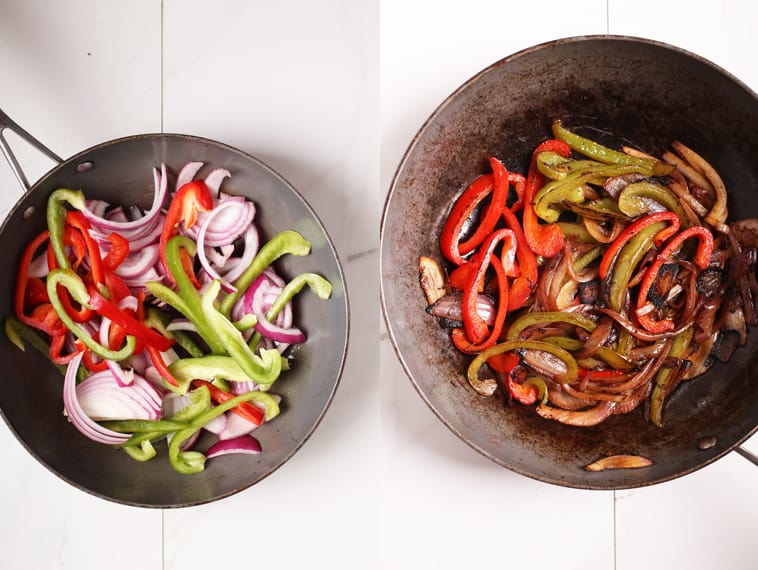 Assembling the vegan fajita bowls
Now that we've got our components, it's time to assemble the fajita bowls. Start by placing a scoop of rice at the bottom of each bowl. Top with 4-5 portobello slices, peppers, and onions. Now, for the best part: scoop on hearty spoonfuls of each LA VICTORIA® Salsa. This is essentially the sauce of the fajita bowls and every bowl needs a good sauce, so don't hold back with the salsa!
Top with guacamole, beans, and corn, and you're done! You've got yourself a smoky, meaty, zesty, sweet, tangy, vegan, and gluten-free dinner!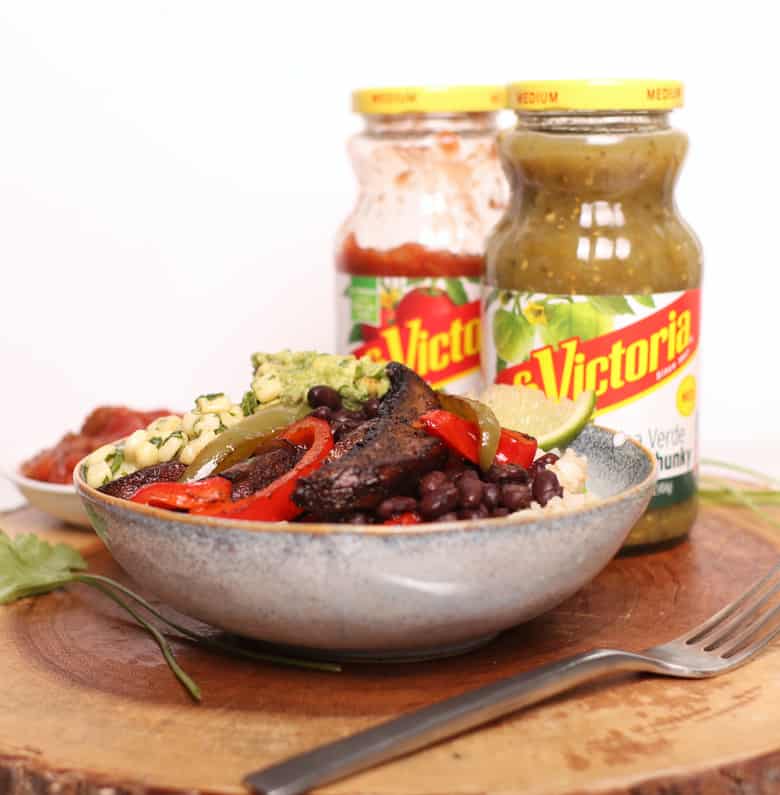 Can these fajita bowls be made into traditional fajitas?
For sure! Just skip the rice and bring in some corn tortillas to do the job.
Serving and storing vegan fajita bowls
Serve your fajita bowls with fresh lime wedges, cilantro, and extra LA VICTORIA® Salsa.
The components of the fajita bowls should be stored separately.
Leftover rice, beans, and corn can be stored in the refrigerator for 3 days.
Guacamole should be eaten within a day.
Store extra fajita vegetables and portobello steaks in the refrigerator for 2 days. Gently reheat them over the stove when ready to eat.
I think we've covered everything there is to know about the BEST vegan fajita bowls. Let's take a look at the recipe below.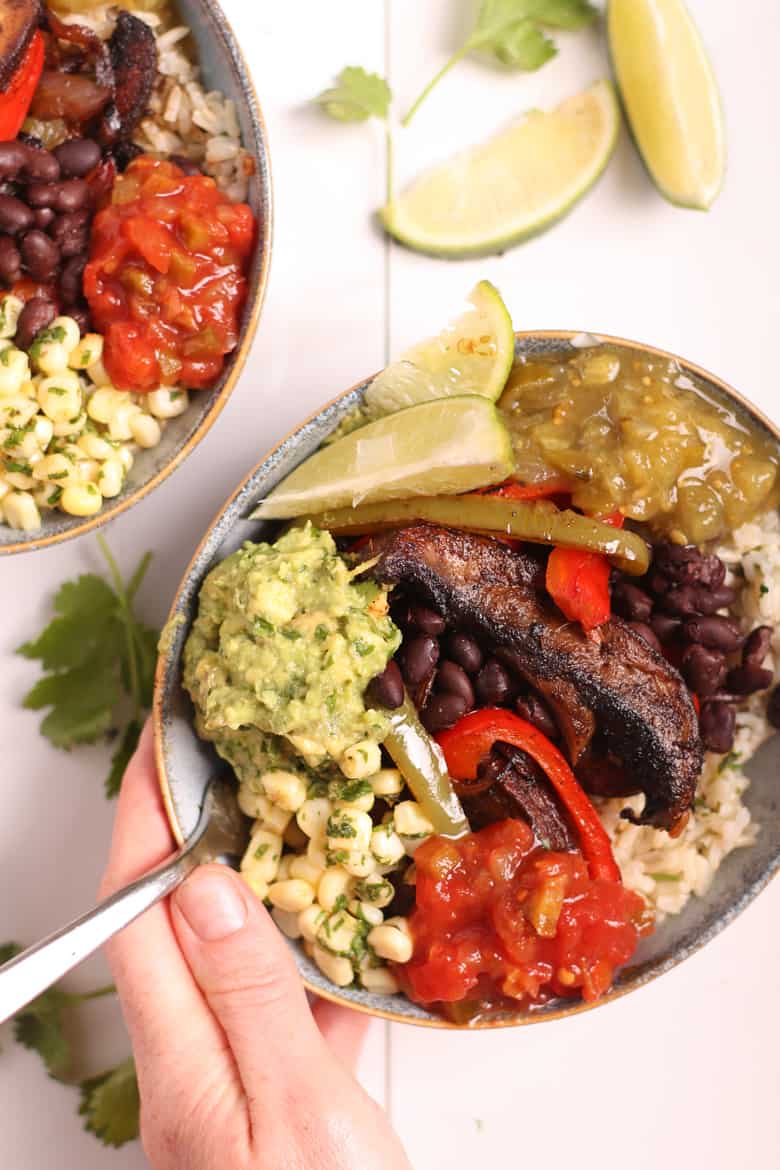 Vegan Fajitas Bowls with Portobello Steak
Amazing vegan fajita bowls made with portobello steak, cilantro-lime rice, and sautéed onions and peppers. Filled with deliciously fresh flavors and topped with LA VICTORIA® Salsa and Salsa Verde for a wholesome vegan and gluten-free meal.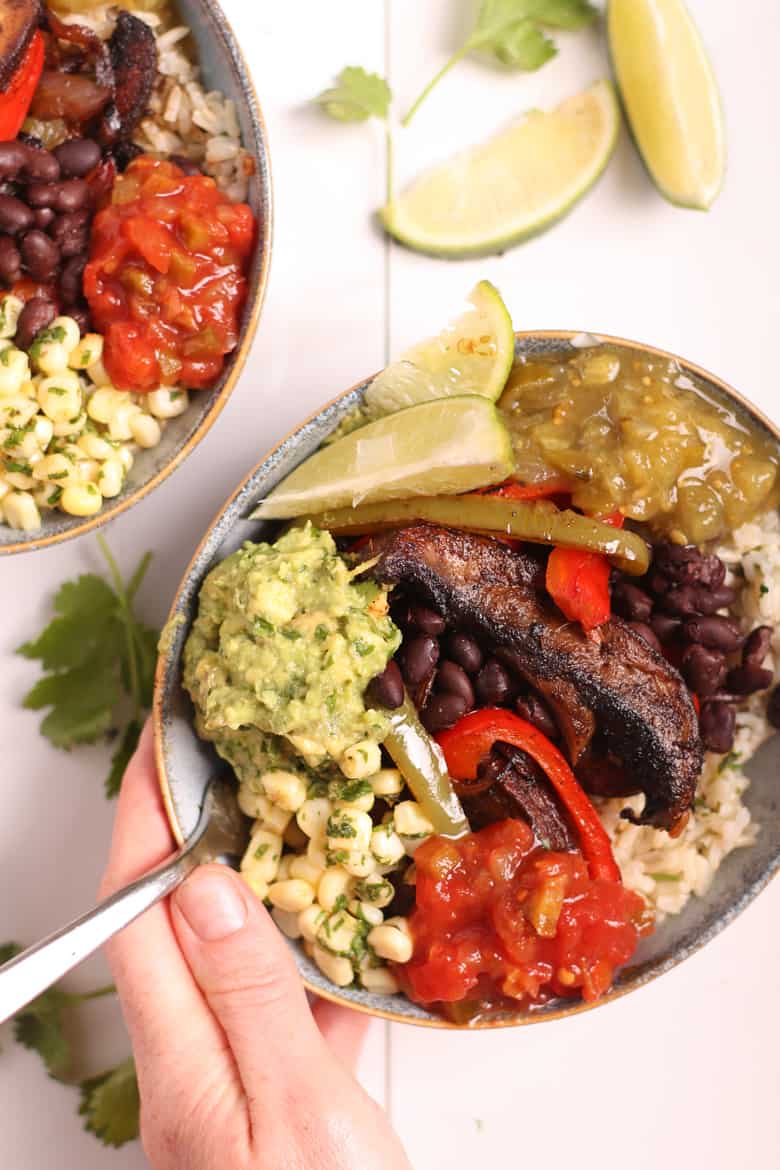 Course:
Main Course
Cuisine:
Mexican, Vegan
Keyword:
Vegan Fajitas
Servings
:
4
people
Calories
: 476 kcal
Author
:
Sarah McMinn
Ingredients
Portobello Steak
2

large portobellos

3

tbsp. olive oil, divided

2

tbsp. water

1

tsp. chill powder

1

tsp. dried oregano

1/2

tsp. cumin

1/2

tsp. paprika

1/4

tsp. salt
Cilantro Lime Rice
1

cup

brown or white rice

2

tbsp. lime juice

1/4

cup

fresh cilantro, minced
Fajitas Vegetables
1

tbsp. olive oil

1/2

large red onion

1/2

red bell pepper

1/2

green bell pepper
Everything Else
1

cup

black beans

1/2

cup

guacamole

1

cup

fresh corn, optional
Instructions
Start by making the rice. Place rice in a small saucepan with 2 cups of water. Bring water to boil, cover, and reduce heat to a simmer. Simmer for 45 minutes or until all the water has absorbed. Note: If you are making white rice this should only take 20-25 minutes.

Combine 2 tablespoons of olive oil and the remaining ingredients for the portobello steak marinade. Clean and chop the portobello into 3/4" slices. Place them in a large plastic zip bag. Add the marinade and toss together until the portobellos are fully coated. Place in the refrigerator while preparing the rest of your ingredients.

Heat up the beans and prepare the guacamole if making from scratch.

Slice the onions and peppers. Heat one tablespoon of olive oil in a large skillet over medium-high heat. Once hot, reduce heat to medium and add onions and peppers. Sauté for 5-10 minutes until the edges have begun to char. Remove from heat.

Wipe the skillet clean. Add an additional tablespoon of olive oil. Add portobello strips and any reserved marinade to the hot skillet and cook over medium-high heat for about 8 minutes, flipping once, until the mushrooms have decreased in size and are charred on both sides.

When the rice is done, toss it with lime juice and cilantro.

To assemble the bowls, place a scoop of rice on the bottom of each bowl. Top with portobellos, fajita vegetables, and both kinds of salsa. Add guacamole, corn, beans, and fresh lime wedges and serve.
Recipe Notes
Make these bowls into fajitas by omitting the rice and serving everything inside corn tortillas. 
Nutrition Facts
Vegan Fajitas Bowls with Portobello Steak
Amount Per Serving
Calories 476
Calories from Fat 198
% Daily Value*
Fat 22g34%
Sodium 158mg7%
Potassium 824mg24%
Carbohydrates 63g21%
Protein 11g22%
Vitamin A 1390IU28%
Vitamin C 40mg48%
Calcium 64mg6%
Iron 3.6mg20%
* Percent Daily Values are based on a 2000 calorie diet.
Whether you're a full-time vegetarian or just trying to eat more plant-based, La Victoria salsas will help you elevate your dishes. Click here for the full recipe!
If you give this recipe recipe a try, snap a photo and share it on Instagram. Make sure to tag
@mydarlingvegan
so I can see your creations!