Get all your vegan Christmas recipes here! From appealing appetizers to satisfying entrées, to delicious desserts, this holiday roundup has something for everyone his holiday season.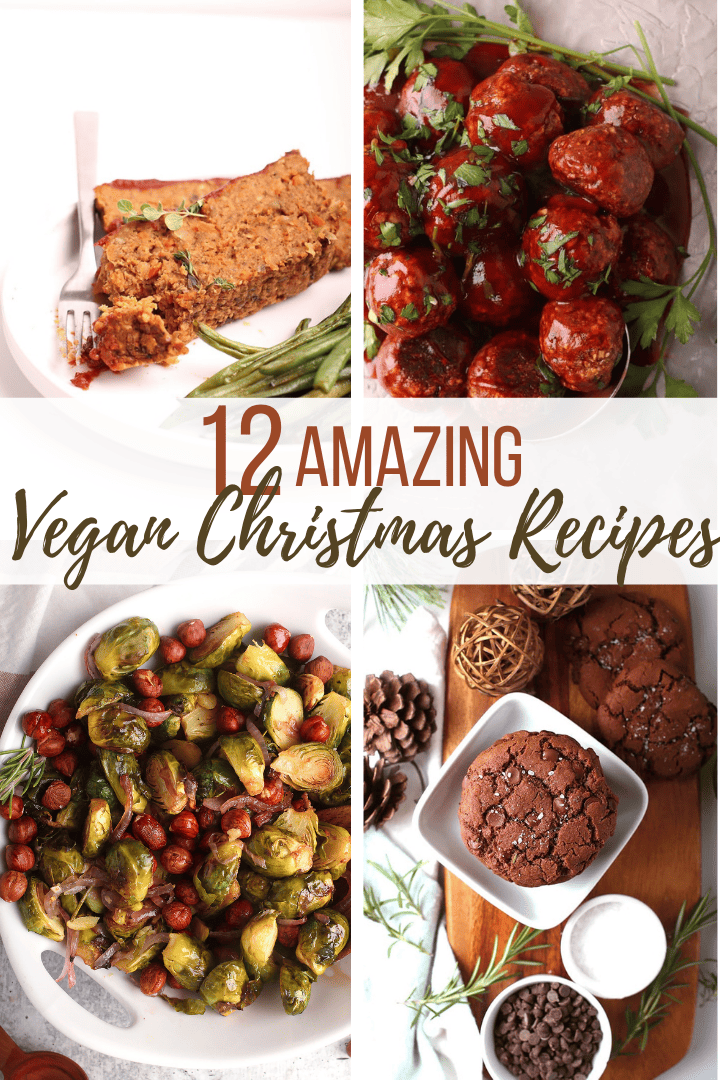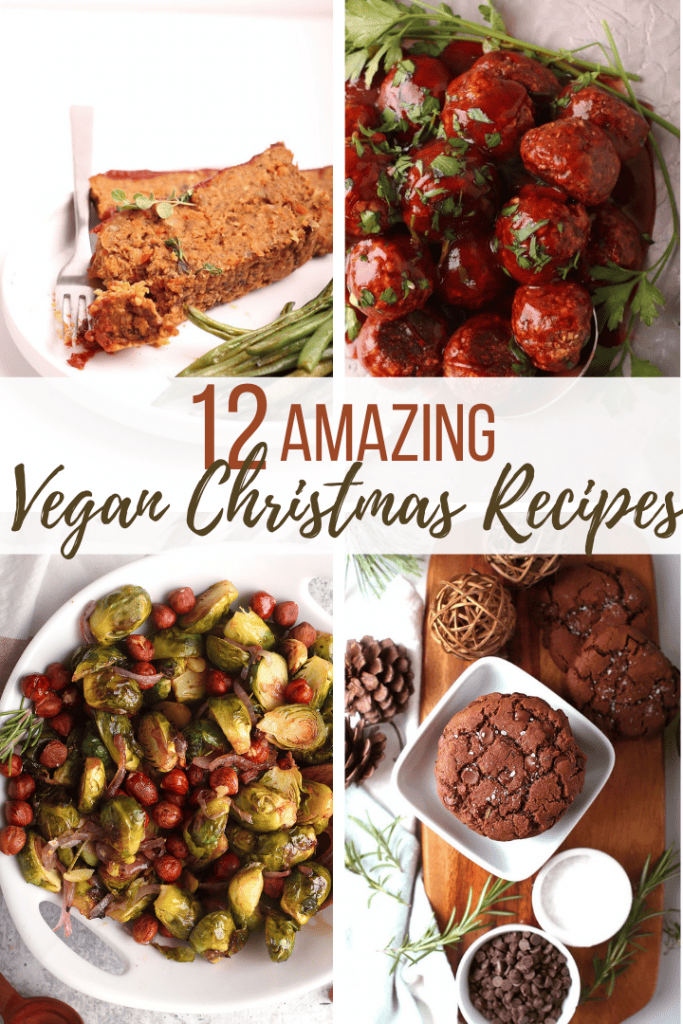 Disclosure: This post may contain affiliate links.
This post was originally published on 12/10/2017
As the end of the year nears, it's hard to believe all that we have been through this past 12 months. Whew. We are almost through what has collectively been the hardest year in modern history.
As we head into the Christmas season, I hope we can all reflect on the goodness that surrounds us as we spend time with our friends and family around holiday traditions and good food. To help you celebrate, I want to share with you my favorite vegan Christmas recipes of the season. From appealing appetizers to satisfying entrées, to deliciously seasonal desserts, this roundup has something for everyone!
Note: I haven't included my cookie recipes in this roundup. Here are all my Vegan Christmas Cookies.
---
Vegan Christmas Recipes
Do you still need ideas to serve at your upcoming holiday events? I've got you covered! Let's take a peek inside my 12 favorite vegan Christmas recipes.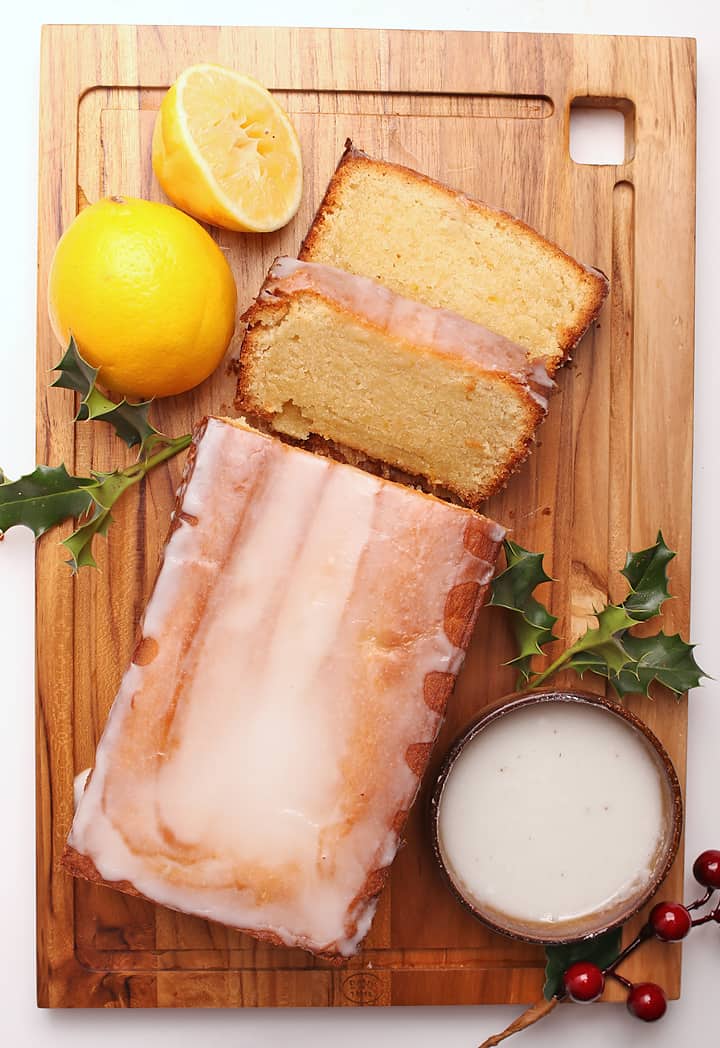 Vegan Pound Cake with Lemon Glaze
A vegan Pound Cake that is so rich and decadent no one will believe it's vegan. Topped with a lemony glaze for a delightful sweet morning or midday snack.
Recipe »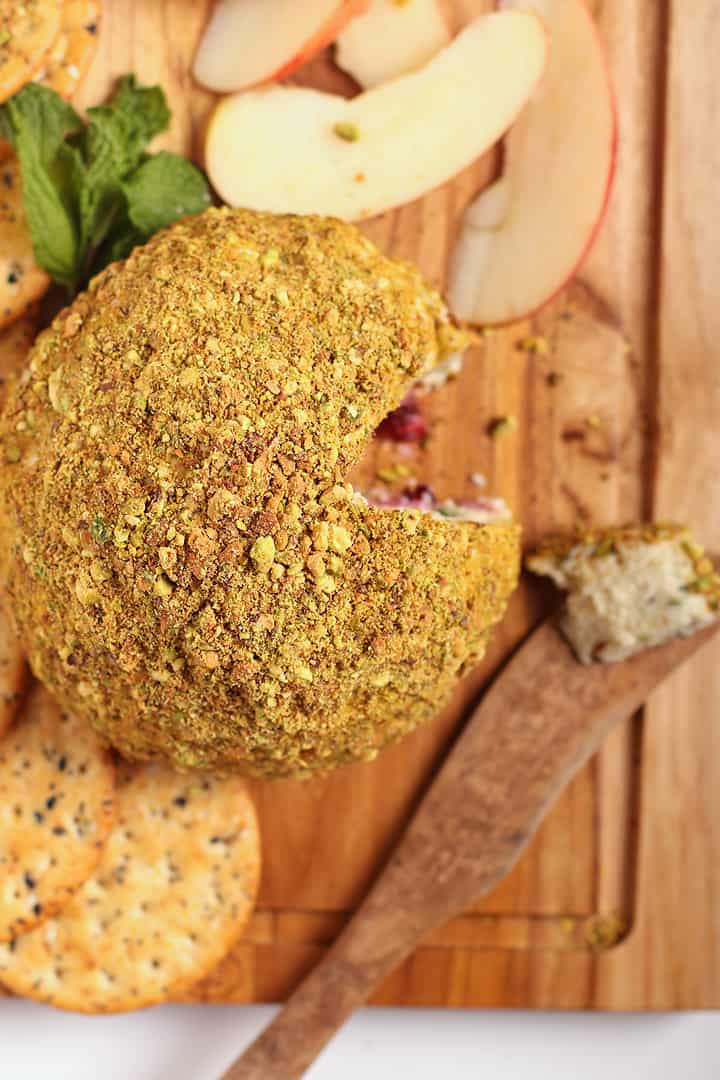 Pistachio and Pomegranate Vegan Cheese Ball.
This Pistachio and Pomegranate Macadamia Nut Vegan Cheese Ball makes the perfect appetizer for your next holiday party. Serve with fruit and crackers for an impressive plant-based addition. Made with just 10 ingredients!
Recipe »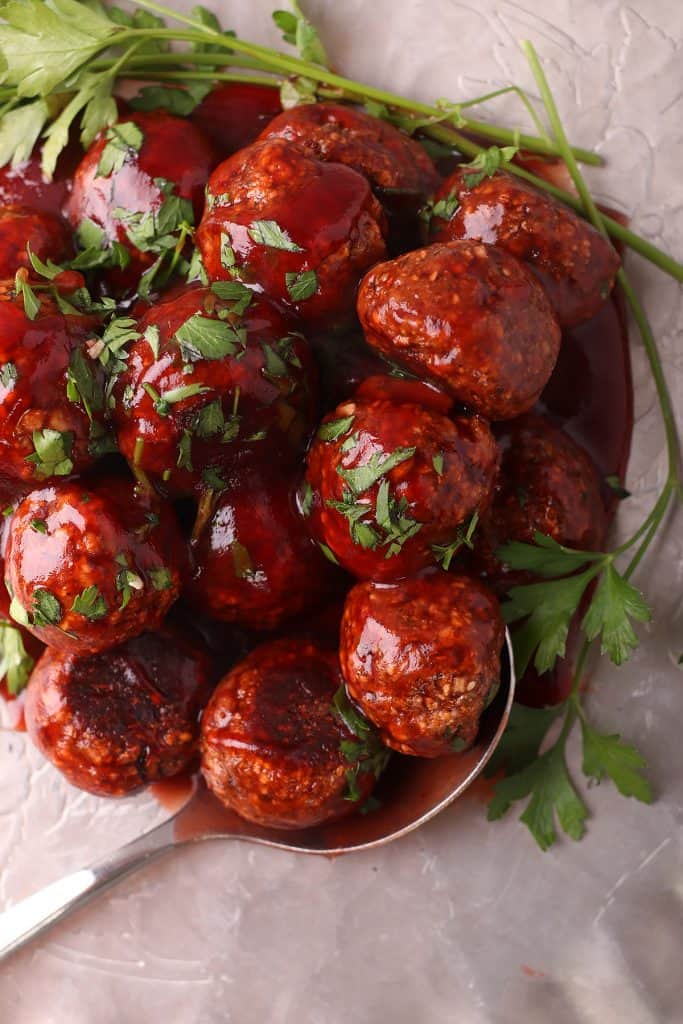 Vegan Cranberry Meatballs
These vegan cranberry meatballs are the perfect blend of sweet and spicy. They are made with a mushroom walnut base and tossed in homemade cranberry sauce for the perfect holiday appetizer.
Recipe »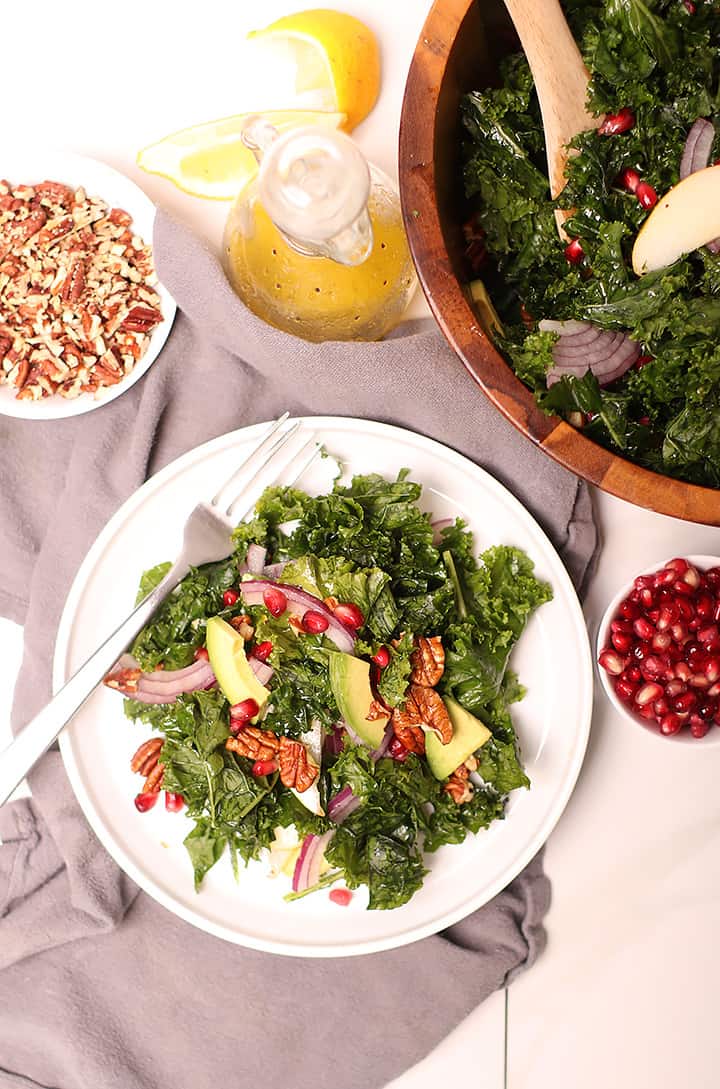 Massaged Kale Salad with Orange Poppyseed Dressing
You're going to love this delicious massaged kale salad. Topped with pecans, pears, and pomegranates and tossed with orange poppy seed dressing, it's a delicious and festive winter salad.
Recipe »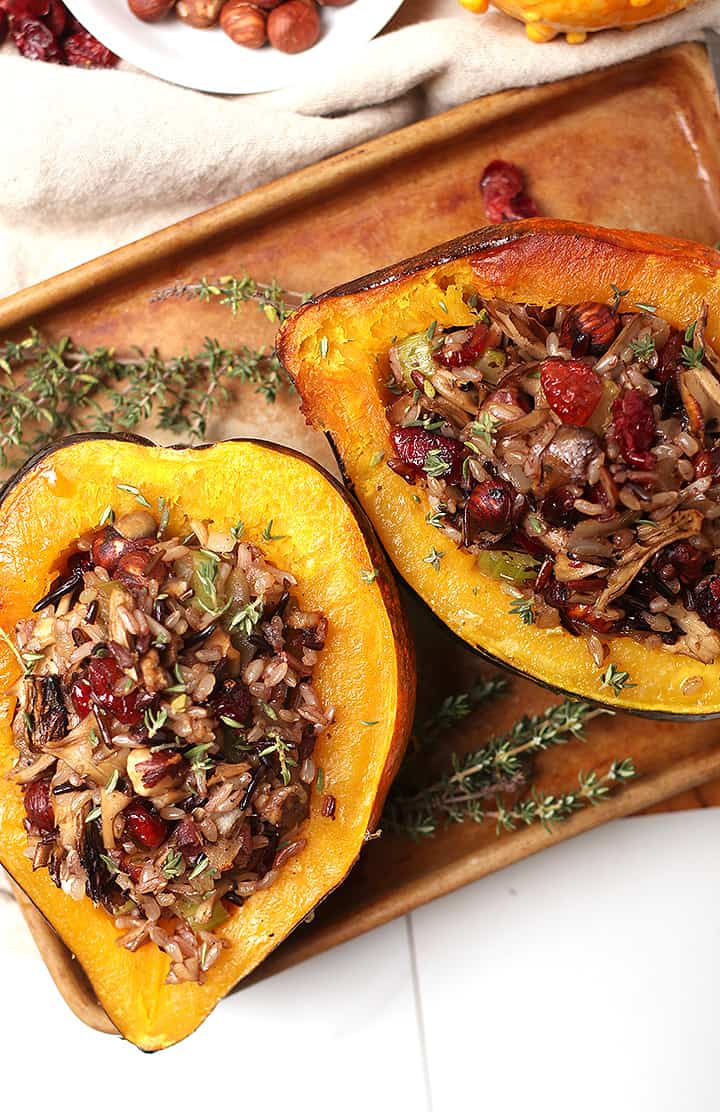 Wild Rice Stuffed Acorn Squash
Welcome in fall with this Wild Rice Stuffed Acorn Squash. Perfectly baked squash filled with wild rice, dried cranberries, toasted hazelnuts, and Maitake mushrooms for the perfect vegan and gluten-free meal.
Recipe »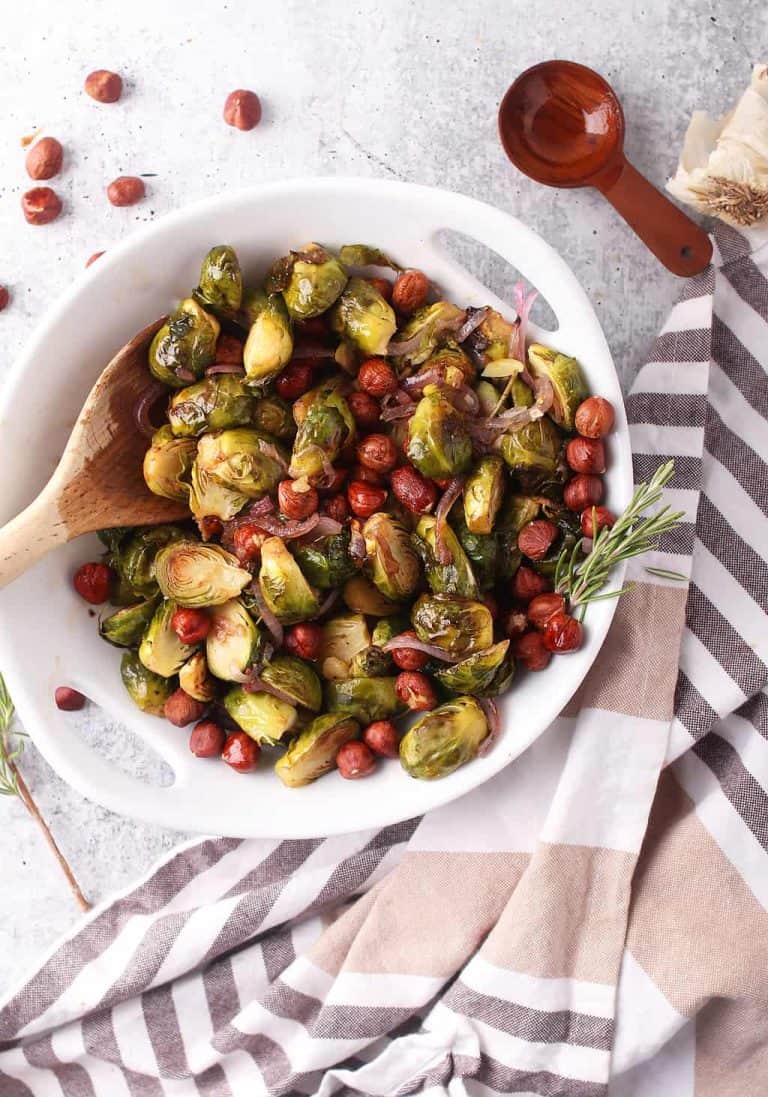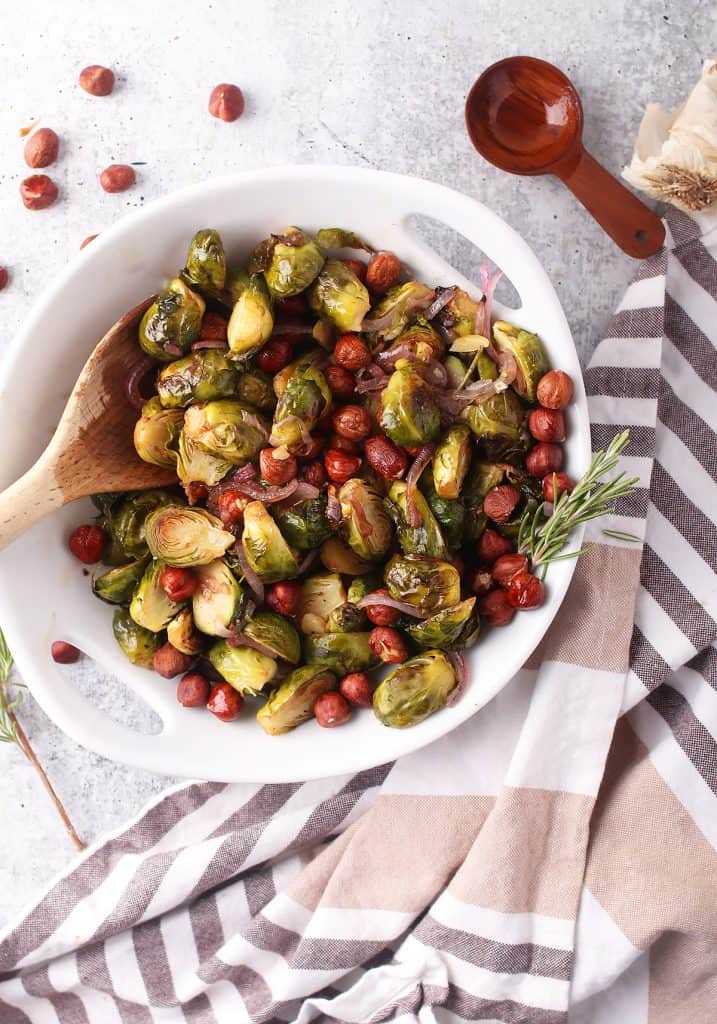 Maple Balsamic Brussels Sprouts
Maple Balsamic Brussel Sprouts are a sweet and savory vegan side dish perfect for your next holiday dinner. They are perfectly tender roasted Brussels sprouts tossed together with roasted hazelnuts and rosemary for a delicious harvest dish.
Recipe »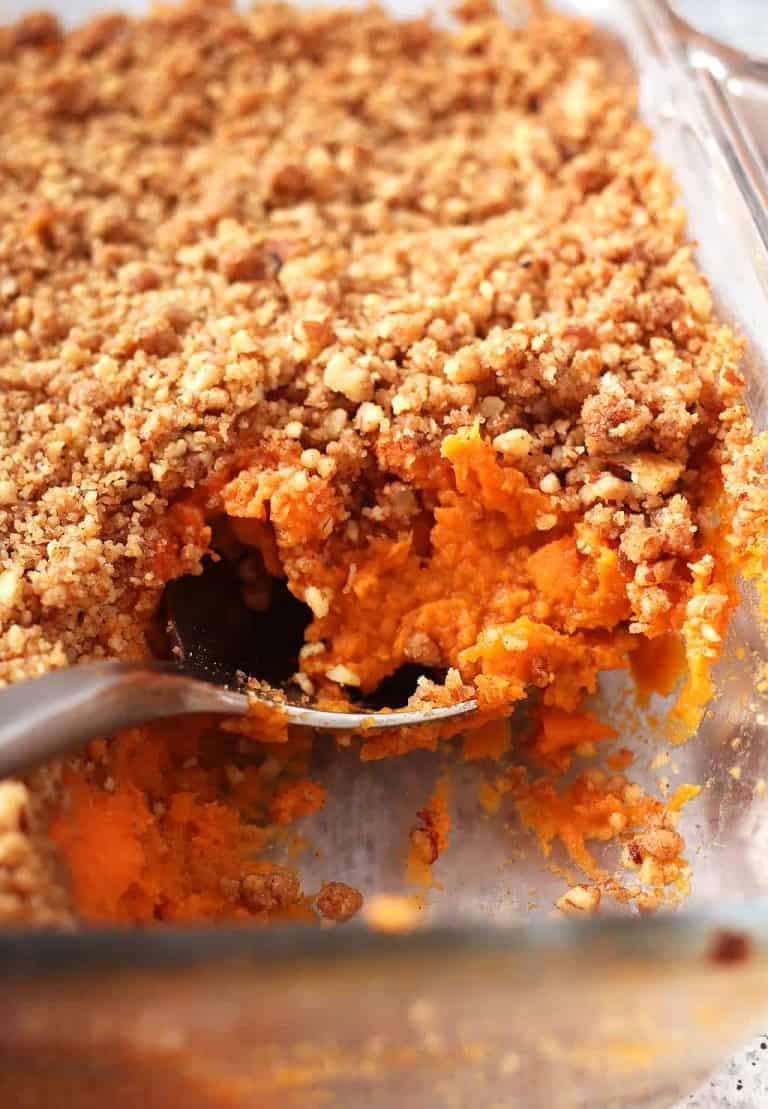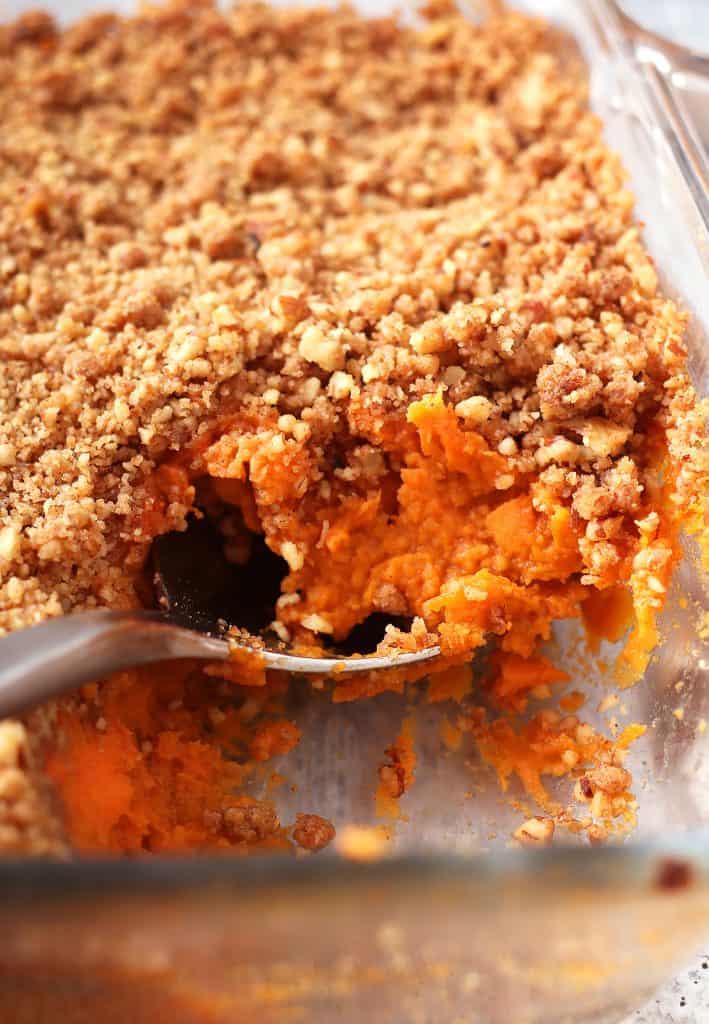 Vegan Sweet Potato Casserole
Enjoy a classic favorite this Thanksgiving with this Vegan Sweet Potato Casserole topped with a sweet and crunchy pecan crust.
Recipe »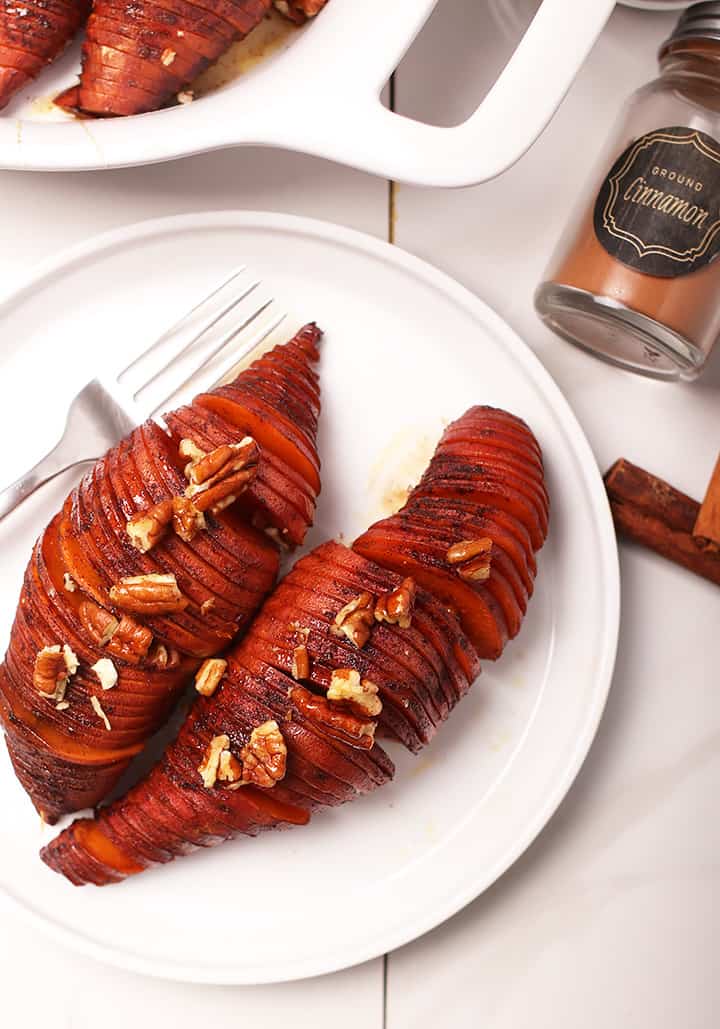 Maple Cinnamon Hasselback Sweet Potatoes
Elevate your holiday table to a new level with these Maple Cinnamon Hasselback Sweet Potatoes. It's a new twist on the classic sweet potato casserole that everyone will love.
Recipe »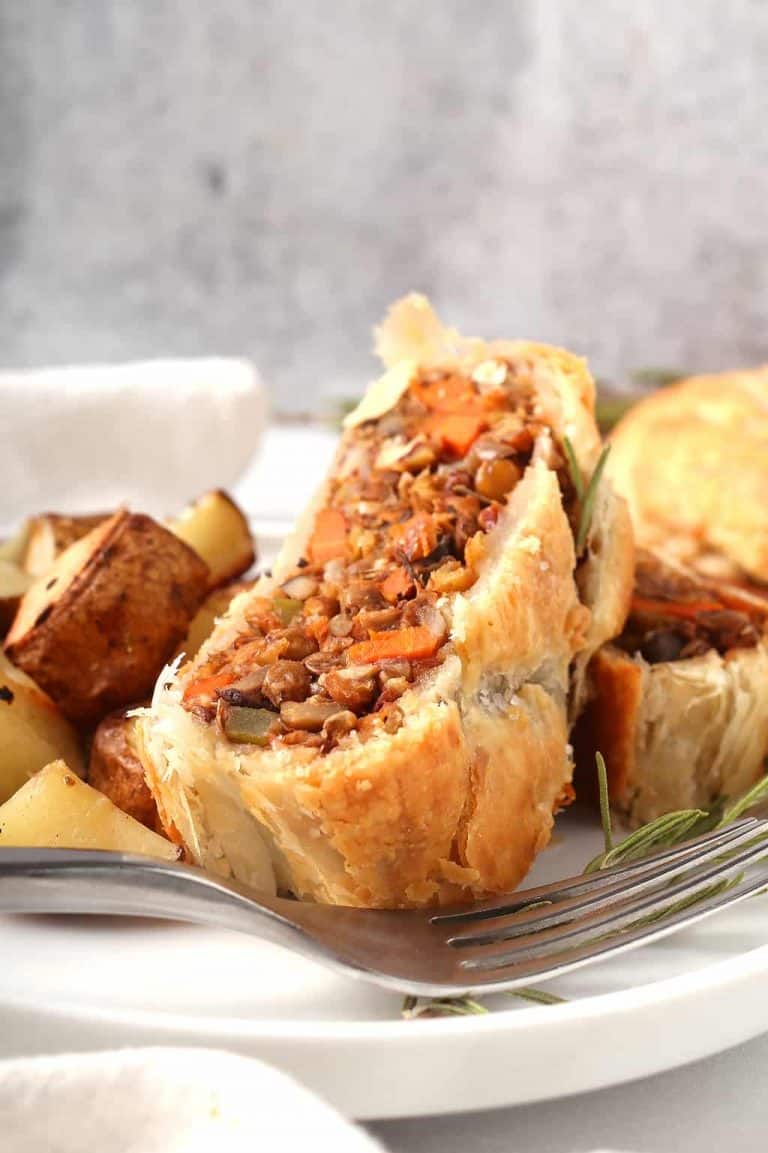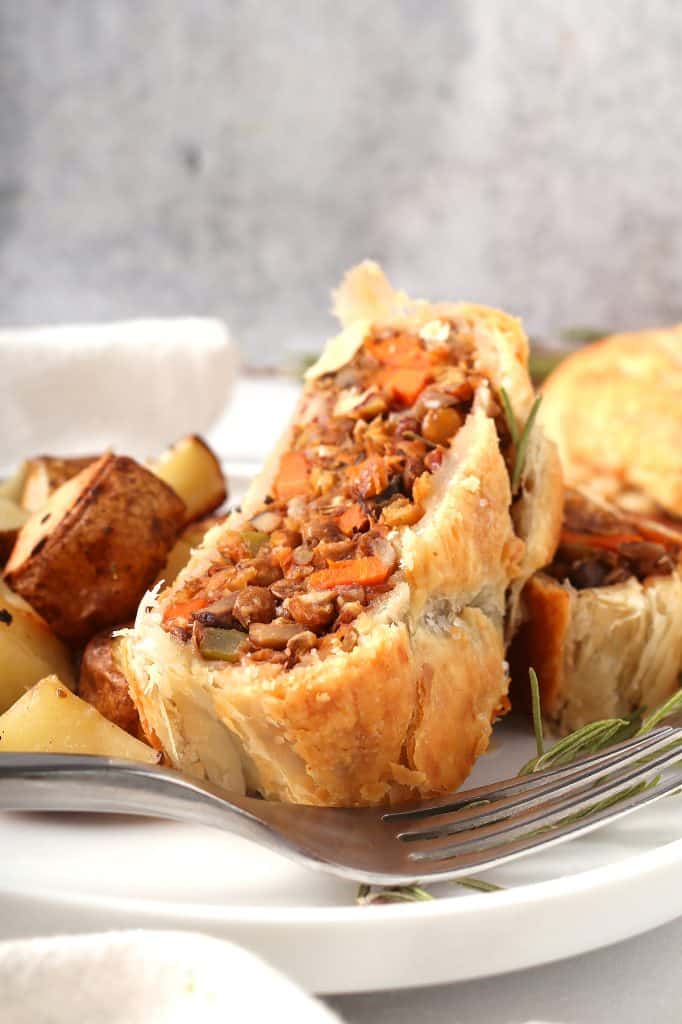 Vegan Wellington w/ Lentils
Vegan wellington is the plant-based version of traditional beef wellington. It is surprisingly easy to veganize and adds panache to any gathering. The perfect main course for any holiday meal, this vegan loaf will satisfy everyone at your table!
Recipe »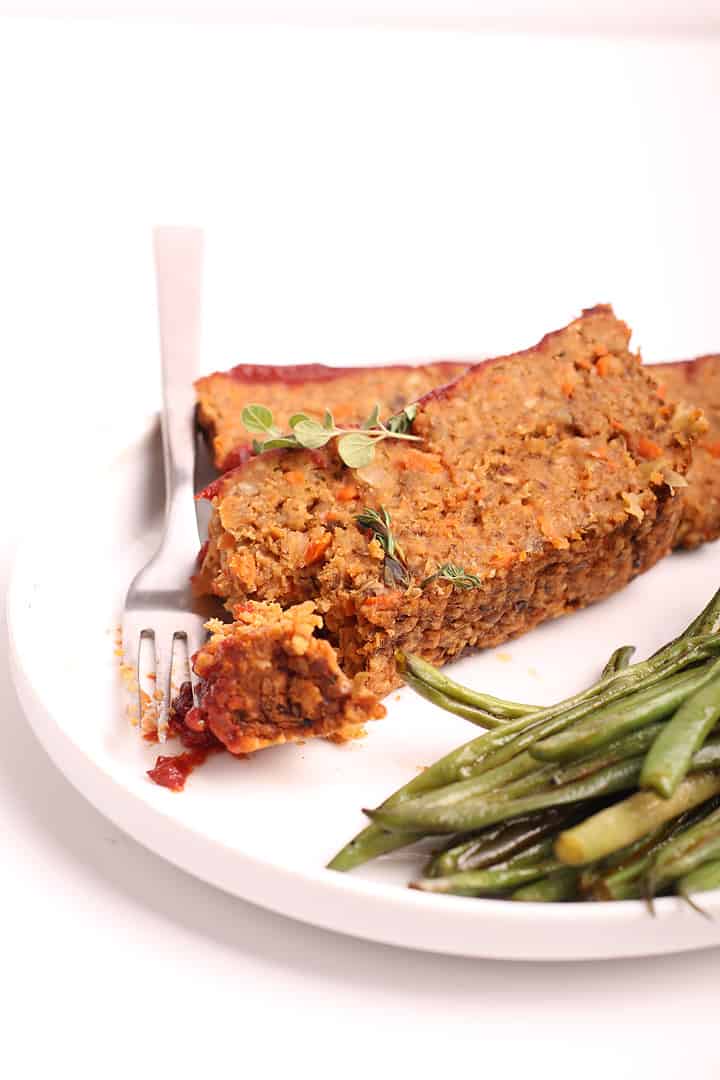 Vegan Meatloaf with Mushrooms & Lentils
Make your holidays special with this vegan meatloaf. A lentil loaf filled with vegetables and spices. All topped with a maple tomato sauce for a delicious and seasonal plant-based entrée.
Recipe »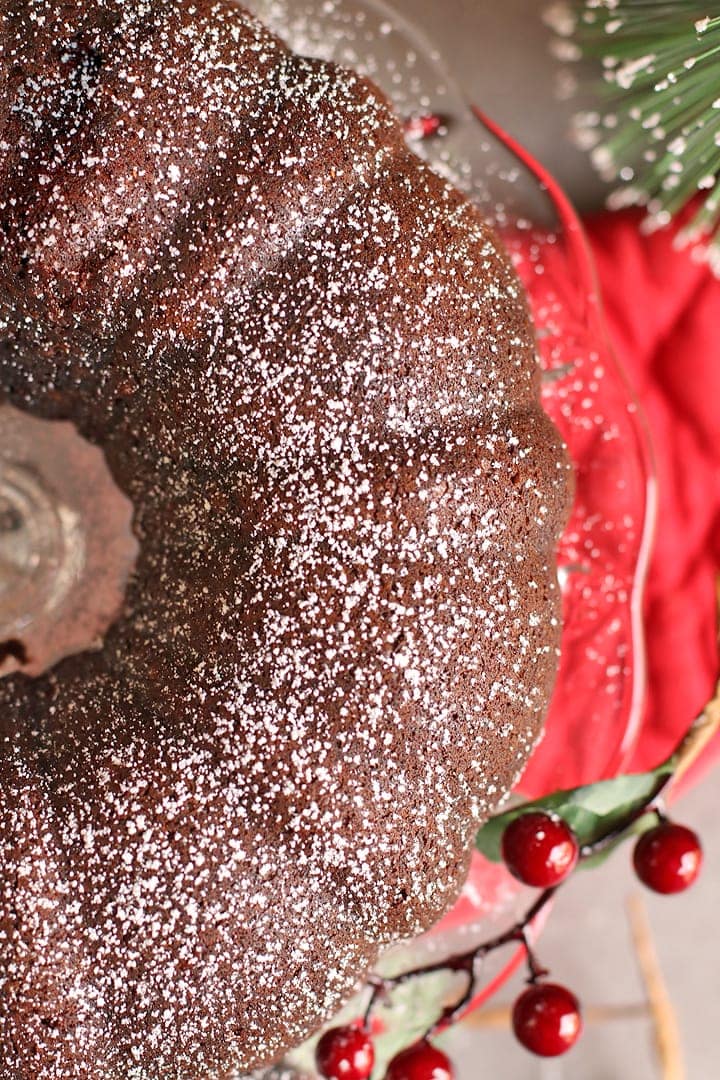 Vegan Gingerbread Cake
This Vegan Gingerbread Cake is the perfect dessert for your holiday. A sweet and spicy cake filled with flavor and dusted with powdered sugar.
Recipe »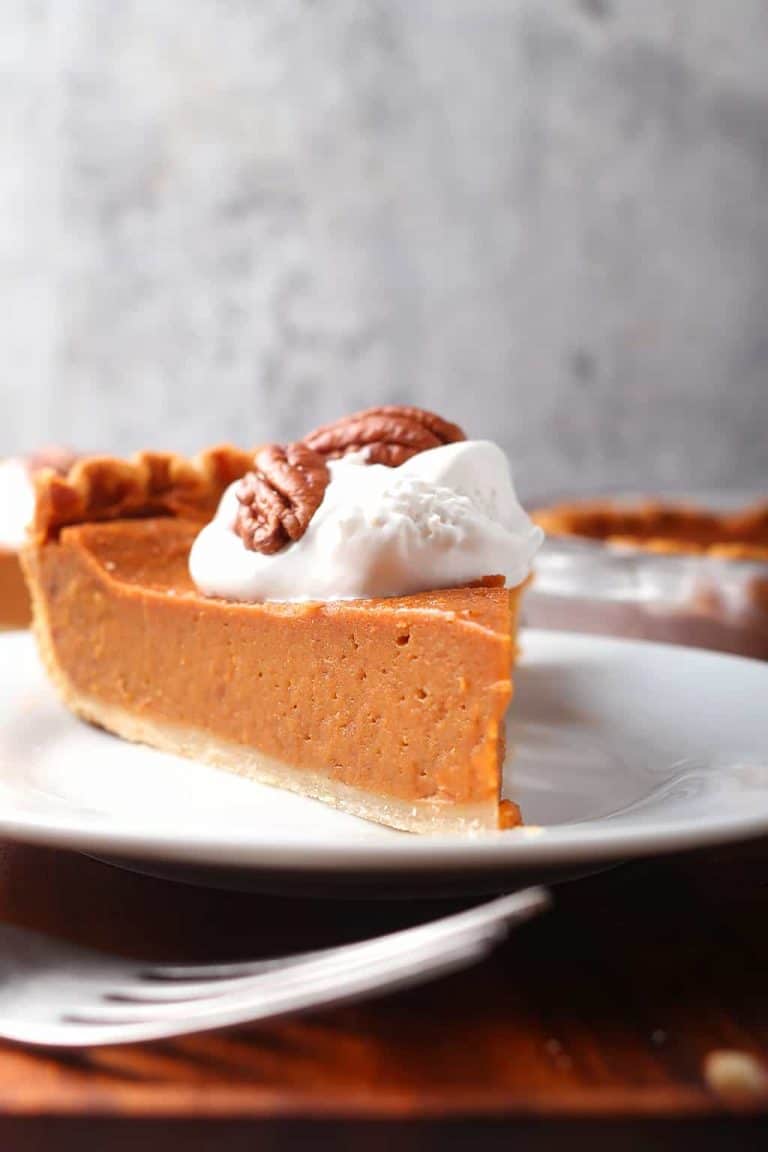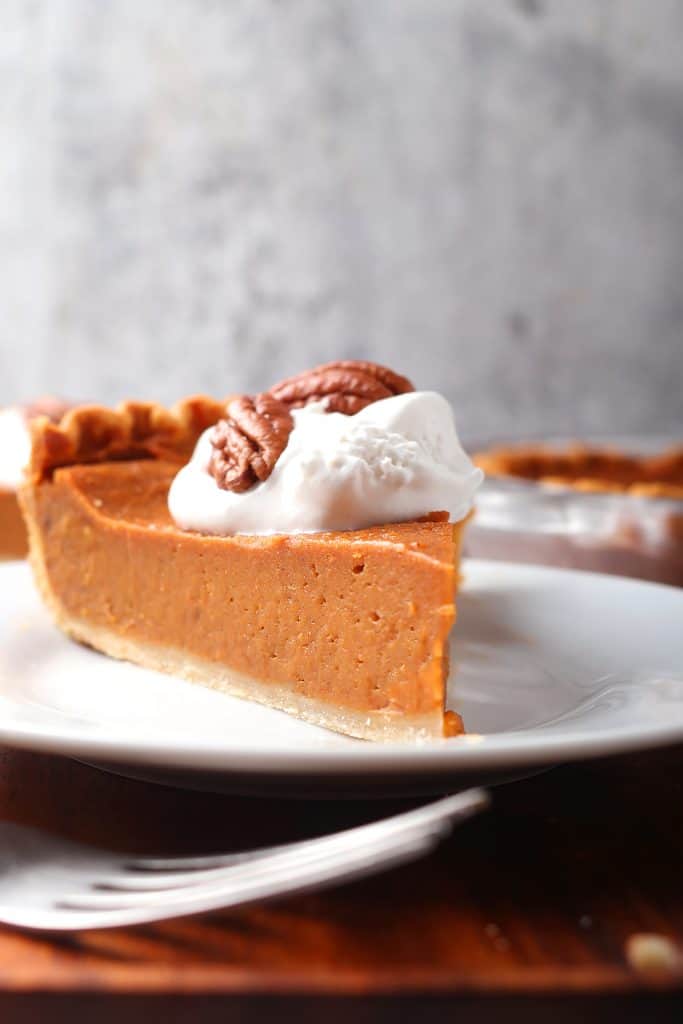 Vegan Sweet Potato Pie
This vegan sweet potato pie is so rich and creamy, no one will believe it's vegan. The filling can be made in a food processor for a quick and easy fall dessert the whole family will love.
Recipe »
Where Do I Get My Holiday Groceries?
This time of year is crazy and when it comes to holiday shopping, I like to avoid crowds. This is why I like to do all my holiday shopping (for non-perishables) at Thrive Market (<<affiliate link).
Thrive Market is an entirely zero waste company so you don't have to feel bad about stocking up on your holiday essentials. Thrive Market sells all organic, non-GMO products at 25-50% off retail price Better yet? With every member who joins Thrive Market, they sponsor a free membership to a low income family, public school teacher, military veteran, or first responder. Save money and do good! Now that's some holiday cheer.
When shopping, you can filter your search to "vegan" items only and you've got your own online vegan grocery store. Thrive Market has saved me a ton of money and time and I HIGHLY recommend checking it out.
Use my link and you'll get a free gift (up to $24 in value) with your order + a FREE 30-day trial to Thrive Market. (<<affiliate link)
---
More Holiday Roundups
Make sure to check out all of my vegan holiday recipes including:
And get my FREE Christmas Cookie ebook by signing up for the MDV newsletter!
Written by Sarah McMinn
If you give one of these recipes recipe a try, snap a photo and share it on Instagram. Make sure to tag
@mydarlingvegan
so I can see your creations!