Thrive Market Review: Thrive Market is the place to shop for your healthy and organic groceries. Find out how Thrive Market works to save you money every day!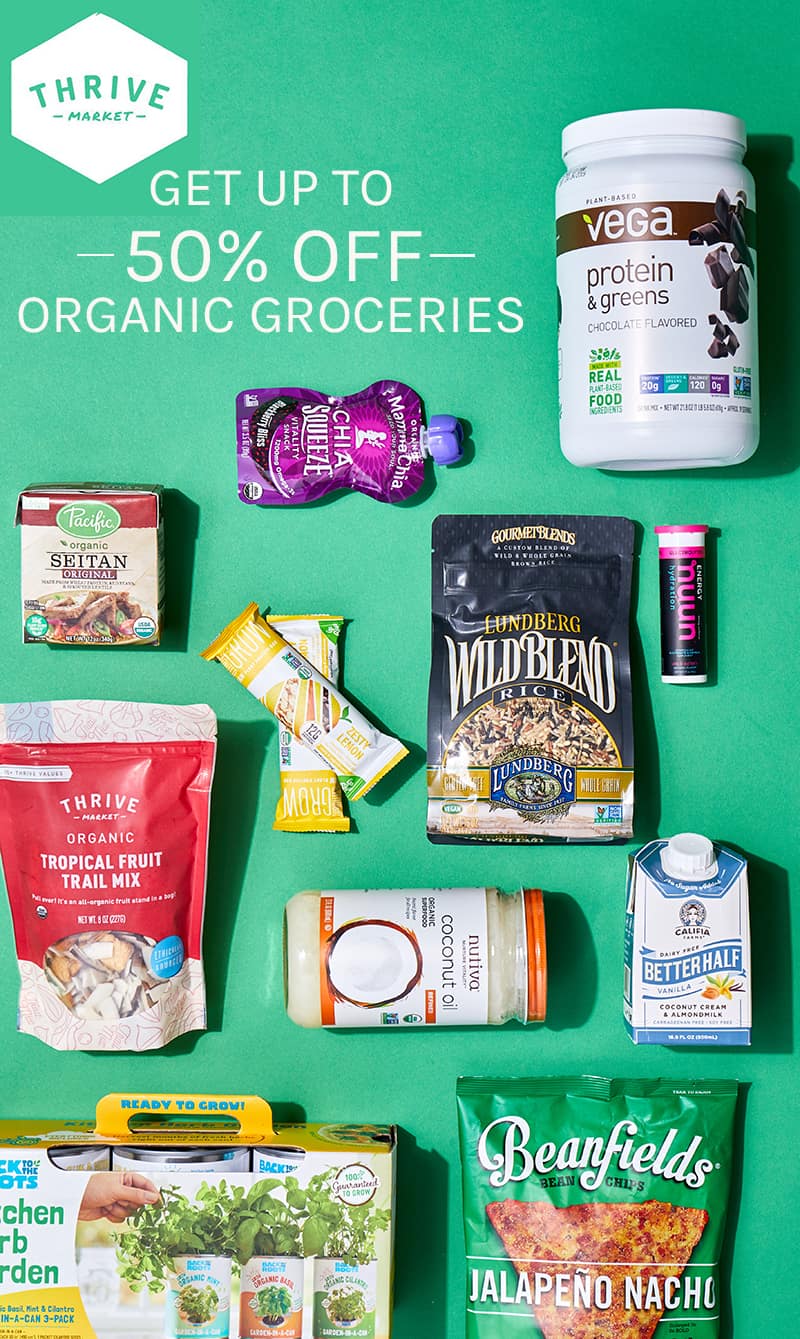 This post includes affiliate links. For more information, please see my privacy policy.
---
Thrive Market Organic Grocery Store
We all know that eating well can be expensive. If you're not careful, finding organic, unrefined, healthy groceries will start to add up. That is why, oftentimes, when people switch to a plant-based diet, they find themselves with a growing grocery bill.
But friends, it doesn't have to be this way! Eating healthy DOES NOT mean breaking the bank. In fact, I believe that with the right resources, you can eat plant-based, organic goods for LESS than you are spending on your conventional foods.
How do I stock my vegan pantry?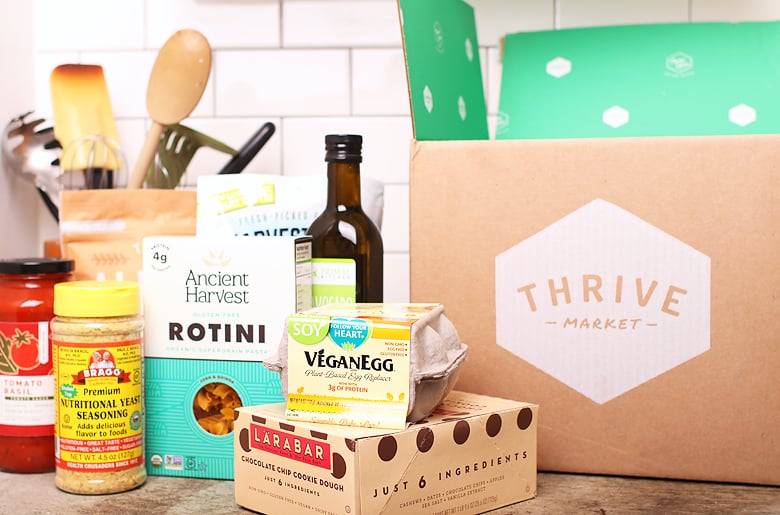 What is Thrive Market?
I'm so glad you asked!
Thrive Market is an online marketplace that is on a mission to make healthy living easy and affordable for everyone. Yes, everyone! At Thrive Market you will find the highest quality organic groceries that are good for you and sustainable for the planet. Thrive Market has thousands of best-selling organic foods and natural products and here's where it gets really interesting:
Their products are priced 25-50% LOWER than traditional retail prices.
How do they do that? By getting their food at wholesale prices, Thrive Market is able to cut out the middleman and provide awesome goods at a HUGE discount! Cheaper prices, better foods, and the convenience of it being shipped right to your door! What's not to love?
---
Is Thrive Market Worth it?
Think of Thrive Market as a cross between Whole Foods (healthy and sustainable products), Amazon (the ease of ordering EVERYTHING online), and Costco (a membership store that allows you to buy amazing products at wholesale prices). Therefore, similar to Costco, Thrive Market makes all these savings possible through an annual membership fee of $59.95.
I'm sure you're asking yourself, is that worth it? Yeah, I asked myself that same question. And after my first order, I had my answer.
In just a few orders, you will likely have made your money back. In fact, after my first order I saved over $70 dollars after just spending $95 on groceries I would have bought elsewhere otherwise!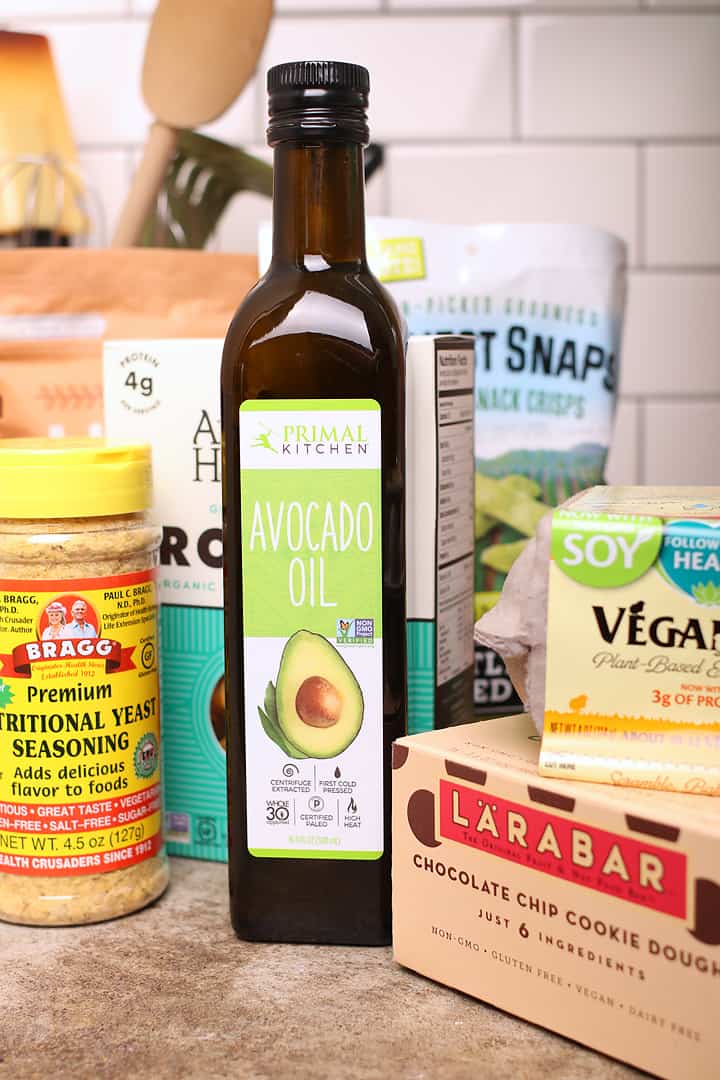 Thrive Market Deals
To make it even more worth it, right now you can choose a FREE gift with your first order when you sign up using this link. That means you can make your membership fee back right away!
Are you still not sure? No problem. You can start with a free 30-day trial and see if the savings are worth it to you.
Here are a few examples of what you will save:
Simply Organic Pure Vanilla Extract (4 oz) - $12.49 (29% off from $17.69)
Organic Grade-A Maple Syrup (16 oz) - $12.99 (31% off from $18.95)
La Tourangelle Avocado Oil (500 ml) - $9.99 (29% off from $13.99)
Thrive Market Almond Flour (16 oz)- $7.99 (38% off from $12.99)
Organic Raw Cashews (16 oz) - $10.99 (39% off from 17.99)
If you bought all the things on this list you would save nearly 30 dollars! 30 dollars for just 5 items. That's 35% off! Now that's a good deal for organic and wholesome foods that you can buy from the comfort of your home.
Thrive Market also has great savings on natural and organic items beyond food such as beauty, baby and kids, home, and pets. You can find affordable wine, supplements, and more.
---
How Does It Work?
Thrive Market works like most online stores. From their homepage, you can find products by category on the menu above, type them directly into the search bar, or (and this is the best part), shop by diet.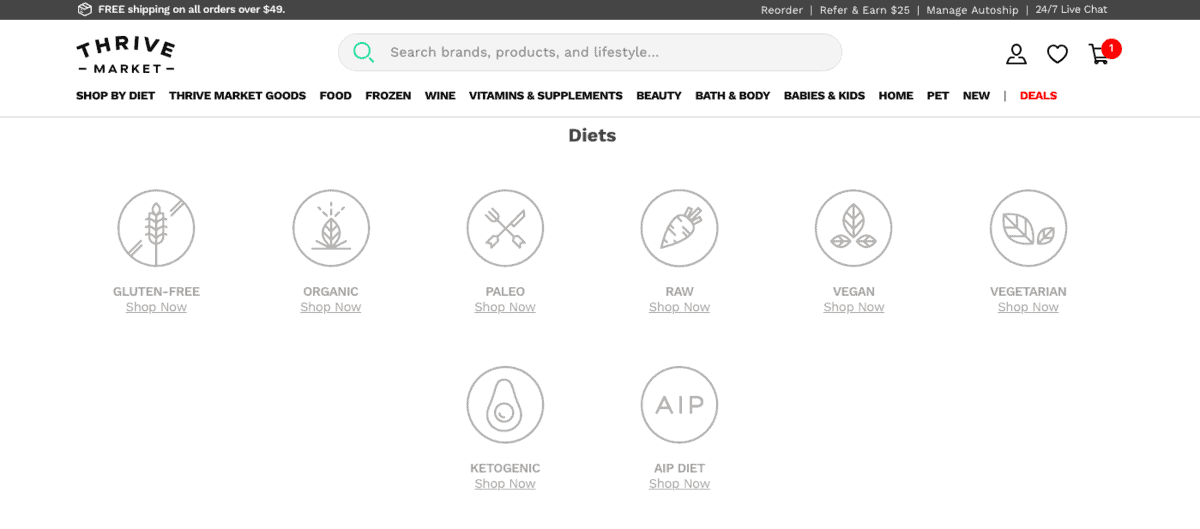 That's right. You can narrow it down to "vegan" items only and you've got your own online vegan grocery store! I love this feature; it is one of my favorite reasons to shop at Thrive Market. Not only can you do it from the comfort of your own home but you don't have to spend any time reading ingredients - you know exactly what is and isn't vegan.
Once you've filled your cart, you will have the option of signing up for a membership OR using Thrive Market a FREE 30-day trial.
With this link, you can choose a FREE gift (up to $24 in value) with your first order.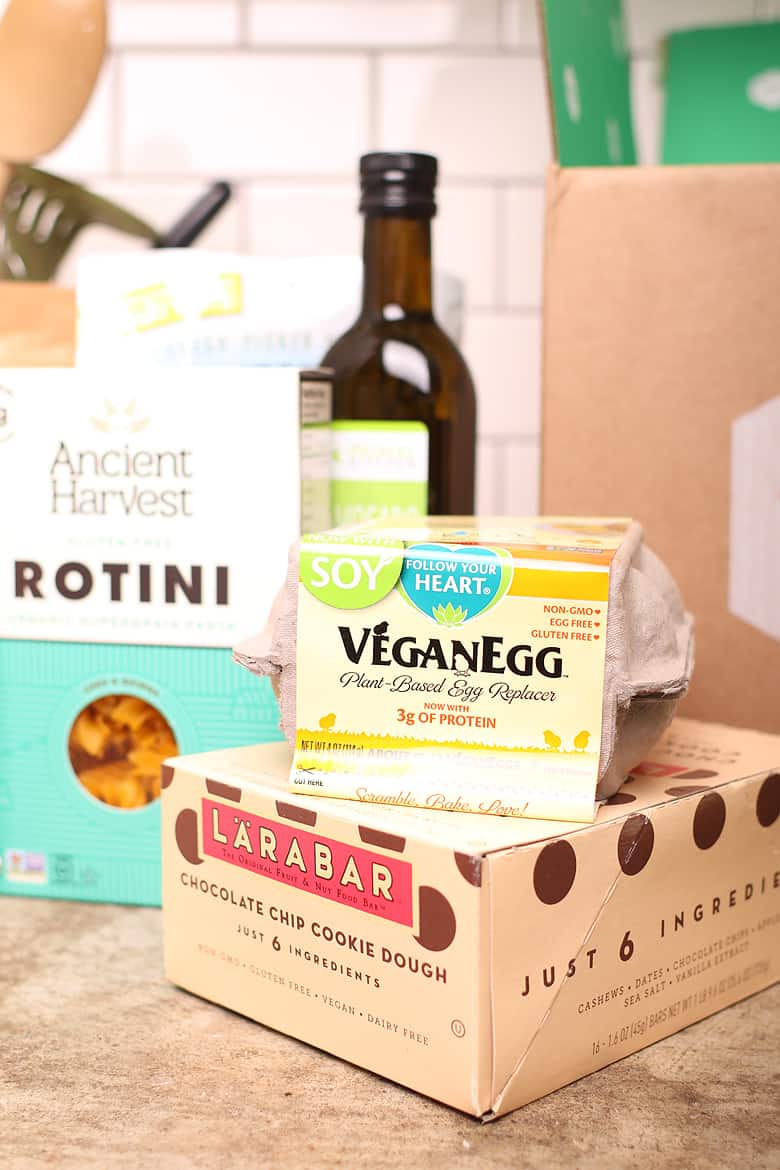 Vegan Starter Kit
Thrive Market has several starter kits but here is what I would recommend for your first Vegan Starter Kit:
Organic Coconut Oil- Coconut oil is a staple in my vegan pantry. It is my go-to oil for cooking and baking and I LOVE Thrive Market's ethically sourced organic coconut oil. It's top quality for a great price!
Upton's Natural BBQ Jackfruit - If you haven't tried jackfruit yet, Upton's Natural is a great place to start. Thrive Market offers a few different flavors of prepared jackfruit which are great in tacos, on pizza, or in sliders!
Raw Organic Cashews - Cashews are a staple in my vegan pantry. I use cashews for cashew cheese sauces, creams, custards, and more. Because I use cashews so much, I highly recommend it as part of my Vegan Starter Kit.
Pete's Bourbon Smoked Black Pepper Vegan Jerky - This is one of my FAVORITE vegan snack foods. Pete's Jerky is chewy, flavorful, and so so good. It's a must for new and old vegans alike.
Organic Sprouted Brown Rice - As a vegan, I eat a lot of rice and I have found that sprouted brown rice is the easiest to digest. You can get this Thrive Market brand for 40% off retail price!
Califia Almond Milk Creamer, Unsweetened - Finding a good creamer for your coffee is essential as a new vegan and after trying nearly all the vegan creamer available, I stand 100% behind this one from Califia Farms.
Organic Coconut Sugar - For a healthy alternative to sugar, I make sure always to have a bag of organic coconut sugar in my pantry. Save 34% off this Thrive Market sugar.
Organic Roasted Seaweed - Seaweed is one of my favorite snacks as a vegan. It is low-calorie, gluten-free, and sugar-free.
Vegan Egg- If you're new to veganism, then you might still be wondering how to replace eggs. Follow Your Heart's vegan egg is perfect for scrambles, baking, and more!
You can check out my complete starter kit; it's the perfect introductory box to Thrive Market.
---
Start your membership today!
I am a member of Thrive Market and I absolutely love it! I buy nearly all my non-perishable groceries here and I cannot recommend this company enough. If you're not already a member, sign up now and receive a FREE gift with first order when you sign up using this link and start saving money on groceries today!
If you give one of these recipes recipe a try, snap a photo and share it on Instagram. Make sure to tag
@mydarlingvegan
so I can see your creations!