Roasted Beet Pizza with Arugula and Cashew Cheese
Celebrate autumn's harvest with a sweet and tart Roasted Beet Pizza with Arugula and Cashew Cheese. A delicious and seasonal pizza pie for the whole family.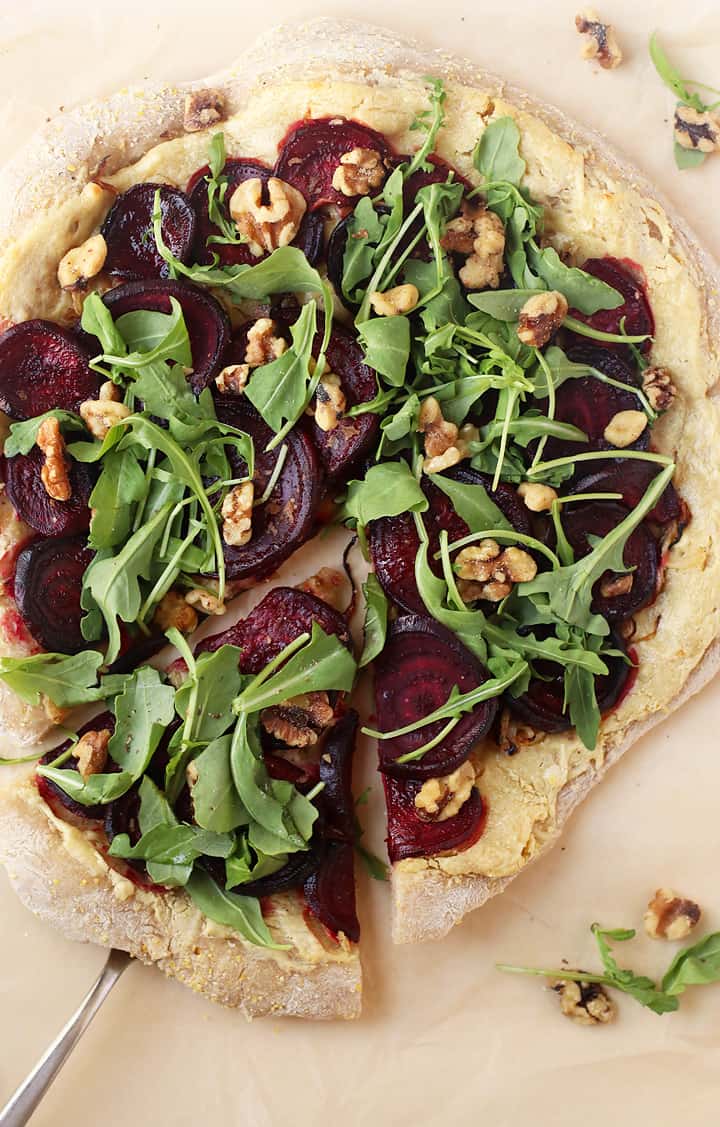 This post contains affiliate links. For more information read my privacy policy. 
Roasted Beet Pizza, friends!
I love beets. It took me about 28 years to figure this out but once I did, my-oh-my, did my life change. I mean, what's not to love? Beets are sweet, earthy, delicious and totally versatile. Did you know I even have a beet dessert on the blog?!
I've done a lot with beets recently (making up for all those years I abstained) and today I'm bringing back one of my oldest recipes from the archives, this Roasted Beet Pizza – a delicious autumnal pizza made with cashew cream, roasted beets, caramelized onions, fresh arugula, and toasted walnuts.
Sound good? Let's take a closer look!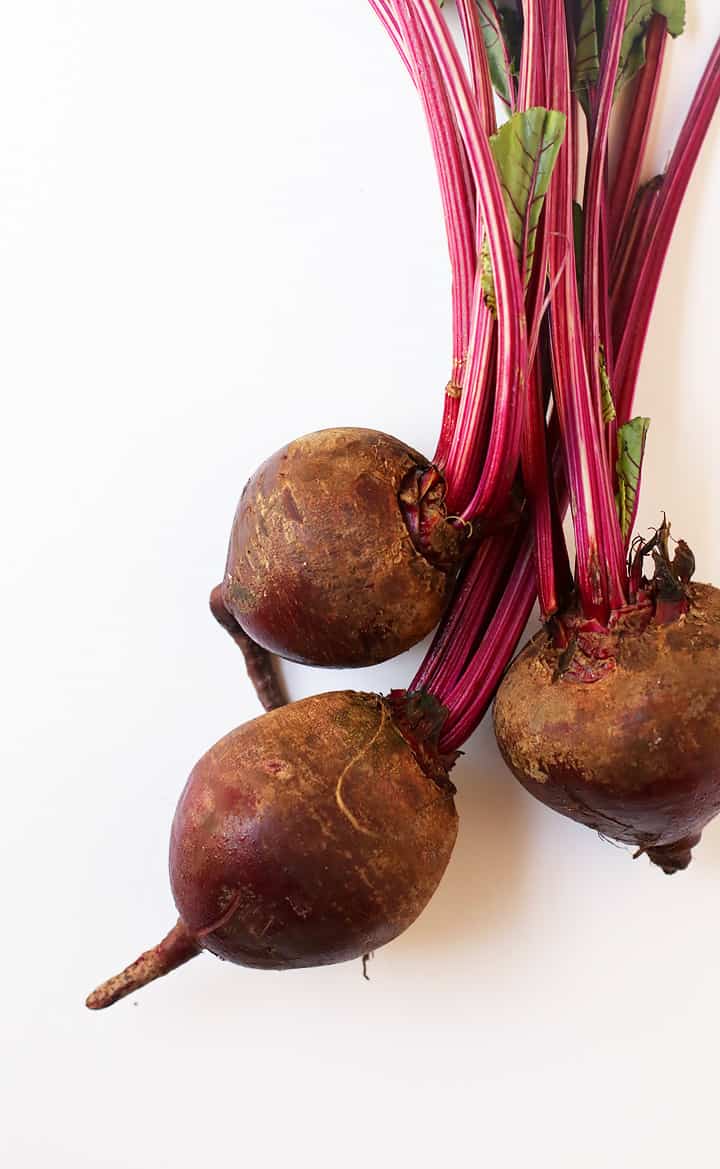 How to make Roasted Beet Pizza
This pizza has several components that need to come together at once. And I'm going to break those down right here.
Step One: Make the pizza crust
If you want to make your own, you can follow these instructions.
However, because I'm a busy gal, I almost always buy my dough at the store. Most well-stocked grocery stores now sell pre-made dough in the refrigerated section. All the dough needs is a second rise and a bake. Pre-made dough provides the freshest crust at the minimal amount of work. However, if you are also a busy person and don't have the pre-dough option, a store-bought crust works just fine.
Regardless of which pizza dough path you take, prepare your dough is the first step.
Step Two: Make the cashew cream
To counter the sweet earthiness of the beets, I start with a layer of cashew cream. Cashew cream is a mixture of raw cashews, nutritional yeast, miso, and seasonings giving it a cheesy tartness that pairs perfectly with the rest of this pizza.
When it comes to cashew cream, you really should use a high-powered blender. I recommend a Vitamix.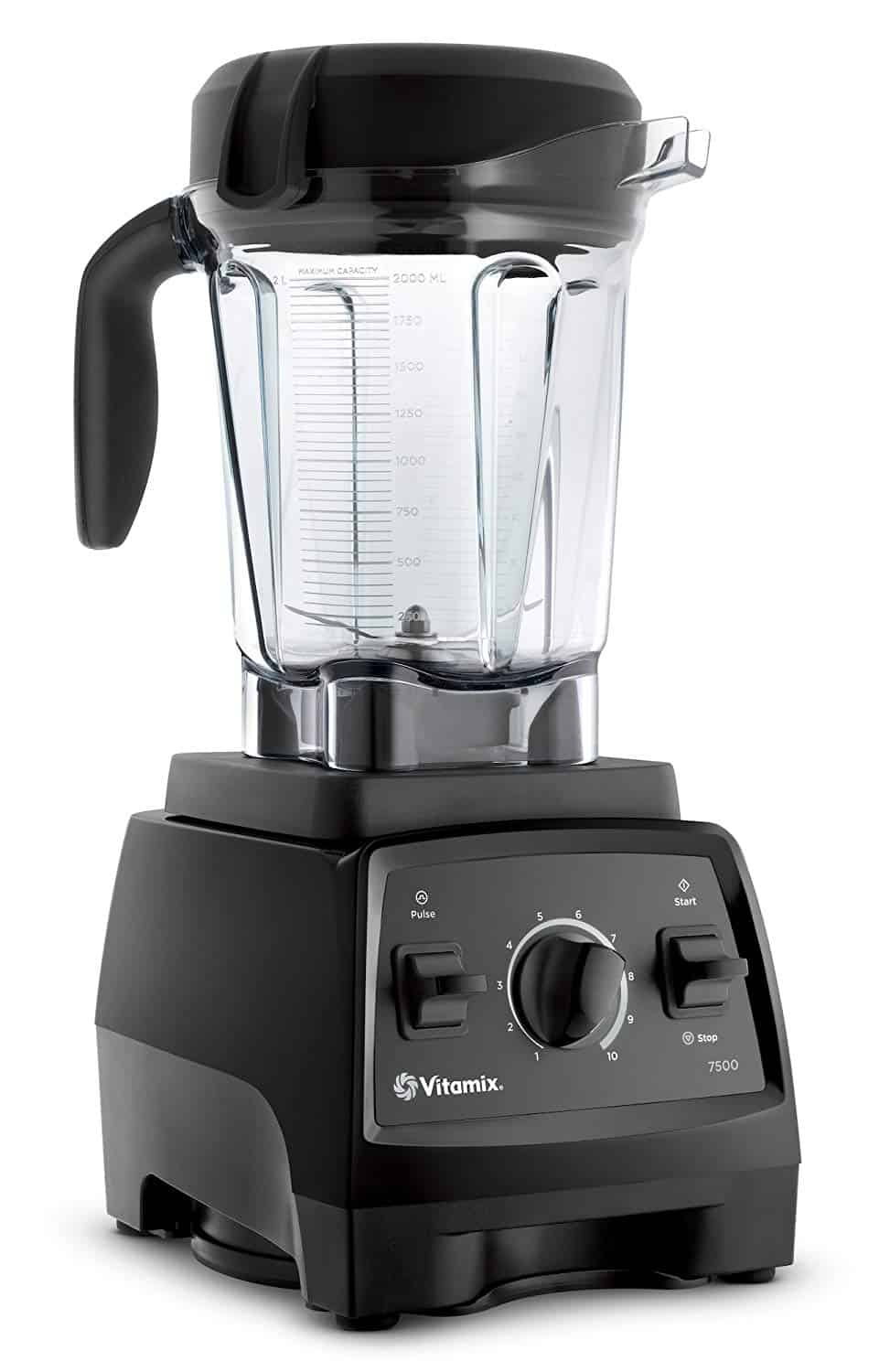 These blenders can be pricy, but my Vitamix is one of the most used gadgets in my kitchen. Most other blenders simply do not have the power to create a cream out of cashews and you'll end up with gritty cashew cream. However, if you don't have a high-powered blender, you can soak the cashews for about 6 hours ahead of time and they will blend up fairly well.
Once your cashew cream is made, spread a thin layer on your prepared pizza dough and move to step three.
Step Three: Make the Caramelized Onions
Caramelizing onions is a method of slow cooking the onions to allow all the sweetness to come out. I sauté the onions with olive oil (you could also use non-dairy butter) over low heat until the onions are tender, golden brown, and super sweet, about 15 minutes.
Once your onions are caramelized, they are sprinkled evenly over your cashew cheese.
Step Four: Roast the beets
As I talk about the components of this Roasted Beet Pizza, I'm ordering them in the order they are placed on the pizza. However, you should plan on preparing your beets right after your pizza crust is ready. To get them tender and sweet, I roast them with a bit of olive oil and salt before baking them a 2nd time on the pizza. If you bake them directly onto the pizza, they won't fully bake. This means their sweet earthy flavors won't fully emerge and they will be slightly crunchy.
The beets are roasted for about 20 minutes until they are dark purple and easily pierced with a fork. Once they are nice and tender, they are spread evenly over the onions, covering the entire top of the pizza (as in the photo above).
Now your pizza is ready to go in the oven!
The pizza gets baked at 450 until the crust is golden brown, about 18 minutes.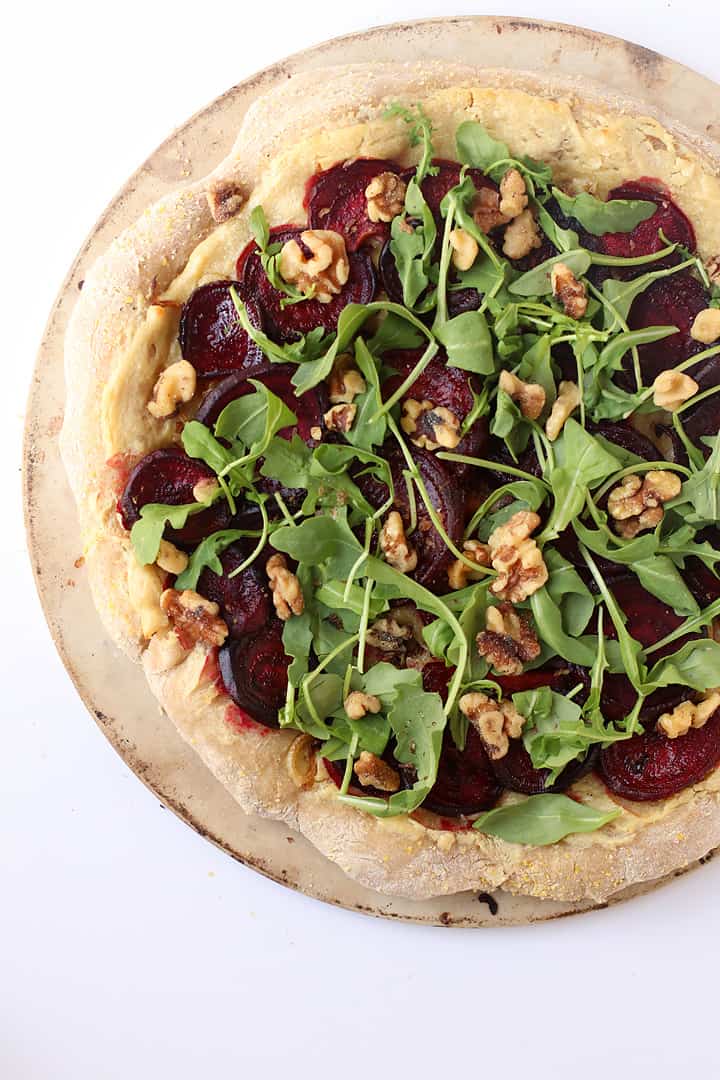 Step Five: Finish the pizza
Once out of the oven, this roasted beet pizza gets finished with fresh arugula and toasted walnuts. And that's it! A delicious roasted beet pizza that, I believe, is capable of making a lover out of any beet skeptic.
Storing the roasted beet pizza
This pizza is best eaten within an hour of baking. However, you can store uneaten pizza in an airtight container in the refrigerator 1-2 days. Gently reheat the pizza in the oven before eating.
Tips and tricks for making the perfect vegan pizza
This recipe has several different components that need to come together at once. In other words, things can get a little messy. To simplify the process consider:
Buying pre-made pizza dough (can you tell I'm a fan??).
Preparing your cashew cream ahead of time. This can be made a day or two in advance.
Toasting your walnuts in advance.
Pre-slicing onions and beets and storing them in the refrigerator until it's time to make the pizza.
All right, who's ready to make some pizza?!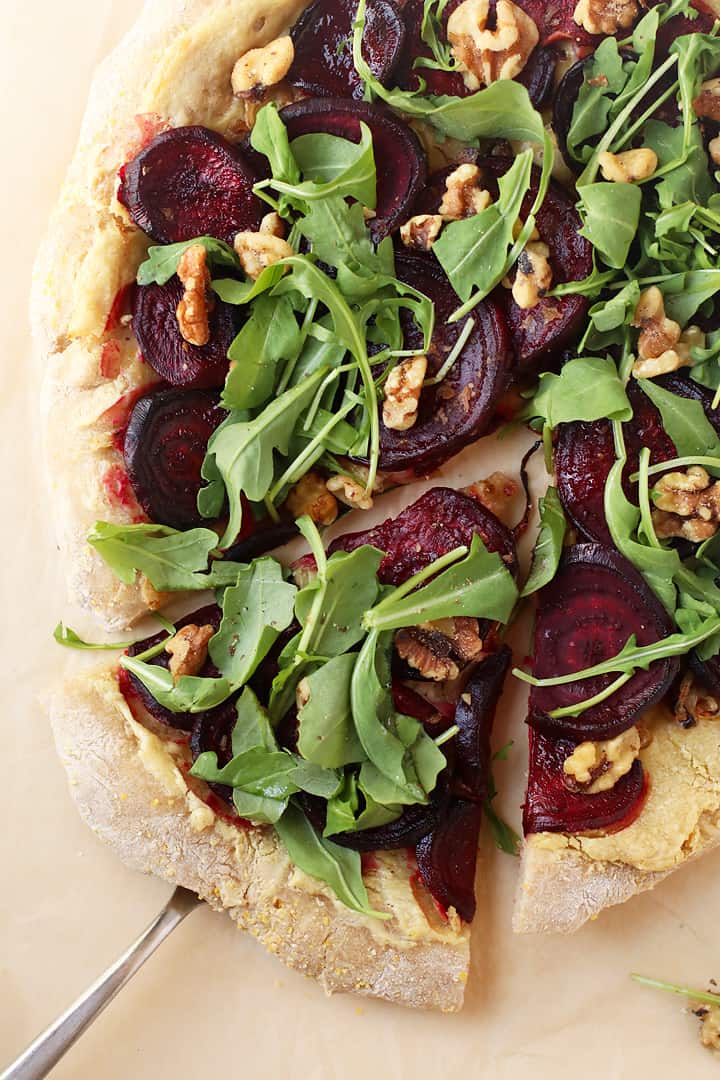 Roasted Beet Pizza with Arugula and Cashew Cream
Celebrate autumn's harvest with a sweet and tart Roasted Beet Pizza with Arugula and Cashew Cheese. A delicious and seasonal pizza pie for the whole family.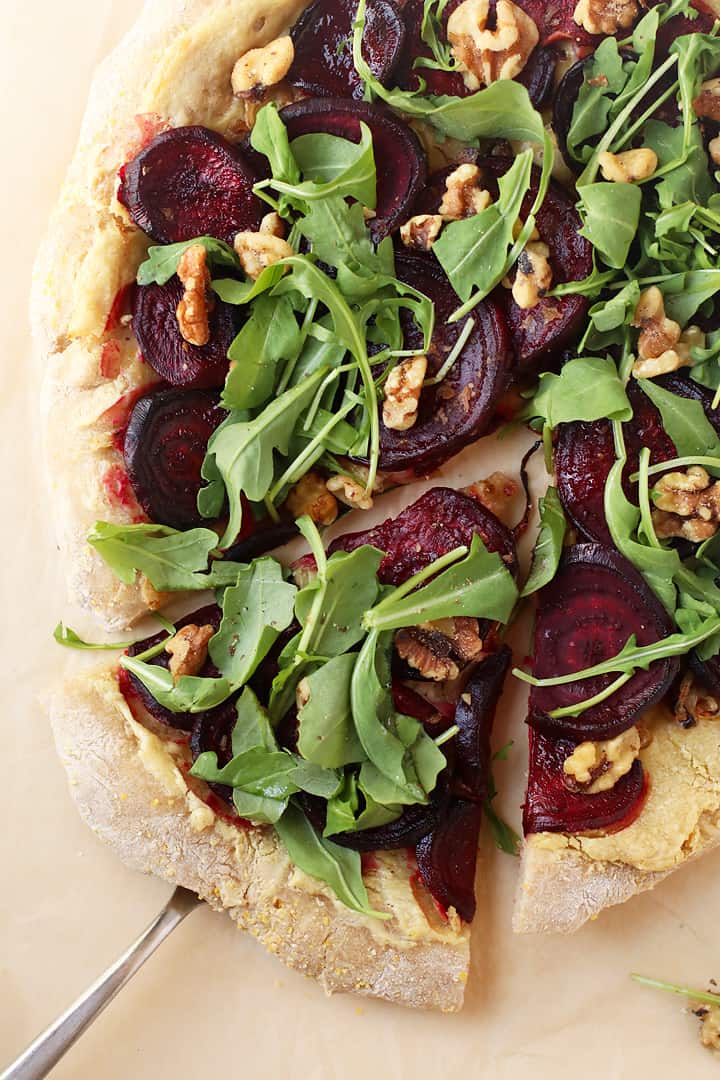 Course:
Main Course
Cuisine:
Pizza, Vegan
Keyword:
Roasted Beet Pizza
Servings
:
8
slices
Calories
: 348 kcal
Ingredients
Pizza Topping
2

large beets, peeled and thinly sliced

3

tbsp olive oil, divided

1

tsp salt, divided

1/2

yellow onion, thinly sliced
Everything Else
1

pizza crust, homemade or store-bought

1

cup

fresh arugula, loosely packed

1/4

cup toasted walnuts, chopped
Instructions
Prepare your pizza dough. If you're making your own crust, follow these instructions. My preference is a pre-made dough that can be found in the refrigerator section at your local grocery store.

Preheat the oven to 400 F. Line a baking sheet with parchment paper and set aside.

Wash and peel the beets. Thinly slice the beets about 1/8" thick. This is easiest done with a mandoline slicer. Toss in 2 tbsp olive oil and 1/2 tsp of salt. Place beet onto the prepared baking sheet in a single layer and bake for 20 minutes, until beets are roasted and easily pierced with a fork. Remove from heat. Turn your oven up to 450 F.

Meanwhile, in a medium cast iron skillet, heat remaining 1 tbsp of olive oil over medium-low heat. Once the oil is hot, add onions and remaining 1/2 tsp of salt. Sauté slowly, stirring frequently, until onions are fragrant and golden brown, about 15 minutes. Remove from heat and set aside.

In a high-powered blender, combine all the ingredients for the cashew cheese and blend until completely smooth.

Place prepared dough on a pizza stone. Top with a thin layer of cashew cheese, spreading evenly to cover the bottom, leaving about 1/2" around for the crust. Top with a layer of caramelized onions followed by the beets, layering them so that they completely cover the top of the pizza.

Place the pizza in the oven and bake for 15-18 minutes, until pizza dough is golden brown.

Remove from oven and top with arugula and walnuts. Serve immediately.
Recipe Notes
If using your own dough, MAKE SURE to sprinkle the bottom of the pizza stone with a bit of flour or cornstarch to prevent dough from sticking.
Nutrition Facts
Roasted Beet Pizza with Arugula and Cashew Cream
Amount Per Serving
Calories 348
Calories from Fat 198
% Daily Value*
Fat 22g34%
Sodium 781mg34%
Potassium 165mg5%
Carbohydrates 30g10%
Protein 8g16%
Vitamin A 60IU1%
Vitamin C 3.8mg5%
Calcium 59mg6%
Iron 2.5mg14%
* Percent Daily Values are based on a 2000 calorie diet.
If you give this recipe recipe a try, snap a photo and share it on Instagram. Make sure to tag
@mydarlingvegan
so I can see your creations!