This vegan lox sandwich is made with roasted and marinated carrots, cream cheese, capers, and fresh dill for a delicious breakfast sandwich.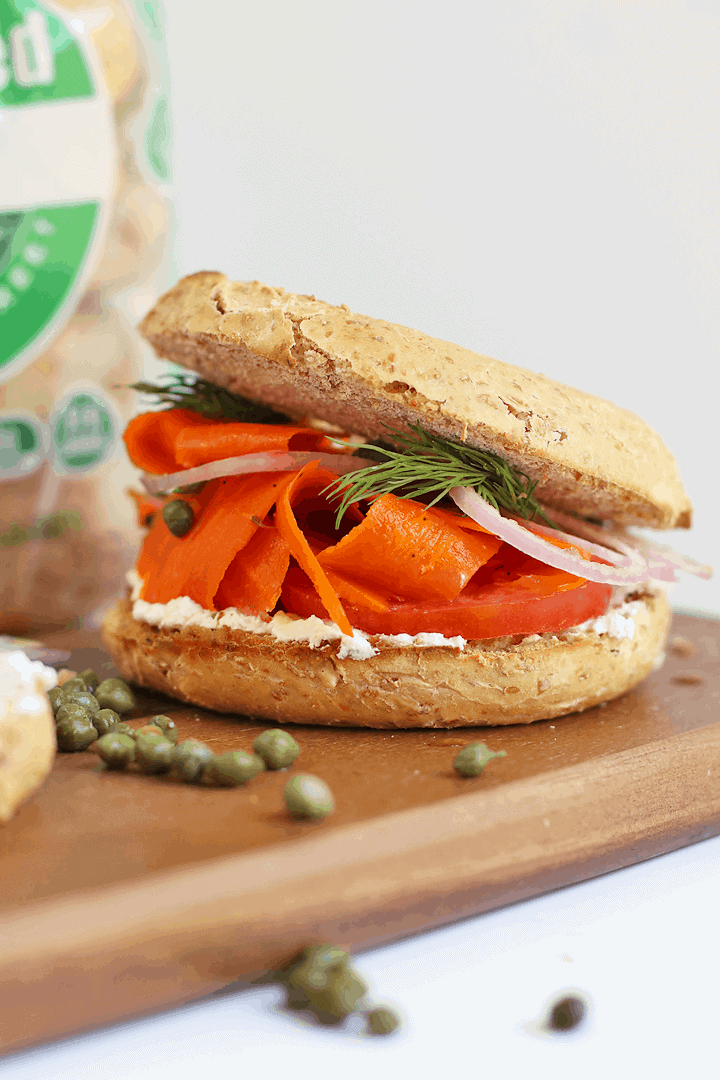 This post is sponsored by Alvarado St. Bakery Co-op. All thoughts and opinions are 100% mine.
This post contains affiliate links. For more information please see my privacy policy.

Hey, hey!
It's Friday and I have another fun recipe to share with you before I head out for another fun weekend with some of my favorite friends. After this, I am leaving Portland to enjoy some wine tasting, hiking, and beautiful Oregon countryside with two of my favorite people in the world.
I have been one loved person recently.
But before I leave you, I want to share this new breakfast recipe – a vegan lox sandwich made with roasted and marinated carrots, filled with lots of fresh vegetables, all inside my favorite sprouted wheat bagel from Alvarado St. Bakery Co-op.
Wanna take a closer look? Let's dive in!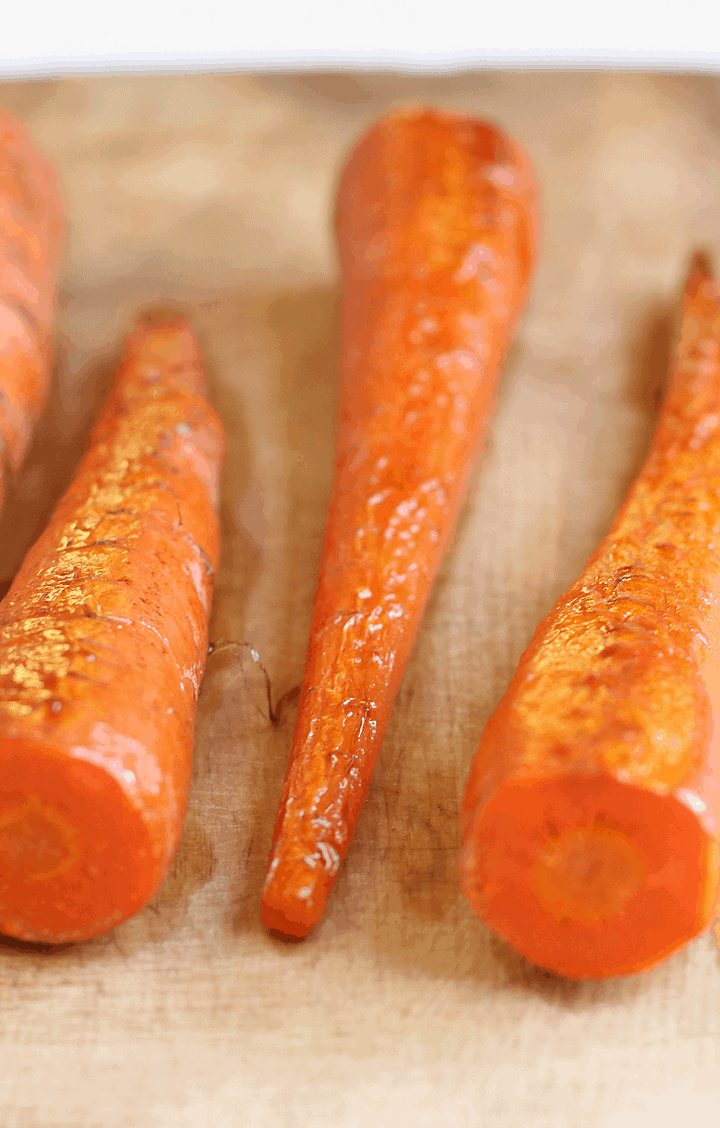 Okay, I'm going to be honest with you. I've never had lox before. Way back in the day when I used to eat meat (like 15 years ago!) I was far too unsophisticated for such fancy foods. But as you may have noticed, I've been on a bit of a vegan fish kick recently, a food that up until recently I had not dared touch with a 10-foot pole. But now that things are getting kinda fishy up in here, I'm starting to like it.
---
Ingredients for Vegan Lox Sandwich
For this recipe, you just need a handful of ingredients:
Whole Wheat Bagels
Roma Tomato
Red Onion
Vegan Cream Cheese
Fresh Dill
Cappers
Vegan Lox
---
Best Vegan Replacement for Lox
If you do a quick search of vegan lox you'll find quite a few recipes using a variety of vegetables as mock lox.
For this recipe, I went the carrot route for two reasons: color and texture. The color part is fairly self-explanatory. To create a texture similar to that of lox, the first step is to roast the carrots until they are tender and buttery.
Once roasted, the carrots get peeled into thin strips and placed in a salty marinade that fills them with the flavors of the sea. Because the carrots are roasted, they will quickly soak up the flavors creating a delicious mock lox.
Carrot lox! Who knew?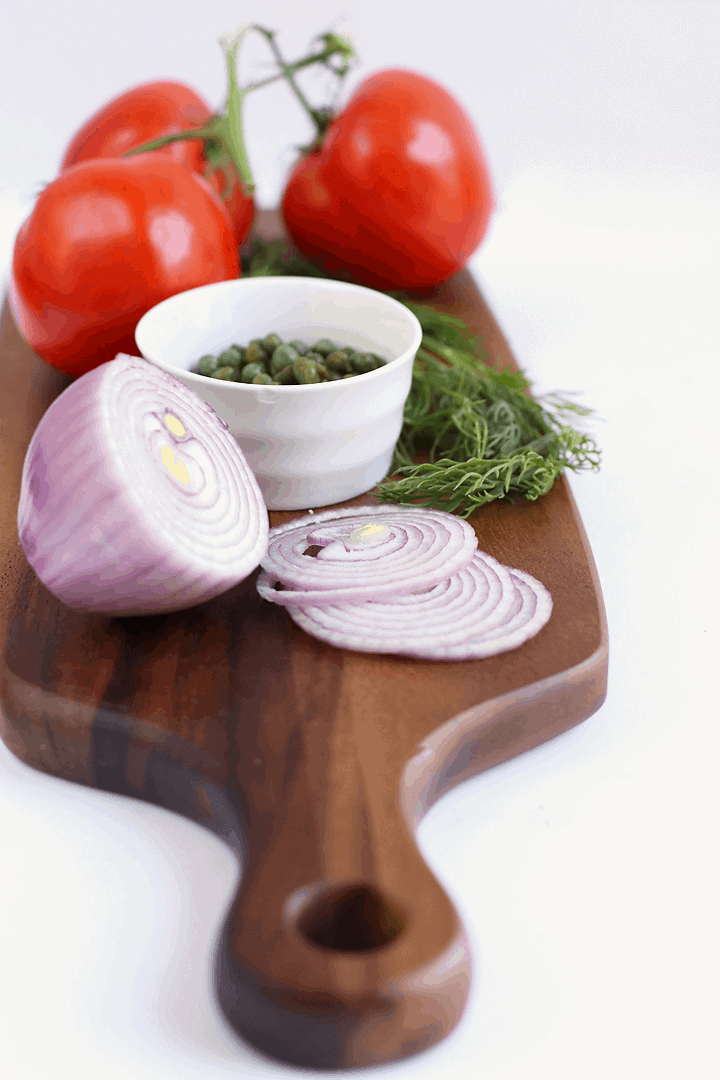 Best Bagels for Vegan Lox Bagel Sandwich
Now that you've got a good vegan lox, let's focus on the other important factor of this sandwich – the perfect bagel. The perfect bagel turns out to be this sprouted wheat bagel from Alvarado St. Bakery Co-op – a whole wheat bagel made with sprouted wheat berries and organic wheat flour for a delicious taste and delightful chew.
You are probably familiar with Alvarado St. Bakery Co-op, that incredible bakery that's been making organic products for almost 40 years . And you may remember when I first introduced them to My Darling Vegan with this Tempeh Reuben. But I only scratched the surface of the awesomeness that is this organic co-op.
Beyond doing organic way before it was cool, Alvarado St. Bakery Co-op is also dedicated to running a green business with sustainable practices. I mean, did you know that the bakery runs on a solar power? Their roof, which is 1.5 acres big, contains 1722 solar panels that powers 40% of the operation!
The co-op is also dedicated to practices such as water conservation, waste reduction, and pollution prevention which are used throughout the entire business. Alvarado St. Bakery is not just making bread that is good for the body, they are doing it in a way that is great for the environment!
Aren't they the best?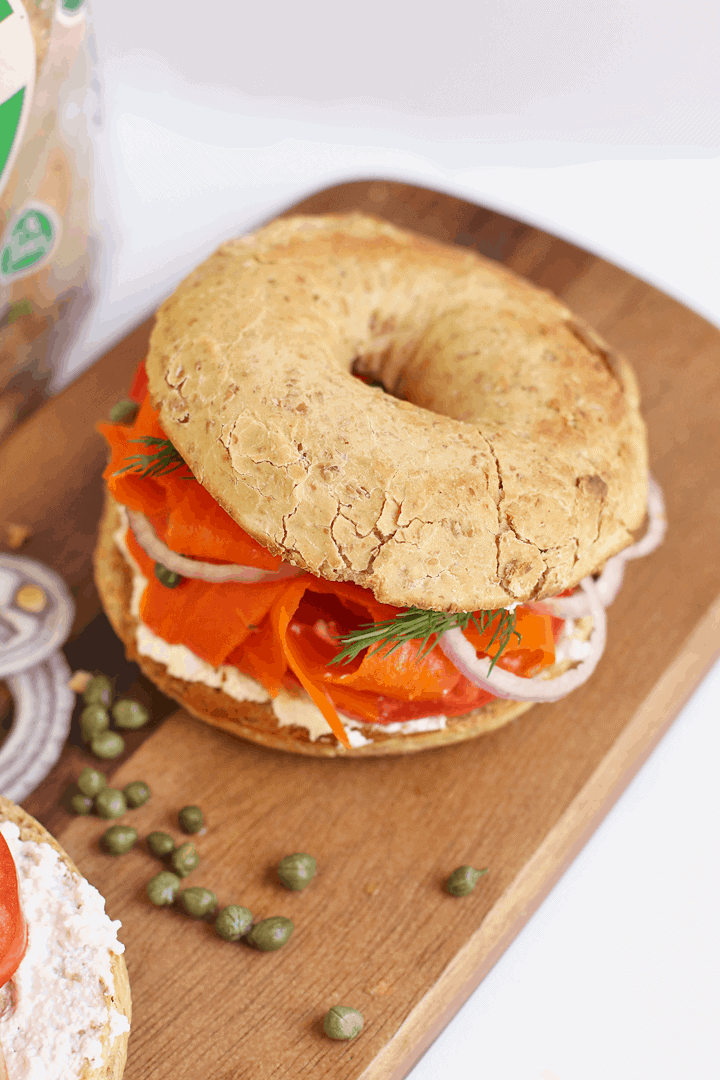 Serving and Storing Vegan Lox Sandwich
Once assembled, you should enjoy this vegan lox sandwich immediately as part of your weekend brunch.
Leftover carrot lox can be stored in an airtight container in the refrigerator for up to 4 days.
---
More Vegan Brunch Recipes
Do you love brunch as much as I do? Then make sure to check out these additional vegan brunch recipes:
Now, you've got your carrot lox and the perfect sprouted wheat bagel. What more do you need to start off your weekend off right?
The answer: nothing.

Vegan Lox Sandwich
This vegan lox sandwich is made with roasted and marinated carrots, cream cheese, capers, and fresh dill for a delicious breakfast sandwich.
Course:
Breakfast, Main Course, Main Dish
Cuisine:
American
Keyword:
Vegan Lox
Servings
:
2
Calories
: 415 kcal
Author
:
Sarah McMinn
Ingredients
Bagel Sandwich
2

Alvarado St. Bakery Sprouted Wheat Bagels

1

roma tomato, sliced

1/2

red onion, thinly sliced
vegan cream cheese
fresh dill
capers
salt and pepper
Instructions
Preheat the oven to 400. Brush carrots with olive oil and place them on a baking sheet. Bake for 30 minutes until tender and fragrant. Meanwhile, whisk together the remaining lox ingredients and transfer to a shallow dish.

Using a vegetable peeler, cut carrots in thin strips. Place in the marinade, making sure carrots are completely submerged. Cover and refrigerate for at least 30 minutes. This can also be made the night before.

To prepare the bagel sandwiches, slice the bagels in half and lightly toast. Spread both layers with cream cheese and top with tomatoes, carrot lox, onions, fresh dill, and capers.
Serve immediately.
Nutrition Facts
Vegan Lox Sandwich
Amount Per Serving
Calories 415
Calories from Fat 81
% Daily Value*
Fat 9g14%
Sodium 1205mg52%
Potassium 579mg17%
Carbohydrates 70g23%
Protein 13g26%
Vitamin A 15545IU311%
Vitamin C 12.5mg15%
Calcium 62mg6%
Iron 2.2mg12%
* Percent Daily Values are based on a 2000 calorie diet.
Recipe Notes
This carrot lox is not going to fool your fish-eating friends. It is, rather, and fun and creative plant-based alternative.
If you give this recipe recipe a try, snap a photo and share it on Instagram. Make sure to tag
@mydarlingvegan
so I can see your creations!