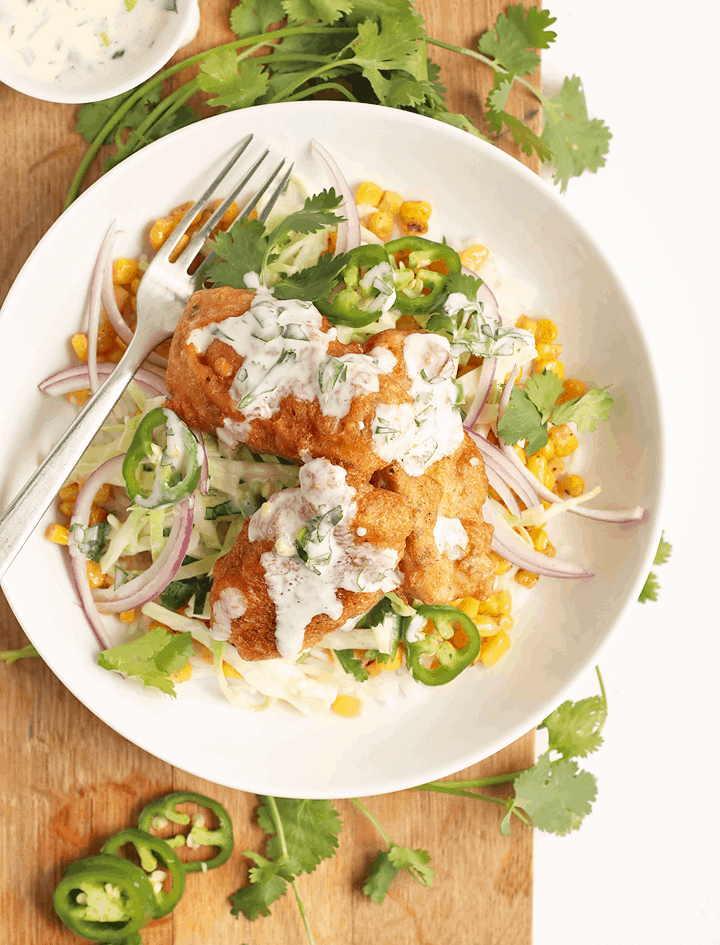 The other day on Pinterest I came across this fish taco bowl and I immediately pinned it to my favorite board, "Veganize it!" where I stow away all the inspired recipes on the internet that are in desperate need of a vegan make-over. My "Veganize it!" board grows faster than I can produce recipes, and for that reason, many are buried beneath pins only to be forgotten days later. But every once in awhile a recipe catches my eye so completely and enthusiastically that I drop everything that I am doing and set to work creating my own vegan version right then and there. 
Thus was the case with these vegan Baja Fish Taco Bowls. 
Oh, I had BIG plans for them…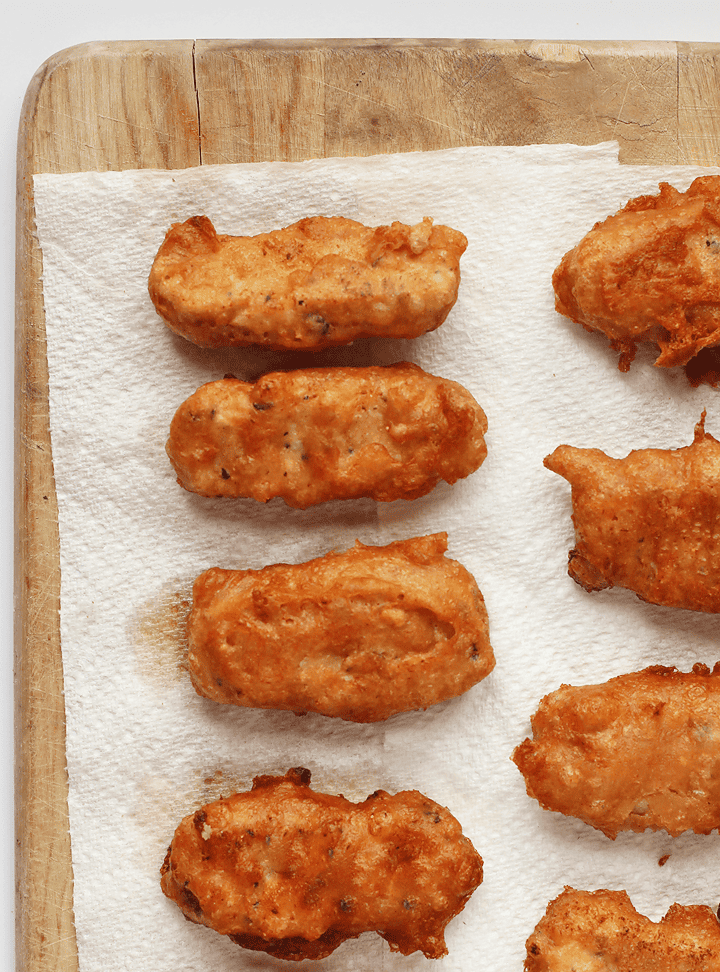 These vegan Baja Fish Taco Bowls, precisely. 
This new recipe is seriously one of my favorite things right now. Yep, right up there with The Head and the Heart (cannot stop listening during these hard days), baseball, my garden that is seriously producing food, and my website makeover.
That's some good stuff, right there.  
These bowls are a combination of refreshing cilantro cabbage slaw, slowly sautéd corn, spicy homemade Baja sauce, and of course, my beer battered fish sticks for the perfect early summer dinner.
Now, all you need is a spicy margarita and you're ready to go!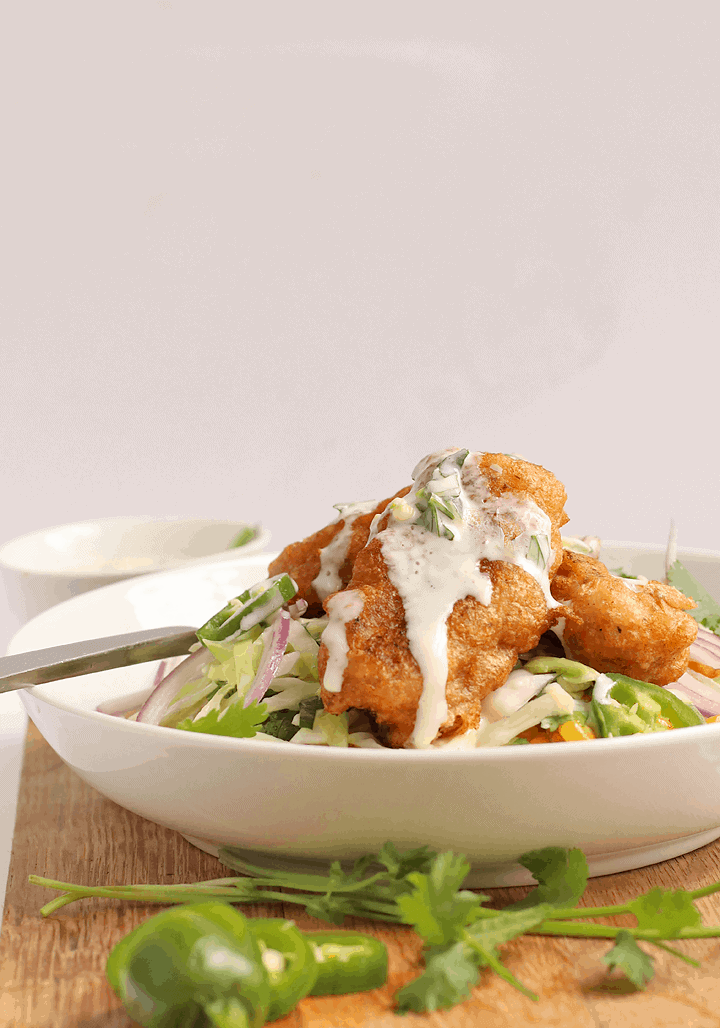 Vegan Baja Fish Taco Bowls
Ingredients
Fish Taco Bowls
1 cup cooked white rice
1 cup sautéd corn kernels
1 tablespoon coconut oil
1 batch Beer Battered Faux-Fish Sticks
¼ cup red onions, thinly sliced

Cabbage Slaw
1 cup white cabbage
juice of 1 lime
2 tablespoons cilantro, minced
salt, to taste

Baja Sauce
½ cup vegan mayonnaise
juice of 1 lime
salt, to taste
cilantro, minced
jalapeno, minced

Toppings (optional)
1 jalapeño, thinly slice
fresh cilantro
avocado, cubed
Instructions
In a small bowl combine the ingredients for the cabbage slaw. Refrigerate until ready to use.
In a small cast iron skillet heat coconut oil over medium-high heat. Add corn and sauté for 7-9 minutes, stirring frequently, until lightly brown and fragrant. Remove from heat and let cool.
Prepare the Beer Battered Fish Sticks according to these instructions.
In a separate bowl combine the ingredients for the baja sauce. Refrigerate until ready to use.
To assemble the bowl, evenly divided the cooked rice between two bowls. Add red onions, a scoop of cabbage slaw, and sautéd corn. Top with 3-4 vegan fish sticks and Baja sauce.
Add desired toppings and serve immediately.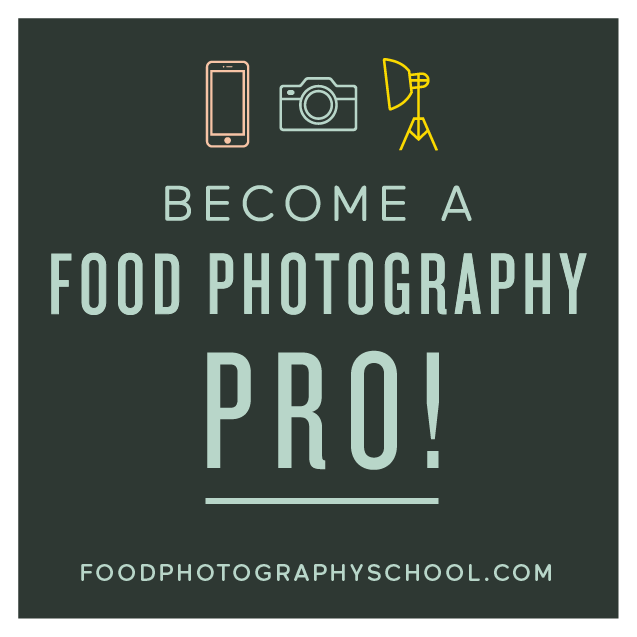 Sign up for
My Darling Vegan Newsletter
get a FREE copy of my Clean Eating Vegan ebook
Advertise Here