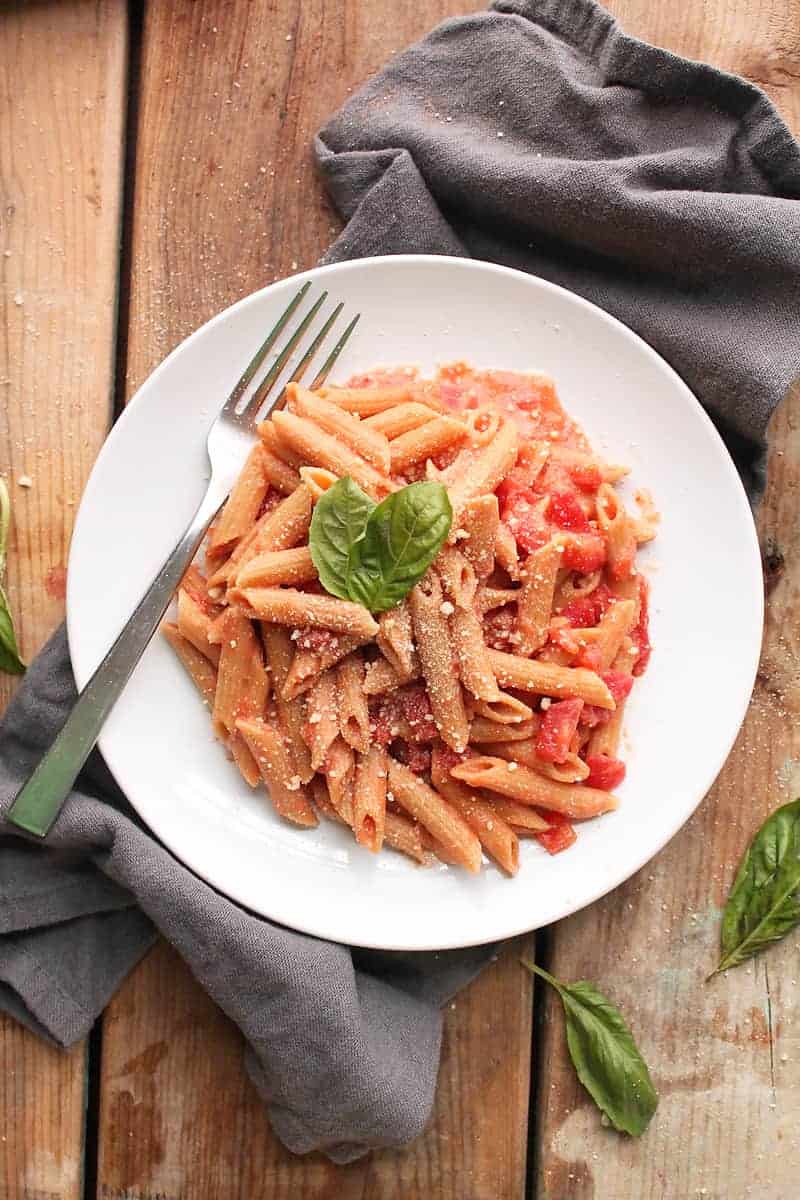 Wow! We just worked our way through a 30 day cleanse covering 12 new clean-eating recipes, plus 30 more recipes in my FREE ebook. How did you all do?
Now that we are all blissed out on our awesome, healthy starts to 2017, it is time to make a dramatic shift. We are going from gluten-free, sugar-free, healthy and wholesome to decadent and indulgent as we turn towards the holiday of love: Valentine's Day. And how are we going to kick of these next two weeks of Valentine's Day extravagance? With one of my favorite recipes of all time – this vegan Penne Pasta with Vodka Cream Sauce.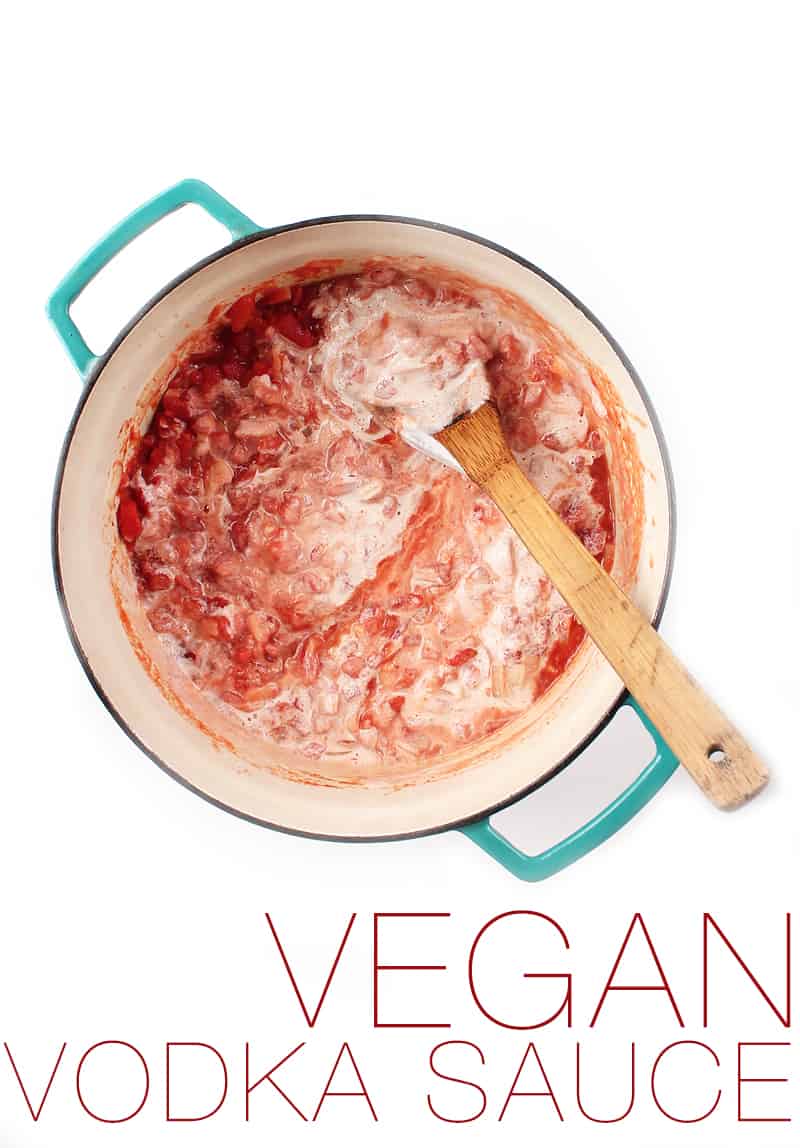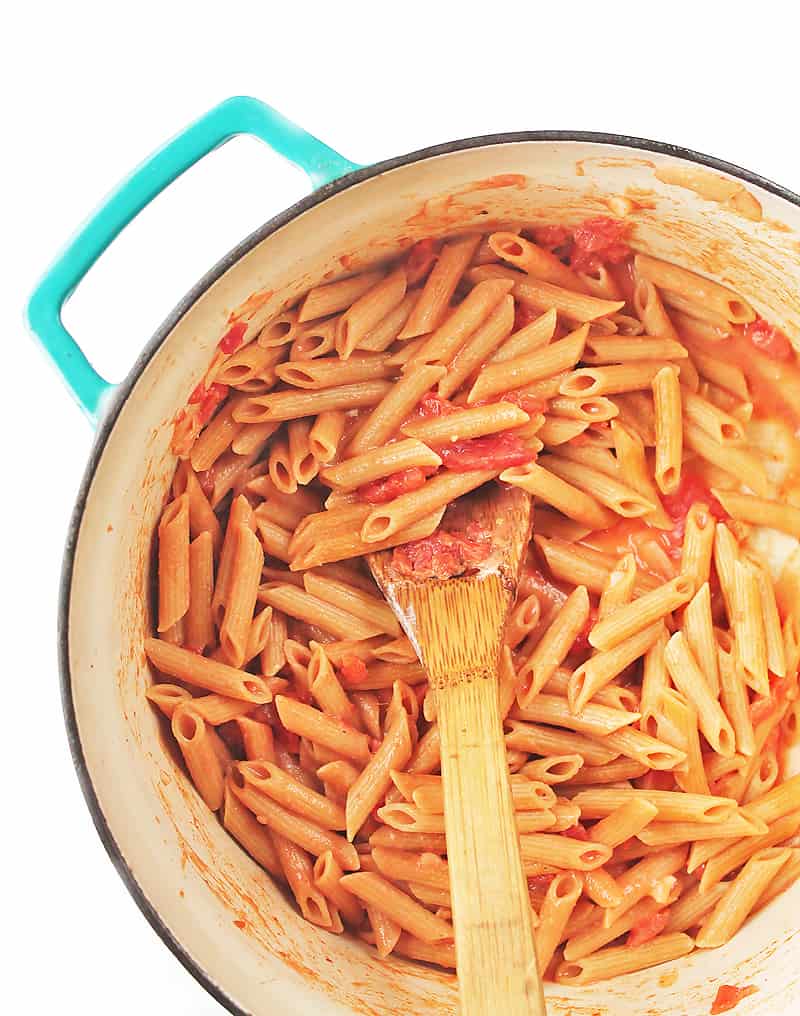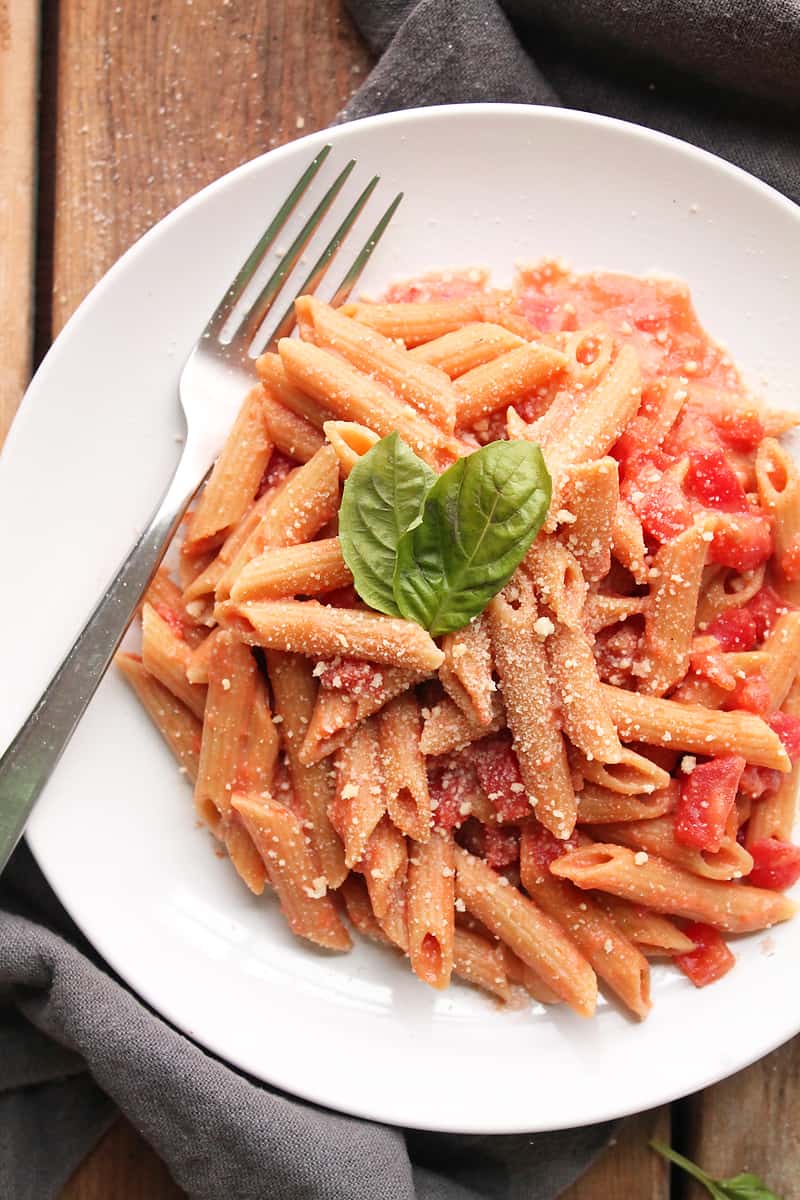 Like many other foods, Penne alla Vodka is a meal I never ate before going vegan. I hadn't even considered it until about a year ago. Then last year I started experimenting with pasta sauces as pasta is one of the only foods my kids will eat without a fight. For that reason I've gotten skilled at sneaking healthy foods and proteins into their sauces. See: Creamy Vegan Alfredo and Secretly Healthy Vegan Mac n' Cheese. But that's a different story. In all the pasta sauce experimenting I've been doing, I started getting curious about Penne alla Vodka. Specifically, what is it? And, what's the significance of the vodka?
Penne alla Vodka is a penne pasta made with a tomato cream sauce. The dish has unclear origins with disputes about where and when it was invented. It became popular in the United States, however, in the 1980s. Why vodka? The vodka gives the dish a bit of a fresh sharpness that brings out the flavors of the tomatoes and cream in a unique and perfect bite leaving no boozy aftertaste or bitterness, like other alcohols can sometimes do.
In sum: a delicious, creamy, perfectly flavored romantic pasta dish.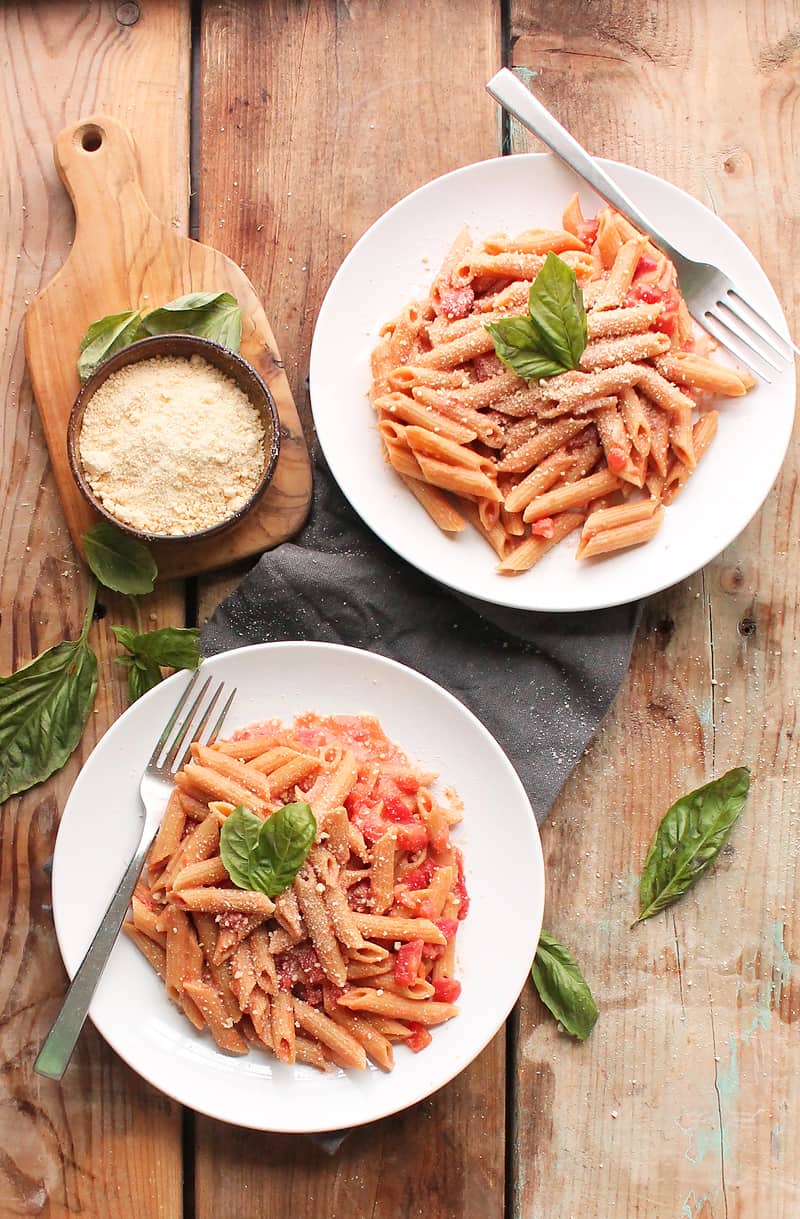 You are going to love this Penne Pasta with Vodka Cream Sauce. It is incredibly quick to throw together (especially if you already have the cashew cream prepared) yet it makes for a totally decadent and indulgent meal that will certainly impress your loved ones. Creamy, sweet, and with a bit of a bite, this vegan Penne Pasta with Vodka Cream Sauce is the perfect romantic Valentine's Day dinner.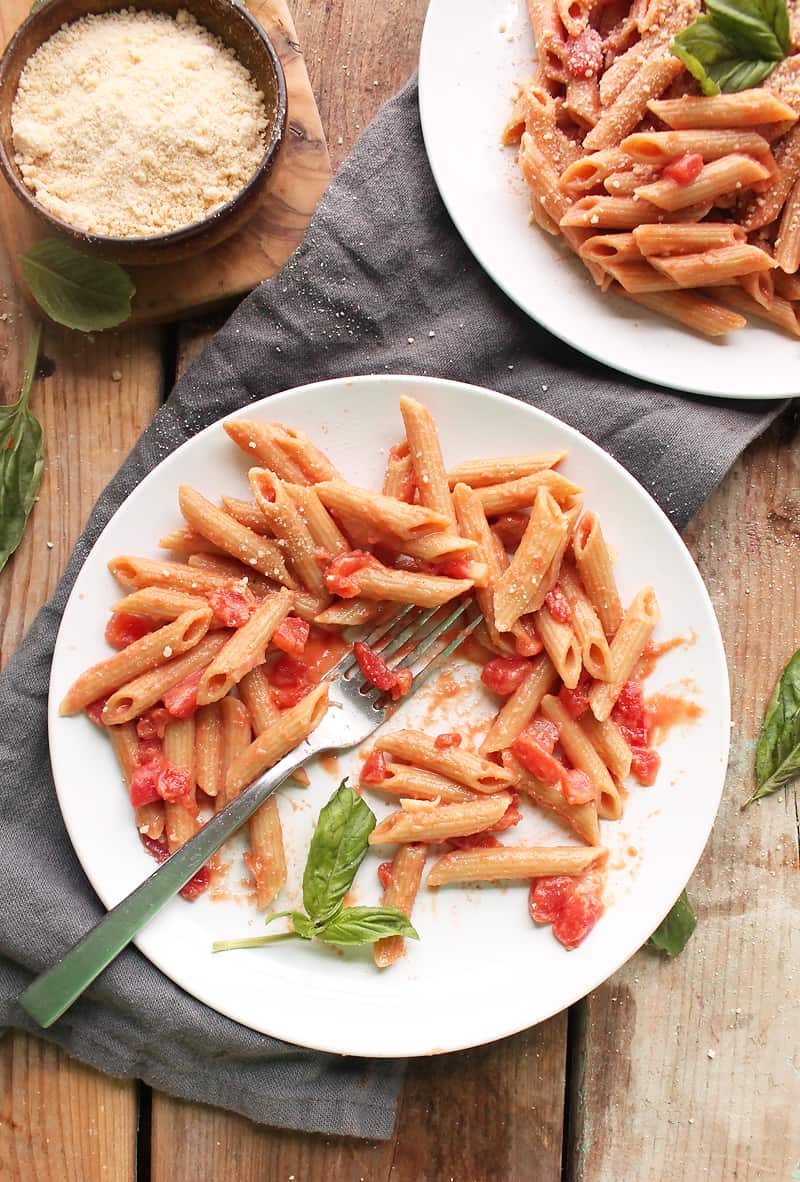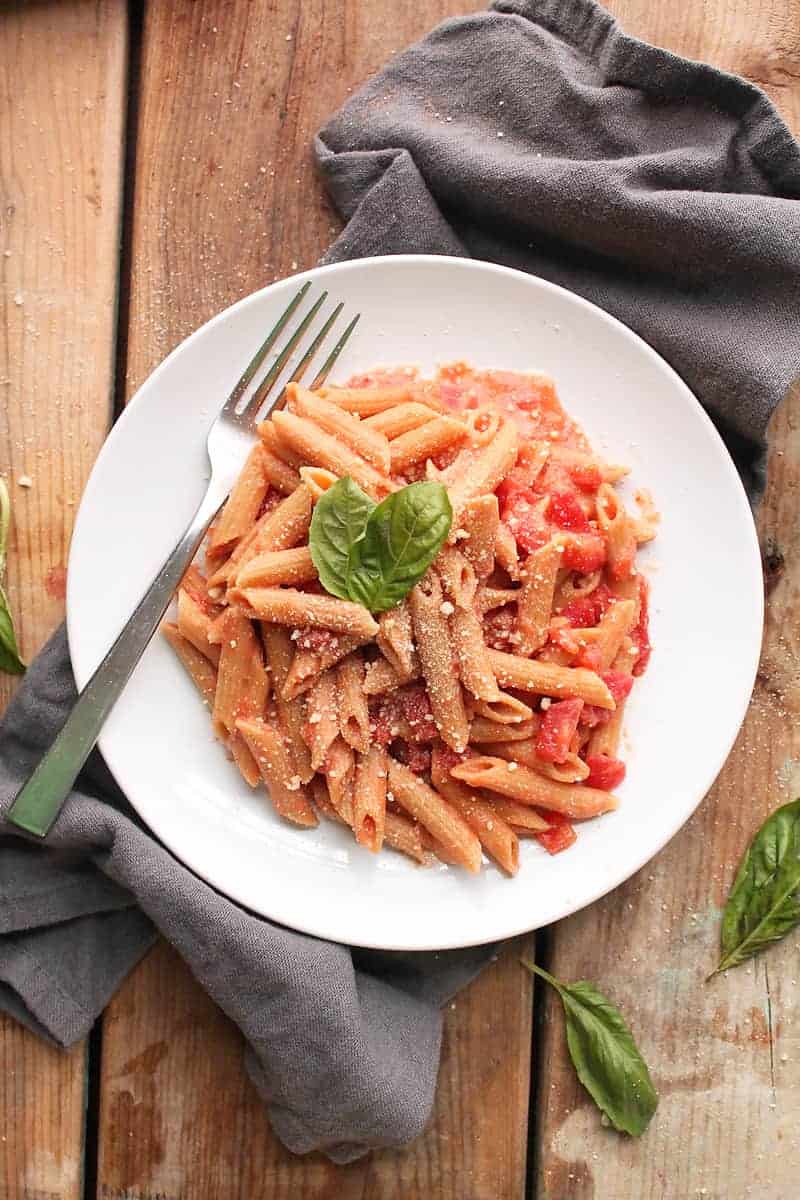 Vegan Penne with Vodka Cream Sauce
2017-01-25 04:43:53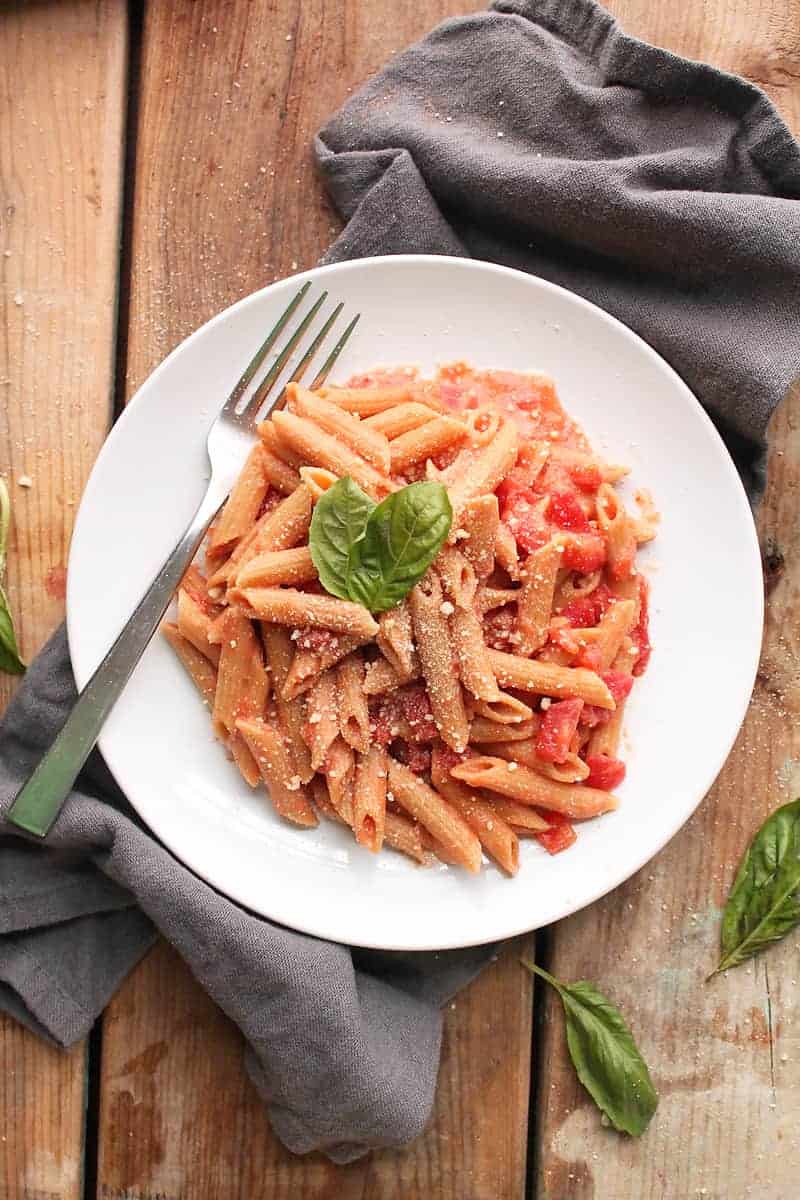 Serves 4
Vodka Cream Sauce
2 tablespoons vegan butter
1/2 small white onion
, diced
2-3 cloves garlic, minced
14 oz can diced tomatoes
1/4 cup cashews, soaked for 4 hours
1/2 cup water
1⁄4 cup good-quality vodka
pinch of crushed red pepper flakes
salt and pepper, to taste
Everything else
1/2 lb penne pasta
fresh basil (for garnish)
vegan parmesan
Instructions
Cook penne pasta according to packaged directions until al dente. Drain and set aside.
Drain and rinse the cashews. Combine cashews with 1/2 cup water in a high-powered blender like a VitaMix. Blend until completely smooth. Set aside.
While pasta is cooking, heat butter in a large pot. Add onions and garlic and sauté for 5-7 minutes over medium heat until onions are translucent and fragrant.
Add tomatoes, cashew cream, and vodka and cook for another 7 minutes at a low simmer, stirring occasionally. Flavor with salt, pepper, and red pepper flakes.
Stir in cooked penne pasta. Serve with vegan parmesan and fresh basil.
Notes
Make sure to cook the vodka in the sauce for at least 7 minutes to burn off most the alcohol.
My Darling Vegan https://www.mydarlingvegan.com/
Looking for more romantic dinner ideas? Make sure to check out
some of my other favorite Valentine's Day entrees.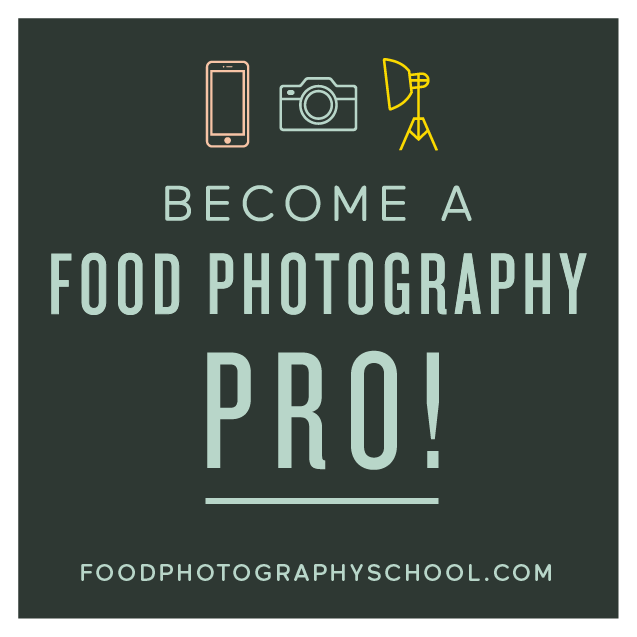 Sign up for
My Darling Vegan Newsletter
get a FREE copy of my Clean Eating Vegan ebook
Advertise Here