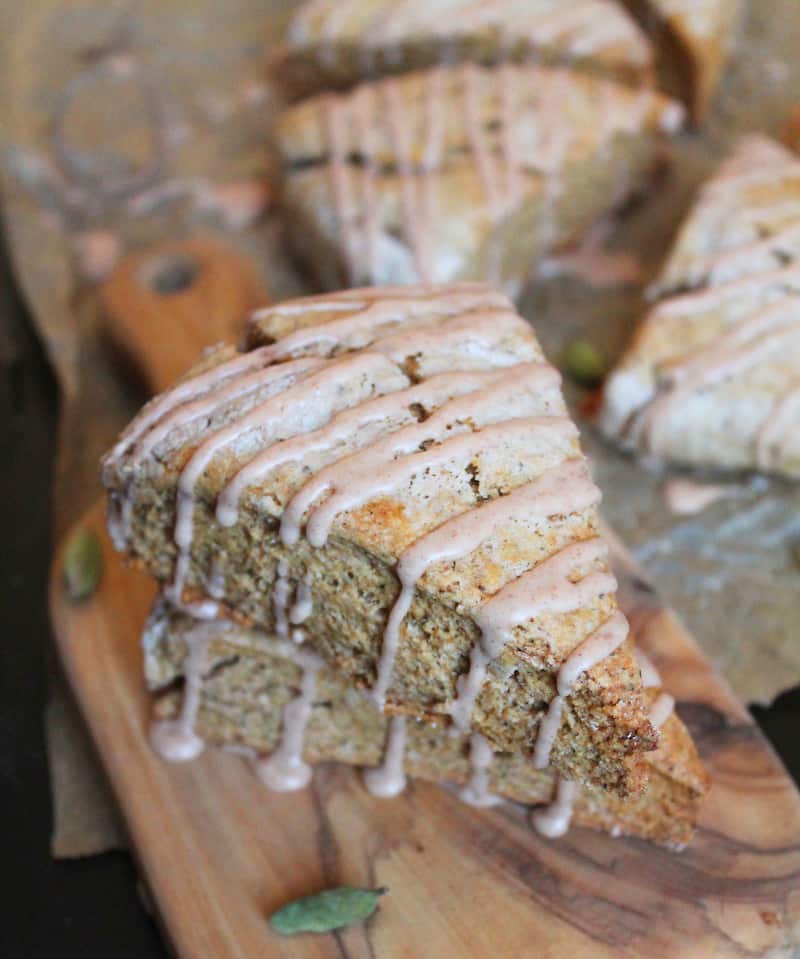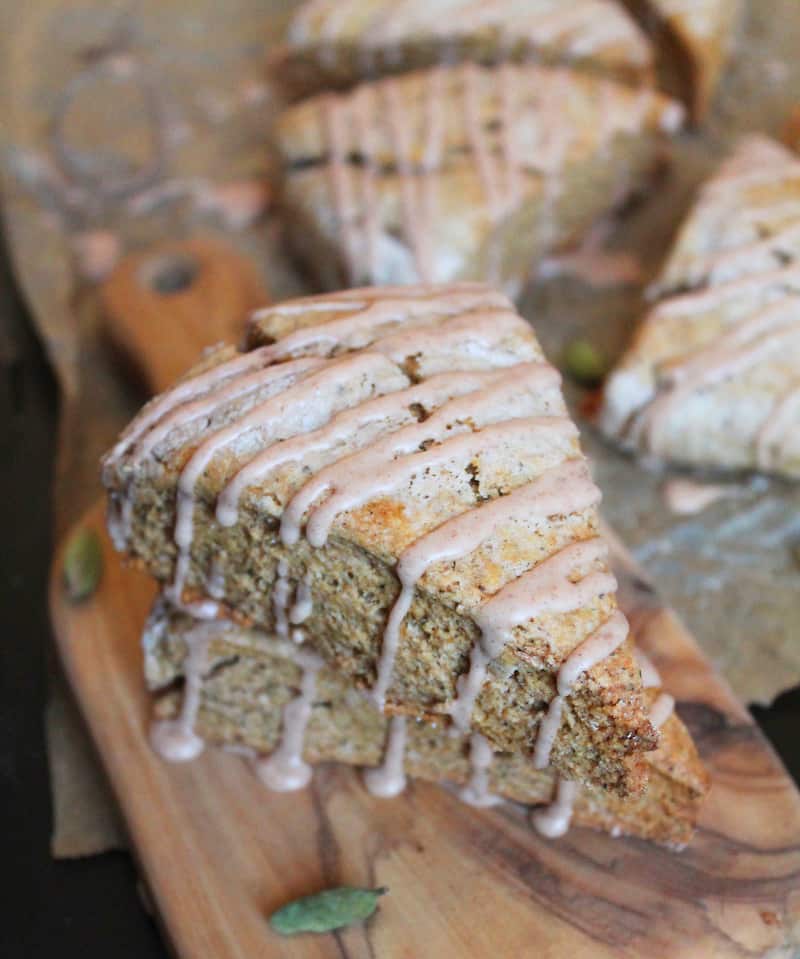 It is raining as I type this. The house is a comfortable 70 degrees, I'm sipping re-heated coffee from this morning, and wearing my favorite grey and white flannel and green knitted slippers. The sound of cars driving by on the wet streets keep a steady pace outside my kitchen window and inside the house is aromatic with freshly baked chai spiced scones. I am breathing huge sighs of relief. Folks, fall is here.
Was it just a flip of a switch? A couple weeks ago I was camping near the coast under a cloudless sky, the heat of the day lingering into the night. Then last night as I was driving home from class, windshield wipers working hard against the rain and the night fully descended, I realized that somehow, in a matter of just moments, summer was over and autumn had arrived.
Huge sighs of relief over here.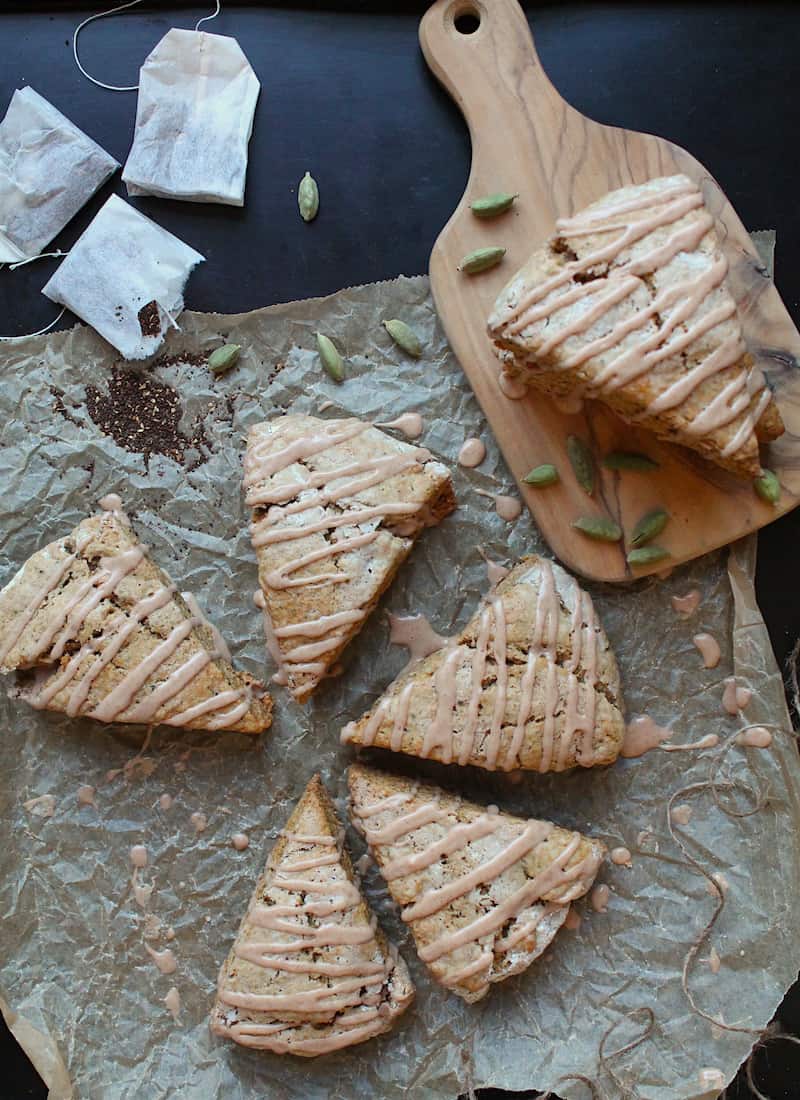 There are a few times a year that, for me, represent fresh starts. Obviously the stroke of midnight on January 1st brings that relief of new beginnings as does my birthday. And then, of course, every fall as a new school year begins, despite the many years I have been out of school, I am overcome and overjoyed with the newness and freshness of this season mixed perfectly with deep and delightful nostalgia.
This year's shift into fall feels more significant than most. Last Autumn I was deep in grief and the things I love most about autumn – the changing seasons, holidays, traditions with kids – felt burdensome and wearisome. It was the first time in my adult life that I could not enjoy the season. A year later and I am actually caught off guard by the energy this new season has brought me. And energy, my friends, I will take!
So to that and to fall, I say let's celebrate!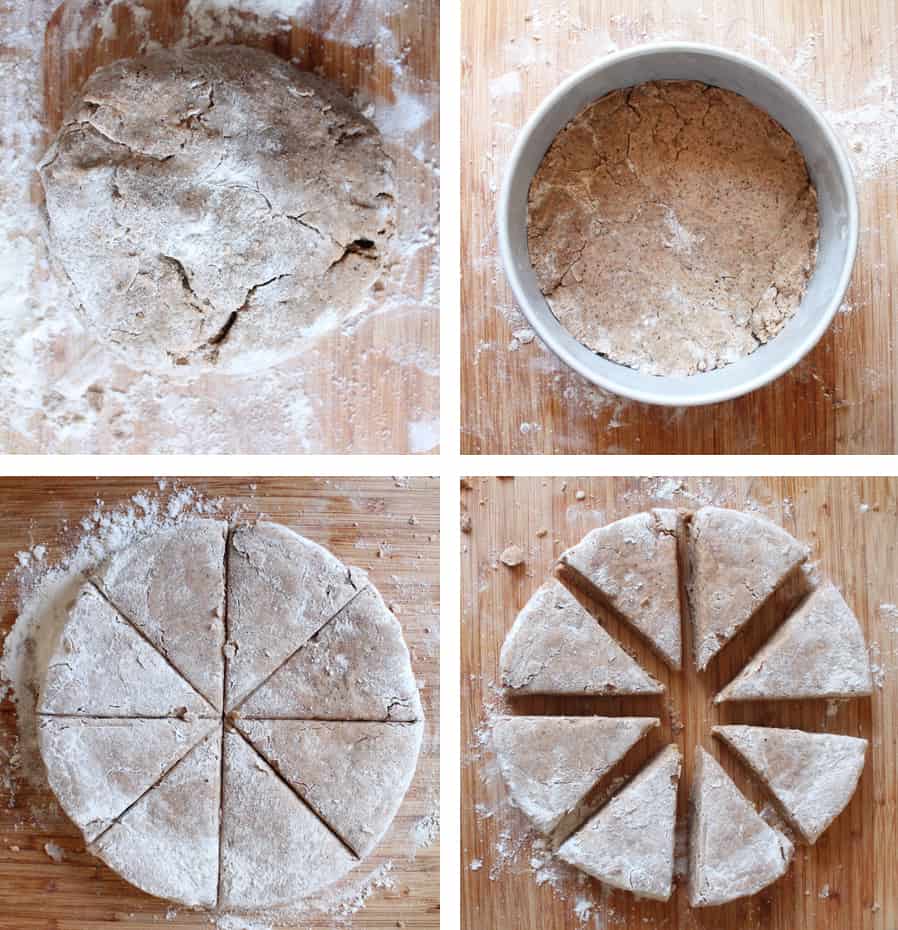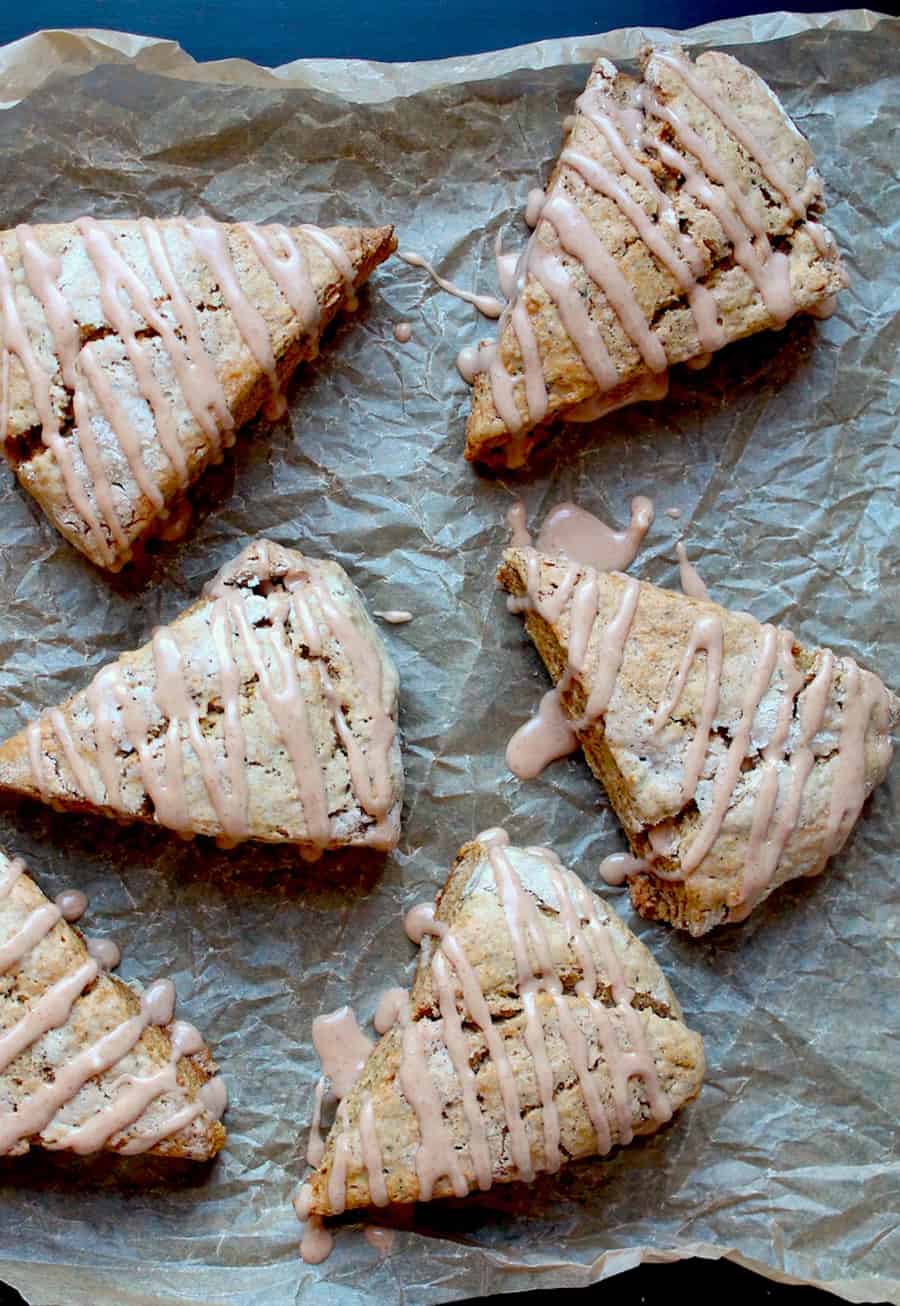 Today we are celebrating this fresh start with these deliciously Chai Spiced Scones because how better to honor the Best Season Ever than with hints of cinnamon and cloves and a buttery and flaky pastry? Pair it with my Homemade Spicy Chai Latte and you'll have a party going on!
To all of you, dear readers, I hope you too are finding a fresh energy in this new season and lots of reasons to find gratitude.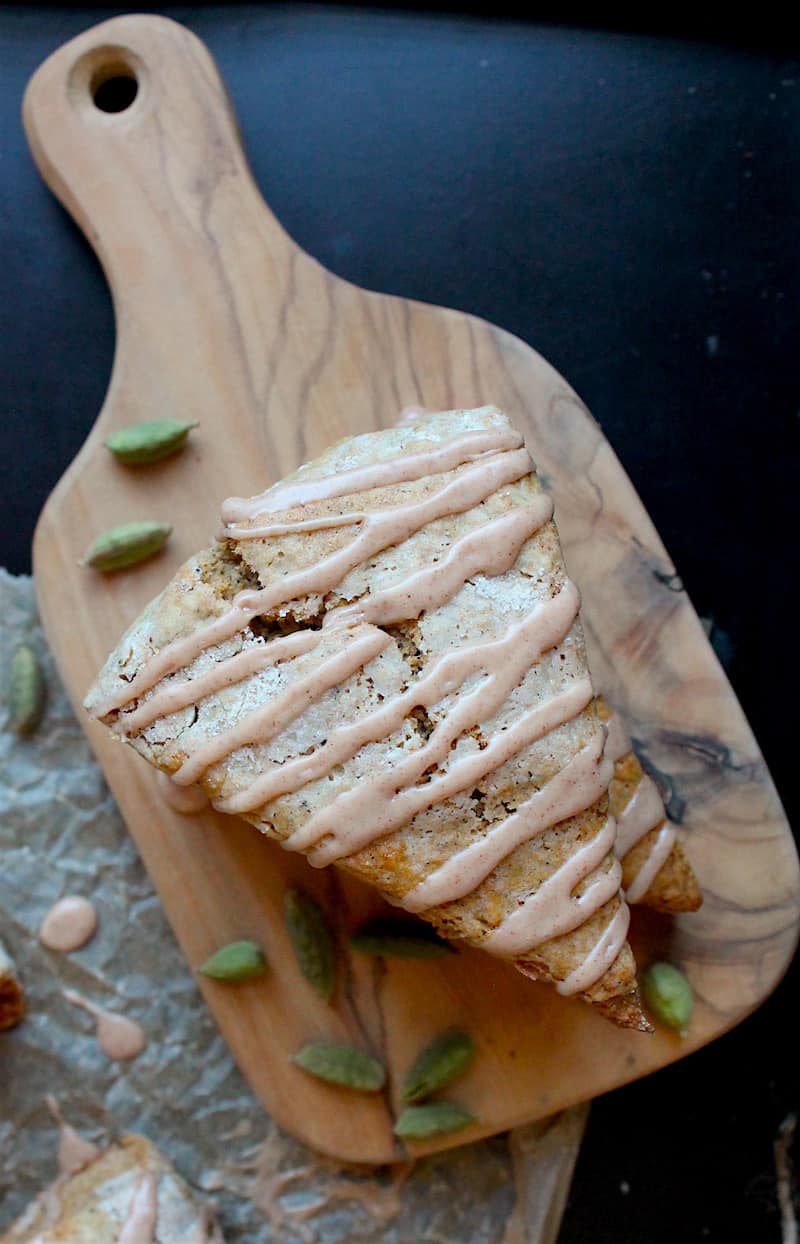 Chai-Spiced Scones with Cinnamon Glaze
Ingredients
Chai-Spiced Scones
1½ cup all-purpose flour (plus more for dusting)
1 cup whole wheat flour
¼ cup + 2 tbsp granulated sugar
2 tsp baking powder
½ tsp baking soda
½ tsp salt
1 tablespoon loose-leaf black tea
1 teaspoon cinnamon
½ teaspoon ground ginger
¼ teaspoon ground cloves
⅛ teaspoon ground cardamom
½ cup + 2 tbsp vegan butter, cold
¼ cup apple sauce
½ cup soy milk
½ tsp apple cider vinegar

Cinnamon Glaze
1½ cup powdered sugar
1-2 tablespoon soy creamer
½ teaspoon ground cinnamon
Instructions
In a small bowl mix together soy milk and apple cider vinegar and let sit for 10 minutes to allow it to curdle.
In a large bowl combine flour, sugar, baking powder, baking soda, and spices. Cut in small chunks of butter and mix with hands or pastry cutter until small crumbs forms. Set aside
Mix together apple sauce and soymilk mixture and add to the dry ingredients Stir until just combined. Turn dough onto floured surface. Flour an 8 inch cake pan and press dough evenly into pan. Flip upside down to release the dough and cut into 8 even pieces. Place on parchment line baking sheet and freeze until frozen all the way through.
Before baking brush tops with soy milk (optional) Bake at 375 for 25 minutes, until golden. Remove from oven and let cool slightly.
While baking mix together ingredients for cinnamon glaze. It should be thick but pourable. Once scones are mostly cool, pour on glaze and serve!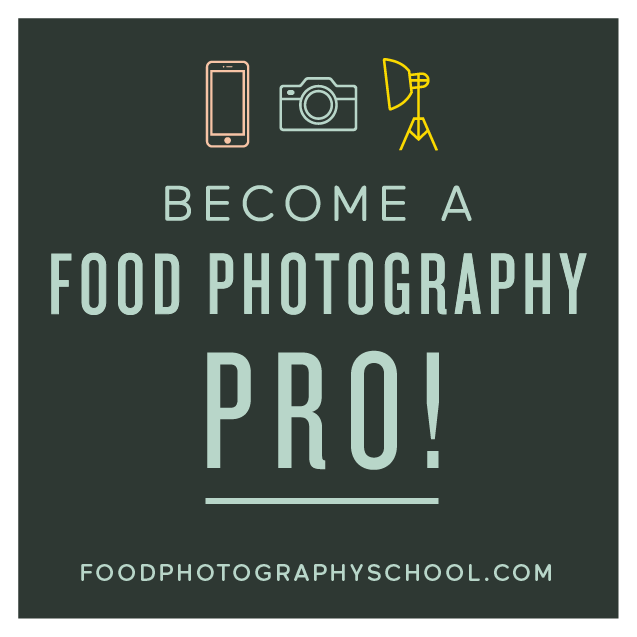 Sign up for
My Darling Vegan Newsletter
get a FREE copy of my Clean Eating Vegan ebook
Advertise Here