Chai Spiced Vegan Scones with Cinnamon Glaze
Enjoy these buttery Chai Spiced vegan scones with a warm cinnamon glaze for the perfect Autumnal pastry. Easy and delicious for a treat everyone will love.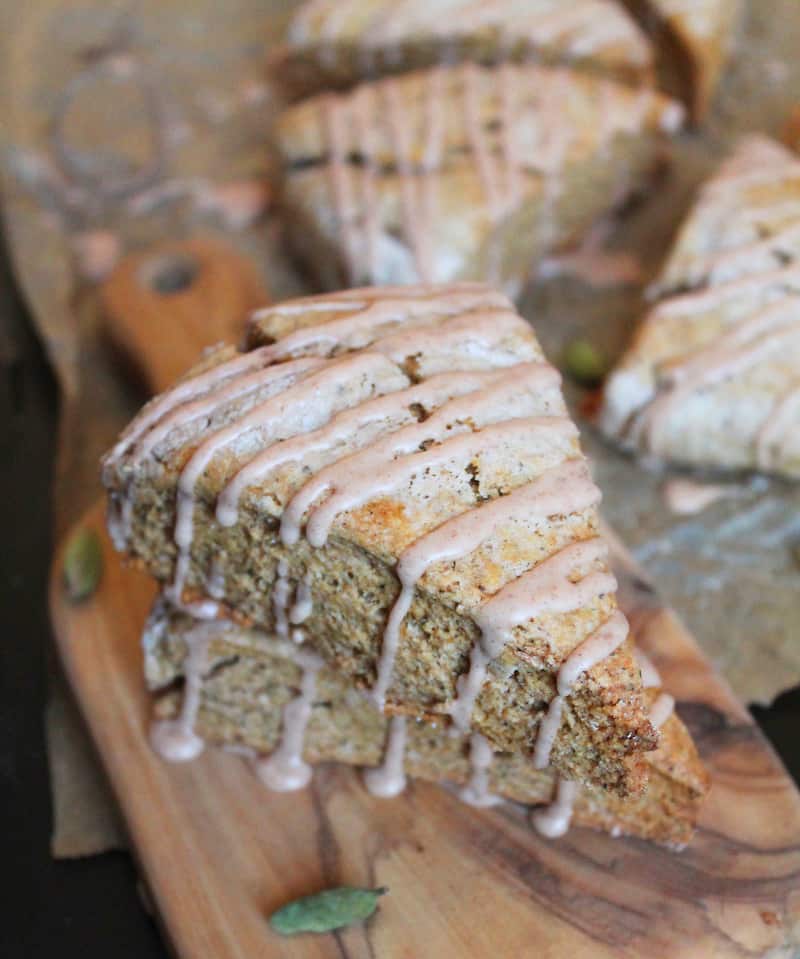 Course:
Breakfast, bread
Cuisine:
Vegan
Servings
:
8
scones
Calories
: 345 kcal
Author
:
Sarah McMinn
Chai Spiced Scones
1 1/2

cup

all-purpose flour plus more for dusting

1

cup

whole wheat flour

1/4

cup

+ 2 tbsp granulated sugar

2

tsp baking powder

1/2

tsp baking soda

1/2

tsp salt

1

tablespoon loose-leaf black tea

1

teaspoon cinnamon

1/2

teaspoon ground ginger

1/4

teaspoon ground cloves

1/8

teaspoon ground cardamom

1/2

cup

+ 2 tbsp vegan butter cold

1/4

cup

apple sauce

1/2

cup

soy milk

1/2

tsp apple cider vinegar
Cinnamon Glaze
1 1/2

cup

powdered sugar

1-2

tablespoon soy creamer

1/2

teaspoon ground cinnamon
Preheat the oven to 375F. Line a baking sheet with parchment paper or silicone baking mat and set aside.

In a small bowl mix together soy milk and apple cider vinegar and let sit for 10 minutes to allow it to curdle.

In a larger bowl combine flour, sugar, baking powder, baking soda, spices, and black tea. Cut in small chunks of butter and mix with hands or pastry cutter until small crumbs forms. Whisk in the applesauce to the soymilk mixture and pour into the dry ingredients, mixing until the dough is evenly hydrated.

Flour the bottom of an 8" cake pan and press dough evenly into the pan to shape. Flip onto a floured surface and cut into 8 equal pieces. Place scones on the prepared baking sheet. Brush with a light layer of remaining milk, sprinkle with sugar. Place in the freezer for 30 minutes to harden before baking. This ensures the scones keep their shape in the oven.

Bake for 25 minutes, until golden. Remove from the oven and let cool slightly.

While baking mix together ingredients for cinnamon glaze. It should be thick but pourable. Once scones are mostly cool, pour on glaze and serve!
Serving and Storing – Serve these scones immediately with some vegan butter and a Chai Tea Latte. Store leftover scones in an airtight container at room temperature for up to 5 days.
Make in Advance: If you want to make this recipe in advance, you can store unbaked scones in the freezer for up to 2 months. Place them on a parchment-lined baking sheet and let them freeze all the way through. Once they are frozen, transfer them to a large Ziplock bag. When ready to bake, you can bake them straight from the freezer following the instructions below. They may need a few extra minutes in the oven since they will be frozen.
Recipe Tips
Don't over mix the batter it can become too dense and lose it's flakiness if it is overly mixed.
Use cool vegan butter that is not at room temperature when mixing the batter. This prevents the butter from melting too much in the oven, allowing the scones their signature flakiness.
Chill scones in the freezer for at least 20 minutes before baking to allow scones to keep their shape in the oven.
Calories Per Serving:
345
% Daily Value