Vegan Blueberry Muffins
The perfect vegan blueberry muffins! These muffins are soft, sweet, perfectly moist, and filled with fresh blueberries in every bite. Made with a hint of lemon to take these muffins to the next level. 
Did you make this recipe? Leave a comment and rate it below.
If you made any substitutions, let us know how it turned out!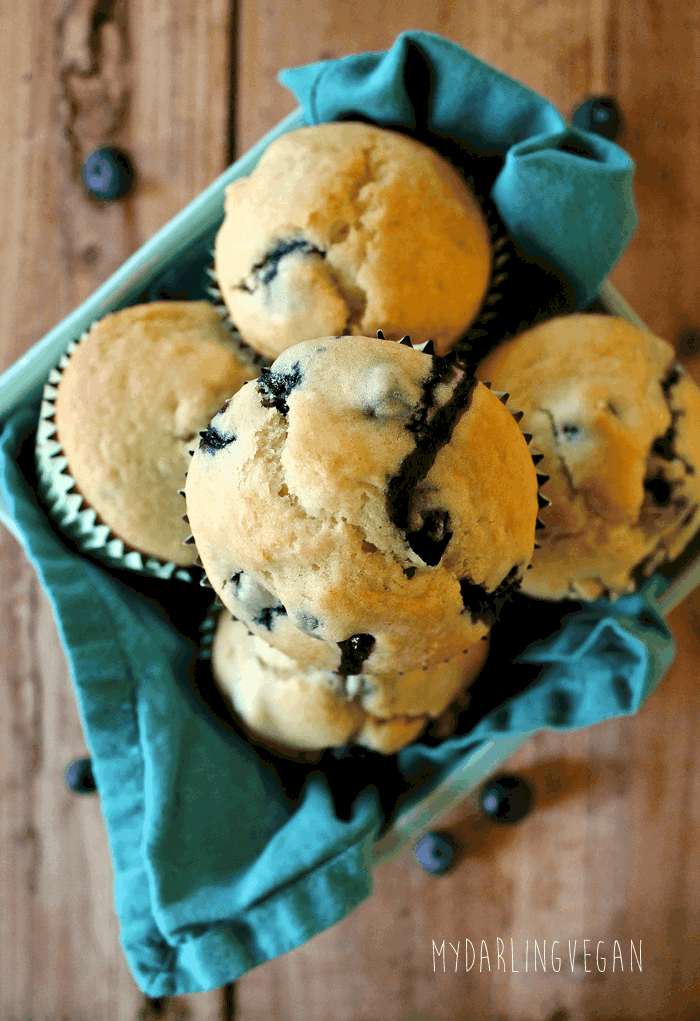 Course:
Breakfast, bread
Cuisine:
American
Keyword:
Vegan Blueberry Muffins
Servings
:
12
Calories
: 160 kcal
Author
:
Sarah McMinn
1

cup

soy milk

1

teaspoon apple cider vinegar

2

cups

all-purpose flour

2½

teaspoons baking powder

¼

teaspoon baking soda

½

teaspoon salt

½

cup + 2tbsp. granulated sugar

¼

cup + 2 tbsp. canola oil

1

teaspoon vanilla extract
zest of 1 lemon

1½ - 2

cups

fresh blueberries
Preheat the oven to 375F. Spray a muffin tin with cooking spray and set aside.

In a small bowl combine soy milk and apple cider vinegar. Set aside to allow milk to curdle.

In a larger bowl combine flour, baking powder, baking soda, and salt. Set aside. In a separate bowl, mix together sugar, canola oil, lemon zest, and vanilla extract. Add soy milk/vinegar mixture and stir to combine. Stir in the dry ingredients until well incorporated. Be careful not to over-mix - a few lumps are okay. Gently fold in the blueberries.

Spoon into muffin tins, filling each cup about ¾ full. Bake for 20-25 minutes until a knife inserted in the middle comes out clean.
Remove from heat and allow muffins to cool before removing from pan.
Serving and Storing - Store leftover muffins in an airtight container at room temperature for up to 5 days. You can also freeze these muffins for up to 2 months. To thaw, pull the muffins from the freezer and let them thaw at room temperature for several hours.
Make in Advance - If you want to make this muffin batter in advance, store the batter in an airtight container in the refrigerator for up to 48 hours. To bake the muffins, preheat the oven and bake according to the instructions. However, these muffins may take a few minutes longer to bake since the batter will be chilled. The muffins will also be slightly denser as the baking soda begins to activate once it's mixed into the batter, causing it to be slightly less potent.
Recipe Tips
The most accurate way to measure flour is to spoon it into your measuring cup, leveling it off with the back of a knife.
If you are using frozen berries, thaw the berries in a colander by running them under room temperature water. Let the berries sit for 30 minutes for any excess water and juice to run off them. Pat them dry with a paper towel before adding them to your batter.
Make sure to let the muffins sit in the muffin tin for 10 minutes before flipping them out to a wire cooling rack. Otherwise, the muffins may fall apart.
Variations - For a healthier oil option, use either avocado oil or melted coconut oil.
Calories Per Serving:
160
% Daily Value