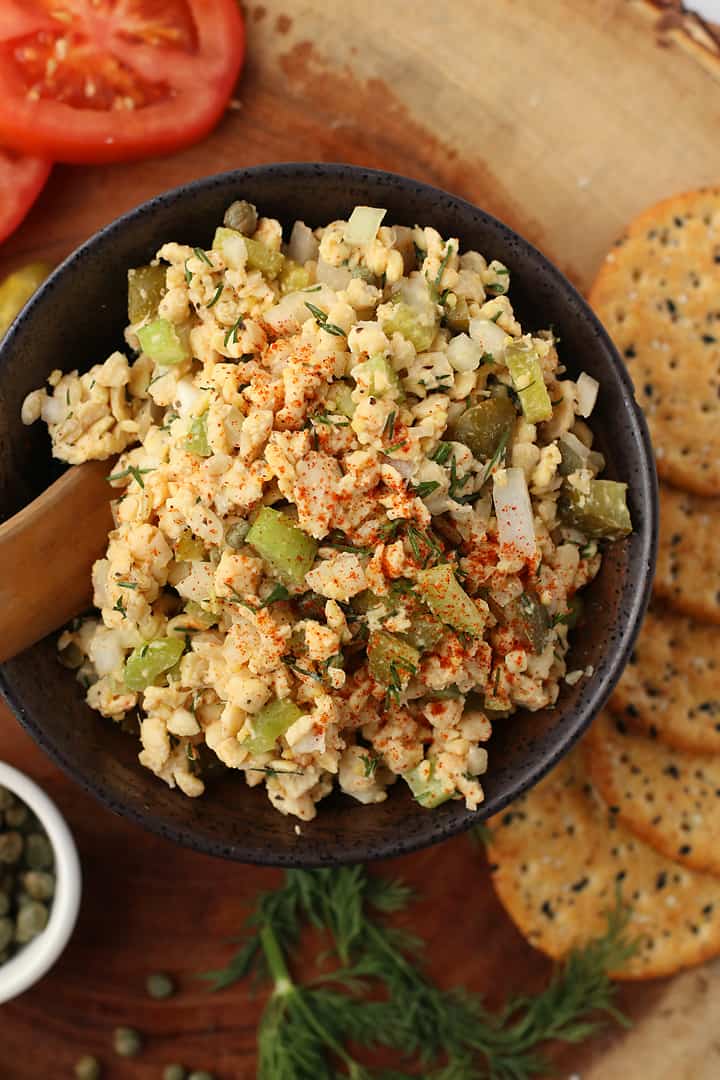 Course:
Side Dish, Salad
Cuisine:
Vegan, Gluten-Free
Servings
:
4
people
Calories
: 141 kcal
Author
:
Sarah McMinn
8

ounces tempeh

1/4

cup

white onions, diced

1/4

cup

celery, diced

2

tbsp dill pickle, diced

2

tbsp fresh dill, minced

1

tbsp capers

1

tbsp vegan mayonnaise

2

tsp spicy mustard

2

tsp lemon juice
pinch of cayenne
salt and pepper, to taste
Boil the tempeh in a medium-sized pot for twenty minutes. Once the tempeh is tender, drain the water and let tempeh cool for 5 minutes.

While tempeh is boiling, chopped all your vegetables and herbs. Set aside. 

Place cooled tempeh in a medium bowl and smash it with a fork or other mashing utensil until tempeh is mostly broken apart with some larger pieces intact. Add the remaining ingredients and stir it together. 

Serve on toast or with crackers and vegetables. Store in an airtight container in your refrigerator for up to 3 days. 
Serving and Storing - For best results, let the salad set in the refrigerator for 2-4 hours before serving. This allows the tempeh to chill all the way through while letting the flavors absorb into it. Serve salad on toasted bread for a tuna salad sandwich, on crackers, or with vegetables. Store salad in an airtight container in the refrigerator for up to 5 days.
Recipe Tips - Don't skip the boiling step. Boiling removes the slightly bitter taste found in tempeh and helps soften and moisten the tempeh which allowing it to better absorb flavors.
Variations - For a soy-free option, I recommend trying chickpeas. To do this drain and rinse them thoroughly. Put them in a bowl and mash them until only a few large pieces remain. Add your remaining ingredients and you've got yourself a soy-free vegan tuna salad.
Calories Per Serving:
141
% Daily Value