A buttery tart shell filled with chocolate ganache and caramel-coated nuts for a delicious and decadent vegan salted Chocolate Turtles tart.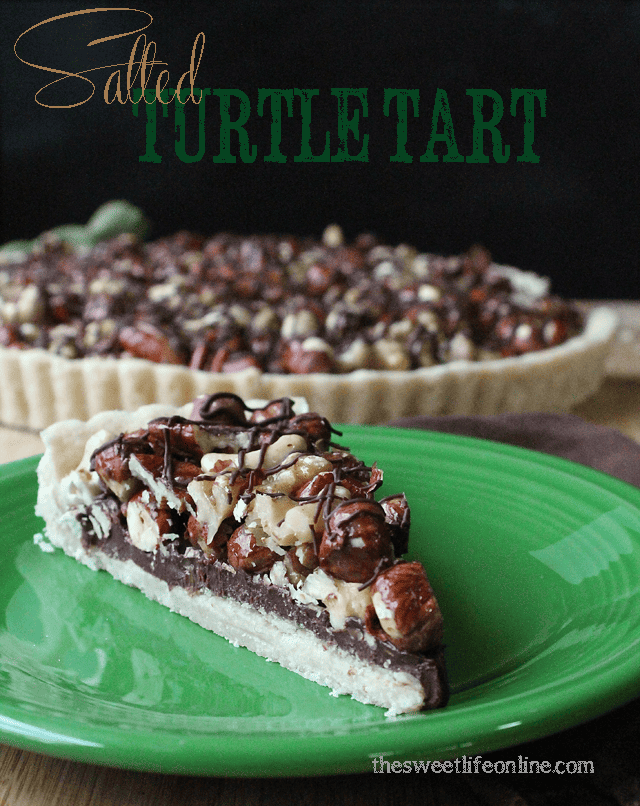 Remember the other week when I mentioned I wasn't getting in the Christmas spirit due to impending baby? I was feeling kind of bummed, especially for Eden's sake yet trying to take the pressure off myself as I knew Eden would be just fine without the tree and stockings and all that.
First of all, thank you for all the kind words I received. I loved getting your emails and comments and feeling support through y'all. And second of all, I thought you might like to know that last week the Christmas spirit was brought to us.
On Thursday night Jason and I went to a basketball game with some friends. My parents came over to watch Eden. I was feeling kind of bad asking my parents to drive an hour into Portland on a weeknight to mostly sit in our house while Eden slept while not expecting to get home before midnight, but they were happy to spend the time with her and allow Jason and I one last date before baby number 2. When we pulled up to our house around 11 p.m. I immediately noticed Christmas lights in the window of our living room. As we neared it became very clear that those lights were draped around our very own Christmas tree.
My parents had brought a tree from their farm, along with lights and ornaments, and spent the evening decorating it with Eden – who, as I imagined, was completely inthralled by the tree in our house, the lights, and the tiny wooden ornaments.
I learned two things that night. It feels really good, even (or especially) as an adult, to be taken care of by your parents. And even the humblest of Christmas trees can bring a lot of holiday cheer into a home. Mom, Dad I wish you could see how much joy it brings Eden every single morning when she wake up and sees the lights on the tree in the living room.
Perhaps because I was feeling extra Christmas-y, I mustered up a little energy over the weekend and make this awesome Chocolate Turtles Tart. Rather than a traditional shortbread bread crust I made a cookie crust using my favorite Christmas cookie recipe, sans hazelnuts. The goal was efficiency since I was hoping to make some Hazelnut Sandies later in the week but the result was perfect for this Chocolate Turtles Tart – a buttery, melt-in-your-mouth shell for this deeply rich dessert.
I wish I could say there had been some left over to store in the freezer for our unpredictable Christmas celebration, but it was gone pretty quickly.


Chocolate Turtles Tart
A buttery tart shell filled with chocolate ganache and caramel-coated nuts for a delicious and decadent vegan salted Chocolate Turtles tart.
Did you make this recipe? Leave a comment and rate it below.
If you made any substitutions, let us know how it turned out!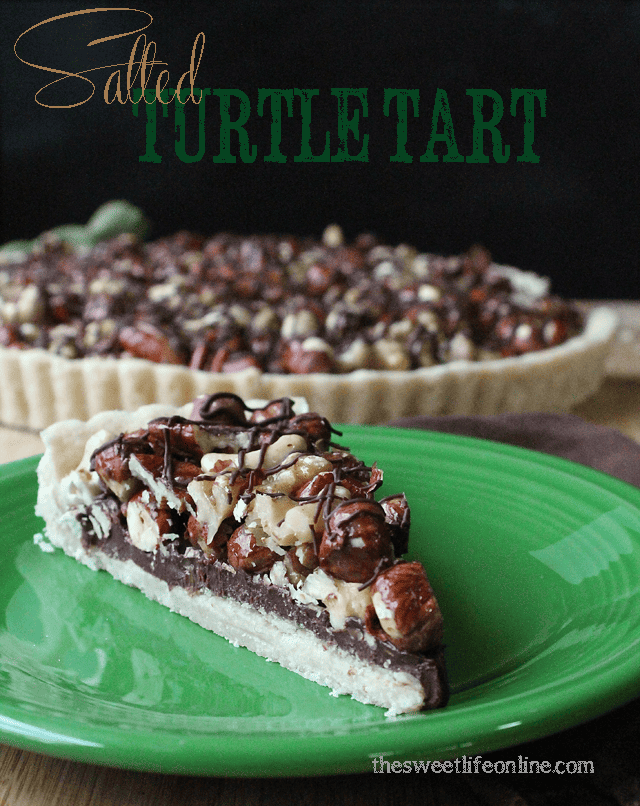 Course:
Dessert
Cuisine:
Vegan
Keyword:
Chocolate Turtles
Servings
:
12
people
Calories
: 591 kcal
Author
:
Sarah McMinn
Ingredients
Extras
2-2 1/2

cups

assorted nuts, toasted (I used pecans, hazelnuts, cashews, and walnuts)

1/2

tsp fine sea salt

1/2

cup

chocolate chips, melted (for drizzle)
Instructions
Preheat the oven to 350 degrees Fahrenheit. Lightly spray a 10" tart pan and set aside.
Using a stand-up mixer with paddle attachment, beat the vegan butter, sugar, and vanilla until light and fluffy (about 3 minutes). Slowly add flour and mix until well combined.
Transfer the dough to prepared tart pan and spread evenly over the bottom and sides. Poke holes in the bottom of the shell and bake for 10-12 minutes, until slightly golden. Set aside.
To make chocolate ganache, place 1 1/2 cups chocolate chips in a small bowl. Heat 1/2 cup coconut milk over medium heat to a scald (just before boiling point). Pour over chocolate chips and cover for 3-5 minutes. Remove lid and stir chocolate and coconut milk together until thick, dark, and fully melted.
Pour ganache into prepared tart shell and smooth the top. Place in the refrigerator to harden.
Meanwhile place toasted nuts in a bowl with sea salt. Mix to combine. In a small sauce pan heat 1/2 cup sugar and 1/4 cup water. Do not stir. Bring to a boil and boil until sugar has completely melted and turned a rich golden brown. Remove from heat and slowly add 1/4 cup coconut milk, whisking while adding, until fully incorporated. Pour caramel sauce over toasted nuts and stir to completely coat.
Add the nuts over the hardened ganache.
Melt the remaining chocolate (1/2 cup) and drizzle over the top. Refrigerate until ready to serve.
Nutrition Facts
Calories Per Serving:
591
% Daily Value
This post contains affiliate links.
If you give this recipe recipe a try, snap a photo and share it on Instagram. Make sure to tag
@mydarlingvegan
so I can see your creations!