These raw carrot cake bites with cashew cream cheese frosting are vegan, gluten-free, and refined sugar-free for a wholesome and delicious dessert everyone can enjoy. A fan-favorite, I think you're going to love them.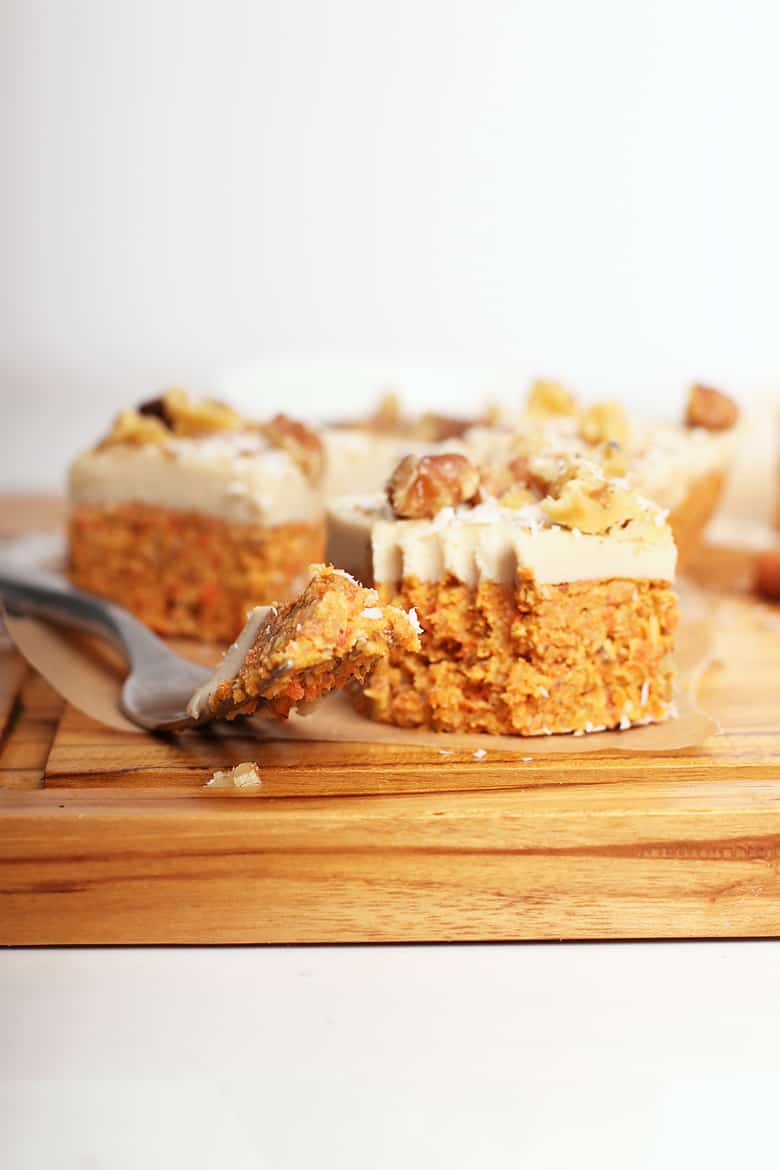 This post contains affiliate links. For more information please see my privacy policy.
This post was originally published on November 4, 2012. Last updated 1/9/2019
Today we are going to explore the world of RAW desserts.
Back when I started this blog, I became a bit of a raw desserts connoisseur. Raw desserts can be a bit intimating for beginners. I know this first hand; I used to be terrified of them. However, as anyone will tell you, they are surprisingly simple to make.
In 2012 I started experimenting with raw desserts and I was amazed at how a few simple ingredients could create endless flavor combinations with the most decadent and delicious tastes and textures. Better yet, there is quite a lot of room for trial and error since you can test and taste as you go. This is obviously different than most baking allowing even beginners to make incredible raw desserts.
Throughout the years, my raw desserts have been some of my most popular recipes. Such as:
But my most popular raw dessert recipe to date (and the 2nd most popular recipe on this blog next to my vegan blueberry muffins) are these Raw Carrot Cake Bites. Made with a base of walnuts, carrots, and dates, these cake bites are packed with flavor and nutrients for a dessert we can feel GREAT about biting into.
Let's take a closer look, shall we?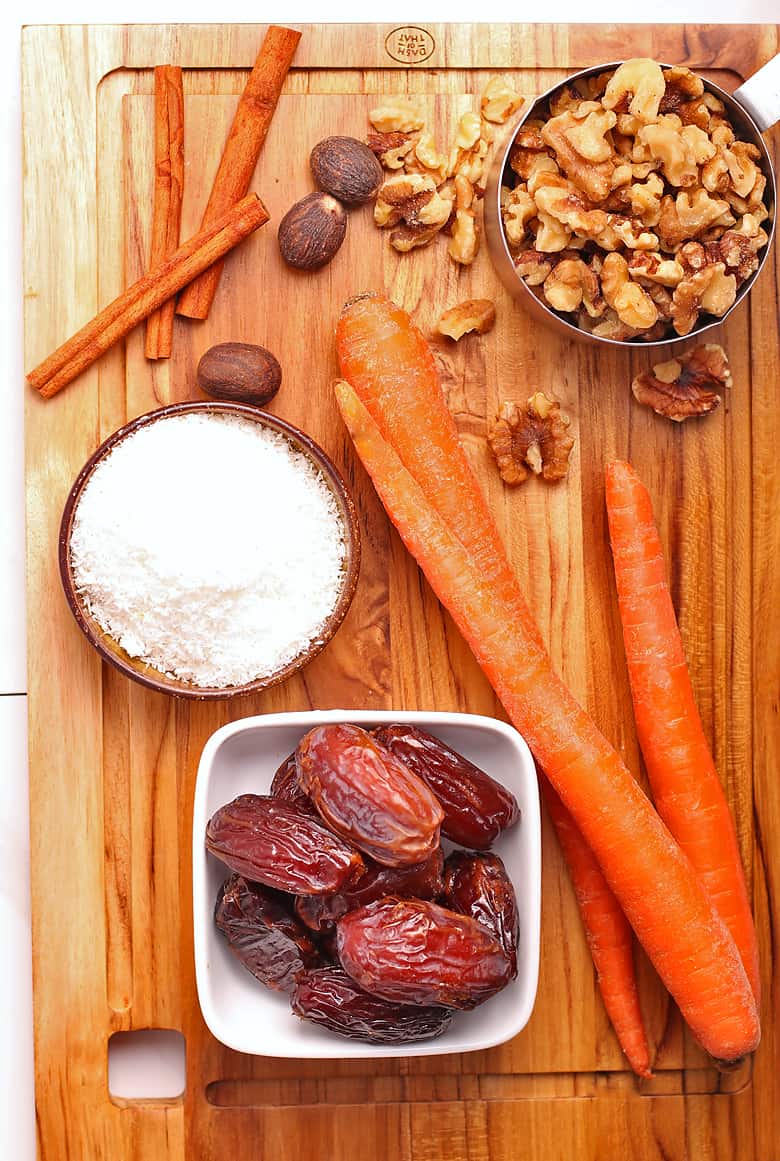 How to make Raw Carrot Cake Bites
Like I said earlier, raw desserts can be quite simple to make. There is a lot more room for trial and error and there is a seemingly endless combination of flavors and textures with just a handful of basic ingredients.
The basic ingredients in raw desserts are:
A sweetener – often dates or other fruit purées
Nuts – the base of most raw desserts.
Fruit and/or veggies
Seeds, cacao, coconut, and other mix-ins.
Salt, spices, and extracts
That's pretty much it!
And this raw carrot cake recipe has all of them.
Dates for the sweetener. For this recipe I recommend Medjool dates over regular dates; they are juicier and sweeter than normal dates giving this cake both a deliciously moist texture while sweetening naturally.
Walnuts for the base of this cake. This recipe also uses cashews in the cashew cream cheese frosting.
Carrots, obviously
Shredded coconut, spices, vanilla, and salt because the magic is in the details.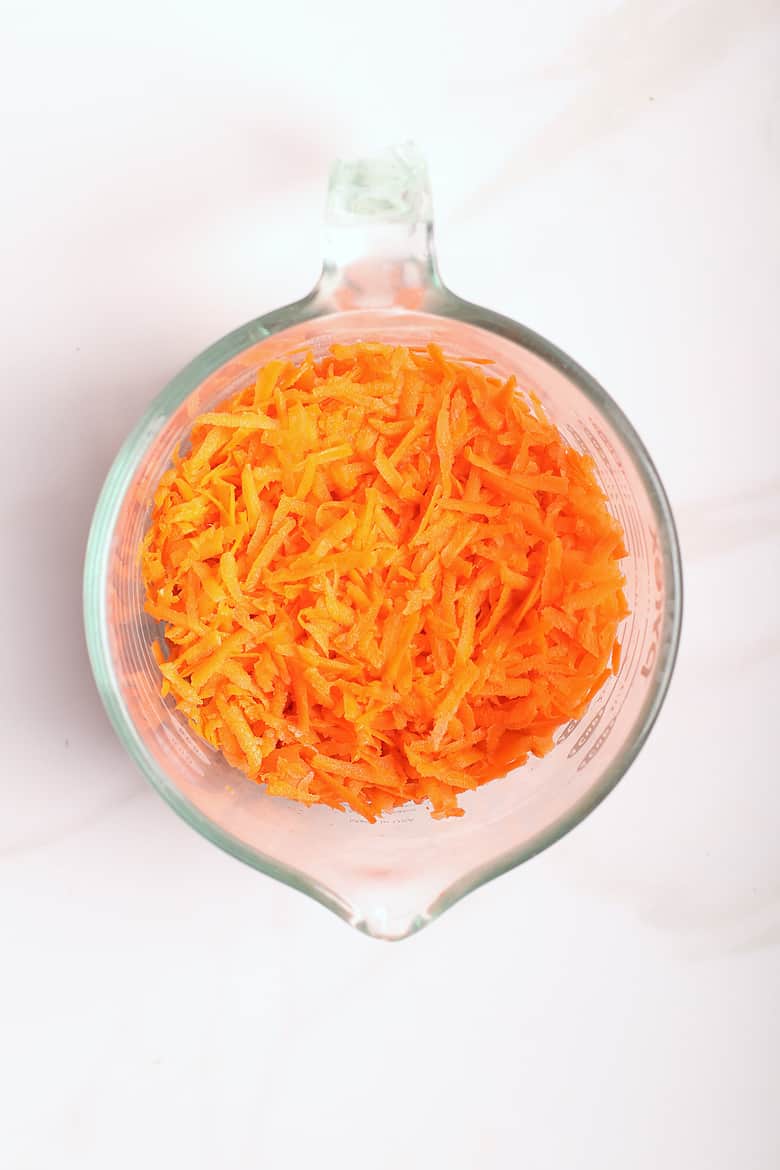 Now, onto making these raw carrot cake bites.
Step One – Shred the carrots
By hand or in your food processor, shred the carrots. You want 2 1/2 cups of shredded carrots for this recipe which is about 3 large carrots.
If you are looking for a food processor, this is the one I recommend. Having a high-quality food processor is SUPER important when making raw desserts (and plant-based eating in general). This one is one of the finest. It has a powerful motor and comes with several different attachments making it one of the most versatile kitchen appliances.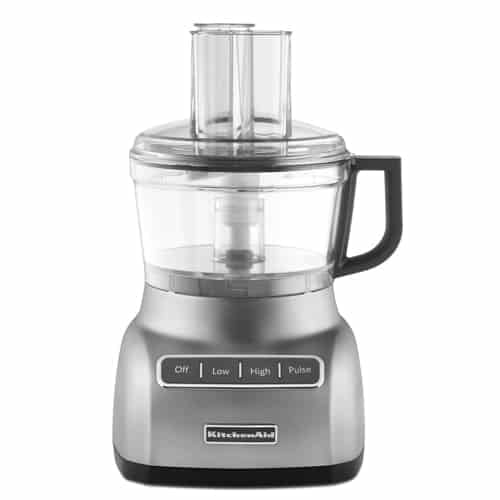 You can check it out here on Amazon. It's a bit pricier than other food processors, but it will last a lifetime!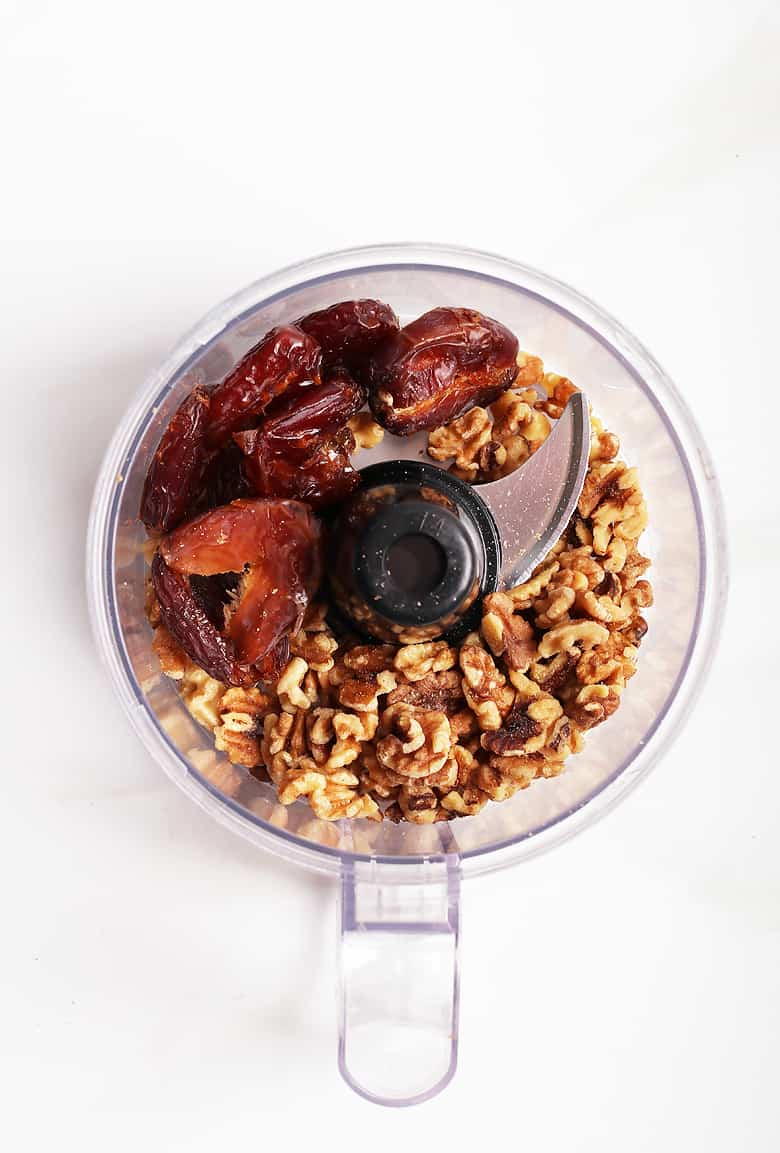 Step two – Make the carrot cake base.
To make the carrot cake, start by blending together the dates and walnuts in your food processor. Blend them until the walnuts and dates have broken down into a uniform crumb; it should sticks together when pressed between your fingers. Once we have our base, we add the carrots, coconut, spices, and salt. Process again until all the ingredients are well incorporated into a uniform cake.
At this point the cake base will be quite soft; it sets up in the freezer. Transfer the cake to a prepared cake pan and freeze.
Step three – Make the Cashew Cream Cheese Frosting
It's best if you have a high powered blender like a Vita-mix. You want your cashews to blend into a silky smooth cream and high powered blenders are the only blenders that can do that 100%. If you don't have a high powered blender, soak the cashews in water for at least 6 hours or overnight so that the cashews are soft before blending them in a blender or food processor.
To make the cream cheese frosting, throw everything into the blender, liquids first, except the coconut oil. Blend until silky smooth and then, with the motor running, slowly add the coconut oil until it is completely incorporated.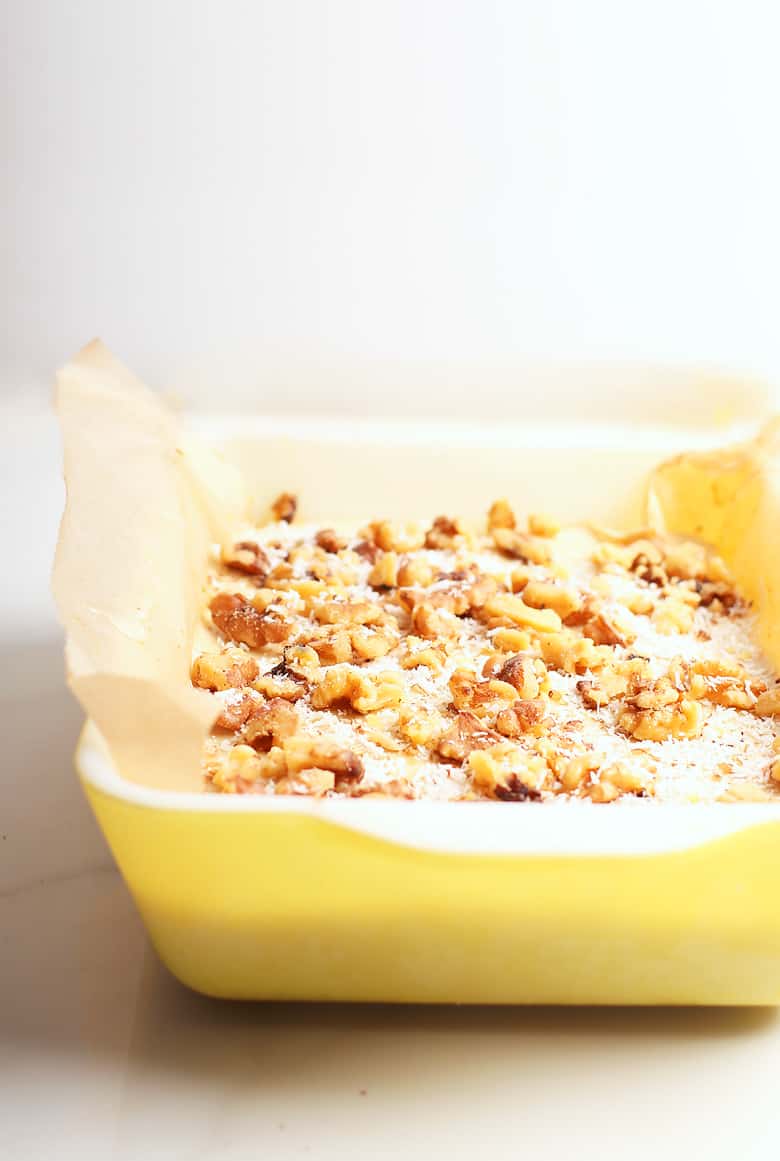 Step four – Frosting the cake
The cream cheese frosting will be quite pourable at this point. Pour it onto your chilled cake. Using an offset spatula, spread it evenly over the top then wrap the cake plastic wrap and freeze for at least 2 hours to let the cake set up.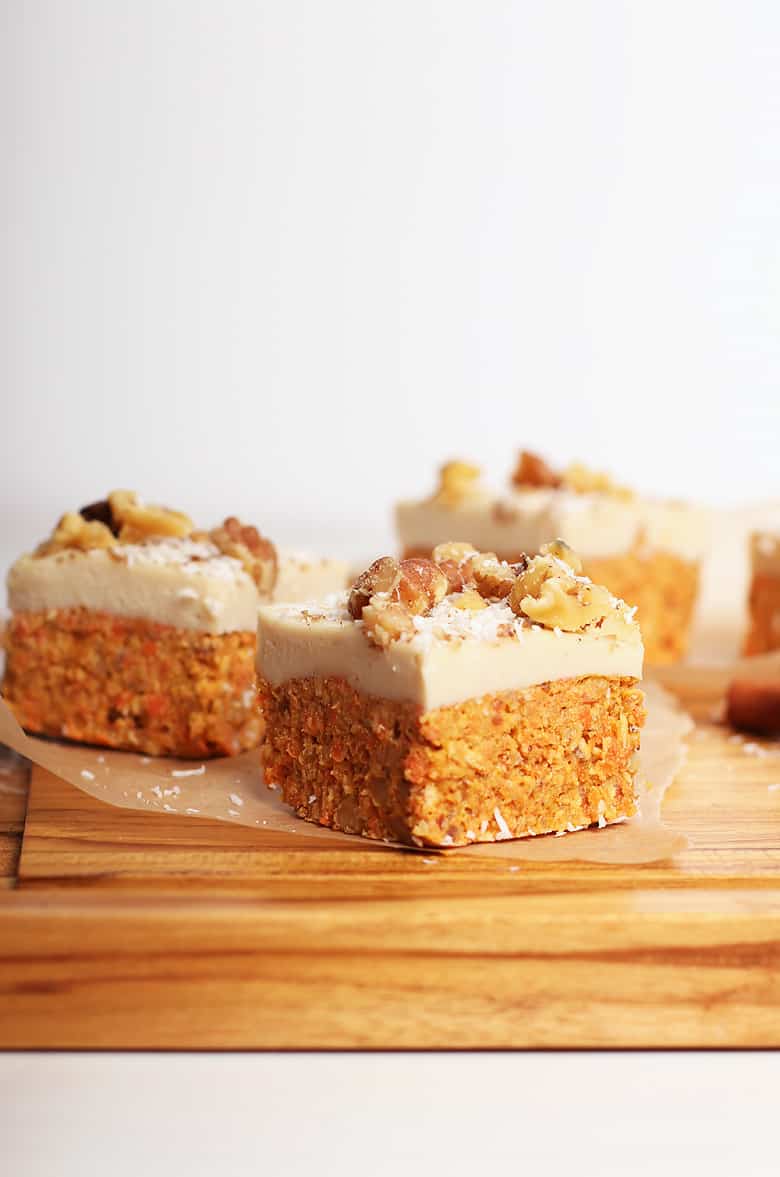 Tips for serving and storing the raw carrot cake
Keep the cake in the freezer for at least 2 hours before serving.
When you are ready to serve, pull the carrot cake out and let it thaw 10-20 minutes (depending on how frozen it is) before slicing.
Slice with a sharp hot knife, cleaning it off between each use for clean cuts.
The cake should be served immediately. It will soften if left out too long at room temperature.
To serve, top with extra walnuts, cinnamon, and coconut.
The uneaten cake should be stored in the freezer. Tightly wrap it in plastic wrap and store it for up to 2 months.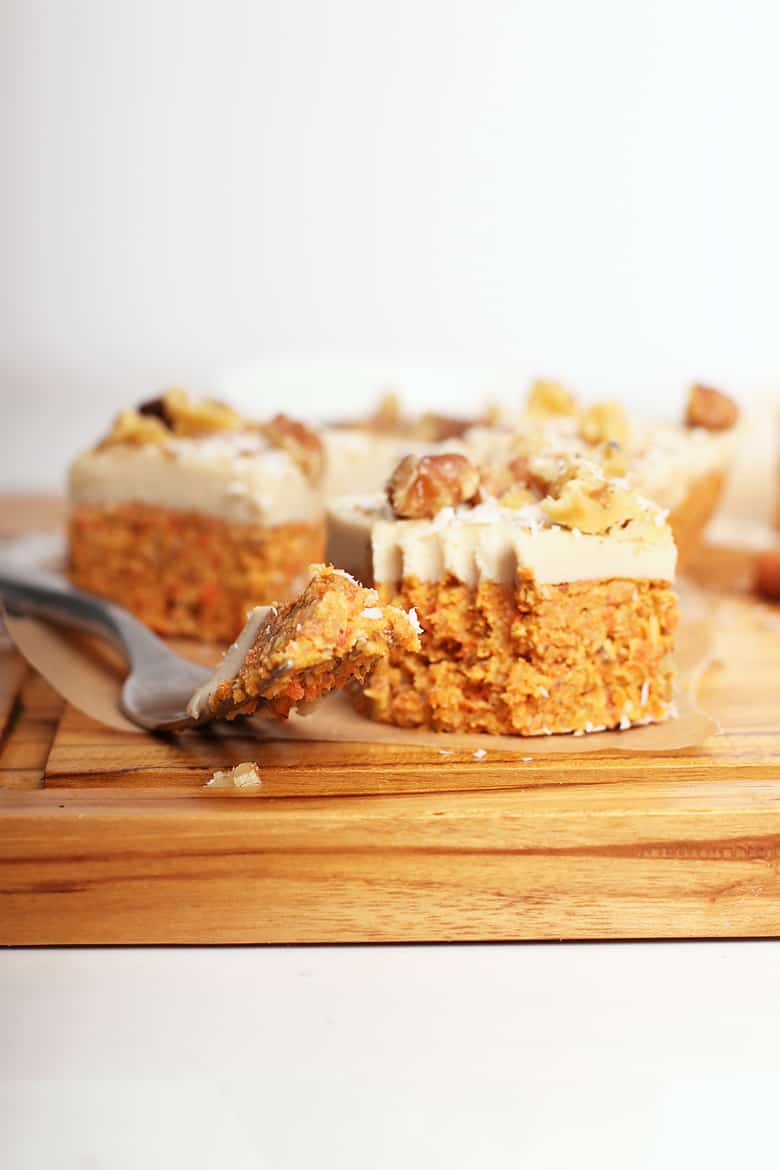 Friends, I think you're going to LOVE this raw carrot cake. It is packed with the best flavors and spices and topped with a rich and creamy cream cheese frosting. So good!
But don't take my word for it. Read what you've said about this cake:
Because this raw carrot cake is one of my oldest recipes, I decided it was time to give it a little makeover. In doing that, I reread through some of the comment and this is what some of my readers have said about this raw carrot cake:
"This…is incredible. After about three days of scouring blogs and trying different recipes, we are beyond thrilled. This is the best of any carrot cake, raw carrot cake or raw dessert I have ever made, hands down. My fiancé, a very picky executive chef, is inhaling it like there will never be another one to eat for as long as he lives."
"THE BEST raw carrot recipe I have ever made. WOW!!! Thank you so much for sharing this. It also has cheaper/less ingredients than most raw recipes I found. THANK YOU!!"
"These were my first attempt at a vegan dessert…and WOW. There is hope for me and my family to change our lives and our health, while still really enjoying food. Thank you, thank you so much."
I think it's time to do some raw "baking"! Let's take a look at the recipe card below.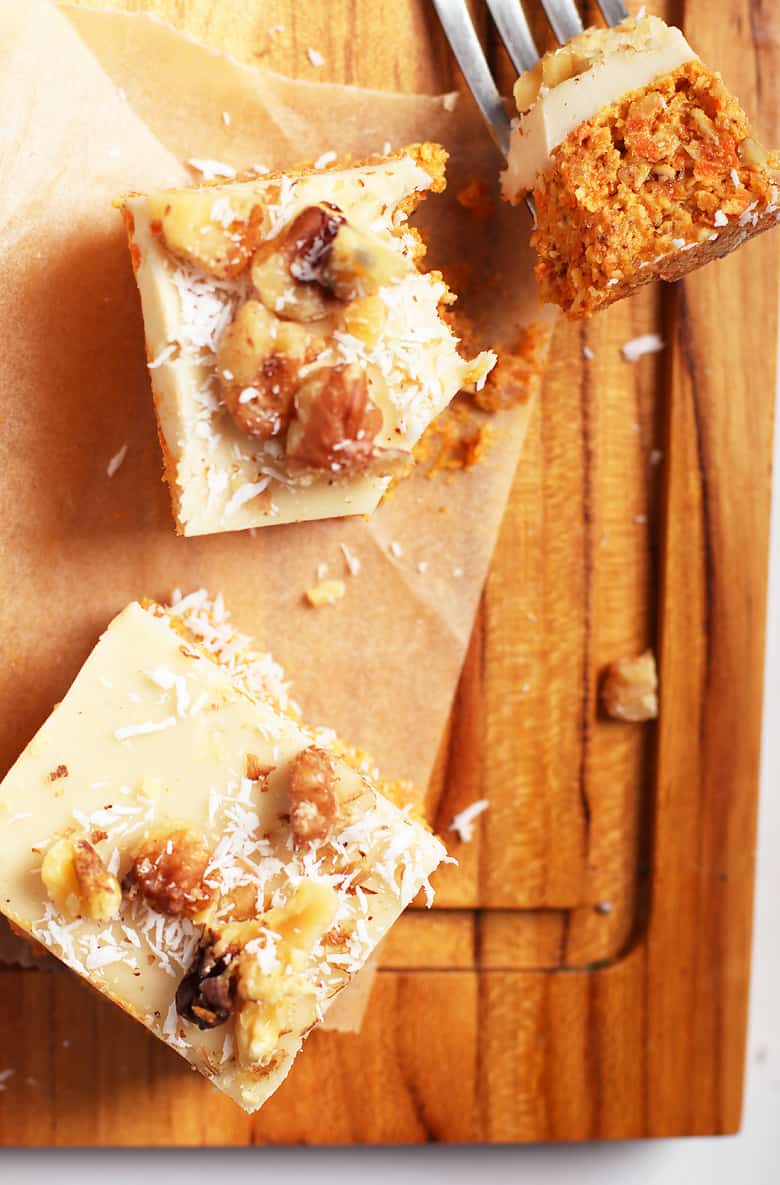 Raw Carrot Cake Bites
These raw no-bake Carrot Cake Bites with Cashew Cream Cheese Frosting are vegan, gluten-free, and refined sugar-free for a wholesome and delicious dessert everyone can enjoy.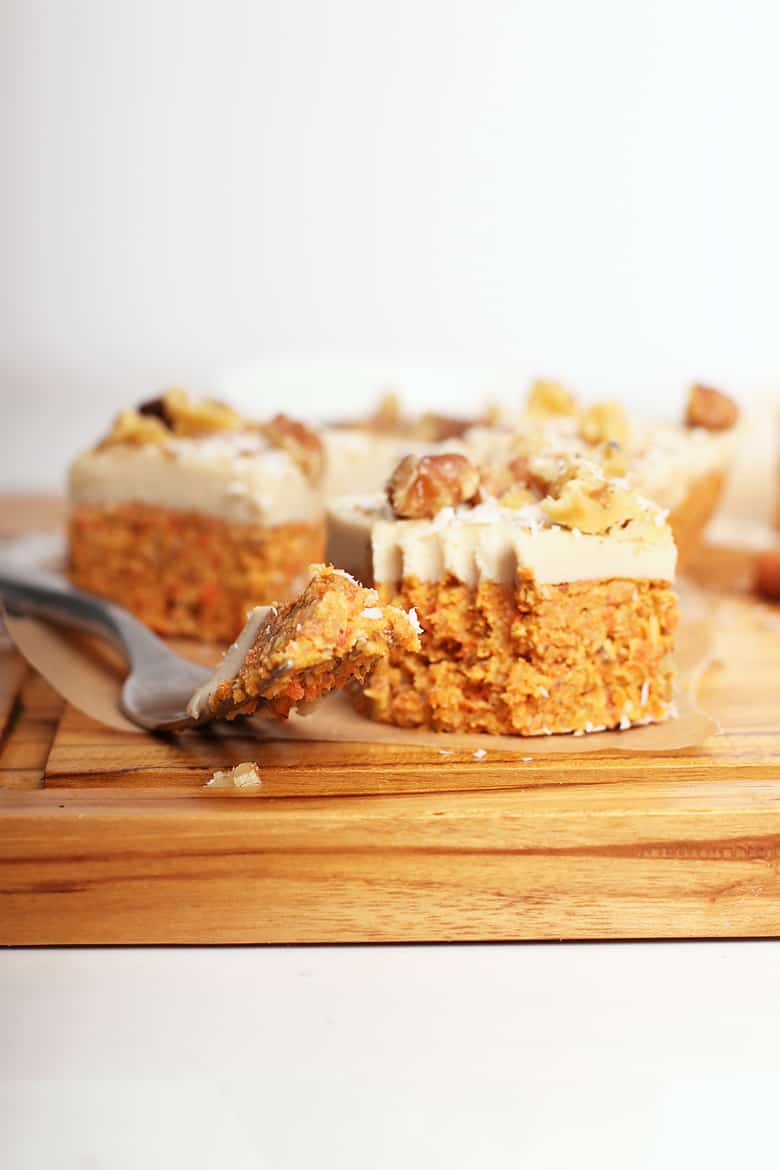 Course:
Dessert
Cuisine:
Vegan, Raw
Keyword:
Raw Carrot Cake
Servings
:
16
pieces
Calories
: 239 kcal
Author
:
Sarah McMinn
Ingredients
Cashew Cream Frosting
1

cup

raw cashews

1/4

cup

water

3

tbsp maple syrup or raw agave nectar*

1

tsp vanilla extract
juice of 1/2 lemon
pinch of salt

1/3

cup

coconut oil, melted
walnuts and extra cinnamon, for finish
Instructions
Line an 8×8 square baking dish (or equally sized pan) with parchment paper letting the edges hang over the sides of the pan.
By hand or with a food processor using the grating attachment, shred the carrots. Place them in a large bowl and set aside. Clean out the food processor and switch to the blade attachment. Blend together the walnuts and dates into a uniform crumb; it should sticks together when pressed between your fingers. Add carrots, coconut, spices, and salt and blend again, scraping down the sides as needed, until the carrots are fully incorporated.

Press the cake into the prepared pan, smooth over the top, and place in the freezer while making the cream cheese frosting.

To make the cream cheese frosting, combine cashews, water, agave nectar or maple syrup, vanilla, salt, and lemon juice in a high-powered blender. Blend until silky smooth. Add coconut oil and blend to combine. Pour onto the chilled cake and smooth the top. Cover in plastic wrap and freeze for at least 2 hours.

When ready to serve, remove the cake from freezer. To release it from pan, pull up the sides of the parchment paper. Top with walnuts and dust with cinnamon. Let it thaw 10 minutes at room temperature.

With a hot, sharp knife cut cake into 2 x 2-inch pieces. If the cake is very frozen, let it thaw an additional 15 minutes before serving.
Recipe Notes
If you don't have a high-powered blender, soak the cashews for at least 6 hours before preparing the cake. When soft, drain and rinse the cashews and blend them in your blender or food processor until completely smooth. Depending on the strength of your blender this make take up to 10 minutes. 
Maple syrup is not considered a raw ingredient although many raw foodists will still eat it. If you are strictly raw, substitute agave nectar for the maple syrup. 
Nutrition Facts
Raw Carrot Cake Bites
Amount Per Serving
Calories 239
Calories from Fat 171
% Daily Value*
Fat 19g29%
Sodium 17mg1%
Potassium 265mg8%
Carbohydrates 16g5%
Protein 3g6%
Vitamin A 3340IU67%
Vitamin C 1.4mg2%
Calcium 31mg3%
Iron 1.2mg7%
* Percent Daily Values are based on a 2000 calorie diet.
If you give this recipe recipe a try, snap a photo and share it on Instagram. Make sure to tag
@mydarlingvegan
so I can see your creations!