Best-Ever Classic Vegan Chili
This classic vegan chili is made with bulgur wheat and kidney beans for a whole grain, whole food vegetarian chili that tastes just like you remember. Made in just 30 minutes!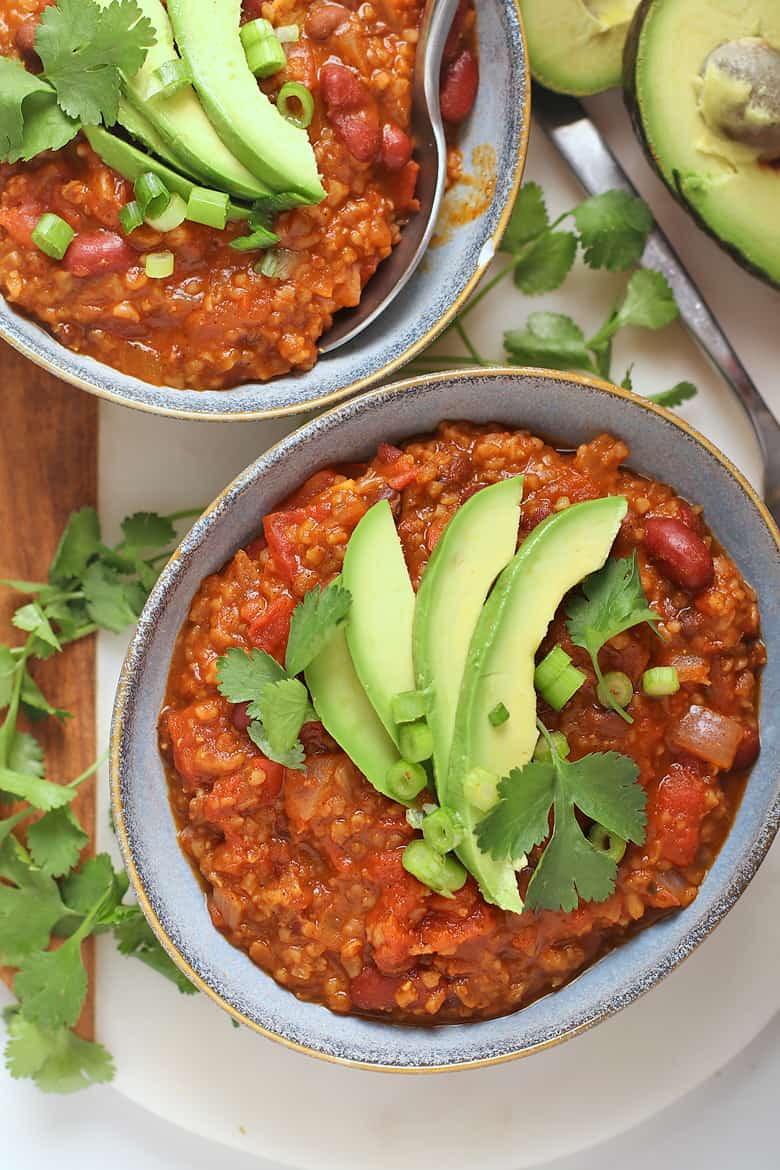 This post contains affiliate links. For more information please see my privacy policy.
In nearly 7 years of blogging, My Darling Vegan doesn't yet have a classic vegan chili recipe. I have a Smoky Pumpkin and Tempeh Chili and, of course, the fan-favorite Maple Bourbon Sweet Potato Chili but in all these years, I have neglected to make one of the very first meals I ever cooked – classic vegetarian chili.
It was back in college when I was first learning that things pasta sauce didn't have to come from the store. By my senior year, most of my weekends were spent making granola, cookies, soups, and homemade pasta. I suppose it was no surprise that after college I ended up in culinary school. Once I started learning the art of cooking, I couldn't get enough.
This vegetarian chili recipe was one of the first recipes I ever perfected. Newly vegan, I was eager to start making alternatives to the classic recipes I had grown up eating. And that's why I think you're going to love this chili. It is hearty, meaty, spicy, savory – a vegan chili that doesn't compromise on taste or texture made with whole, plant-based foods.
Let's take a look at what makes this chili the best ever vegan chili.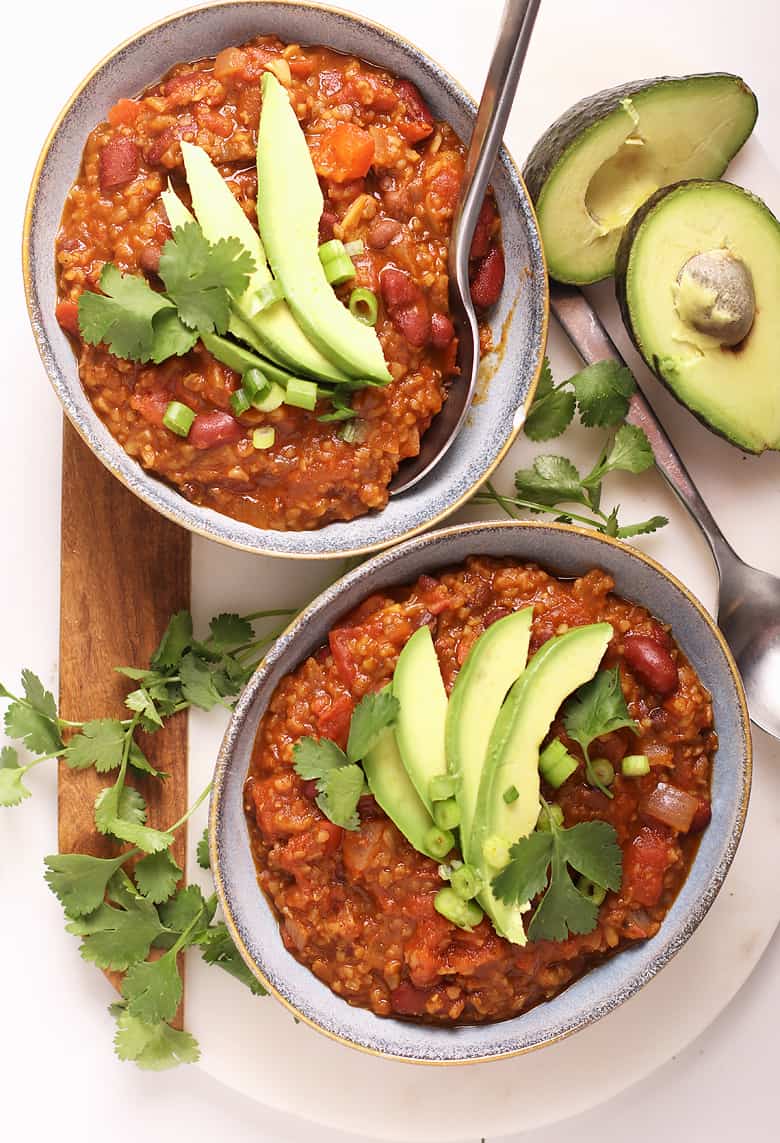 Two words: Bulgur Wheat.
I love the addition of bulgur wheat to this classic chili because it gives the stew a meaty taste and texture from whole food, plant-based alternative.
What is Bulgur Wheat?
Bulgur is a whole grain popular in Mediterranean cooking (the common base for tabouleh salad) made from dried, cracked wheat that is partially boiled. When cooked, it has a similar consistency to couscous or quinoa although with a slightly more meaty texture. It can be found in most grocery stores among the grains or in the health foods section.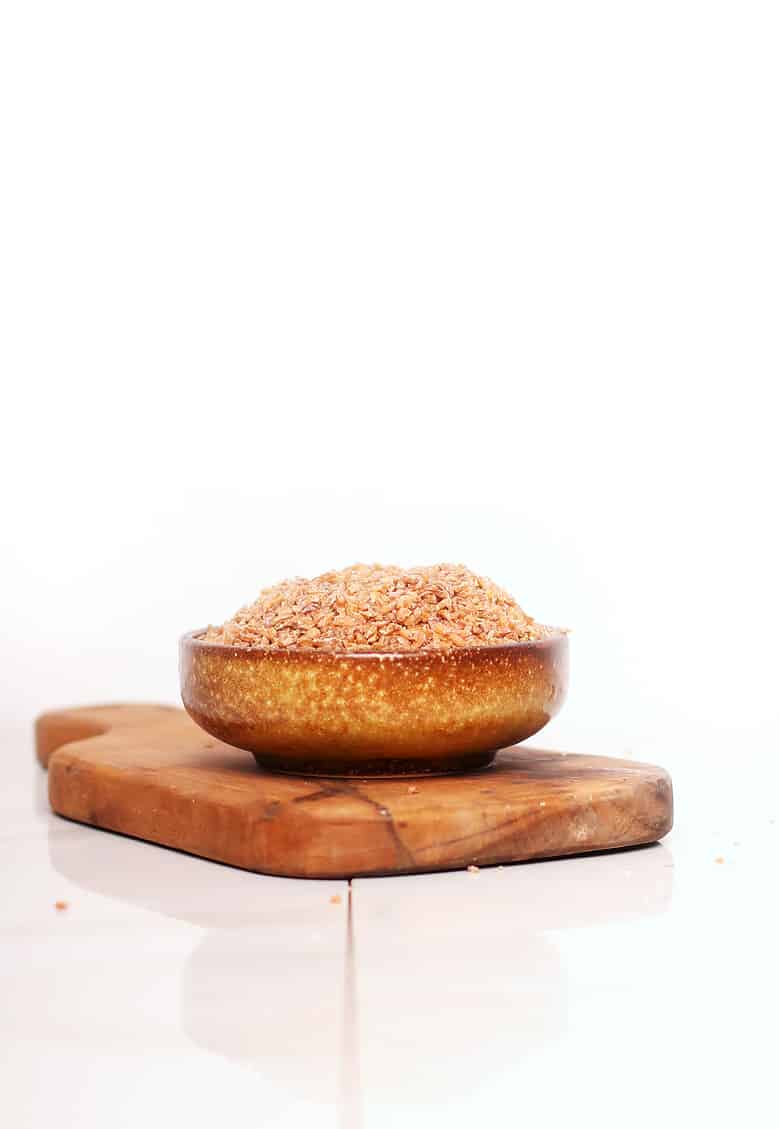 How To Cook Bulgur
Bulgur wheat is very easy to make. It is a similar cooking method to rice or quinoa. The bulgar is cooked in lightly simmering water (typically one part bulgar to two parts water) until it is soft and chewy. It takes between 10 and 20 minutes depending on the variety.
For this vegan chili recipe, the bulgur is added to the chili uncooked and is cooked with the rest of the ingredients.
Gluten-free alternatives to bulgur wheat
While bulgur wheat is my meat alternative of choice for this chili recipe, it's unfortunately not gluten-free. If you are looking for gluten-free alternatives to this chili you can substitute couscous or quinoa, brown lentils, or a vegan meat alternative such as TVP, Beyond Meat Crumbles or Gardein's Beefless Crumbles. I recommend all!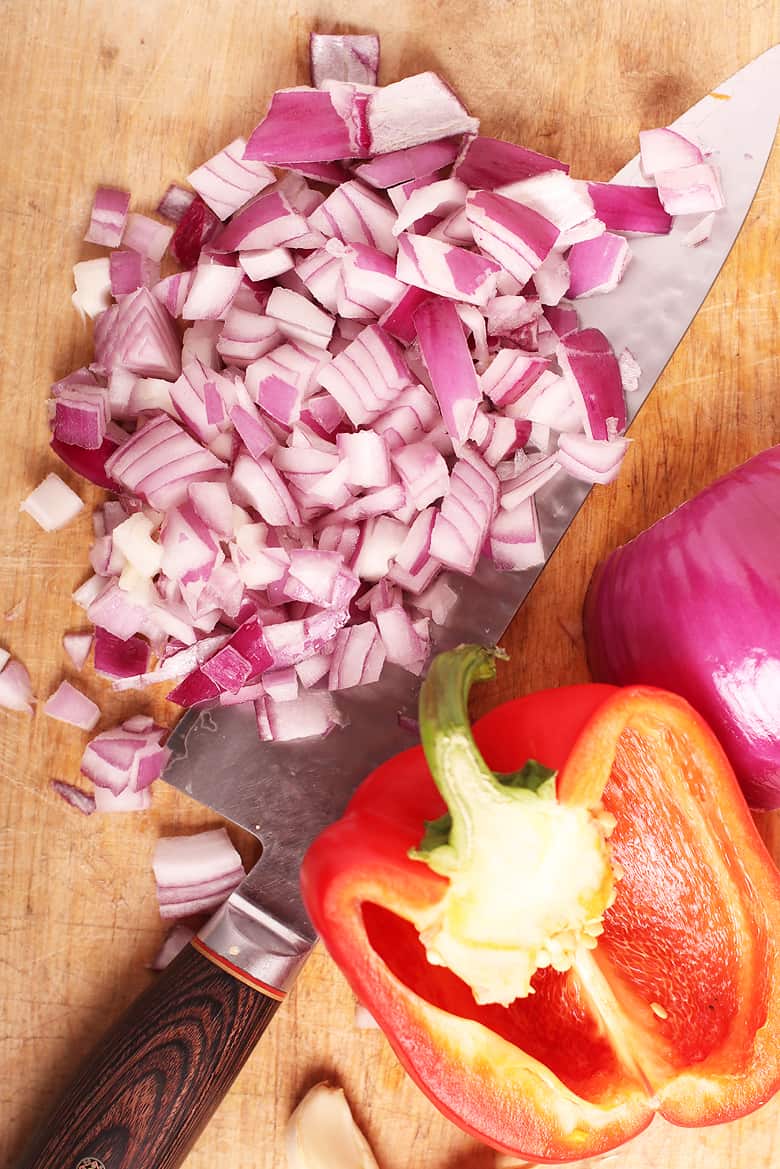 How to make vegan chili
Now that we have our bulgur wheat sorted, let's take a look at how to make this vegan chili. The good news is this recipe is super simple to make. It can be made in just one pot and in under 30 minutes for a quick and easy weeknight meal.
Step one – sauté the vegetables
Let's start by sautéing some vegetables. In a soup pot, heat oil over medium heat. For this recipe, my oil of choice is avocado oil. It is a healthy oil that handles heat well. You could also use coconut oil or vegetable oil. Once the oil is hot, add the onions and sauté them until they are translucent and fragrant. This takes about 5 minutes. Once they have filled your house with the sweet aroma of onions, add the garlic and bell peppers and sauté for another 5 minutes.
Step two – add the spices
Spice is key to every good chili recipe and this one uses 5 important spices. Those spices are:
Chili powder
Cumin
Oregano
Paprika
Cayenne
It's the perfect hot, herbal, and smoky combination that pairs with the hearty meatiness of this chili. The spices get mixed together and then added to the vegetables, stirring until they are well coated.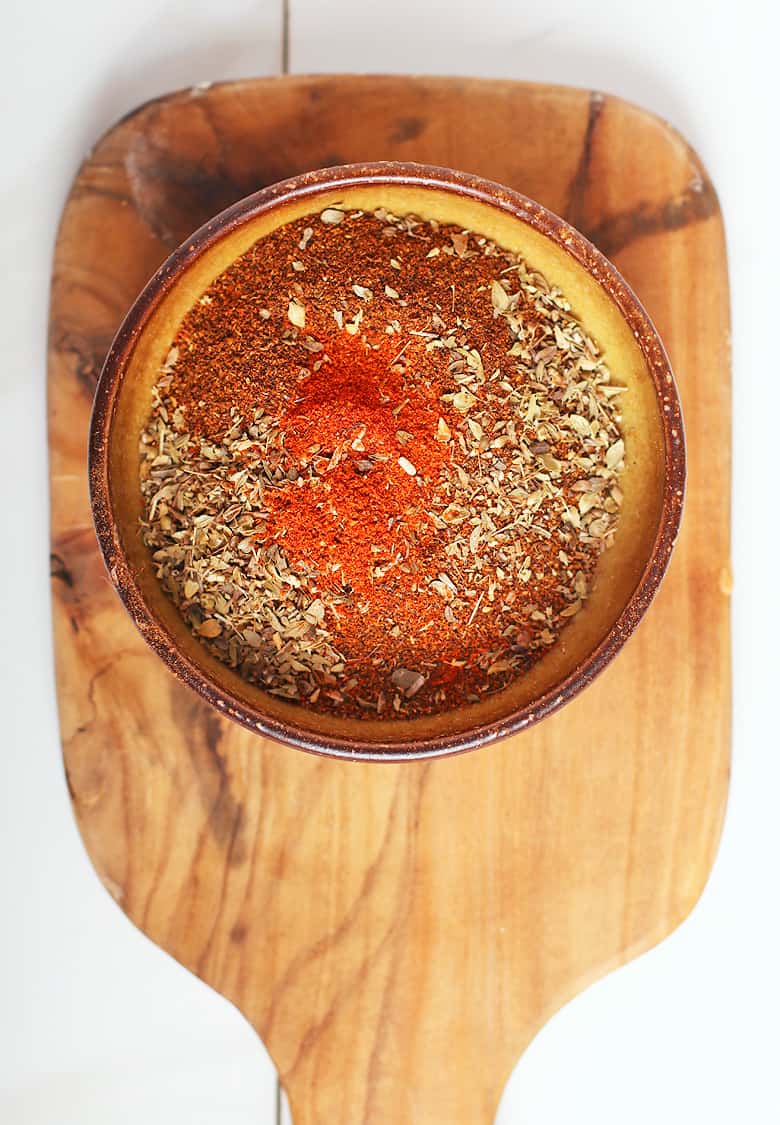 Step three – add the remaining ingredients
That's your bulgur wheat, tomatoes, beans, vegetable broth, and everything else. Add the ingredients to the soup pot and stir together. Cook for about 15 minutes, until the bulgur wheat has doubled in size and the chili is thick, rich, and heated all the way through.
That's it! So easy. Now let's serve it up and chow down.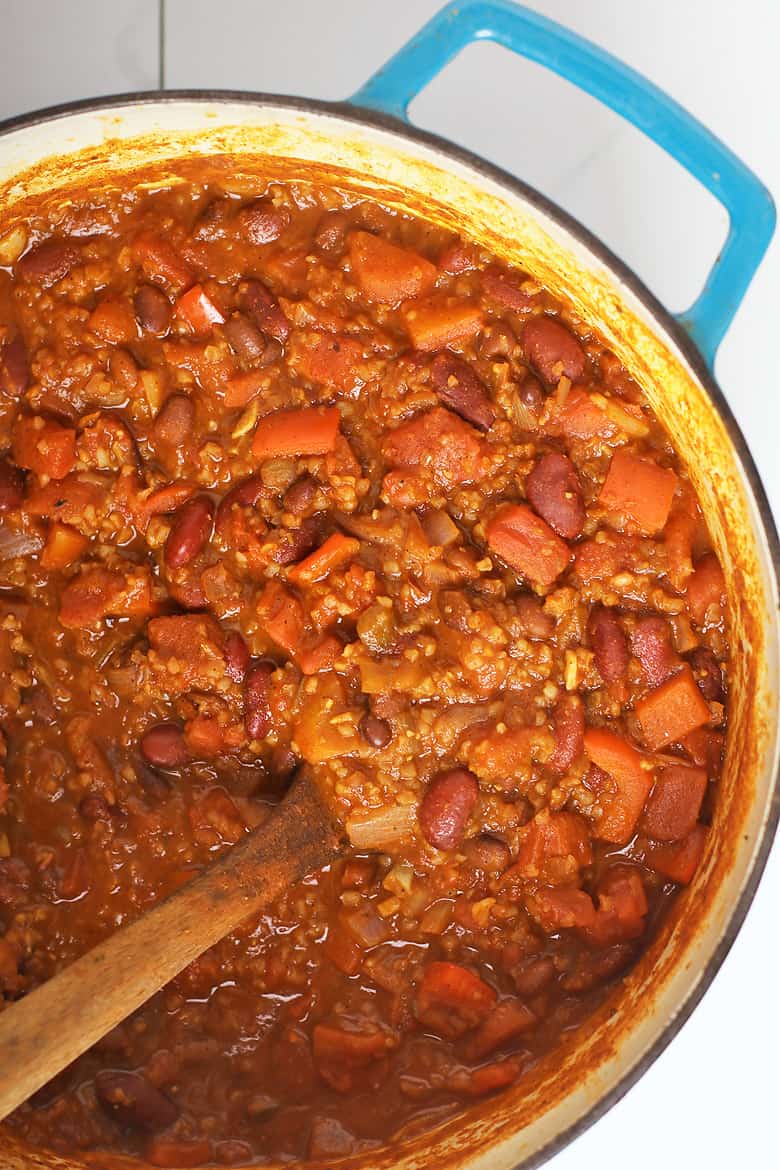 Tips and Tricks for making the perfect vegan chili
This recipe allows for a lot of variation. While I recommend it as it is written, the bulgur wheat can be substituted for couscous, lentils, or a meat-free alternative for a gluten-free option.
Consider adding 1 teaspoon of liquid smoke for a smokier chili.
You can eat this chili immediately. Top with fresh cilantro, lime, avocado, and vegan sour cream.
Uneaten chili can be stored in an airtight container in the refrigerator for up to 3 days or frozen for 1 month. To thaw, place it in the refrigerator the night before. The following day, gently reheat the chili over the stovetop.
That's it! I think you're ready to make some delicious vegan chili!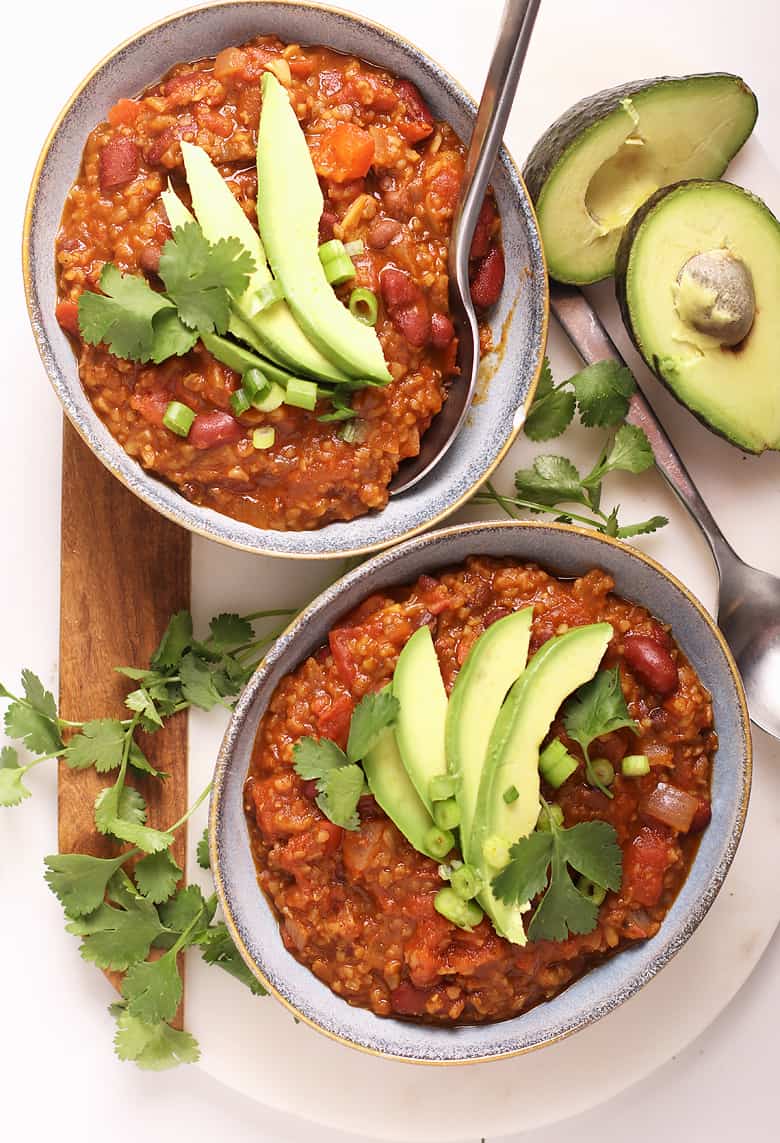 Classic Vegan Chili
This classic vegan chili is made with bulgur wheat and kidney beans for a whole grain meaty chili that tastes just like you remember. Made in just 30 minutes!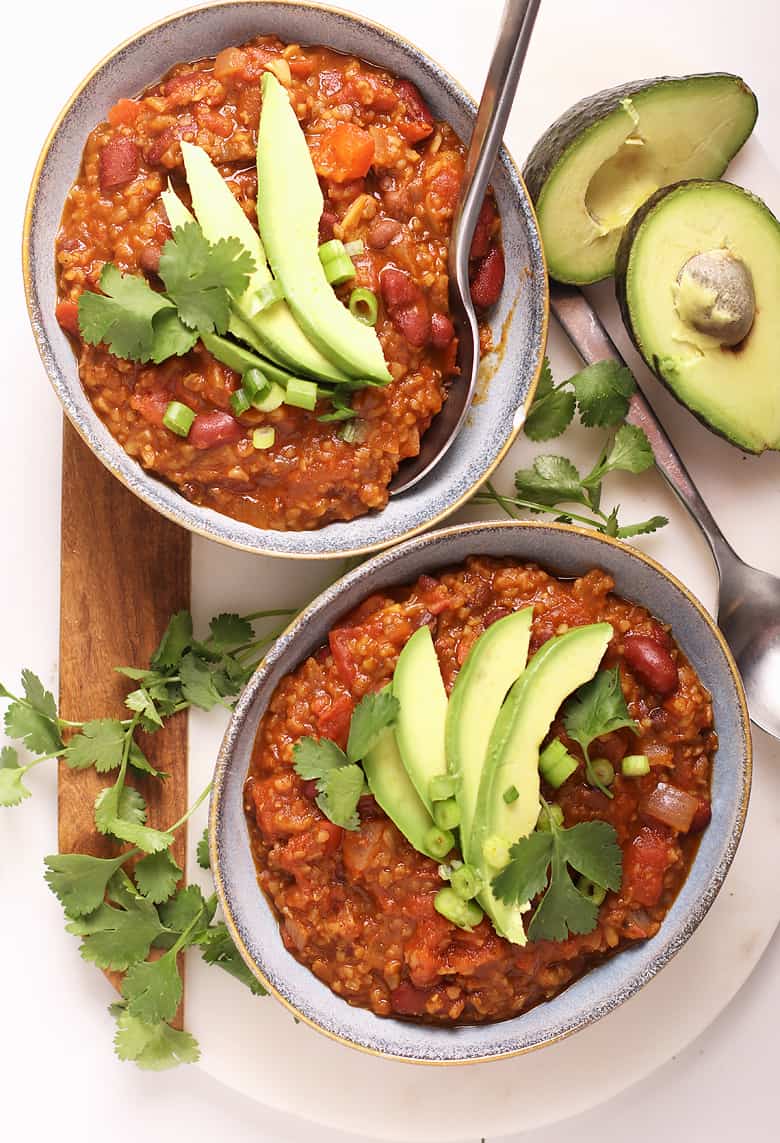 Course:
Main Course
Cuisine:
Vegan
Keyword:
Vegan Chili
Servings
:
6
servings
Calories
: 289 kcal
Author
:
Sarah McMinn
Ingredients
Vegan Chili
1

tbsp. avocado oil

1

medium red onion, peeled and diced

4

cloves garlic, peeled and minced

1

red bell pepper, seeded and diced

3

tbsp. chili powder

1

tsp. cumin

1

tsp. dried oregano

1

tsp. paprika

1/4 - 1/2

tsp. cayenne

3

tbsp. tomato paste

1

tbsp. maple syrup

3

cups

vegetable broth

2

(15 oz) cans diced tomatoes

1

(15 oz) can black beans

1

(15 oz) can kidney beans

3/4

cup

bulgur wheat

1 - 1 1/2

tsp. salt
Toppings
1

small avocado, cubed

2

green onions, diced
fresh cilantro
vegan sour cream, optional
Instructions
Heat oil in a large soup pot over medium-low heat. When the oil is hot, add onions and sauté for 5 minutes until fragrant and translucent. Add garlic and red onion and sauté for another 5 minutes.


Add spices and stir to coat.

Once vegetables are thoroughly coated, add the remaining chili ingredients. Stir together, cover, and bring to a boil. Once boiling, reduce heat to a simmer and simmer for 15 minutes until the bulgur wheat is cooked all the way through.

Serve immediately with toppings of choice.
Nutrition Facts
Classic Vegan Chili
Amount Per Serving
Calories 289
Calories from Fat 54
% Daily Value*
Fat 6g9%
Sodium 698mg30%
Potassium 593mg17%
Carbohydrates 37g12%
Protein 6g12%
Vitamin A 5465IU109%
Vitamin C 42.5mg52%
Calcium 98mg10%
Iron 4.7mg26%
* Percent Daily Values are based on a 2000 calorie diet.
If you give this recipe a try, snap a photo and share it on Instagram. Make sure to tag @mydarlingvegan so I can see your creations!