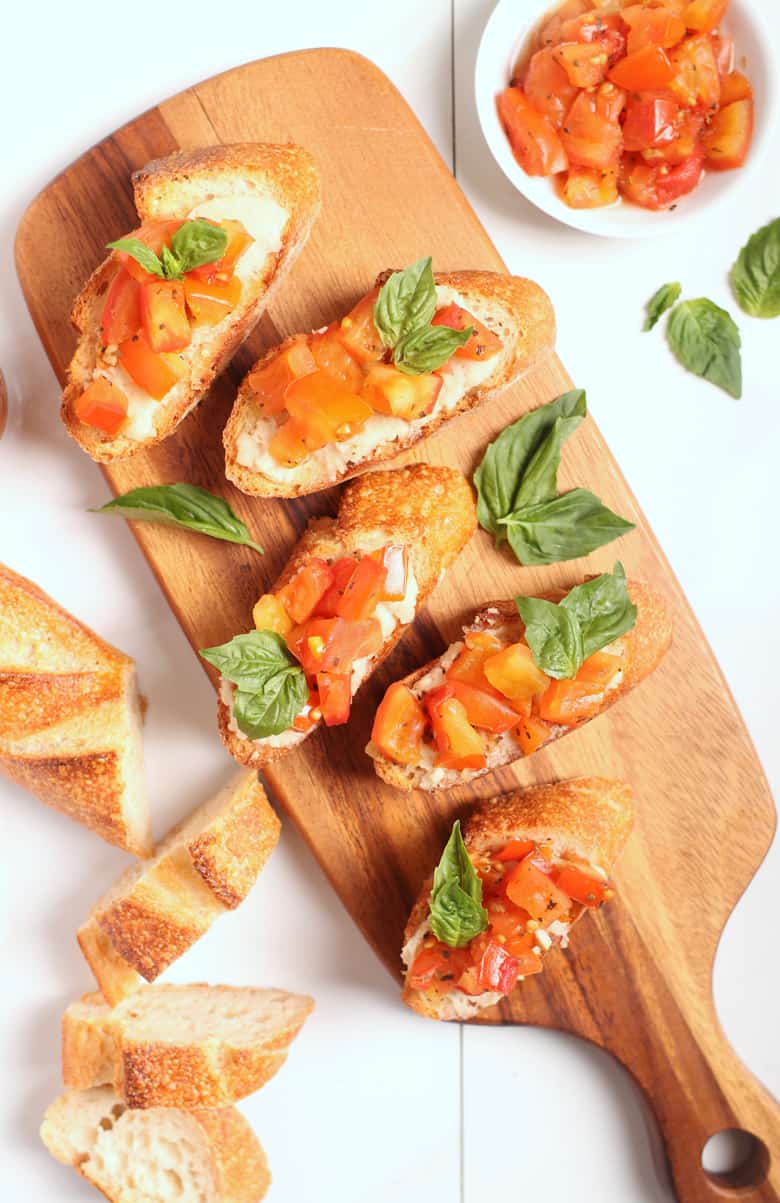 Course:
Appetizer
Cuisine:
Italian
Servings
:
24
slices
Calories
: 66 kcal
Author
:
Sarah McMinn
Tomato Bruschetta in a Jar
5

cloves garlic, minced

1

cup

dry white wine

1

cup white wine vinegar

1/2

cup

water

2

tbsp. sugar

2

tbsp. dried basil

2

tbsp. dried oregano

2

tbsp. balsamic vinegar

9

cups

chopped cored plum tomatoes (about 4 lb or 12 medium) 
Everything Else
1

baguette, cut into 1" pieces

2

tbsp. olive oil

4

oz. soft vegan mozzarella or similar spreadable cheese
fresh basil
Tomato Bruschetta in a Jar
Prepare a boiling water canner. Heat jars in simmering water until ready for use. Do not boil. Wash lids in warm soapy water and set bands aside.

Combine garlic, wine, wine vinegar, water, sugar, basil, oregano, and balsamic vinegar. Bring to a full rolling boil over high heat, stirring occasionally. Reduce heat, cover and simmer 5 minutes or until garlic is heated through. Remove from heat.

Pack tomatoes into hot jars leaving 1/2-inch headspace. Ladle hot vinegar mixture over tomatoes leaving 1/2-inch headspace. Remove air bubbles. Wipe rim. Center hot lid on jar. Apply band and adjust until fit is fingertip tight.

Process filled jars in a boiling water canner for 20 minutes, adjusting for altitude. Remove jars and cool. Check lids for seal after 24 hours. The lid should not flex up and down when the center is pressed.
Baked Tomato Bruschetta
Preheat the oven to 375 F. Place baguette slices in a single layer on a baking sheet and brush oil on one side of the baguette. Bake for 5 minutes.

Remove from the oven and spread a thin layer of vegan cheese over the baguette. Return to the oven for an additional 5 minutes.

Remove from the oven and spoon two tablespoons of canned tomatoes over the cheese. Top with fresh basil and serve immediately.
Store unopened Tomato Bruschetta in a dark, cool area for up to 18 months.