Vegan Chocolate Cupcakes with Chocolate Buttercream
These vegan chocolate cupcakes are rich and moist then topped with silky smooth buttercream for the perfect celebratory treat everyone will love.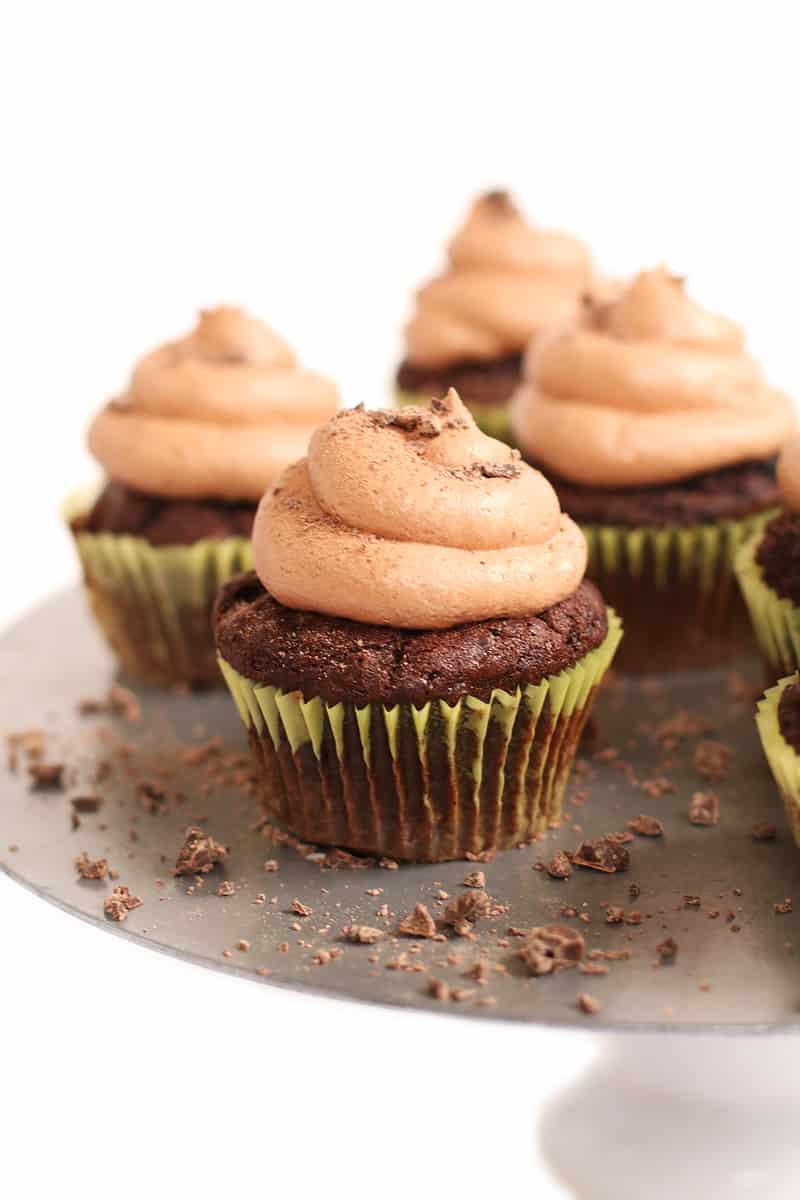 This post contains affiliate links. For more information read my privacy policy.
Hey friends, guess what?
Today is my birthday!
Another trip around the sun and another year wiser. I gotta say, this past year was a pretty good one for me. I choose to believe in myself this year. This meant I took some risks, gave myself a lot of self-love, learned new skills, and developed and deepened many wonderful relationships.
So it seems that I've got a lot to celebrate today. And we are celebrating this year in decadent style with these vegan chocolate cupcakes.
These vegan chocolate cupcakes are the perfect way to celebrate any birthday. Unbelievably moist and rich with chocolatey goodness in every bite, this is indulgence in its truest form. Better yet, they are super simple to make. Even the most novice vegan baker could make a batch of these turn out perfectly. And to top it off, I added my silky smooth chocolate buttercream.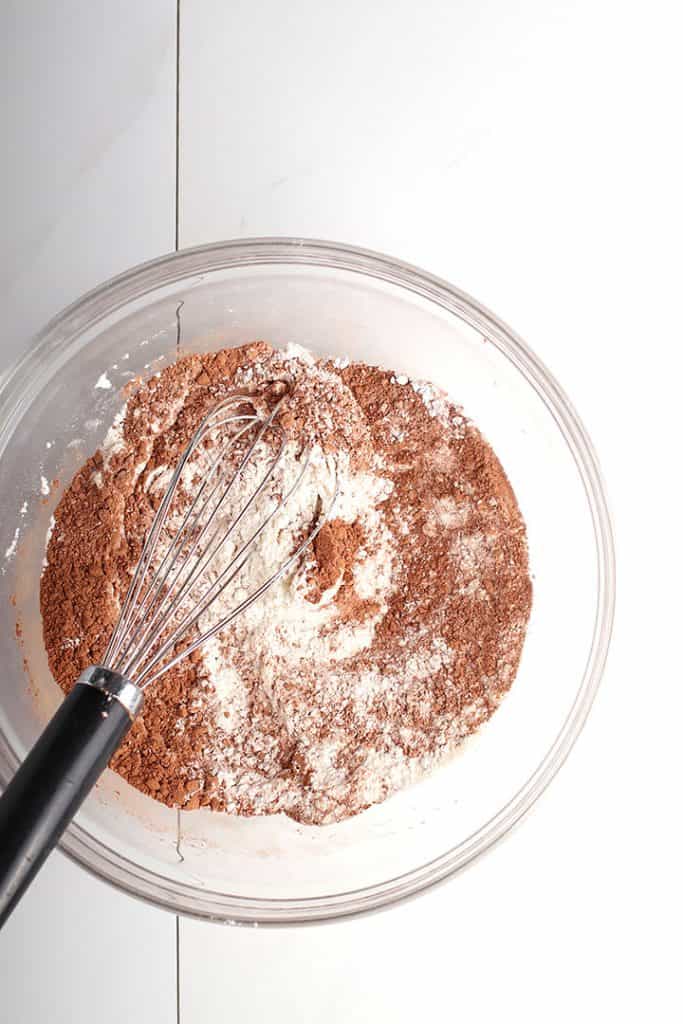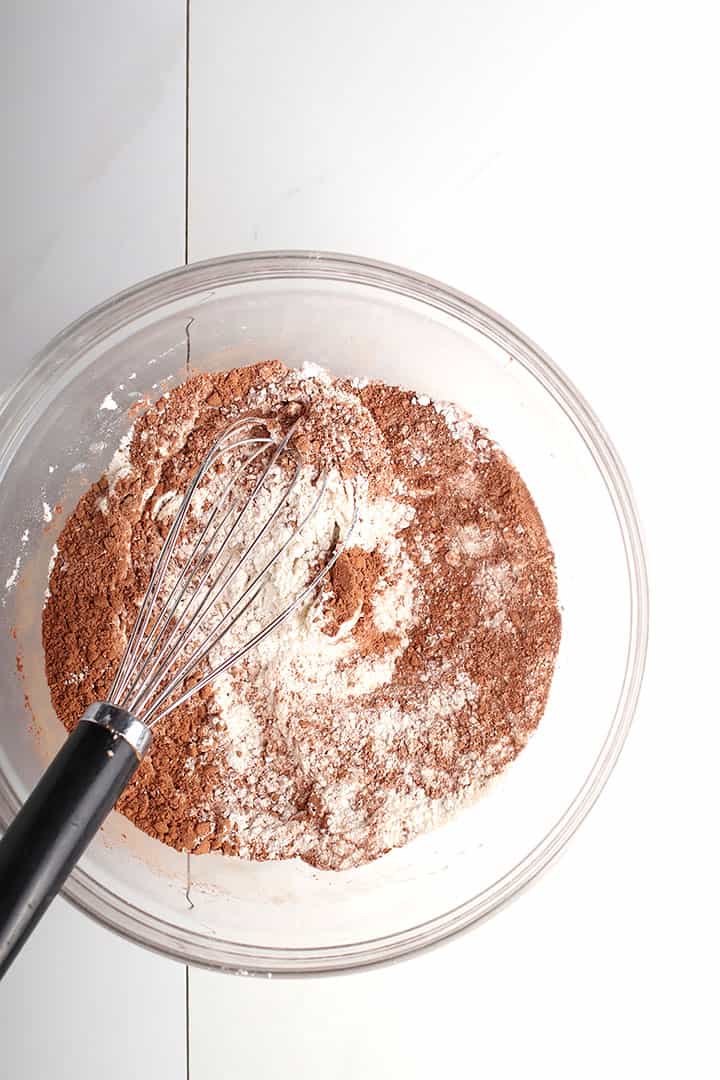 HOW TO MAKE A VEGAN CHOCOLATE CUPCAKES
Making vegan cupcakes is super simple! To start, mix the wets and dries together separately and then gently fold them together until the dries are evenly hydrated. In the end, you should have a thick, pourable, smooth batter.
With a large ice cream scoop or piping bag fill a muffin tin with batter so that each muffin mold is 3/4th the way full. Place it in the oven and bake for 20 minutes. When the cupcakes are done, you'll notice that it has begun to pull away from the edges slightly. At that point, you can insert a toothpick into the center. If it comes out clean, then it's all ready to go!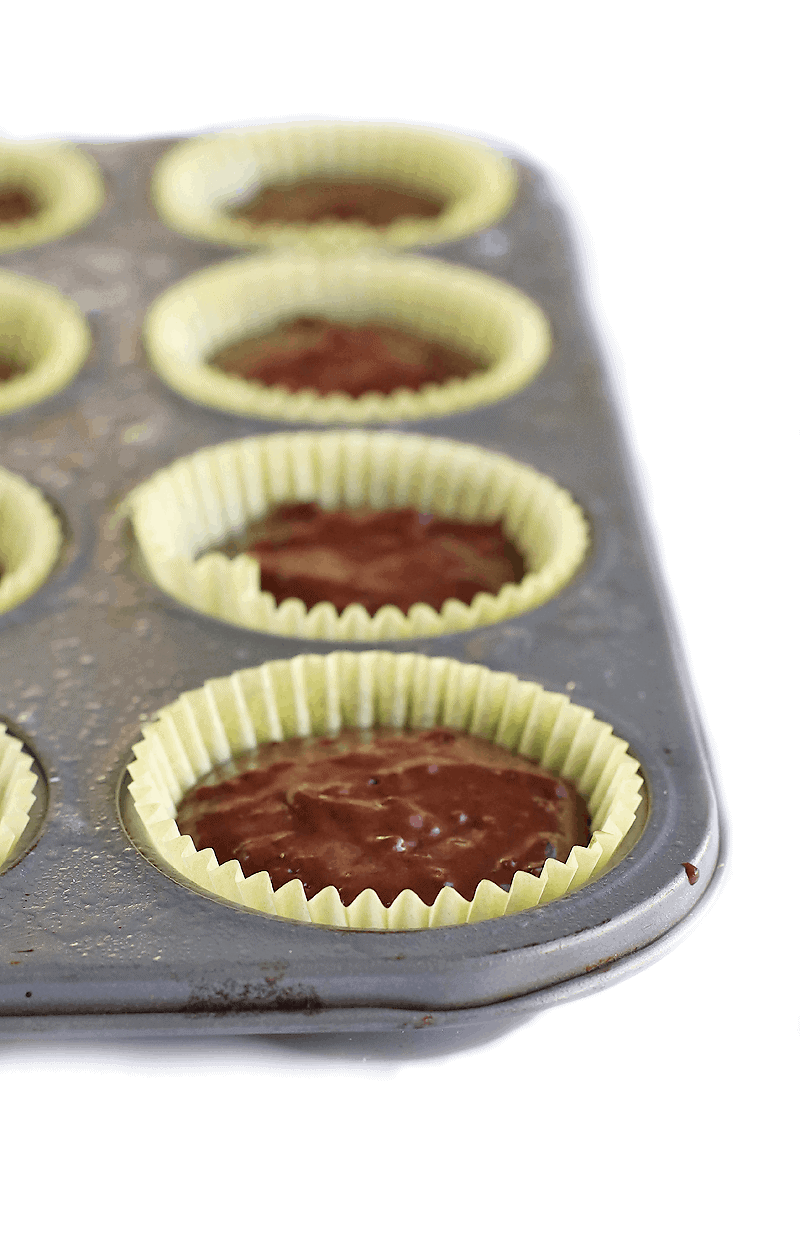 BEST EGG REPLACERS FOR VEGAN CUPCAKE?
Typically chocolate cake relies on eggs to provide both moisture and leavening powers. So I needed to find the best egg replacer for the job. I first tried this vegan cake recipe with aquafaba, but the structure of the aquafaba could not hold up against the heaviness of the oil and ended up collapsing.
For my second attempt, I tried a combination of applesauce and baking powder. And it was perfect! The applesauce provides moisture that gives the vegan lemon cake that delicious dense texture. But, as to not make it too dense, I added a 1/2 extra baking powder which helps the cake rise.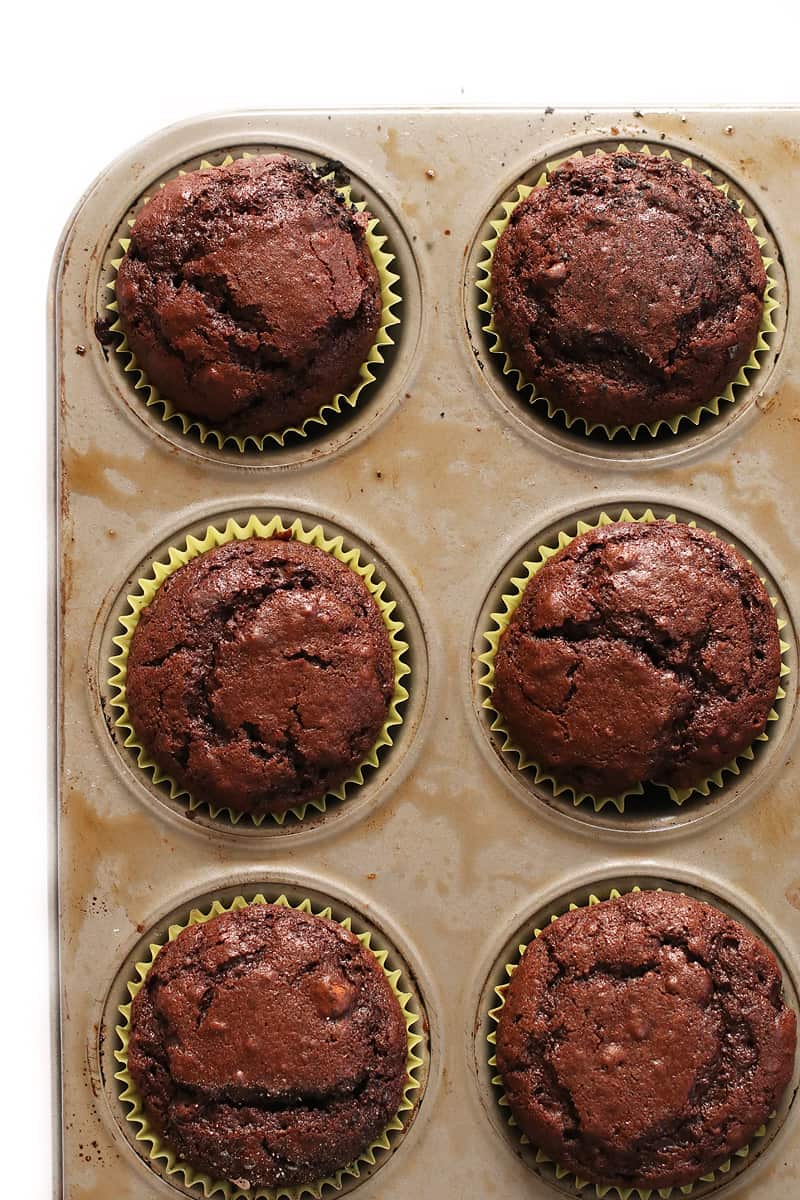 CAN THIS CUPCAKE RECIPE BE MADE INTO A CAKE?
Yes! This recipe will fill one 8 or 9″ cake pan. When making a cake, generously spray the pan with cooking oil. Place a piece of parchment paper on the bottom of the cake pan before adding the batter.
Bake this vegan cake for about 45-50 minutes until a toothpick inserted in the middle comes out clean.
---
CAN THESE VEGAN CUPCAKES BE GLUTEN-FREE?
Yes. I have had a lot of luck with Bob's Red Mill 1:1 Gluten-Free Baking Flour. That is the only gluten-free flour I've tried for these cupcakes but I'm sure other 1:1 ratio flours would work as well.


SERVING THE VEGAN CUPCAKES
Once the cupcakes are ready, remove the cake from the oven and let it cool at least 20 minutes in the cake pan before flipping it out onto a wire cooling rack. This is very important as the structure of the cake is still firming up. If you flip it over too early, it may fall apart or stick to the pan. Let the cupcakes continue cooling on a wire cooling rack until it is completely cool.
Once your cake is cool, top them with vanilla or chocolate buttercream and serve! Pro tip: Use chocolate chips when making chocolate buttercream rather than cocoa powder. This gives the buttercream a complex and delicious flavor (especially when you buy high-quality chocolate) far beyond what cocoa powder can do. Melted chocolate also improves the texture creating a creamy silky buttercream that you can just sink your teeth into.
These cupcakes can be served immediately with homemade ice cream or stored for up to 3 days in an airtight container in the refrigerator.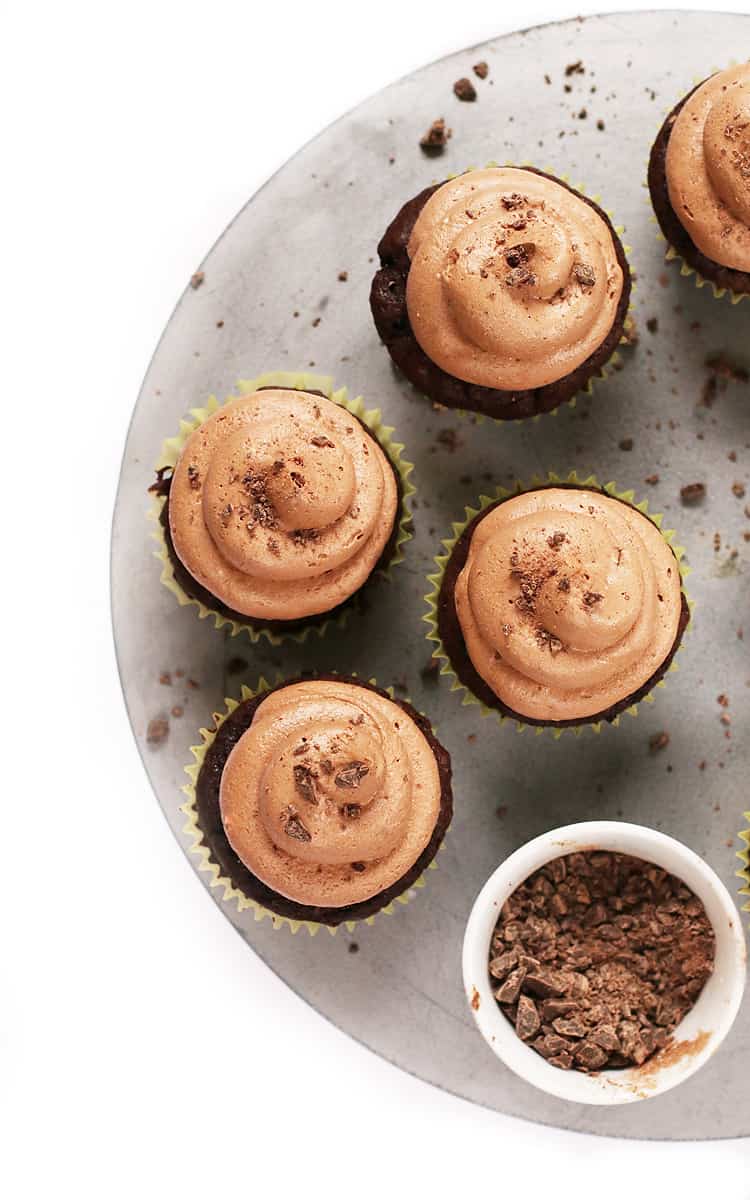 TIPS AND TRICKS FOR MAKING THE PERFECT VEGAN CUPCAKES
When making any kind of cake or quick bread, take care not to overmix. Overmixing allows the gluten strands to develop making the cake gummy. Mix until just combined to ensure a light, delicate crumb.
Do not open the oven door while the cupcakes are baking. This causes the structure to fall leaving you with a dent in the middle of your cakes. You can check for doneness after 45 minutes.
To prevent the cupcake from sticking, fill the muffin tin with baking cups and generously spray the cups before filling them with batter.
Let the cupcakes sit for at least 20 minutes in the pan before flipping out. If you try and flip it out too early, the cake structure may not have fully set and will fall apart.
Let the cake completely before decorating to prevent the buttercream from melting.
Store in an airtight container in the refrigerator for up to 3 days.
---
More Vegan Cake Recipes
Love vegan cake? Make sure to check out some of my other vegan cake recipes:
But before you go, let's take a look at the recipe below.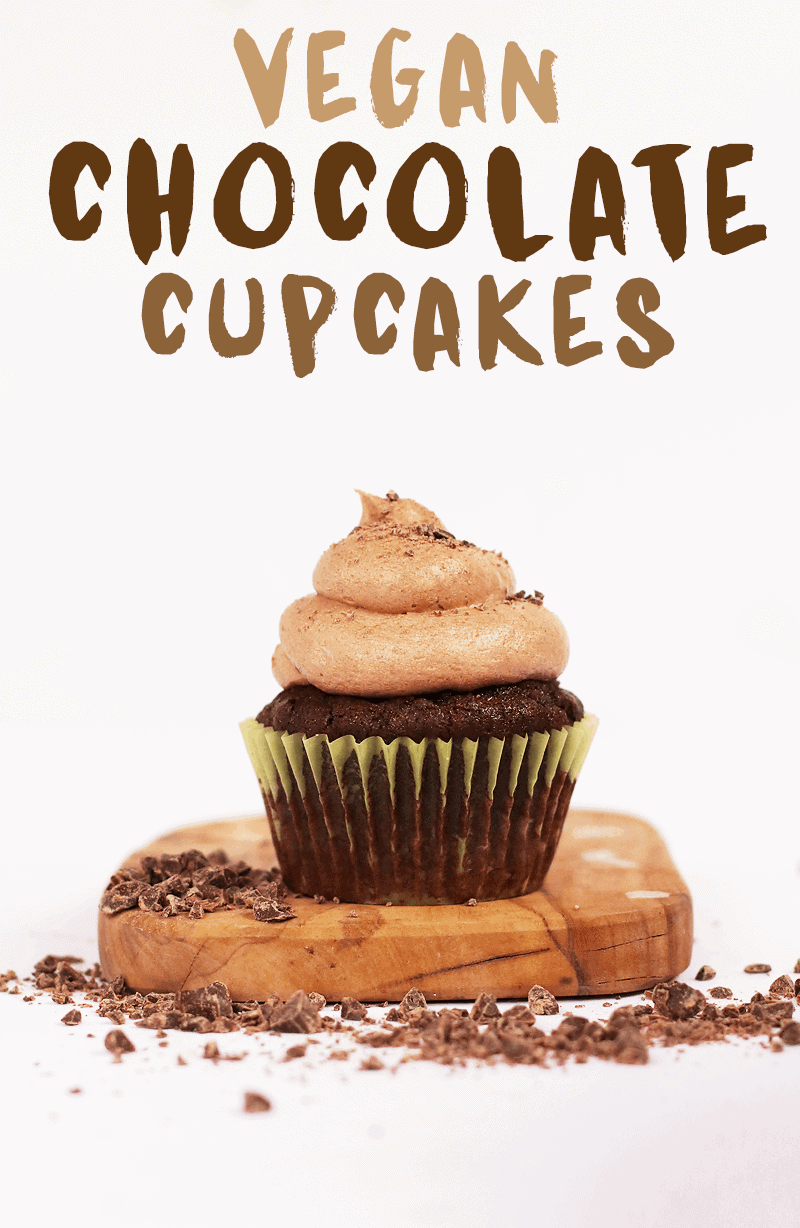 Vegan Chocolate Cupcakes
These vegan chocolate cupcakes are rich and moist then topped with silky smooth buttercream for the perfect celebratory treat everyone will love.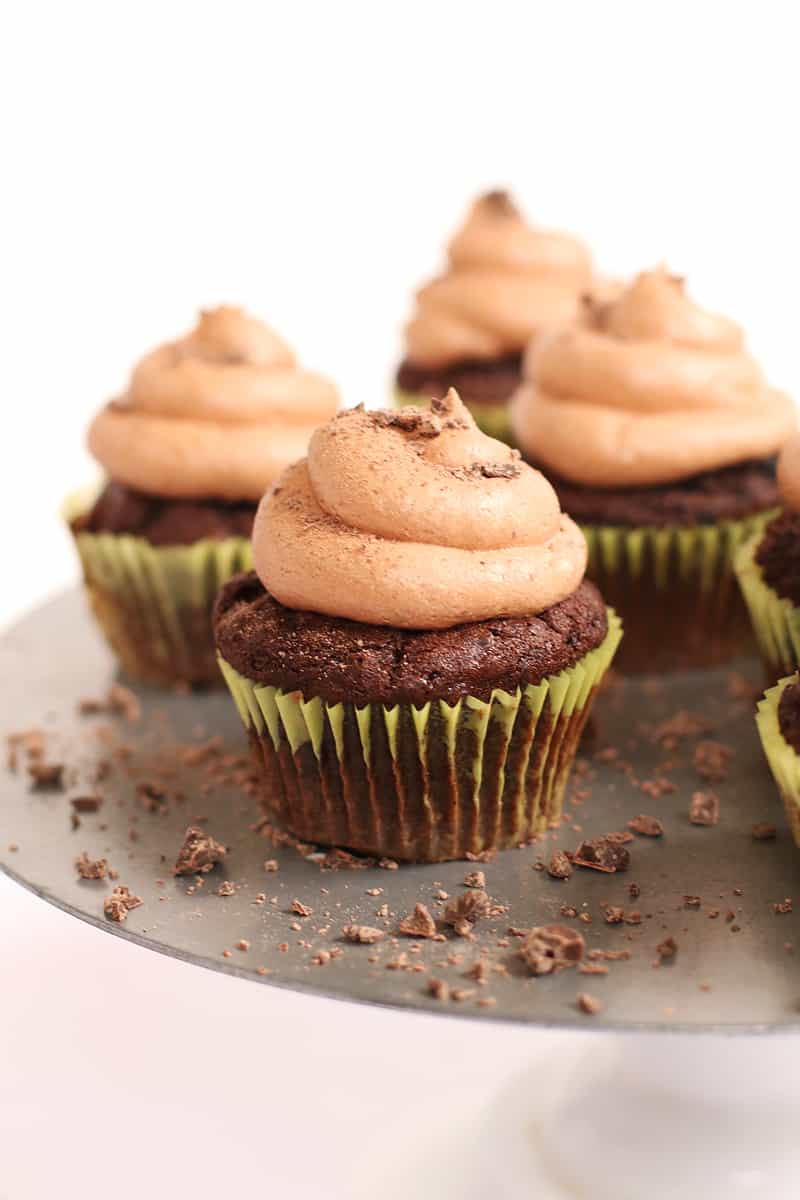 Course:
Dessert
Cuisine:
French
Keyword:
Vegan Chocolate Cupcakes
Servings
:
12
people
Calories
: 352 kcal
Author
:
Sarah McMinn
Ingredients
Instructions
To make the cupcakes
Preheat the oven to 350 degrees F. Line one muffin tin with baking cups and set aside.
In a small bowl combine soy milk and apple cider vinegar. Mix together and set aside for 5 minutes to allow the milk to curdle.
In a large bowl combine cocoa powder, flour, baking soda, baking powder, and salt. Set aside.
Add coconut oil, water, vanilla extract, and granulated sugar to soy milk mixture and whisk together. Pour wet ingredients into the dry and gently mix to combine; a few lumps are okay.
Fill the cupcake holders 3/4 of the way full and bake for about 20 minutes, until a knife inserted in the middle of a cupcake comes out clean.

Remove from the oven and let cool completely on a wire cooling rack.
To make the buttercream
Gently melt the chocolate in a double boiler or microwave.

Meanwhile, using a stand-up mixer with the paddle attachment, cream the vegan butter on high for 3 minutes, scraping down the sides as necessary. Add powdered sugar and vanilla extra and beat for another 5 minutes, scraping down the sides again, as necessary.

Turn the mixer on low and slowly pour the melted chocolate into the buttercream. Increase the speed to high and mix for another 2-3 minutes.
Frost each cupcake using a piping bag or offset spatula.
Store in the refrigerator until ready to serve.
Nutrition Facts
Vegan Chocolate Cupcakes
Amount Per Serving
Calories 352
Calories from Fat 162
% Daily Value*
Fat 18g28%
Cholesterol 1mg0%
Sodium 169mg7%
Potassium 139mg4%
Carbohydrates 48g16%
Protein 2g4%
Vitamin A 435IU9%
Vitamin C 1.1mg1%
Calcium 49mg5%
Iron 1.4mg8%
* Percent Daily Values are based on a 2000 calorie diet.
If you give this recipe recipe a try, snap a photo and share it on Instagram. Make sure to tag
@mydarlingvegan
so I can see your creations!