Sweet pumpkin filling baked between layers of almond oatmeal crumble for delicious and seasonal vegan and gluten-free Pumpkin Bars.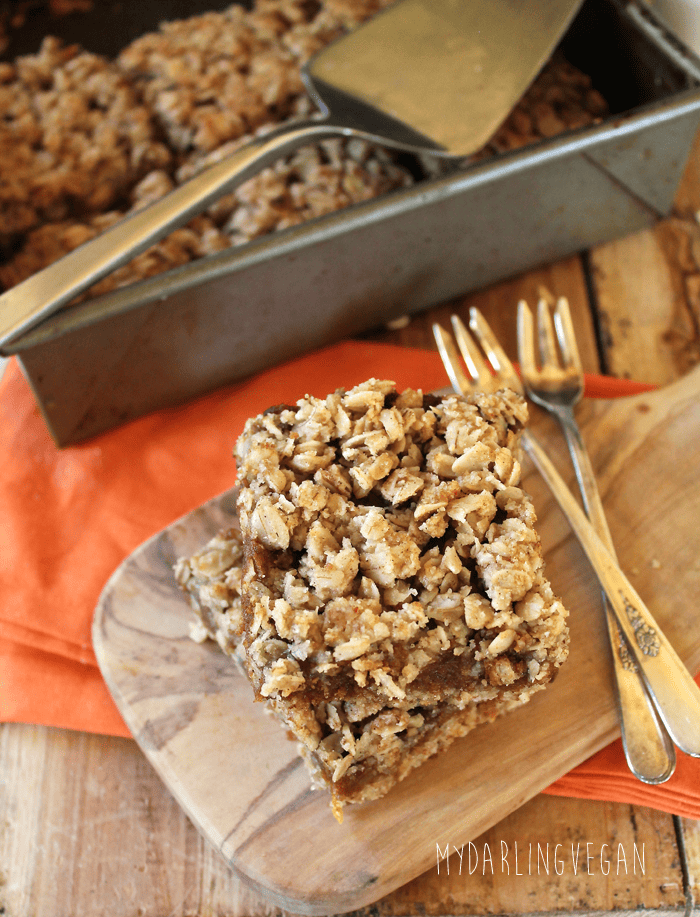 Disclosure: This post may contain affiliate links.
Growing up my parents did a great job of establishing traditions.
My earliest memories begin with these traditions. From sitting around my the table as my Dad carved eyes into an oversized Jack-O-Lantern to digging through our dress up clothes to assemble one awesome pirate costume, October will always be remembered as a very magical time in my childhood. Later on, after the Jack-O-Lantern had rotted and the Halloween candy eaten, we continued through the holiday months with traditions of building gingerbread houses, baking mad amounts of Christmas cookies, and gathering relatives to decorate the tree with popcorn and homemade ornaments. My heart hurts a little with nostalgia knowing that holidays will never be quite the same. The spooky goblin handing out candy is just my next door neighbor and the first snowfall just means it's time to put on heavy boots and pull out the snow shovel.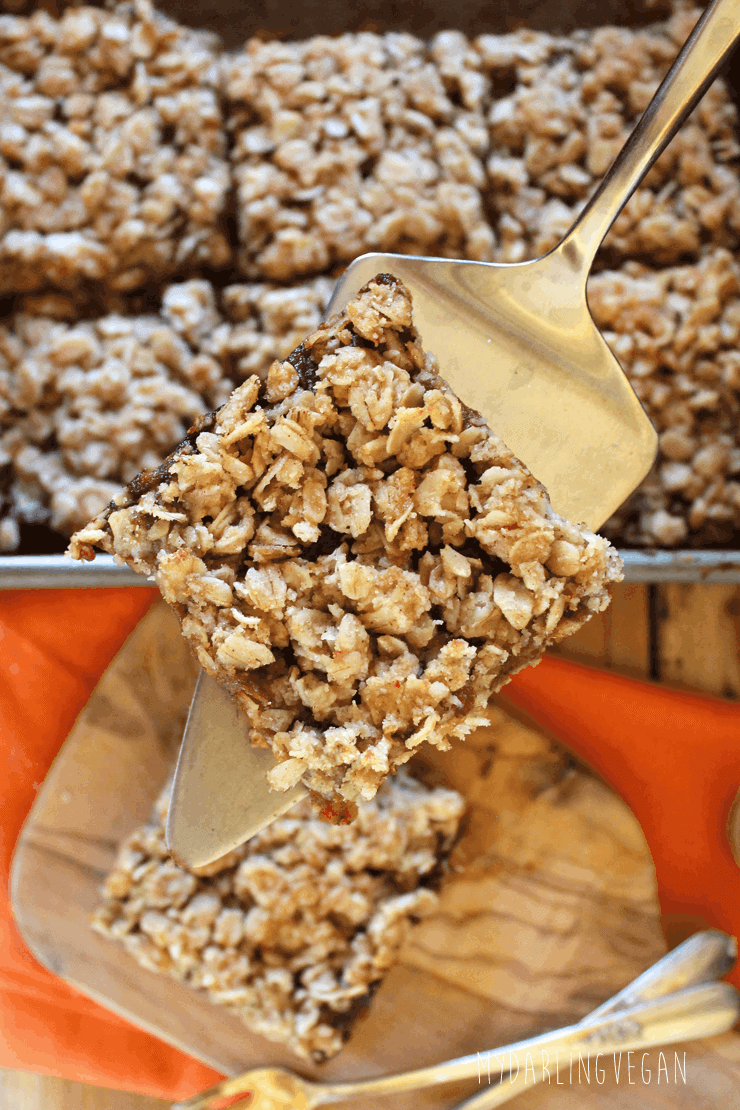 But like I've said so many times before, I have a second chance to relish in the magic through the eyes of my children. And that's exactly what I'll do.
As Eden wraps up her 2nd year this holiday season seems like the perfect time to begin some of our own traditions. I can't wait to show her what happens when we put a candle behind the face of the hallowed out pumpkin, or what it means to dress up and go "trick or treating". I can't wait to start our own traditions of making gingerbread houses and decorating the Christmas tree and cuddling up in our pjs and watching "Frosty the Snowman" on Youtube. Over and over again.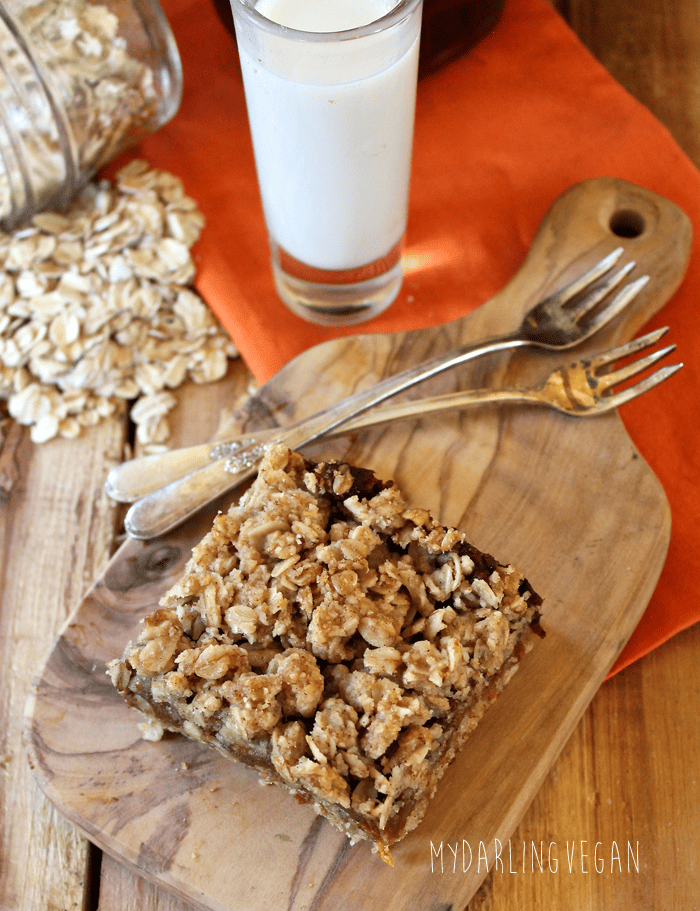 Our Autumnal traditions began yesterday with an annual trip to the pumpkin patch with my mom, sisters, nieces, and now nephews. The morning was spent finding our way out of a corn maze, taking a tractor ride around the farm, followed by a hay ride out into the pumpkin patch and ended with two very excited albeit exhausted children.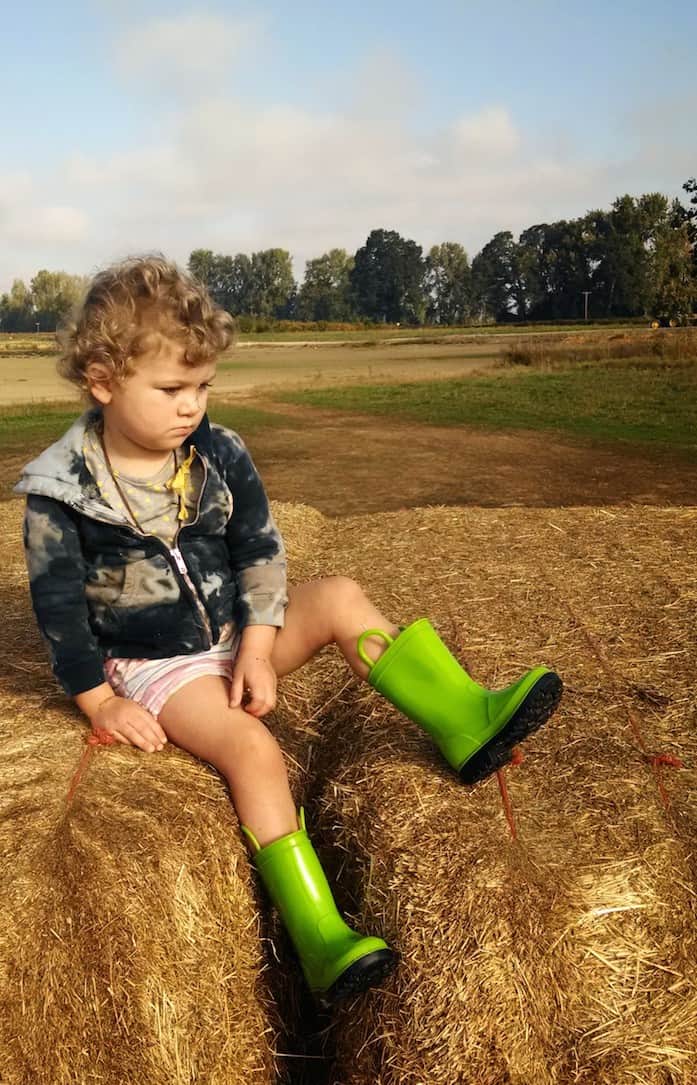 When we got home I put Eden down for her "nap". From the living room I listened to her talk out loud about pumpkins, corn mazes, and hay rides, presumably to her stuffed animals, for a good 30 minutes before she settled into some quiet reading.
As an adult I realize that practicing traditions takes deliberation and dedication and I am so grateful that I learned the importance of taking the time and establishing these rituals. My parents did well and now the torch is passed on to me. I hope I can give Eden and Nash all the magic that was given me.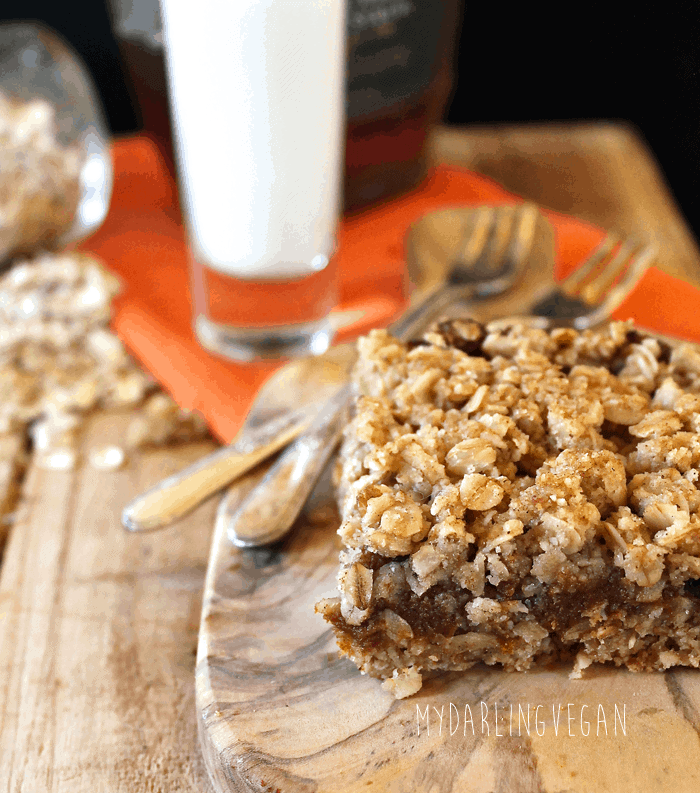 We enjoyed these Gluten-Free Pumpkin Bars with our lunch on the farm – I brought them in lieu of the farm's apple cider doughnuts that I thought might tempt Eden. A date-sweetened pumpkin pie filling in between two layers of cinnamon oat crumble beats out doughnuts any most days.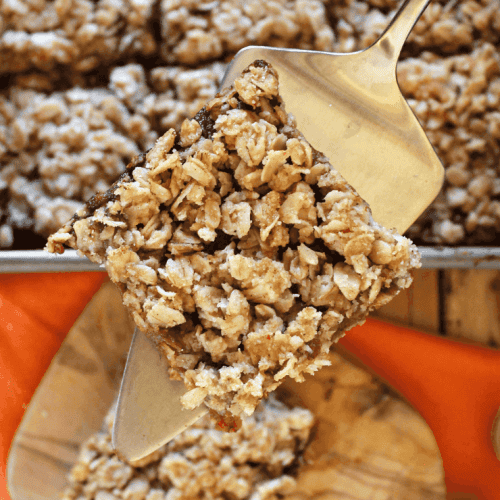 ---
Gluten-Free Pumpkin Bars
Sweet pumpkin filling baked between layers of almond oatmeal crumble for delicious and seasonal vegan and gluten-free Pumpkin Bars
Print
Pin
Rate
Instructions
Soak the pitted dates for 30 minutes. Drain and place in a

food processor

along with the remaining pumpkin filling ingredients. Blend until smooth, scraping down the sides of the bowl as needed. Set aside.

For the oat crumble combine oats, almond meal, cinnamon, baking soda, and salt. Stir together. In a smaller bowl whisk combine coconut oil and maple syrup. Add the coconut oil/syrup mixture to the oats and stir to combine.

Pour half of the oat crumble on the bottom of the prepared baking sheet and press down. top with the pumpkin filling, smoothing even with a spatula. Finish by sprinkling the remaining oat crumble evenly over the top. Press down lightly.

Bake for 30-35 minutes until crumb is golden brown. Remove from oven and let cool completely before slicing into 16 even pieces.
Nutrition
Calories:
218
kcal
|
Carbohydrates:
28
g
|
Protein:
3
g
|
Fat:
11
g
|
Saturated Fat:
6
g
|
Sodium:
92
mg
|
Potassium:
171
mg
|
Fiber:
3
g
|
Sugar:
15
g
|
Vitamin A:
2385
IU
|
Vitamin C:
0.7
mg
|
Calcium:
47
mg
|
Iron:
1.1
mg
If you give this recipe recipe a try, snap a photo and share it on Instagram. Make sure to tag
@mydarlingvegan
so I can see your creations!