Looking for easy work from home lunch ideas? Daiya has you covered! Doctor up Daiya's Cheezy Mac with fresh and frozen vegetables, plant-based proteins, and more for a different comfort food meal every day of the week!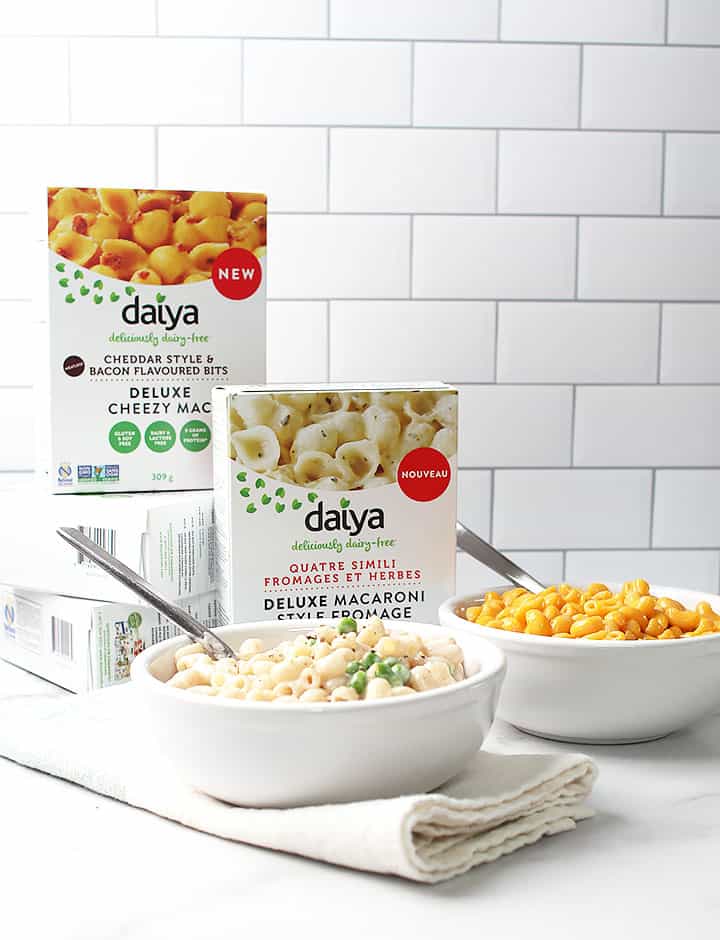 Disclosure: This post may contain affiliate links.
Hey friends! Who's been working from home the past few weeks? Are you feeling a bit overwhelmed?
I get it. While working from home isn't new to me, working from home while juggling two young children and their academic demands has become quite difficult to manage. Add the external stress of a public health crisis, and most days, I'm flat out exhausted.
What is one of the first things that happen when people get overwhelmed? Many of us stop eating nutritious and wholesome meals. Without good lunch options, we end up skipping lunch altogether or snacking throughout the day, only further exhausting our mental and physical capacity.
Over the years, I've learned that staying well-fed is one of the most important factors in keeping my focus and energy high. No matter what else I have going on, I never go a day without skipping a meal. Sometimes I have the energy to create beautiful and delicious soups or salads, but on days that I'm feeling rushed (which is most days, currently), I am so glad I have a pantry stocked with Daiya.
What is Daiya?
If you've been a plant-based eater for a while, then I'm sure you're familiar with Daiya. Daiya is a pioneer of plant-based foods that is on a mission to satisfy people with great-tasting food that is kind and sustainable to the environment.
Daiya makes some of the best plant-based alternatives on the market. In the past 5 years, the company has exploded becoming a regular household name. They have done the impossible and pushed passed the dairy-free market, past the vegan market, past the health market and become a plant-based product for everyone to love and adore.
Not only are all Daiya products delicious, but they are also 100% free from gluten and soy.
I've been a huge fan of Daiya since it first appeared on the market in 2009 with their Cheddar and Mozzarella Style Shreds. Since then, Daiya has become a leading plant-based brand with its line of delicious, better-for-you comfort foods.
---
Easy Work From Home Meals
And friends, Daiya is making my life a whole lot easier right now! While I juggle homeschooling my children and maintaining my business, I am so grateful that I don't have to also be managing from-scratch meals for breakfast, lunch, and dinner.
A few weeks ago I stocked up on a variety of Daiya's Cheezy Mac. It's the ultimate vegan comfort food and it is keeping my whole family happy and well fed.
These deluxe pasta dishes are made from a velvety vegan cheese sauce and gluten-free pasta for an amazing shelf-stable work from home lunch. They are truly satisfying in every way.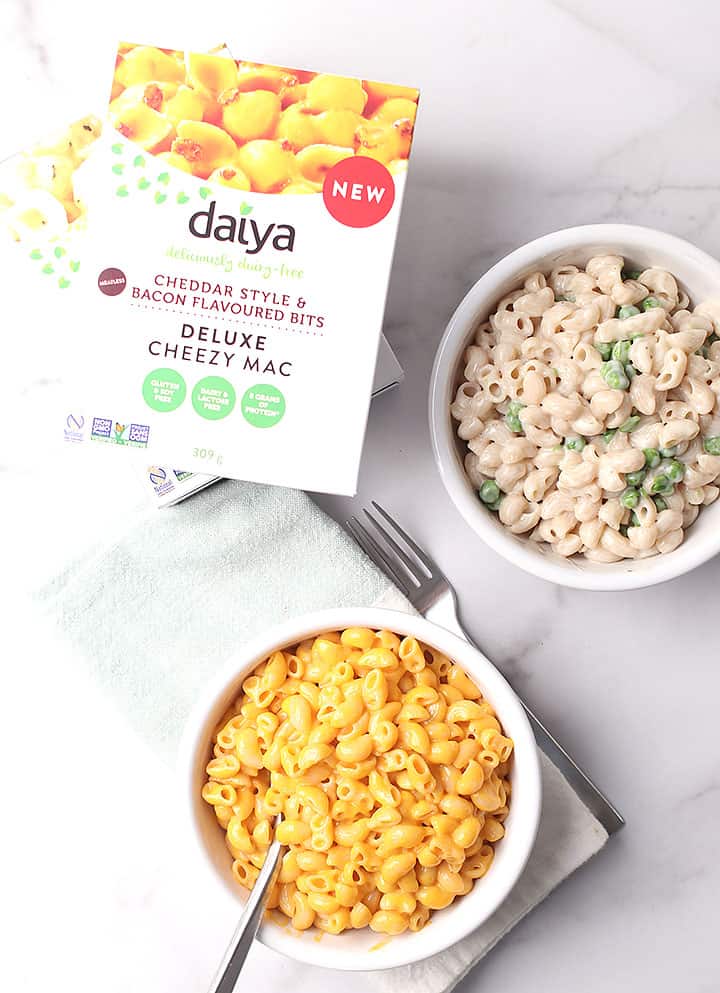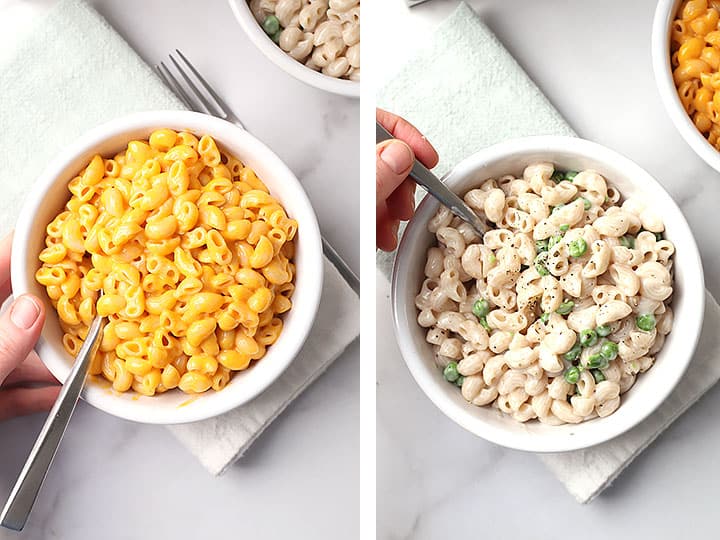 5 Ways to Level-Up your Cheezy Mac
Cheeze Mac comes in a variety of flavors: Deluxe Cheddar Style, Deluxe Alfredo Style, Deluxe White Cheddar Style Veggie, Four Cheeze Style with Herbs, and Bac'n & Cheddar Style.
While they are delicious, rich, and creamy on their own, I've been adding our favorite proteins and veggies to turn these convenient meals into veggie-packed lunches that are different every time.
Here are a few ways I've been doctoring up my Cheezy Mac:
My whole family has been enjoying these varieties of Cheezy Mac both for lunches and dinners. So good!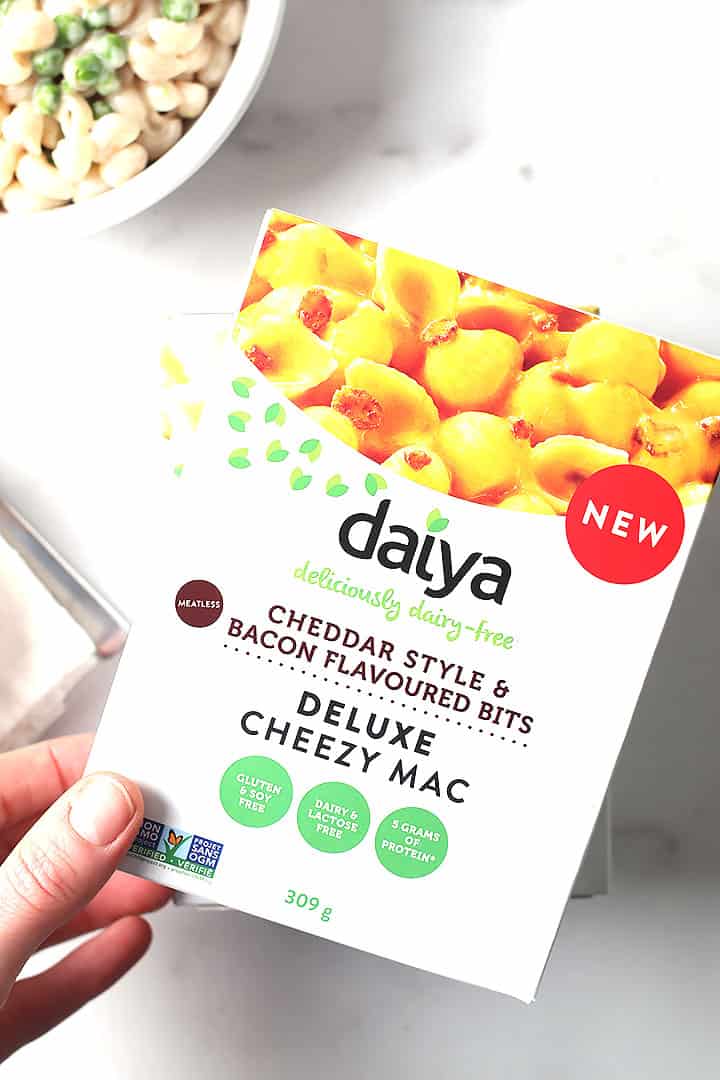 Reasons to Stock up on Daiya
There has been no better time than now to stock up on Daiya's easy and convenient Cheezy Mac. Many of Daiya's products::
Make great work from home lunches and dinners
Are shelf-stable; the perfect food to stock up on.
Kid and adult approved comfort food that is better for and the environment.
Wildly versatile. Use your frozen and fresh vegetable to create a different veggie-packed meal every time.
---
Where to buy Daiya Products
I would definitely suggest stocking up on all of Daiya's freezer-friendly and shelf-stable products. Daiya's selection of deliciously plant-based foods can be found in more than 25,000 grocery stores in the U.S., including Sprouts, Target, Kroger, Safeway, and Publix, as well as most natural food retailers.
While you are there also make sure to check out Daiya's Frozen Burritos and their new and improved Gluten-Free Pizza for more better-for-you comfort foods and easy work from home lunches.
Add these items to your next grocery shopping trip. There's never been a better time.
If you give one of these recipes recipe a try, snap a photo and share it on Instagram. Make sure to tag
@mydarlingvegan
so I can see your creations!