A simple vegan cheddar cheese with jalapeño ball covered in slivered almonds; the perfect spread for your next party. Serve with fruit and crackers.
For many there is still a lot of mystery behind what vegans eat. I have been offered fish more than once yet asked, "can vegans eat peanut butter?" just as many times. There actually isn't much secret behind what we eat, and preparing food is really quite easy – you just leave out the animals.
I'm using Vegan MoFo to take an A-Z trip through my pantry to bring you 26 easy recipes to show you that anyone can cook vegan. Eating vegan, well, it's as easy as ABC.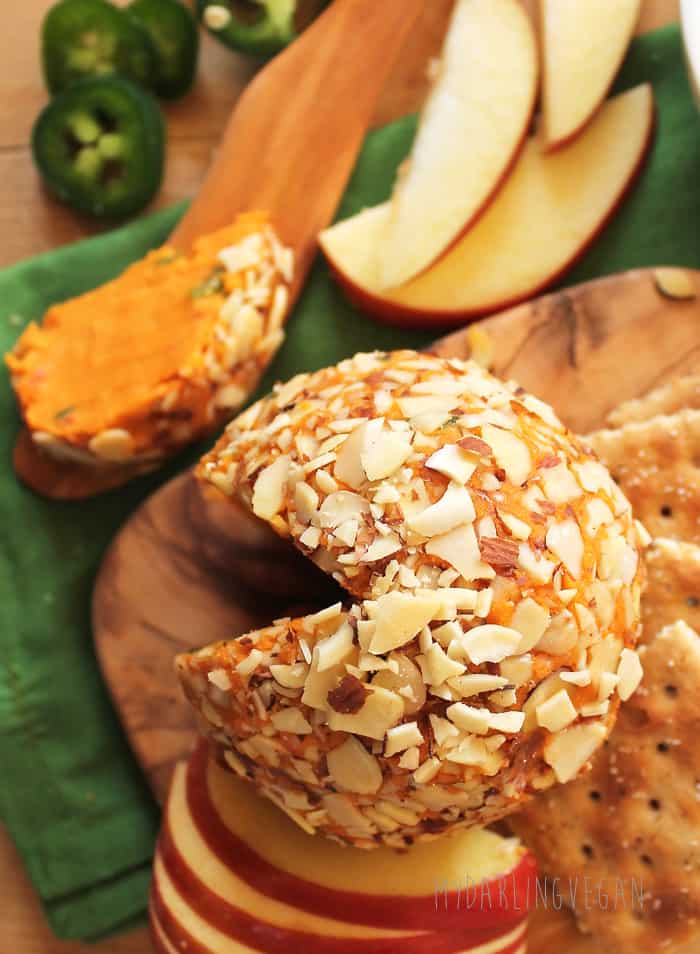 "I could never go vegan. I just couldn't give up cheese."
I feel fairly certain that most of you have either said that or heard that more than once.
This used to be my response to the rare vegan I met back in the 90s or early 2000s. I honestly believed that vegans just didn't get it. They obviously never had truly good cheese or they would understand; I felt sorry them – sorry that they were living their life abstaining from this glorious & wonderful food, and for what? To be a little more radical than their neighbor? To spark up interesting conversations at parties? Seriously, these were my thoughts.
By 2006 I was that radical, cheese-abstaining, tree-hugging, animal-loving vegan and it was me that was suddenly hearing, "I could never give up cheese."
What had changed in me?
I guess I would say that when truly convicted to live a vegan lifestyle saying goodbye to even your most favorite foods is no longer an issue of desire or deprivation. It becomes quite irrelevant in face of the much bigger issues of life, death, respect, & suffering.
And so I accepted a life without cheese.
A lot has changed in the 8 years I've been vegan.
In 2006 there were a handful of not-so-good vegan cheeses on the market and, while I'm sure many people already were, the concept of making homemade nut-based cheeses were far from (vegan) mainstream and the technique was often complicated or unattainable. Now in 2014 there is a huge array of store-bought vegan cheeses, cookbooks dedicated to it & endless recipes found throughout the blogosphere for all kinds of creative, delicious, dairy-free cheeses. I'm pretty sure that the vegan world has made sure that no one can use the excuse, "I could never give up cheese." again.
Ever since the cleanse I did a few months back, I've been unable to enjoy vegan cheddar cheese – too process-y.
Therefore I've been making more from home, which after many recipes, I've discovered does not have to be intimidating. For example, this vegan cheddar cheese with jalapeño, like my Buffalo Cheddar Cheese from earlier this year, is seriously a matter of blending, refrigerating, and eating. So easy and so satisfying.
And according to Jason, "this is some of the best cheese I have ever had."
Vegan Cheddar Cheese with Jalapeño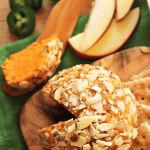 A simple vegan cheddar cheese with jalapeño ball covered in slivered almonds; the perfect spread for your next party. Serve with fruit and crackers.
Keyword:
Vegan Cheddar Cheese
Instructions
Drain and rinse the cashews.

Place them in a

food processor

along with tomatoes, nutritional yeast, tahini, vinegar, mustard, & spices and blend until smooth. With the motor running, slowly add coconut oil until completely incorporated.

By hand stir in the minced jalepenos and transfer to an airtight container. Refrigerate for at least 4 hours, until the cheese is firm enough to mold.

Shape the cheese into a ball or rectangle, coat it in crushed almonds, and serve.

Store in the refrigerator for up to 5 days.
Nutrition Facts
Vegan Cheddar Cheese with Jalapeño
Amount Per Serving
Calories 183
Calories from Fat 144
% Daily Value*
Total Fat 16g 25%
Sodium 204mg 9%
Potassium 173mg 5%
Total Carbohydrates 6g 2%
Protein 3g 6%
* Percent Daily Values are based on a 2000 calorie diet.
This post contains affiliate links.
new to my darling vegan?
sign up for email updates
and find me on facebook, twitter, & instagram