Vegan Mushroom Stroganoff
Dinner made easy with this Vegan Mushroom Stroganoff made with a combination of juicy portobellos and button mushrooms for a creamy and tart pasta.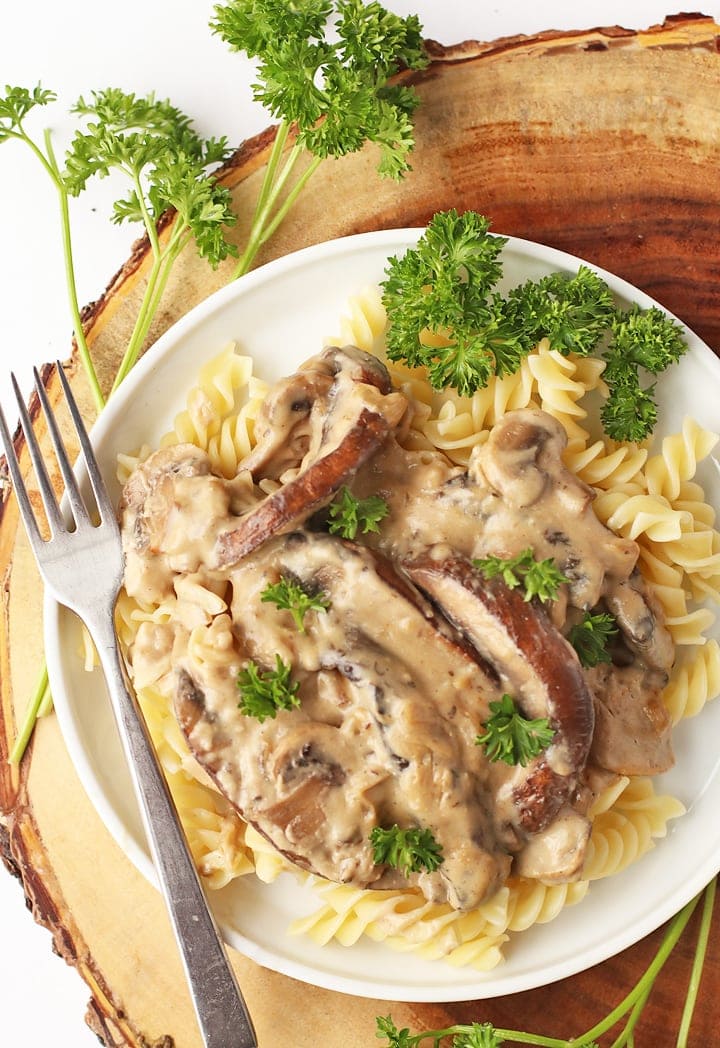 This post contains affiliate links. For more information, check out my privacy policy.
At the end of every year, I like to do a quick search on "most-Googled recipes of (said year)". By doing this, I am able to figure out what people are cooking around the country and, more importantly, what people are ready to see veganized. The dishes that turn up on these searches become some of the biggest inspirations for my blog.
After my searches, I compiled a list of about 20 recipes that were highly searched over the year. From there I get to work figuring out which ones I wanted to attempt to veganize and put back out into the world. Now that the 30 day cleanse is over, I can start sharing some of the recipes I've been working on so far in 2018.
First up, this vegan Mushroom Stroganoff.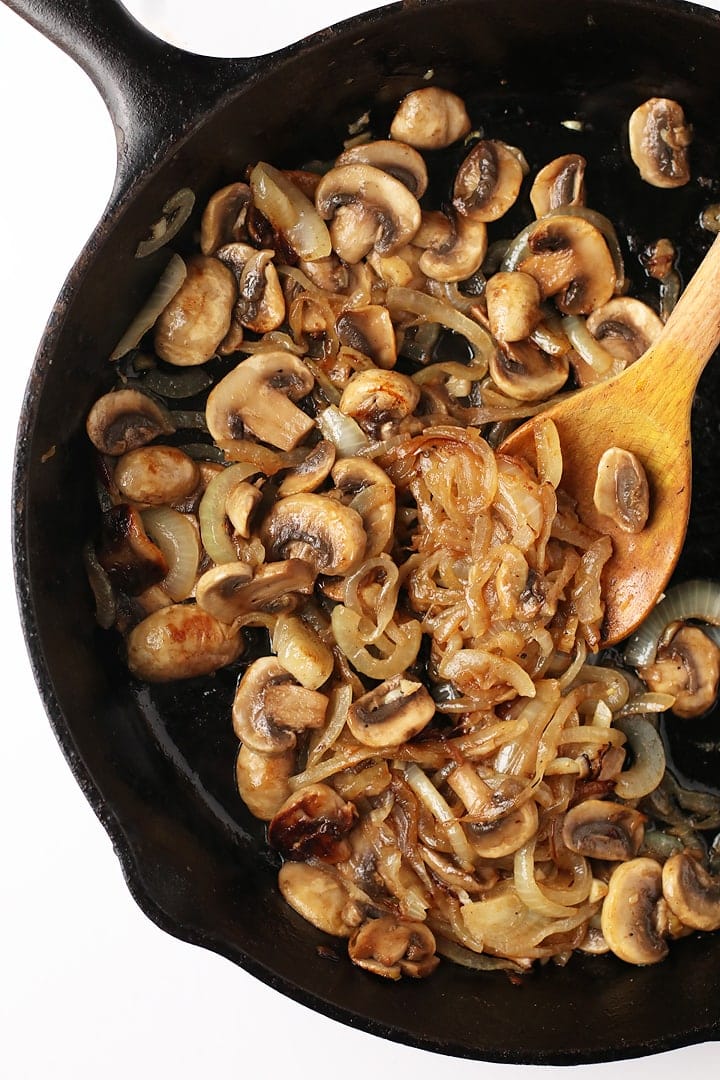 Turns out that Beef Stroganoff was one of the MOST searched recipes of 2017. This came as a bit of a surprise to me as a) I didn't realize people were still eating beef (vegan bubble – sorry, not sorry) and b) Stroganoff is not something I've ever thought to make. Clearly, my head is not where everyone else's was last year.
What is Stroganoff?
Stroganoff, for those of you who don't know, is a Russian dish traditionally centered around beef that is cooked in a sour cream based sauce and served over egg noodles. Beef. Sour Cream. Egg Noodles. As you can imagine, veganizing Beef Stroganoff took a couple of steps.
Best Meat Substitute for Vegan Stroganoff
This first step was swapping out the beef for my favorite whole food meat substitution. Portobellos.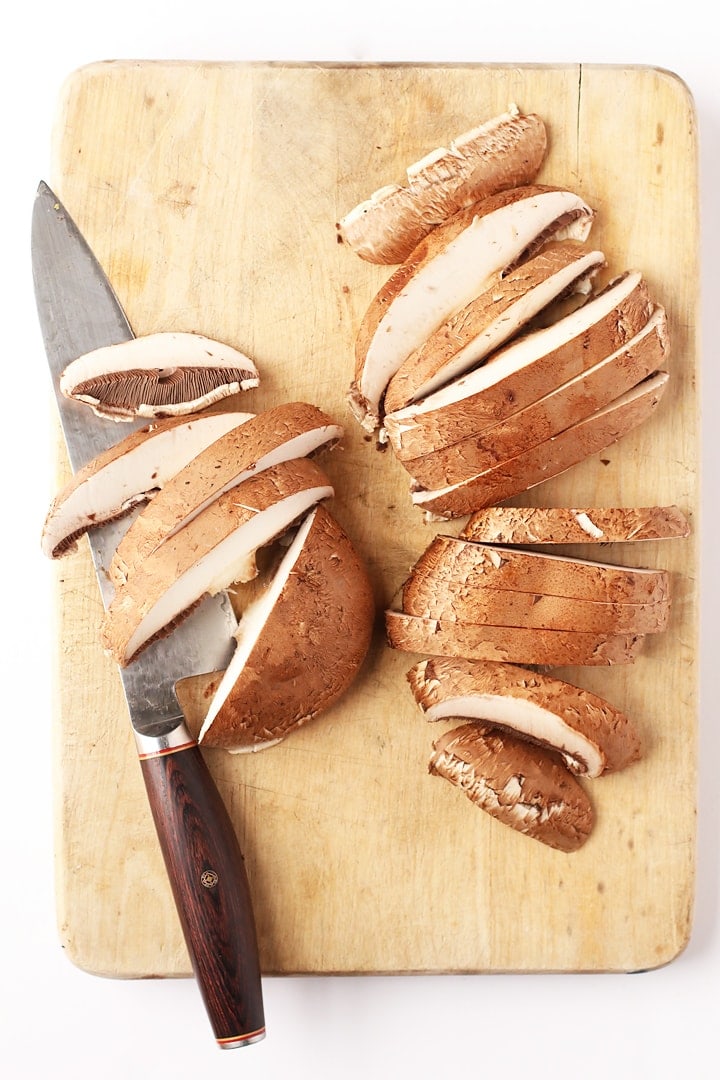 While portobellos will in no way fool anyone into believing they're eating beef, they are a meaty and juicy vegetable that takes on the flavors surrounding it and, for those reasons, a delicious replacement for my veganized Beef Stroganoff.
I mean, look at how well it works for these Portobello Philly Cheesesteaks. And you know how much I love my Portobello Steaks.
Best Dairy Substitutes for Vegan Stroganoff
The second step was the sour cream, the important ingredient that gives Stroganoff its signature creamy tanginess.
I made this recipe two different ways, once using storebought vegan sour cream and a second time using homemade cashew sour cream. My preference was the store bought both for the flavor and consistency it provided but if you don't have access to vegan sour cream, the homemade option works quite well.
Look at that creamy sauce filled with mushroom deliciousness!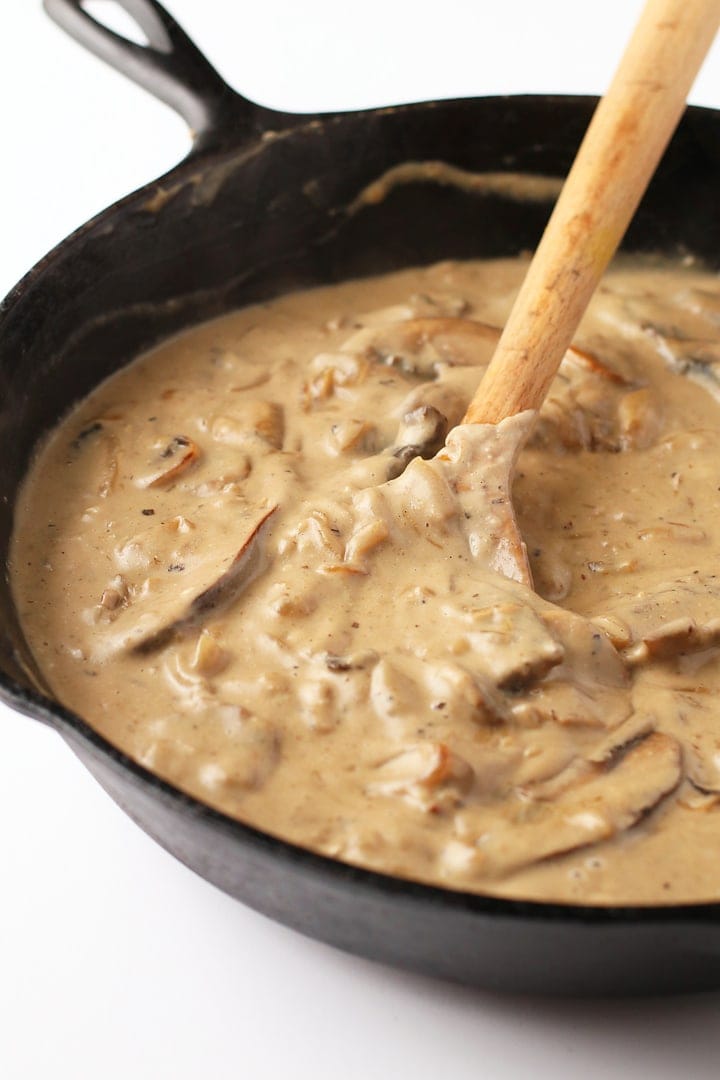 Best Noodles for Vegan Stroganoff
And last step in veganizing this dish was swapping out the egg noodles. While you can find vegan ribbon noodles, they aren't very accessible. I personally went to a couple of stores with no luck. And since I try to keep the recipe on the blog accessible to YOU, it makes no sense for me to track down a rare product. For that reason, I went with fusilli pasta which was a great alternative.
Or, if you're more skilled than I, you could try making your own ribbon pasta at home.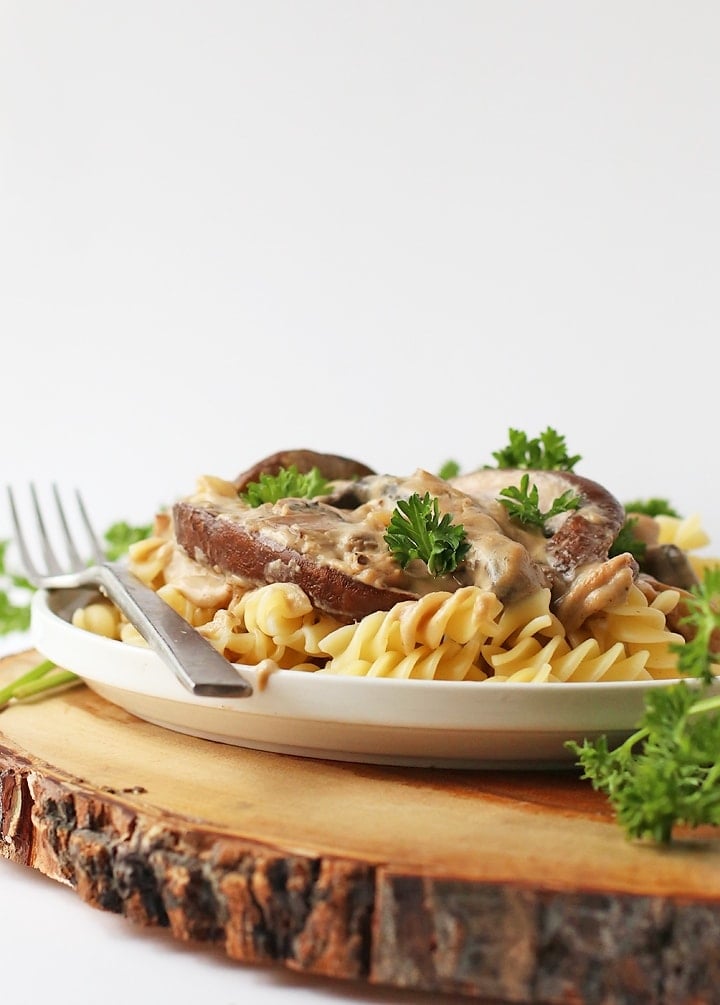 There you have it. Beef? Check. Sour Cream? Check. Egg Noodles? Check. Yep,  we've got ourselves a delicious and easy to make vegan mushroom stroganoff. So let's save some cows this year and replace some of those highly searched beef stroganoffs with portobello stroganoffs in 2018.
Serving and Storing Portobello Mushroom Stroganoff
You can enjoy this mushroom stroganoff immediately or prepare it ahead of time. If you are preparing it ahead, make only the sauce in advance. Once the sauce is cooked, you can let it cool to room temperature and then store it in an airtight container in the refrigerator for up to 2 days.
When ready to serve, gently reheat the sauce over the stove. Prepare the noodles and toss together just before serving. Leftovers can be stored in the refrigerator for an additional 3 days.
Serve with roasted potoatoes, steamed veggies, or a big salad.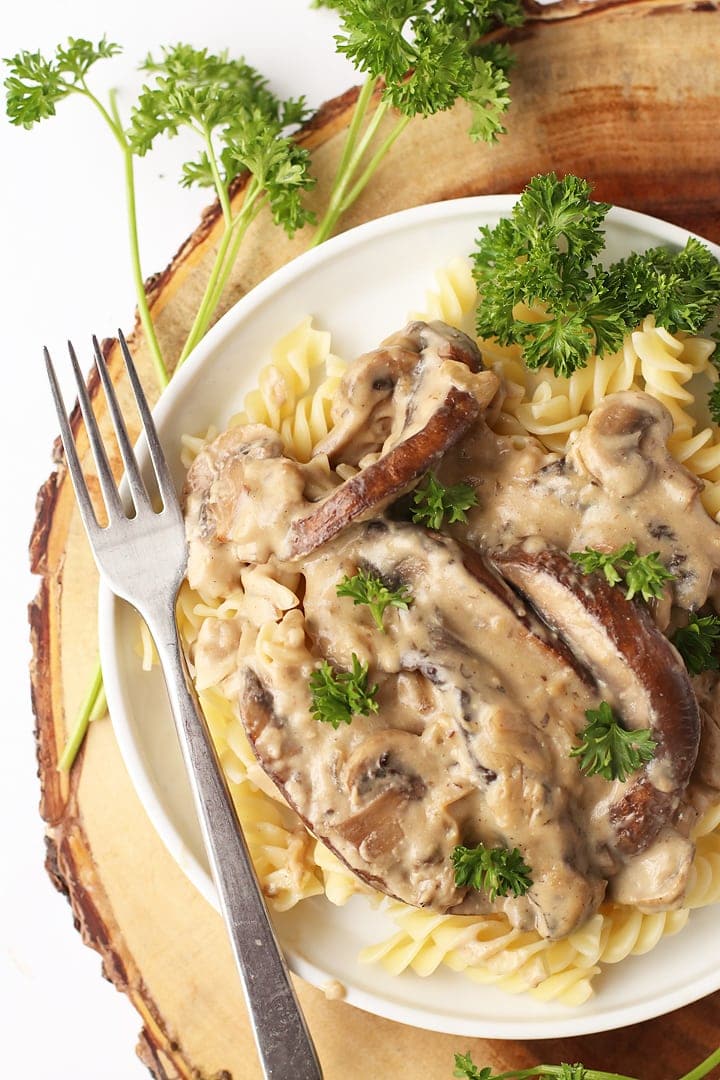 Vegan Mushroom Stroganoff
Dinner made easy with this Vegan Mushroom Stroganoff made with a combination of juicy portobellos and button mushrooms for a creamy and tart pasta.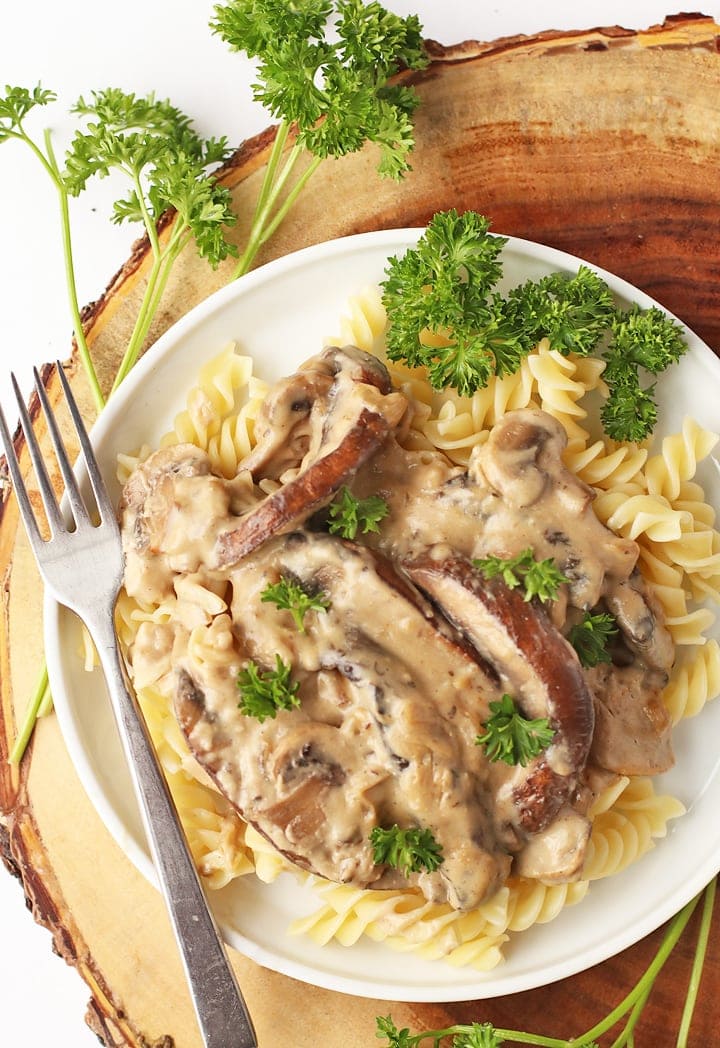 Course:
Main Course, Main Dish
Cuisine:
Russian
Keyword:
Vegan Mushroom Stroganoff
Servings
:
4
people
Calories
: 472 kcal
Author
:
Sarah McMinn
Ingredients
8

ounces vegan ribbon or fusilli pasta

2

tbsp vegan butter, I use Earth Balance

1

large white onion, thinly sliced

3

cloves garlic, minced

8

ounces button or cremini mushroom, sliced

4

large portobello mushrooms, destemmed

2

cups vegetable broth, divided

1

tbsp vegan Worcestershire sauce

1/2

tsp salt

3

tbsp all-purpose flour

1

cup

vegan sour cream, storebought or homemade

2

tbsp fresh parsley, minced
Instructions
In a large pot, bring 2 quarts of water to a boil. Add pasta and cook until pasta is al dente, about 7 minutes. Remove from heat and strain out the water with a colander. Rinse with cold water and set aside.

In a large cast iron skillet, melt the vegan butter over medium heat. Add onions, garlic, and mushrooms and sauté for about 5 minutes, stirring frequently, until juices are released and onions and mushrooms are slightly browned. Transfer to a bowl and return skillet to heat.

Cut portobello into 1/4" thick slices. Add to the prepared skillet and sauté for about 3 minutes. Mix together 1 cup of vegetable broth, vegan Worcestershire sauce, and salt. Add to portobellos. Bring to a boil then reduce heat to a simmer. Simmer for 15 minutes until portobellos have reduced about 25% in size.

In a small bowl combine the remaining 1 cup of vegetable broth with 3 tablespoons of flour. Mix until all the flour is dissolved. Add to the portobellos along with the onion/mushroom mixture and bring to a boil, stirring constantly. Boil for 2 minutes.

Stir in vegan sour cream and heat until warm. Do not boil. Remove from heat. Toss with prepared pasta and serve immediately with fresh parsley.
Nutrition Facts
Vegan Mushroom Stroganoff
Amount Per Serving
Calories 472
Calories from Fat 135
% Daily Value*
Fat 15g23%
Sodium 1139mg50%
Potassium 415mg12%
Carbohydrates 72g24%
Protein 12g24%
Vitamin A 680IU14%
Vitamin C 7.8mg9%
Calcium 32mg3%
Iron 1.7mg9%
* Percent Daily Values are based on a 2000 calorie diet.
If you give this recipe recipe a try, snap a photo and share it on Instagram. Make sure to tag
@mydarlingvegan
so I can see your creations!