This Vegan Pulled Pork Pizza is made with shredded heart of palm, homemade bbq sauce, mango salsa, and cilantro cashew creme for an unforgettable meal.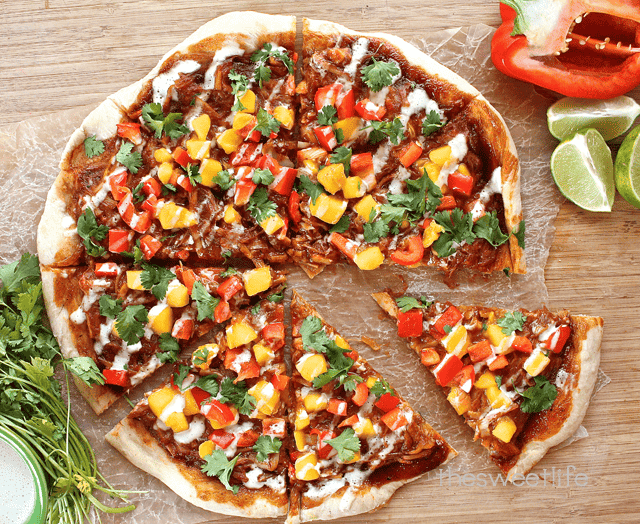 Disclosure: This post may contain affiliate links.
There's been a lot of criticism around veganism recently. In the past two weeks I have read about two influential people who have moved away from a vegan diet for health reasons. I cannot (nor do not wish to) speak for them or their decisions (and I do recognize both were made with great difficulty) but it does make me want to take a minute and talk about my veganism. (Oh, and before I forget, Somer of Vedged Out wrote a great article last week addressing some of the recent conversation, which you should all take the time read.)
When I went vegan 8 years ago it was for one reason: I had become aware of the torture and suffering that animals endure at our hands and I did not want, in any way, to be part of that. But remove all the benefits of health and the significant impact on the environment and I would still choose vegan.
My choice to live a vegan lifestyle is about liberation, primarily animal liberation. It is a movement that demands a drastic change in the way we have come to look at fellow earthlings. It is also about self liberation. To be freed from the violence that is connected to food is an incredibly freeing way to live. And then I believe, as an extension of the freedom that comes a vegan lifestyle, the food on our plates should tell a tale of liberation as well.
Since going vegan, my diet has become far more eclectic and creative than it ever had been. I have learned about all kinds of amazing and versatile foods that grow from the earth and I can say with complete honesty that I never feel limitation with my food choices. I choose the whole spectrum. Sure I like salad as much as the next vegan, but some days all I want is a Daiya frozen pizza or a Buffalo Bomber from Veggie Grill and including that into my diet (and any vegan diet) is an important part of my food philosophy.
I write about this now, while sharing this recipe, because I had to think about this recently. Jason and I used to be once-a-week pizza eaters. It was our go-to meal and I'm pretty sure we've made a pizza for every single one of our friends. But ever since my abbiezoebrill@gmail.com I've had avoided all things bread. Very slowly after the cleanse I starting adding things back into my diet - coffee, sugar, soy - but for some reason the taste for gluten/grain/wheat was not there.
Then last week I figured it out. I had been connecting guilt to my eating habits. After feeling so good from my cleanse, I was resisting (without success) all those foods which I had identified as "bad" foods. Every day I would wake up and commit to a whole foods/grain free day and every day around lunch time I would "screw up". And for some reason bread was my ultimate barrier between "good" eating and "bad" eating. Without knowing it, I had begun developing my own unhealthy eating habits, restricting myself from certain foods, and totally changing the food philosophy I had lived by for 8 years.
So what did I do about it? I made pizza, of course! Not any pizza, either. Vegan Pulled Pork Pizza.
I'm sure I will have to unravel these feelings that developed post-cleanse a bit more, but until there is the space for that I will fight back that desire to restrict with opening up my plate to all the foods I love once again, hopefully with the moderation I sought when I begun the cleanse.
The vegan pulled pork was inspired by this AMAZING creating by Fork & Beans.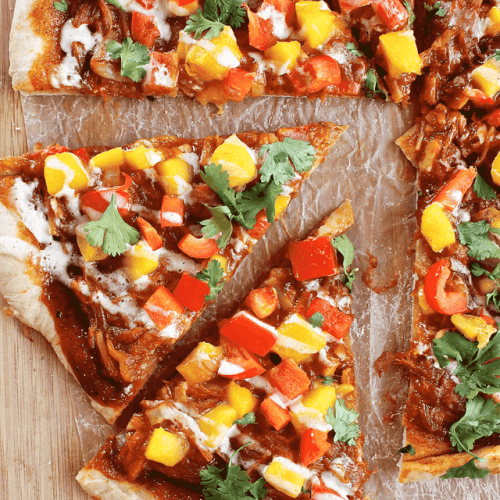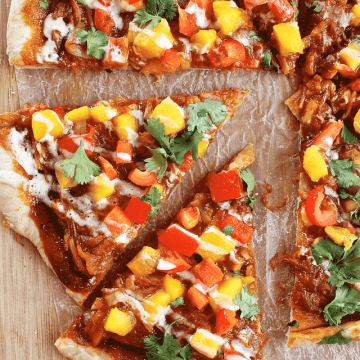 Vegan Pulled Pork Pizza with Mango Salsa
This Vegan Pulled Pork Pizza is made with shredded heart of palm, homemade bbq sauce, mango salsa, and cilantro cashew creme for an unforgettable meal.
Print
Pin
Rate
Ingredients
Mango Salsa
1

medium mango,

diced

½

red bell pepper,

diced

½

jalapeño pepper,

minced

1

teaspoon

lime juice

pinch

of salt
Cilantro Cashew Cream
½

cup

cashews,

soaked for 30 minutes

½

cup

warm water

2

tablespoon

fresh lemon juice

1

teaspoon

apple cider vinegar

½

teaspoon

salt

2

tablespoon

fresh cilantro
Instructions
To make the BBQ "Pulled Pork", with your fingers shred the hearts of palm, making the pieces as thin as possible. Place in small bowl and mix in ½ cup BBQ sauce. Let marinade for at least 1 hour.

When ready, heat the oil over medium heat in a

cast iron skillet

. Add onions sauté until caramelized - 10 - 12 minutes. Add onions to the shredded heart of palm and set aside.

To make the Mango Salsa, combine the ingredients in a small bowl. Transfer to the refrigerate for at least 30 minutes.

To make the Cilantro Cashew Cream, drain and rinse the cashews. Place them in a high-speed blender or food processor with the remaining ingredients and process until completely smooth. Transfer to an airtight container and refrigerate until ready to use.

Preheat the oven to 425F. If you are using a raw pizza crust, bake for 8-10 minutes first. Remove from oven and spread the remaining ¼ cup BBQ sauce evenly across the crust. Top with BBQ "pulled pork" and mango salsa and return to oven for another 5 minutes, until crust is golden brown. Remove from oven, drizzle with cashew cream and fresh cilantro leaves.

Enjoy!
Nutrition
Calories:
248
kcal
|
Carbohydrates:
35
g
|
Protein:
4
g
|
Fat:
11
g
|
Saturated Fat:
1
g
|
Sodium:
845
mg
|
Potassium:
351
mg
|
Fiber:
2
g
|
Sugar:
25
g
|
Vitamin A:
1045
IU
|
Vitamin C:
35.7
mg
|
Calcium:
31
mg
|
Iron:
1.5
mg
This post contains affiliate links.
If you give this recipe recipe a try, snap a photo and share it on Instagram. Make sure to tag
@mydarlingvegan
so I can see your creations!