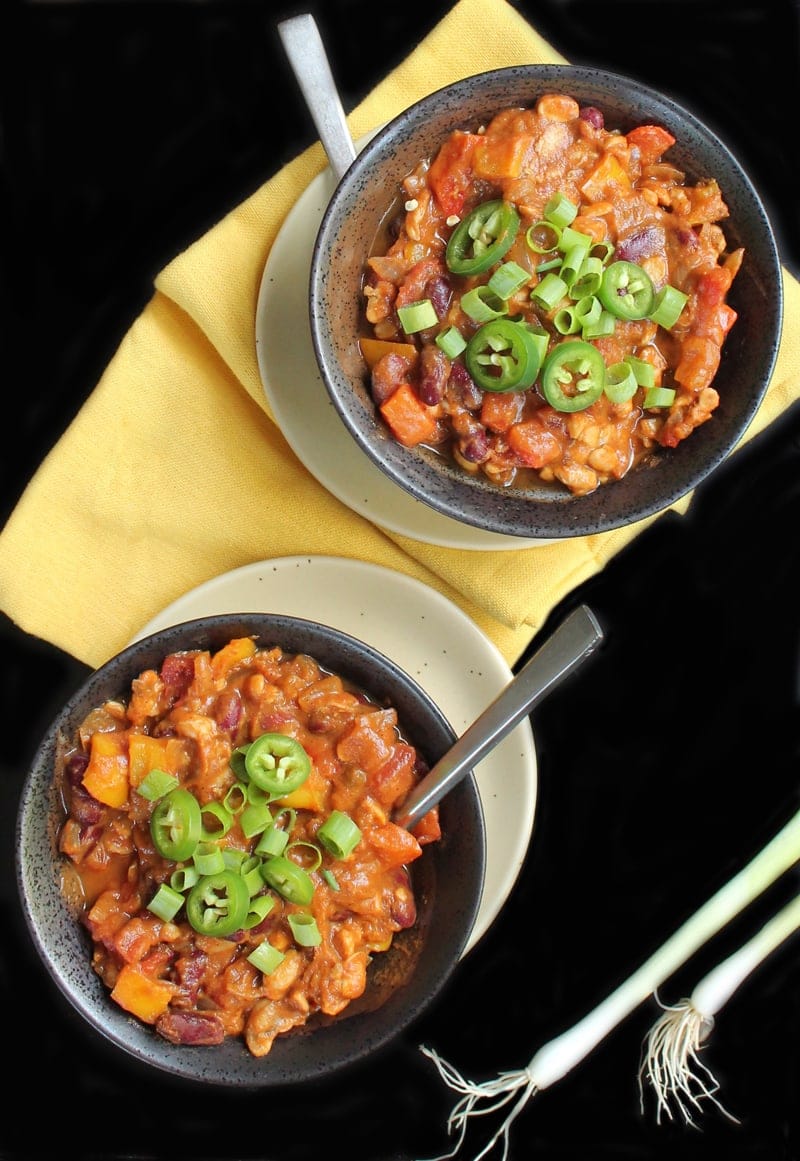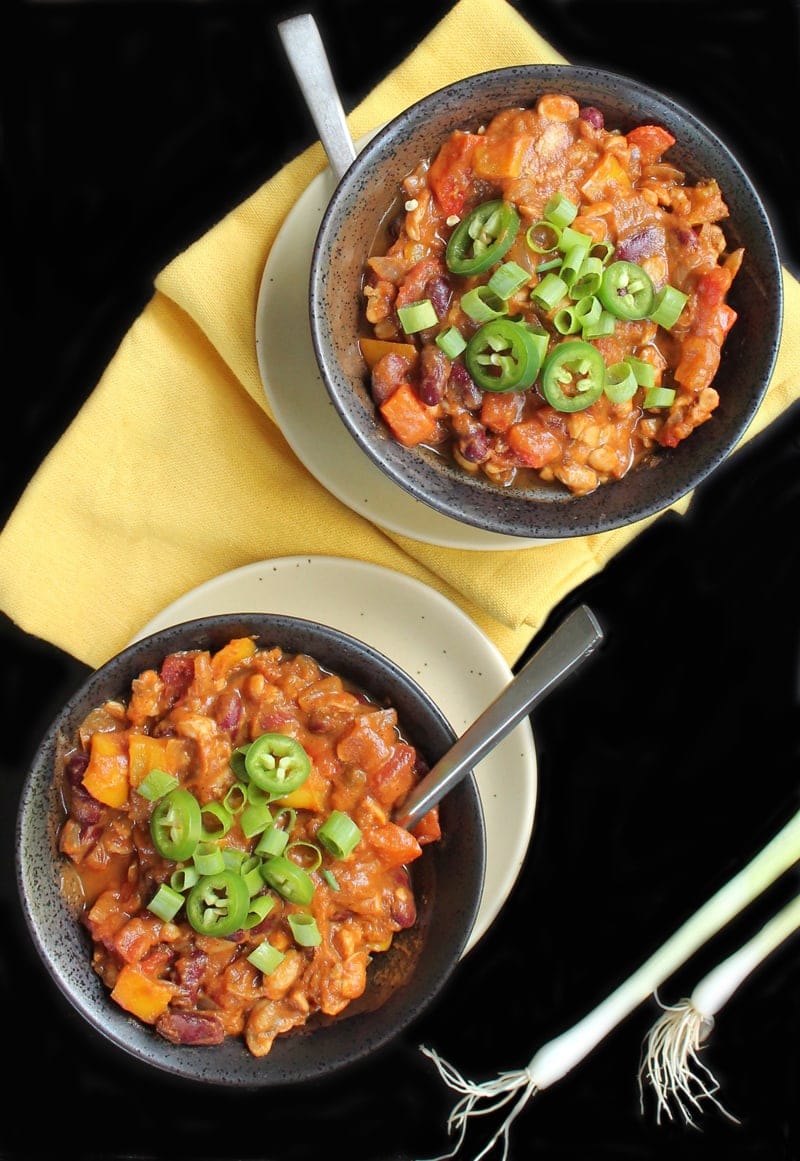 I'm not sure anything says fall like a warm bowl of chili. Even more so, this Vegan Pumpkin and Smoky Tempeh Chili. This is the kind of soup that's gonna make you wanna curl up by a fire with a crossword and a cup of tea, and leisurely watch the brisk October afternoon pass by. How do I know that? Because that's exactly what I did over the weekend.
And it was perfect.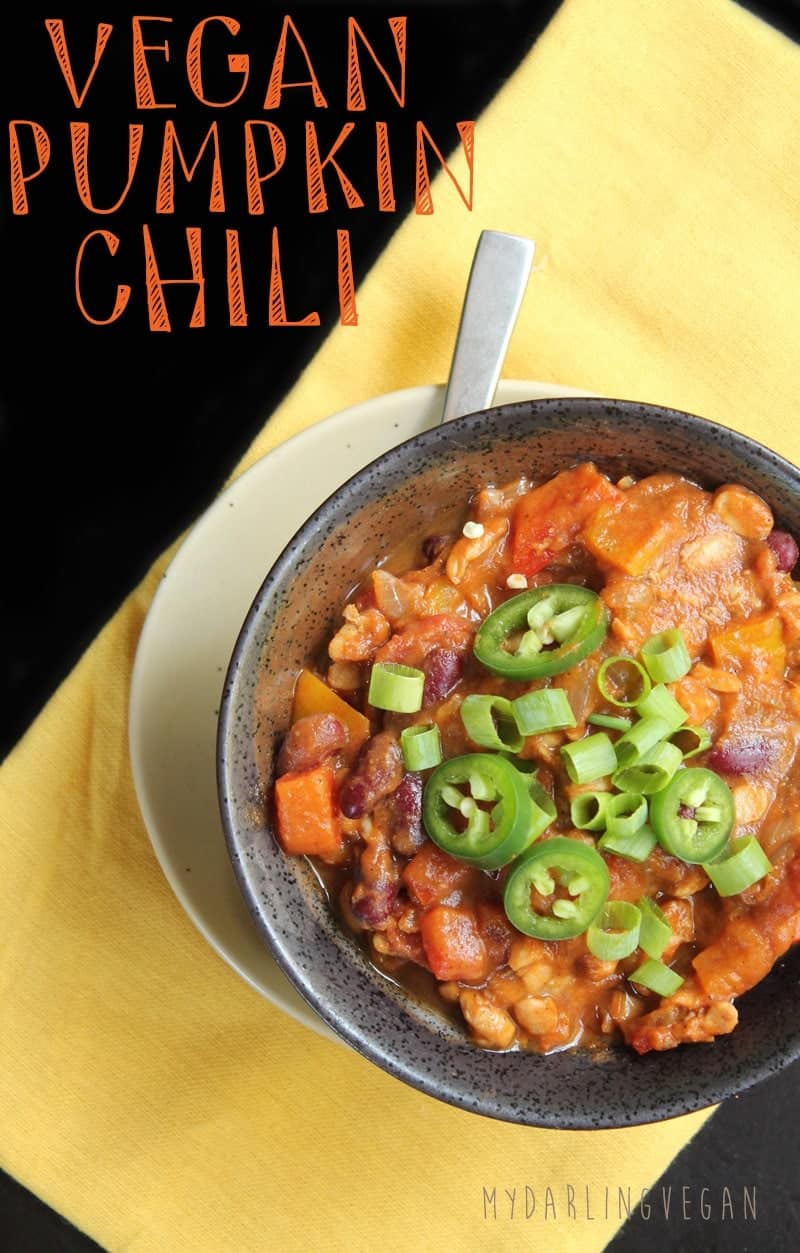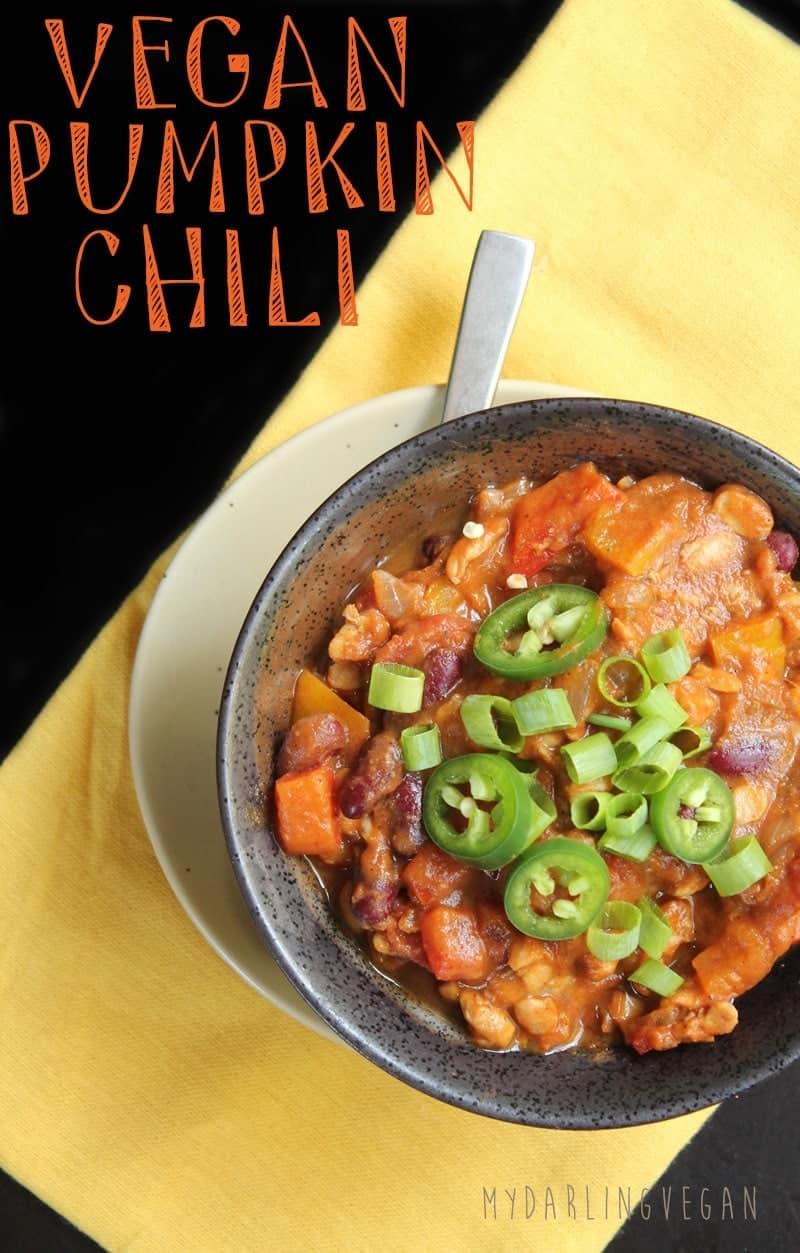 The first from-scratch meal I ever made was chili.
I did a little cooking when I lived with my parents but that usually involved boiling some pasta and opening up a jar of marinara sauce. In college, I worked at the school's dining hall which allowed me to eat for free. It wasn't until 2003 when I was studying off campus in a remote, nearly off-the-grid, little town in southern Oregon that I had to really learn how to cook.
Fortunately I had friends with me that were more experienced than I in the kitchen and it was with them on a chilly afternoon in October that I cooked my first from-scratch meal: yes, you guessed it (well, actually I told you), chili.
Eating that meal was so satisfying and delicious. I was eager to learn more. Over the course of the next several months I began to experiment in the kitchen. I made my first homemade granola, I saw my first ginger root, mixed my own curry powder, and eventually created my own recipes. Once I started cooking, I never stopped. It was a love I didn't even know I had until that October afternoon in southern Oregon.
So, in a way, chili was the stepping stones that brought me here, to this blog.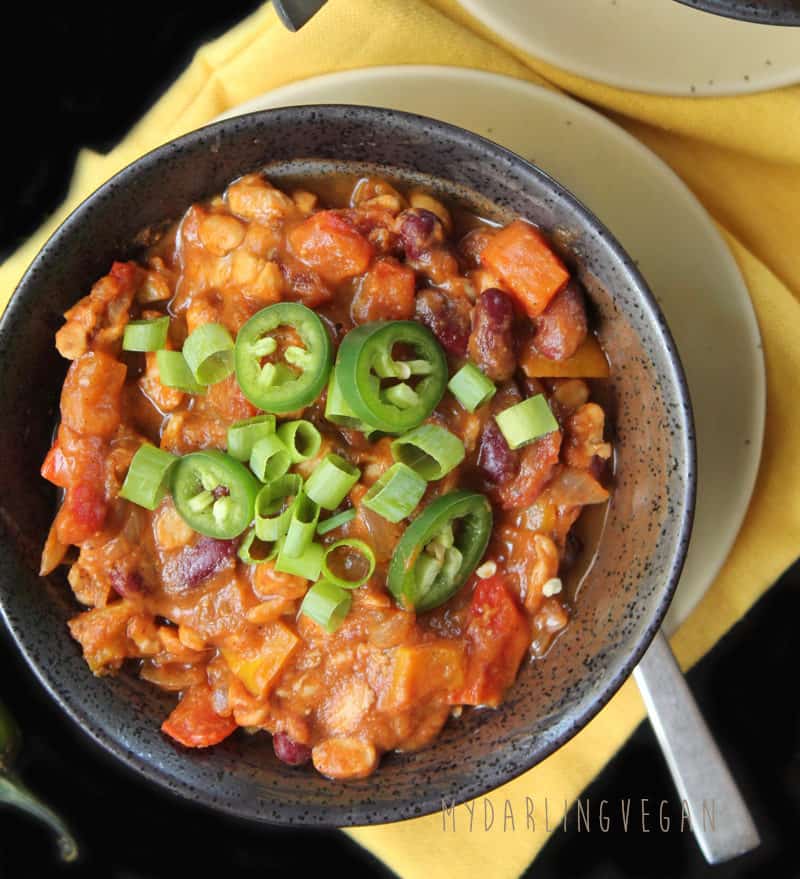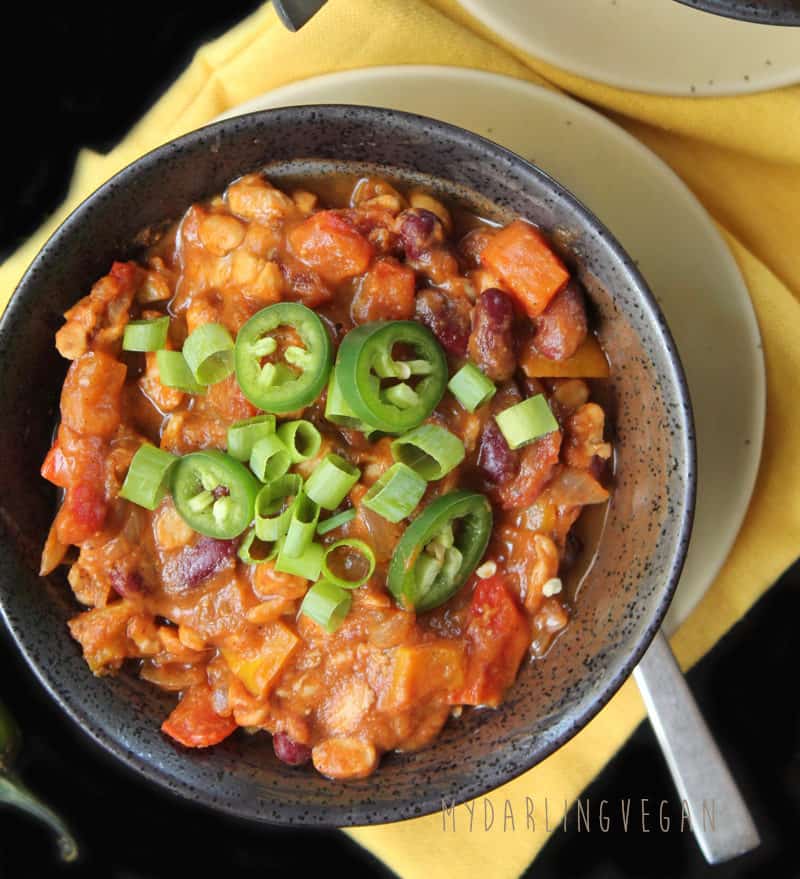 Over the years I have made many chili recipes; it's one of my favorite dishes to experiment with. Thirteen years of making chili and I think it's safe to say that this Pumpkin and Smoky Tempeh Chili is my favorite. It's got everything the perfect chili needs:
robust protein-rich flavor of the crumbled tempeh
complex combination of of sweet, smokey, hot, and bitter
creamy texture from the pumpkin puree and kidney beans
fresh and crunchy garnishes for contrast
It's super simple to make and can be heating up your kitchen within minutes. You ready to get started?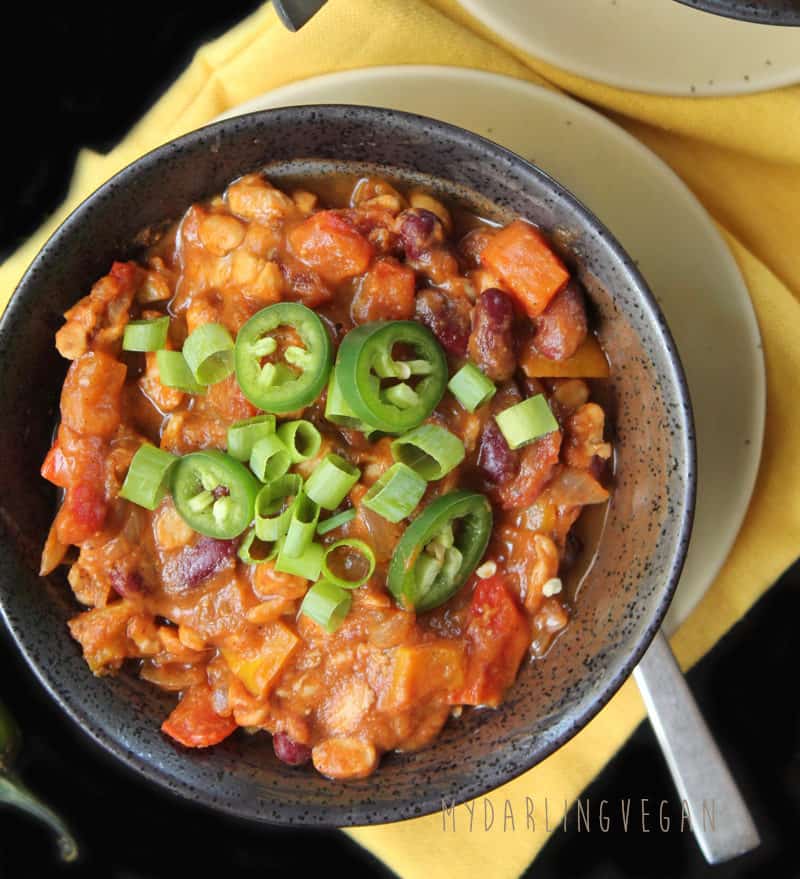 Smoky Tempeh and Pumpkin Chili
2016-10-02 01:53:39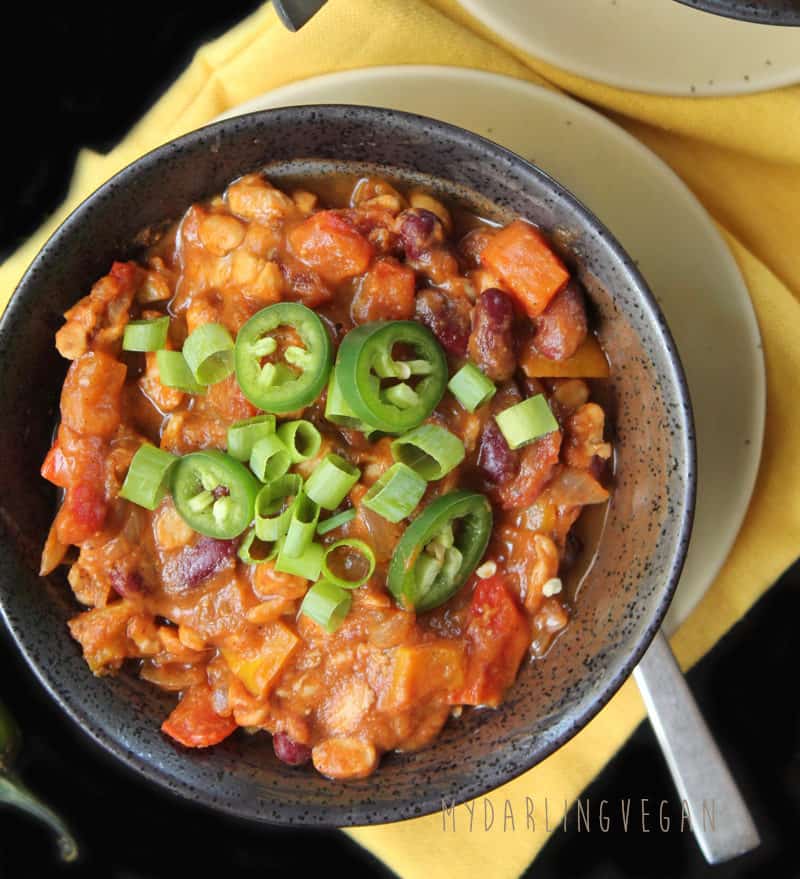 Ingredients
Chili
2 tablespoons coconut oil
1 yellow onion, diced
2-3 cloves garlic, minced
1 red bell pepper, diced
1 yellow bell pepper, diced
1 jalapeno, minced
8 ounces of tempeh, crumbled
1 tablespoon + 1 teaspoon chili powder
1 teaspoon ground cumin
1/2 teaspoon paprika
1 (14.5-ounce) can diced tomatoes, with liquid
1 (15-ounce) can pumpkin purée
1 cup veggie broth
1 can kidney beans
1 teaspoon liquid smoke
1 teaspoon salt, to taste
Toppings (optional)
green onion, diced
jalapeno, sliced
avocado, cubed
cilantro, chopped
Instructions
In a large pot melt coconut oil over medium heat. Add onions and garlic and cook, stirring occasionally, until onions are translucent, about 5 minutes.
Add peppers, jalapeno, and tempeh and cook until tempeh is browned, 5-7 more minutes.
Stir in the remaining ingredients. Reduce heat to a low simmer and cover. Cook chili for 20 more minutes, stirring occasionally.
Removed from heat and serve. Top with green onions, jalapeno, and avocado, if you'd like.
My Darling Vegan https://www.mydarlingvegan.com/
Check out my soup archives for even more delicious vegan soup recipes.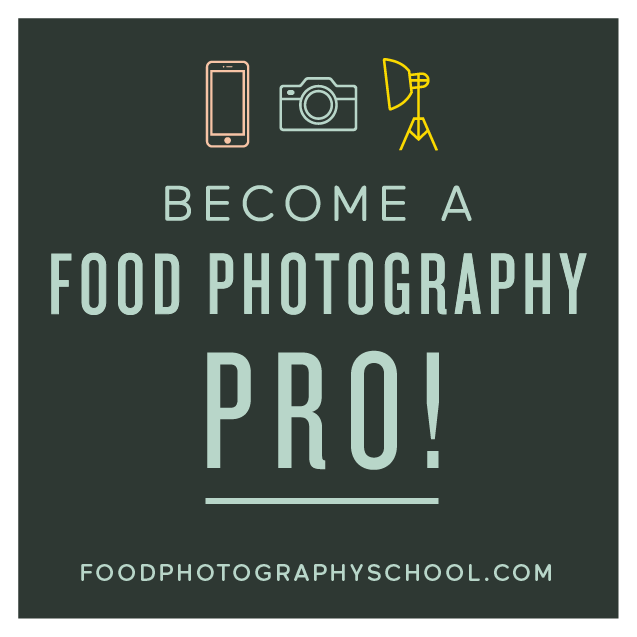 Sign up for
My Darling Vegan Newsletter
get a FREE copy of my Clean Eating Vegan ebook
Advertise Here