Vegan Maple Bacon Doughnuts
These vegan Maple Bacon Doughnuts are lightly baked and finished with a sweet maple glaze and crispy coconut bacon for a delicious morning pastry.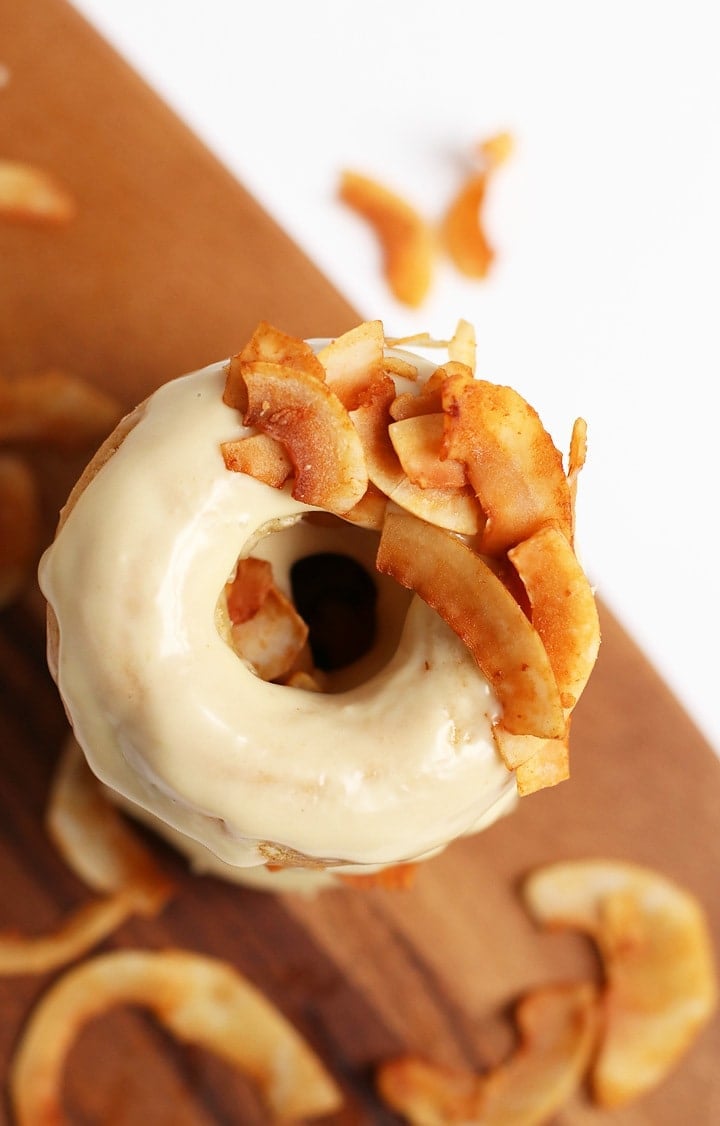 Course:
Breakfast, bread
Cuisine:
Vegan
Servings
:
12
Calories
: 225 kcal
Author
:
Sarah McMinn
Preheat the oven to 325.

In a small bowl combine soy sauce, maple syrup, liquid smoke, and salt. Place coconut chips in a larger bowl and toss with maple syrup/soy sauce mixture. Lay in a single layer on a baking sheet and bake for 15-20 minutes, stirring occasionally. Keep a close eye on the coconut to prevent burning. Remove from oven and set aside to let cool while making the doughnuts.

Turn oven up to 350 degrees. F. Spray two doughnut pans and set aside.

In a small bowl whisk together soy milk and apple cider vinegar. Set aside to allow milk to curdle.

In a large bowl combine flour, baking powder, baking soda, cinnamon, and salt.

Add brown and white sugar, sour cream, oil, and vanilla to soy milk mixture. Whisk together. Slowly pour wet ingredients into the dry. Mix together until a uniform batter has formed.

With a piping bag, pipe the batter into prepared doughnut pans so they are about 2/3rd full, each. Bake for 12-15 minutes. Remove from oven and let cool for 10 minutes before flipping out onto cooling racks to let doughnuts completely cool.

While doughnuts are cooling, mix together the ingredients for the glaze. Add maple syrup slowly until the glaze is pourable but still thick. Dip doughnuts into glaze and top immediately with coconut bacon.
Serving and Storing – Serve donuts immediately as a morning pastry or afternoon snack. Serve with a homemade Chai Latte. Store leftover donuts in an airtight container at room temperature for up to 4 days. They can also be frozen for up to 2 months. When ready to eat, pull them out of the freezer and let them thaw at room temperature for 2-3 hours.
Recipe Tips
Generously spray the donut pan before piping in the batter to ensure the donuts do not stick to the pan.
Take care not to overmix the batter. Overmixed batter becomes tough and gummy.
For cleanest results, pipe in the batter with a piping bag.
Frequently Asked Questions
Can I omit the oil? Sure. If you would like to make any of these recipes oil-free, simply swap out the oil for applesauce at a 1:1 ratio.
Can I make this recipe gluten-free? For sure! For gluten-free doughnuts, I recommend using a 1:1 baking blend.
Variations – If you don't have a donut pan, you can turn these into mini muffins. Bake them for about the same amount of time before checking for doneness.
Calories Per Serving:
225
% Daily Value