Vegan Tikka Masala with Soy Curls
Amazing Vegan Tikka Masala! It's an Indian-spiced masala sauce stewed with marinated soy curls and served over cilantro rice for a delicious vegan and gluten-free meal. Serve it with homemade naan and salad.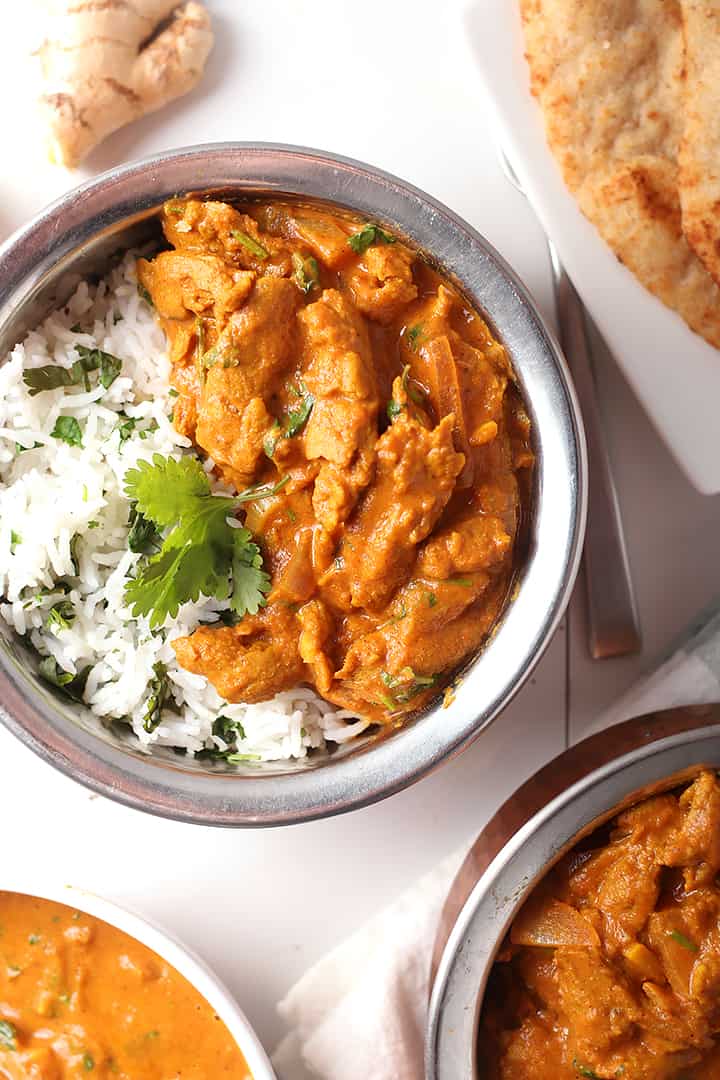 Course:
Main Course
Cuisine:
Indian
Servings
:
4
people
Calories
: 487 kcal
Author
:
Sarah McMinn
Masala Sauce
1

tbsp. cooking oil

1

medium yellow onion, thinly sliced

3

cloves garlic, minced

1

tbsp fresh ginger, peeled and minced

1

tsp. Garam Masala

1

tsp. ground cumin

1

tsp. turmeric powder

1

tsp. coriander

1

(14oz) can tomato sauce

1/2

cup water

1

cup

cashew cream
salt, to taste

4

tbsp. fresh cilantro, minced
Cashew Cream
1

cup

raw cashews

3/4

cup water

1

tbsp. fresh lemon juice

1/2

tsp. salt
Everything Else
1

cup (uncooked) Jasmine rice,

1

tbsp. fresh cilantro, minced
Begin by making the cashew cream. In a high-powered blender, such as a Vitamix, combine all the ingredients for the cashew cream, placing the water at the bottom. Blend on high until completely smooth. Set aside. 

Combine the ingredients for the Masala Soy Curls except for the cooking oil- you will use that to sauté the soy curls later. Marinate the soy curls for 10 minutes.

Meanwhile, make rice. Bring 2 cups of water to boil. Add rice, cover, and reduce heat to a simmer. Simmer for 20 minutes until all the water has evaporated and the rice is fully cooked. When the rice is done, stir in 1 tablespoon minced cilantro and set aside.

Add two tablespoons of cooking oil to a large soup pot over medium heat. Strain the soy curls, reserving the marinade, and add them to the pot to sauté. Sauté for about 5 minutes until they begin to brown on all sides. Add the marinade and bring to a heavy simmer. Simmer until all the marinade has evaporated. Transfer the soy curls to a plate and return the pot to the stovetop.

Add the remaining 1 tablespoon of cooking oil to the pot. Sauté the onions for 4-5 minutes, until they are translucent. Add the garlic and ginger and sauté for an additional 60 seconds. Once fragrant, add the spices, tomato sauce, and water, stirring to combine. Return the soy curls to the pot along with the tomato sauce and simmer for 5 minutes, until everything is cooked all the way through. Stir in the cashew cream and cilantro and remove from heat.

Serve over cilantro rice with fresh naan.
Serving and Storing - Serve this dish immediately over rice, quinoa, or for a low-carb option, serve over cauliflower rice. Store leftover curry in an airtight container in the refrigerator for up to 3 days. To eat leftovers, gently reheat the stir fry over the stove or in the microwave.
Frequently Asked Questions
Do I have to use soy curls? No. You can also use cauliflower as a chicken substitute for this recipe. If you are doing that, I recommend using this recipe.
Can this recipe be made without cashew cream? I do love cashew cream for this curry but if you don't have a Vitamix or access to raw cashews, the creaminess of this recipe can be substituted with full-fat coconut milk.
Variations - if you don't have a Vitamix or access to raw cashews, the creaminess of this curry can be substituted with full-fat coconut milk.
Calories Per Serving:
487
% Daily Value