How to Roast Vegetables
Learn how to make roasted vegetables perfect every time! A simple step-by-step guide with ideal baking temperatures, how to slice any vegetable, the best oils for roasting, and how to season your veggies.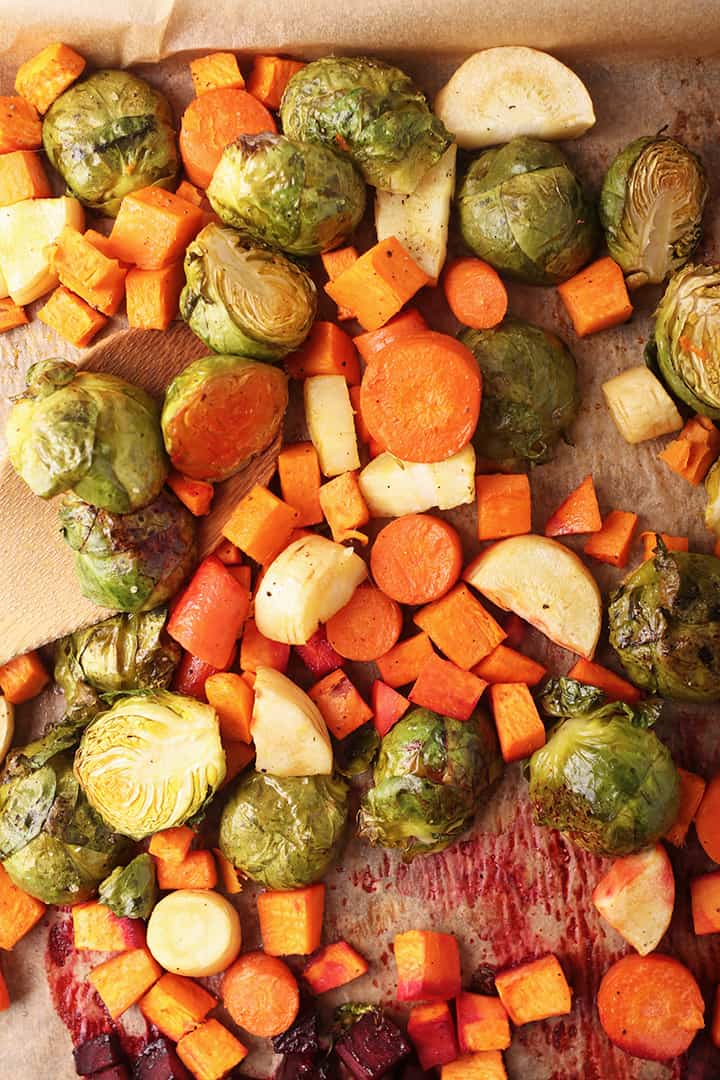 Course:
Side Dish
Cuisine:
Vegan, Gluten-Free
Servings
:
6
people
Calories
: 157 kcal
Author
:
Sarah McMinn
Ingredients
2

lb

assorted vegetables,

2

tbsp. olive oil

1/2

tsp. salt
freshly ground pepper, to taste
Preheat the oven to 425F. Line two baking sheets with parchment paper and set aside.

Peel and chop the vegetables. Cut the vegetables into uniform pieces so they cook evenly. Smaller pieces will cook more quickly; larger pieces will take a bit longer to cook. Vegetables like potatoes and beets, which take longer to roast, should be cut slightly smaller than other vegetables if they are being roasted together. I typically cut my root vegetables into 1/2" cubes.

Transfer the vegetables to a large bowl and toss with olive oil, salt, and pepper. The best way to ensure uniformity is to toss the vegetables by hand. Once they are coated, spread them onto a single layer of both baking sheets.

Bake for about 30 minutes, depending on the vegetables you are roasting. Softer vegetables will take closer to 20 minutes whereas some root vegetables might take as long as 40. Bake, checking every 10 minutes until they are slightly blackened and cooked all the way through. They should be easily pierced with a knife.

Remove from heat, transfer to a serving platter. Taste and adjust seasoning and serve.
Serving and Storing - Serve these vegetables alongside a portobello steak, over pasta or a big salad, or simply on there own. Vegetables should be served warm and season with additional salt and pepper to taste. Store leftover vegetables in an airtight container in the refrigerator for up to 2 days. Gently reheat them in the oven or on the stovetop with a bit of olive oil. This will help them crisp up again.
Recipe Tips
Be generous with your oil. You want to make sure the vegetables are evenly and thoroughly coated.
Cut root vegetables roughly into a uniform size. If you are mixing your vegetables, it's a good idea to cut softer vegetables (like Brussels sprouts) larger than root vegetables.
Make sure your oven is preheated to 425F before adding the vegetables. This will help the edges becomes caramelized and crispy.
Season with salt and pepper and/or fresh herbs and spices.
Calories Per Serving:
157
% Daily Value