Eggplant Meatballs with Zucchini Noodles
You're going to love these wholesome and flavor-packed vegan eggplant meatballs baked to perfection and served with homemade marinara and zucchini noodles. It's a delicious and low-carb vegan meal the whole family will love.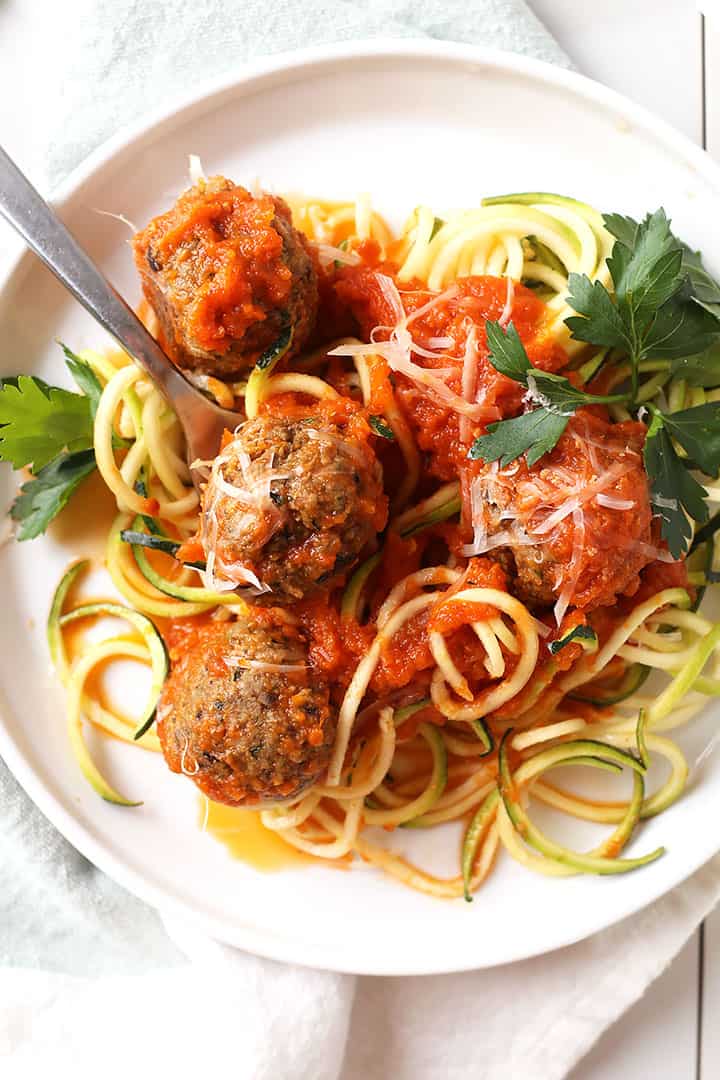 Course:
Appetizer, Main Course
Cuisine:
Vegan
Servings
:
20
meatballs
Calories
: 61 kcal
Author
:
Sarah McMinn
Eggplant Meatballs
1

large eggplant

1

tbsp olive oil

1 1/2

cup bread crumbs

3

cloves garlic,

1/4

cup

fresh flat-leaf parsley

2

tbsp fresh basil

1/4

cup

vegan parmesan

1 1/2

tbsp Italian Seasoning

1/2

tsp salt
pepper, to taste
Preheat the oven to 375F. Line a baking sheet with parchment paper and set aside.

Chop the eggplant into 1" pieces. Heat olive oil over medium heat and add eggplant along with 1/4 cups water. Sauté for 10 minutes until eggplant is slightly brown and tender.

Transfer it to a food processor along with all the other ingredients for your eggplant meatballs. Process until you have a uniform batter. Be careful not to overprocess or the meatballs will become gummy. Some texture is desirable. Taste and adjust seasonings.

Roll the meatball mixture into balls 2 heaping tablespoons in size and place on the prepared parchment paper. Bake for 20-25 minutes, until meatballs are browned and crispy on the outside. 

When the meatballs are done, add them to a saucepot with marinara sauce until the marinara sauce is heated all the way through. Toss with zucchini noodles and serve with fresh parsley and vegan parmesan.
Serving and Storing - Store leftover meatballs in the refrigerator for up to 3 days or the freezer for up to 2 months. When ready to eat, these meatballs can be cooked in marinara sauce directly from the freezer.
Variations - Don't like eggplant? Try out these Tempeh Meatballs instead! 
Recipe Tips
Thoroughly sauté your eggplant to bring out the rich flavors.
Do not over-mix your eggplant mixture or you'll end up with a gummy paste.
Adjust the spices/herbs as you desire. The flavors in this recipe are highly flexible.
Uses - Serve meatballs with pasta with a homemade marinara sauce for a classic spaghetti and meatballs dish, stuff them in a baguette for a delicious meatball sub, or serve them as an appetizer at your next holiday party.