Vegan Pumpkin Gnocchi with Garlic Sage Sauce
A deliciously autumnal meal, this vegan pumpkin gnocchi is unbelievable! Pillowy pumpkin pasta covered in rich and creamy sage garlic sauce for the perfect cozy meal. Vegan and soy-free!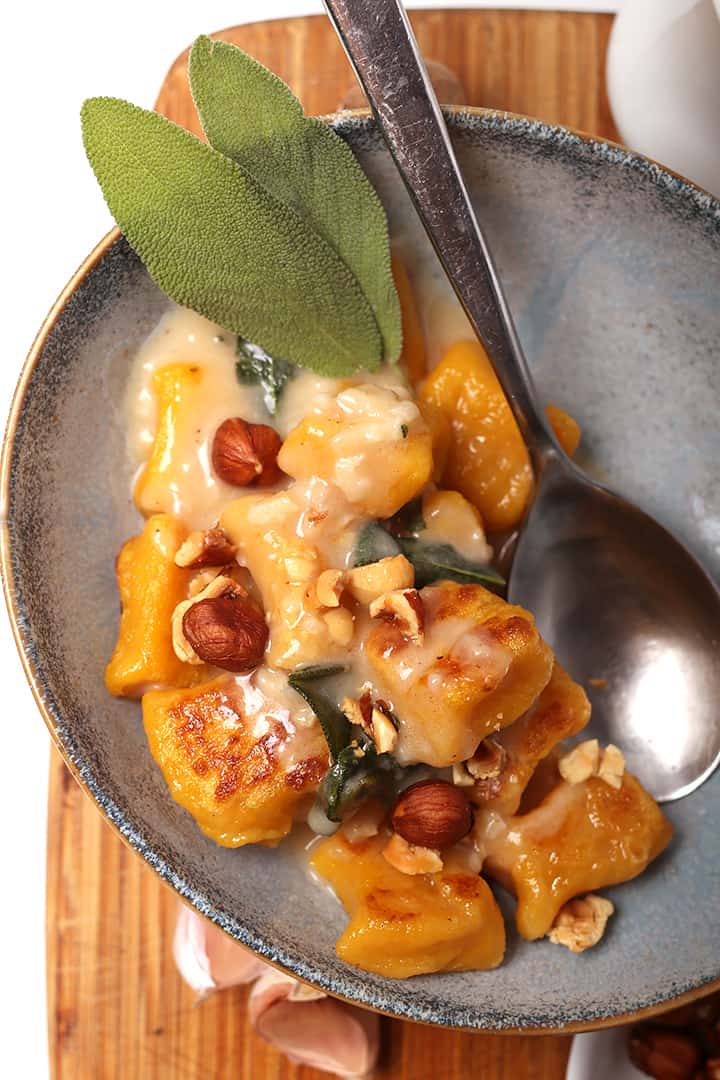 Course:
Main Course
Cuisine:
Vegan
Servings
:
4
people
Calories
: 353 kcal
Author
:
Sarah McMinn
Vegan Gnocchi
1

large russet potato

3/4

cup

pumpkin puree

1 1/2

cup

all-purpose flour, plus more for dusting

1

tsp. salt
Garlic Sage Sauce
2

tbsp. vegan butter

6-8

fresh sage leaves

3

cloves garlic, minced

2

tbsp. all-purpose flour

1 1/2

cup

unsweetened non-dairy milk, I use soy

pinch

of nutmeg

1/2

tsp salt
Toppings
2

tbsp toasted hazelnuts, chopped
freshly ground pepper
vegan parmesan, optional
Peel and chop the potato into 1/2" cubes and place the cubes in a large pot of boiling water. Boil for 10-12 minutes, until they are easily pierced with a fork. 

Once your potatoes are soft, strain them through a colander shaking off any excess water. Place them in a metal bowl. Using a potato masher, mash the potatoes until they are completely and thoroughly mashed. Add the pumpkin purée and stir until combined.

Add the flour and salt to the mashed potatoes and gently knead it together with your hands or a potato masher until it forms a soft dough. The dough should be soft but not sticky. 

On a floured surface, divide the dough into four pieces. Roll each one out evenly into a long rope that is 1/2" in diameter. Using a sharp knife, cut the rope into 3/4" pieces. Make indentations with a fork on the front and back of each dumpling (this is optional).

In small batches, place the gnocchi in boiling water and boil for about 60 seconds. The gnocchi is done when the pieces float to the top. Scoop them out with a slotted spoon and set them aside. Repeat until all the gnocchi has been cooked.

To make the béchamel sauce, heat vegan butter in a medium saucepan over medium-high heat. Once butter is melted, add the sage and gently sauté it for 60 seconds. Once the sage is fragrant and wilted, remove it from the melted butter and set aside. Add the flour and stir over medium heat for 3-4 minutes, until mixture is smooth and golden-brown. 

In another pot, bring milk, minced garlic, nutmeg, and salt to a boil. Add hot milk to butter/flour mixture in 3 batches, whisking in between each batch. Bring the sauce to a boil then reduce heat to a simmer. Cook for 10 minutes, whisking constantly. Once thick and creamy, remove from heat and set aside. The sauce will continue to thicken as it cools.

Toss gnocchi in garlic sage sauce and serve immediately with toasted hazelnuts and parmesan cheese.
Serving and Storing - Once the sauce is made, toss in the gnocchi to coat it. Serve the meal with vegan parmesan, hazelnuts, and pepper. Alternatively, you can lightly sauté the gnocchi in vegan butter or olive oil to give it a golden shell before tossing it in the sauce. Cooked gnocchi should be served immediately or tossed with olive oil and stored in an airtight container in the refrigerator for up to 2 days.
Make in Advance - 
Refrigerate - If you are going to be eating the gnocchi within a couple of days, you can cook the gnocchi as directed below. Once it's cooked remove it from the boiling water and place it in a bowl of ice water to immediately stop the cooking and chill the dumpings. Strain and toss with olive oil to prevent the gnocchi from clumping together. Store the chilled gnocchi in an airtight container in the refrigerator for up to 2 days. To serve, simply toss the chilled gnocchi with warm sauce in a saucepan.
Freeze - To freeze the gnocchi, place the gnocchi in a single layer on a baking sheet before boiling and let them freeze all the way through. Once they are frozen, place the gnocchi in a ziplock bag and store it in the freezer for up to 3 months. To prepare frozen gnocchi, add it to boiling water straight from the freezer. Frozen gnocchi will take longer to cook but, just like before, look for the first ones to float to the top to know when the gnocchi is done.
Calories Per Serving:
353
% Daily Value