Vegan Taco Salad
An easy and healthy Vegan Taco Salad. Made with a lentil/walnut taco meat, black beans, cherry tomatoes, and avocado and dressed with creamy avocado salsa for a wholesome plant-based gluten-free meal.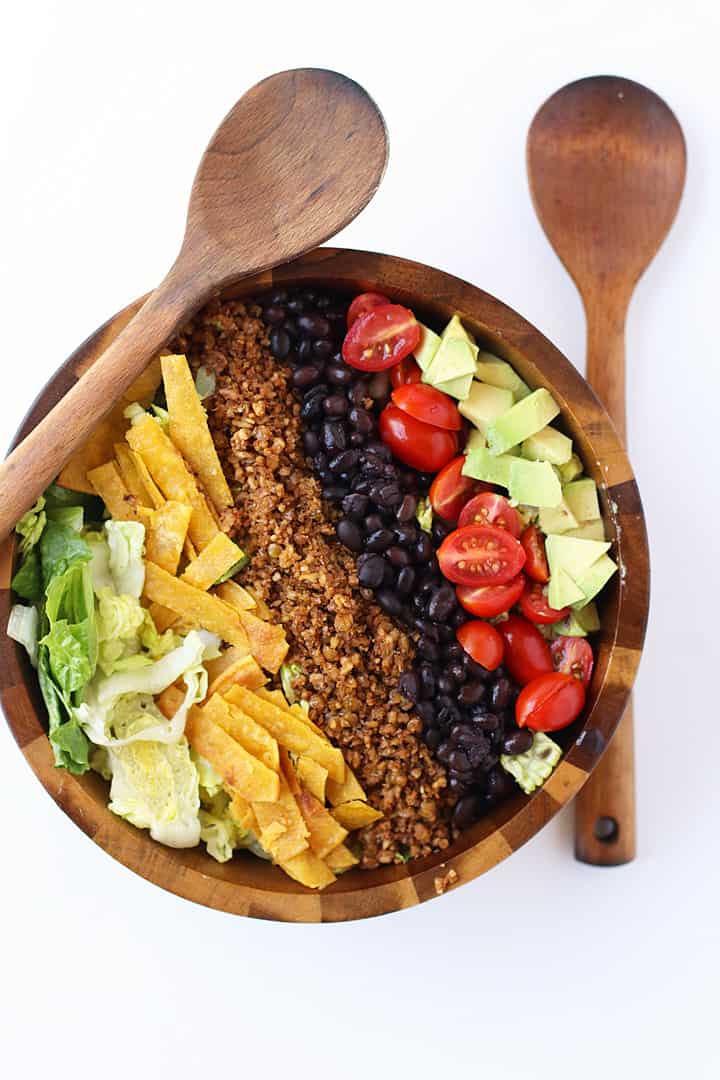 Course:
Salad
Cuisine:
Vegan, Gluten-Free
Servings
:
4
people
Calories
: 401 kcal
Author
:
Sarah McMinn
Taco Salad
1

batch walnut/taco meat, recipe to follow

2

heads romaine lettuce, chopped

1 1/2

cup

black beans

1

cup

cherry tomatoes, halved

2

small avocado, divided

3

small corn tortillas

1

tbsp coconut oil

1/4

cup salsa

1

lime, juiced

1/2 -1

tsp salt
water, as needed
Cook the lentils according to package instructions. 

While lentils are cooking, heat 1 tbsp of coconut oil in a medium cast iron skillet over medium heat. Once the oil is hot, add onions and garlic and sauté for 5 minutes, stirring frequently, until onions are translucent and fragrant. 

Add salt, chili, and cumin and stir to coat. Stir in walnuts and continue to sauté for another 5 minutes until walnuts are slightly toasted. Transfer walnut/onion mixture to a food processor. Add cooked lentils and pulse a few times until a beef-like texture has formed. Set aside. 

To make the avocado salsa dressing, place 1 avocado, salsa, 1/2 tsp salt, and lime juice in a blender. Blend until smooth. If it's too thick, add a little water, 1 tablespoon at a time, until you have a creamy, pourable consistency. Taste and adjust salt and lime as needed. 

In a small frying pan, heat up the remaining 1 tablespoon of coconut oil. Once hot, add corn tortillas and fry until golden and crispy, about 3 minutes per side. Remove from heat, dab off excess oil with a paper towel and cut into thin strips. 

Cube the other avocado.

In a large salad bowl combine chopped Romain, lentil/walnut taco meat, black beans, tomatoes, the other half of the avocado, and tortilla strips. Toss with avocado salsa dressing and serve immediately or store in an airtight container in the refrigerator. The salad should be served within 3 hours. 
Serving and Storing - Serve this salad within an hour of assembling it. When you are ready to eat, toss it with the dressing and enjoy immediately This makes a great on-the-go lunch. Layer it in a salad jar and pack the dressing separately. Store leftover salad in the refrigerator for up to one day. Leftover taco meat can be stored separately for up to 5 days. 
Make in Advance - If you want to make this salad in advance, the best way to do that is to make the components and store them separately in the refrigerator. However, I don't recommend making the dressing until you are ready to serve.
Calories Per Serving:
401
% Daily Value