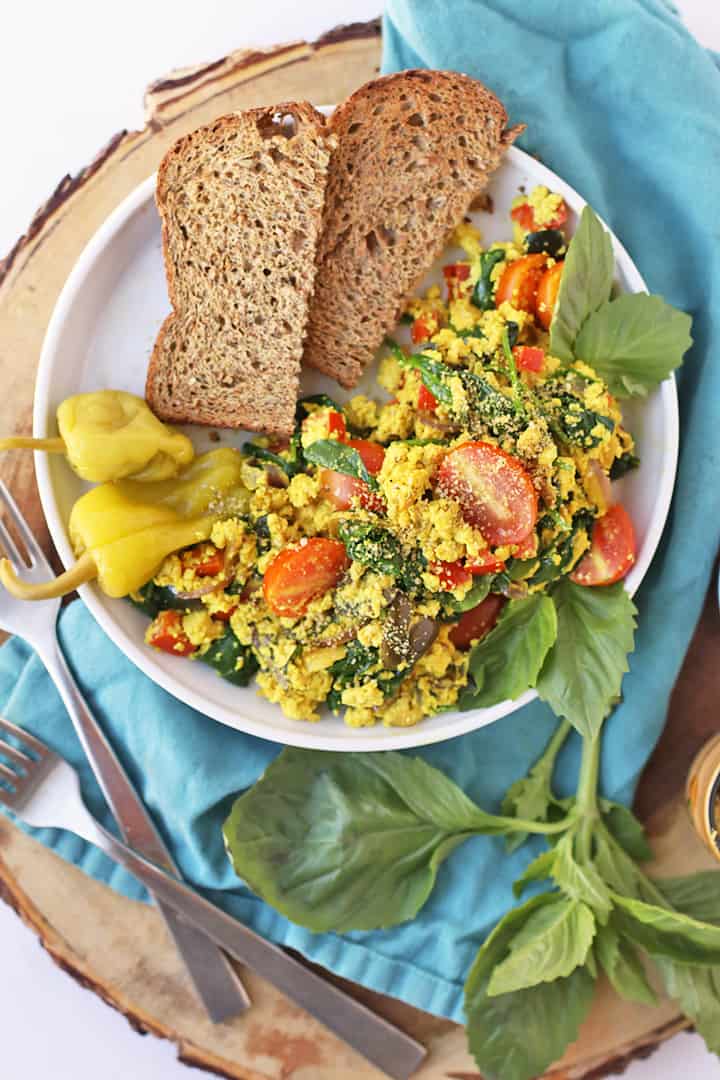 Course:
Breakfast
Cuisine:
Mediterranean, Vegan, Gluten-Free
Servings
:
2
people
Calories
: 226 kcal
Author
:
Sarah McMinn
8

ounces firm tofu

2

tbsp nutritional yeast

1

tsp tahini paste
juice of 1/2 lemon

1/4

tsp salt

1

tbsp oil

1/4

small red onion, diced

2

cloves garlic, minced

1/2

cup

red bell pepper, diced

1/4

cup Kalamata olives, pitted and halved

1

handful fresh spinach

1/4

cup fresh basil, chopped

1/2

cup

cherry tomatoes, halved
salt and pepper, to taste
In a small bowl crumble tofu to the texture of scrambled eggs. Add nutritional yeast, tahini, lemon juice, and salt and set aside.

In a large skillet heat oil over medium heat. Add onions and sauté for 5 minutes, stirring occasionally. Add bell pepper and garlic and sauté for another 5 minutes until the bell pepper is tender.

Stir crumbled tofu and Kalamata olives. Heat all the way through, stirring occasionally. 

Add spinach and basil and stir until spinach has wilted slightly, reducing to about half its size. Remove from heat and stir in cherry tomatoes. Season with salt and pepper. 

Divide onto 2 plates and serve immediately. 
Serving and Storing - Divide it between two plates. Top with cherry tomatoes, salt, pepper, and vegan parmesan. Leftover tofu can be stored in the refrigerator for up to 2 days. To reheat the scramble, gently reheat it in a skillet over medium heat or in the microwave until it is warm all the way through.
Recipe Tips - Use firm or extra-firm tofu. Avoid silken tofu as it will not hold together well.
Variations - For a more eggy flavor, add a pinch of black salt to the tofu.
Calories Per Serving:
226
% Daily Value