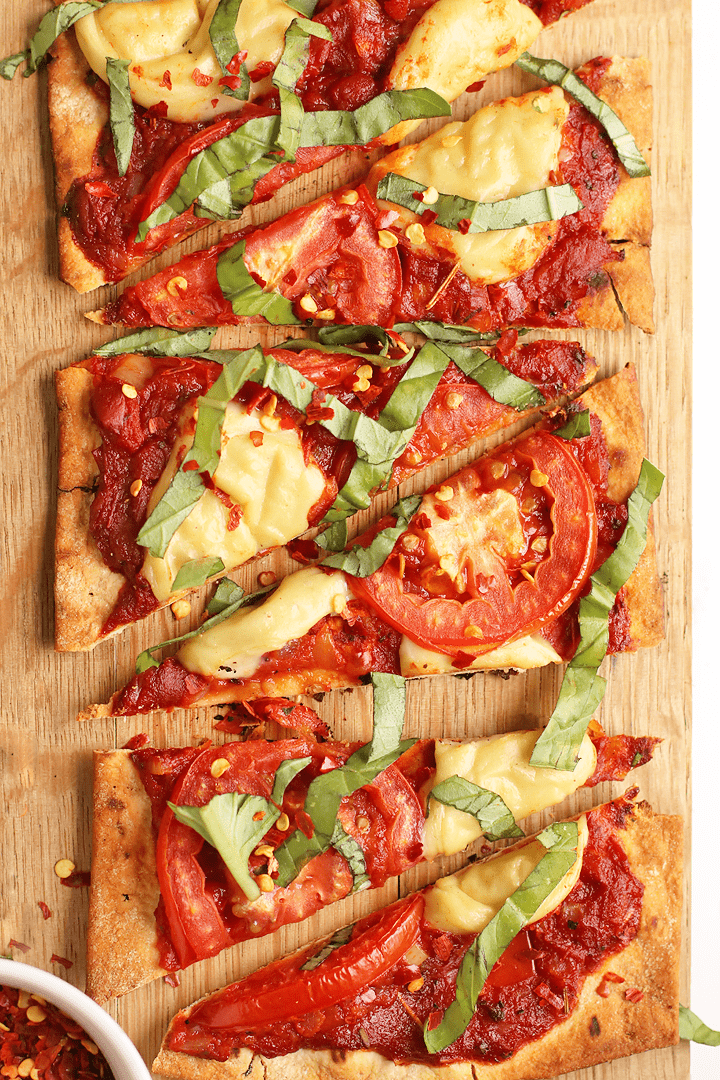 Course:
Main Course, Main Dish
Cuisine:
Italian, Vegan
Servings
:
4
people
Calories
: 470 kcal
Author
:
Sarah McMinn
Vegan Mozzarella
1/2

cup

raw cashews, soaked in hot water for 30 minutes

1

cup

hot water

3

tablespoons tapioca starch

1

tablespoon nutritional yeast

1

teaspoon apple cider vinegar

1/2

teaspoon salt

1/4

teaspoon onion powder

1/4

teaspoon garlic powder

1/8

teaspoon white pepper
Tomato Sauce
1

tablespoon oil

1

small white onion, minced

3-4

cloves garlic, minced

1

cup

crushed tomatoes

2

tablespoons tomato paste

2

teaspoons sugar

1/2

teaspoon dried basil

1/2

teaspoon dried oregano

1/2

teaspoon dried thyme
salt and pepper, to taste
Everything Else
4

Flatout Flatbread Pizza Crusts

1

Roma tomato, thinly sliced

1

handful of fresh basil, chopped
red pepper flakes, optional
To make the cheese, drain and rinse the cashews and place them in a high-powered blender along with the remaining mozzarella ingredients. Blend until completely smooth. Transfer to a saucepan placed over medium heat, stirring the cheese constantly. Within 1-2 minutes the cheese will start to get very thick. Keep stirring until the cheese begins to move together while stirring. Remove from heat and let cool while preparing the other ingredients.

To make the sauce, heat the oil in a small saucepan over medium heat. Add onion and garlic and sauté for 4-5 minutes. Stir in the remaining ingredients and bring to a simmer. Let simmer for 10 minutes.

Meanwhile, heat the grill to about 550 degrees. Brush the pizza doughs with olive oil and grill one side of the pizza for 1-2 minutes. Flip the crusts and evenly top with tomato sauce, Roma tomatoes, and spoonfuls of mozzarella.

Put the lid on the grill and cook for about 3 more minutes. The pizza is done when the edges are crisp and dark.
Remove from grill, top with basil and red pepper flakes and serve immediately.
Serving And Storing - Serve pizza fresh out of the oven. Store leftover pizza in an airtight container in the refrigerator 1-2 days. Gently reheat the pizza in the oven or on the stovetop before eating.
Recipe Tips
Getting gooey stretchy cheese is the key to elevating this pizza to AMAZING. Make sure to completely puree your cashews so that your cheese isn't gritty or tough.
While I recommend homemade pizza sauce for more flavor, you can save time and buy sauce at the store.
Make sure to add your basil after grilling or baking so that it stays fresh.
Calories Per Serving:
470
% Daily Value