Vegan Gnocchi with Mushroom Cream Sauce
This vegan gnocchi is made without eggs for an easy-to-follow 3-ingredient recipe. Toss it with a mushroom cream sauce for a rich and decadent meal.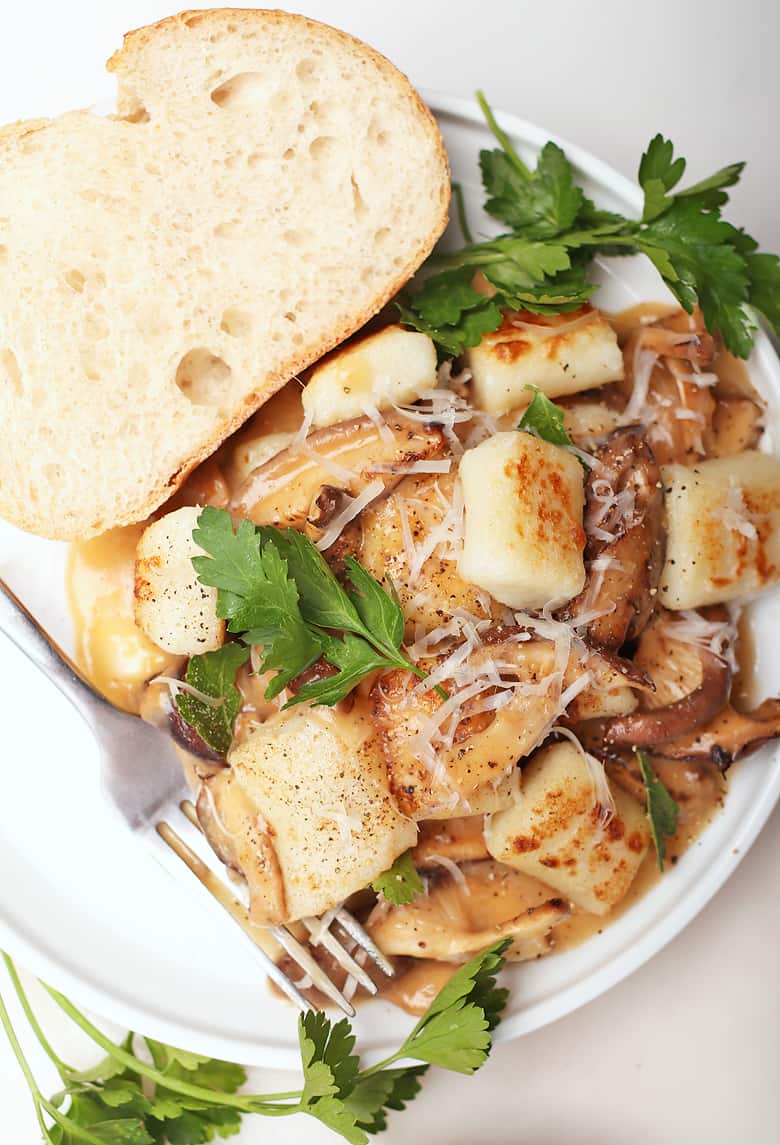 Course:
Main Course
Cuisine:
Vegan
Servings
:
4
people
Calories
: 297 kcal
Author
:
Sarah McMinn
Vegan Gnocchi
1

pound russet potatoes, (2 medium-sized potatoes)

1

cup

all-purpose flour, plus more for dusting

1/2

tsp. salt
Mushroom Cream Sauce
1 1/2

cups

vegetable broth

2

tbsp. vegan butter, divided

2

tbsp. all-purpose flour

1

tbsp unsweetened vegan creamer or non-dairy milk

1/2

pound shiitake mushrooms, chopped
Toppings
a

few sprigs of fresh parsley
freshly ground pepper
vegan parmesan, optional
Peel and chop the potatoes into 1/2" cubes and place them in a large pot of boiling water. Boil for 12-15 minutes, until they are easily pierced with a fork.

While the potatoes are boiling, make the mushroom cream sauce. In a small saucepan, bring the vegetable broth to a low simmer. In a separate saucepan, melt 1 tablespoon of vegan butter over medium heat. Add the flour, one tablespoon at a time, and mix with a wooden spoon until fully incorporated making a roux. Cook for 30-60 seconds stirring constantly.

Add the vegetable broth, one-half cup at a time, whisking vigorously to avoid the flour from clumping. Whisk until all the vegetable broth is incorporated. Bring to a boil and then reduce heat to a simmer. Simmer for 30 minutes. Once thick, remove from heat, whisk in vegan creamer or non-dairy milk, and set aside while you prepare your gnocchi.

Once your potatoes are soft, strain them through a colander shaking off any excess water. Place them in a metal bowl. Using your Dome Dough Maker, mash the potatoes until they are completely and thoroughly mashed. 

Add the flour and salt to the mashed potatoes and gently knead it together with the Dome Dough Maker until it forms a soft dough. The dough should be soft but not sticky.

On a floured surface, divide the dough into four pieces. Roll each one out evenly into a long rope that is 1/2" - 3/4" in diameter. Using a sharp knife, cut the rope into 1" pieces. Make indentations with a fork on the front and back of each dumpling (this is optional).

In small batches, place the gnocchi in boiling water and boil for about 60 seconds. The gnocchi is done when the pieces float to the top. Scoop them out with a slotted spoon and set them aside. Repeat until all the gnocchi has been cooked.

To finish the sauce, heat the remaining tablespoon of butter over medium heat. Add the shiitake mushrooms and sauté for 2-3 minutes until golden brown. Strain the thickened velouté sauce through a fine mesh strainer and add to the mushrooms. Stir in the gnocchi and serve immediately with fresh parsley, freshly ground pepper, and vegan parmesan (optional).
Serving and Storing - Top the meal with fresh parsley and pepper. Alternatively, you can lightly sauté the gnocchi in butter to give it a golden shell. Serve immediate with a fresh salad and artisan bread for a fully satisfying vegan meal. Once cooked, this meal does not store well. If you won't be eating it all at once, store the gnocchi and the sauce separately. Toss the gnocchi with olive oil to prevent the gnocchi from clumping together and store it in an airtight container in the refrigerator for up to 2 days. Store the sauce in the refrigerator for up to 4 days. To serve, simply toss the chilled gnocchi with warm sauce in a saucepan.
Make in Advance - Gnocchi is a great meal to make in advance. To freeze the gnocchi, place them in a single layer on a baking sheet before boiling and let them freeze all the way through. Once they are frozen, place the gnocchi in a ziplock bag and store it in the freezer for up to 3 months. To prepare frozen gnocchi, add it to boiling water straight from the freezer. Frozen gnocchi will take longer to cook but, just like before, look for the first ones to float to the top to know when the gnocchi is done.
Calories Per Serving:
297
% Daily Value