Vegan Flourless Chocolate Cake
This rich and dense vegan Flourless Chocolate Cake is also gluten-free for a decadent dessert nearly everyone can enjoy. Made with just 7 simple ingredients for a quick and easy sweet treat.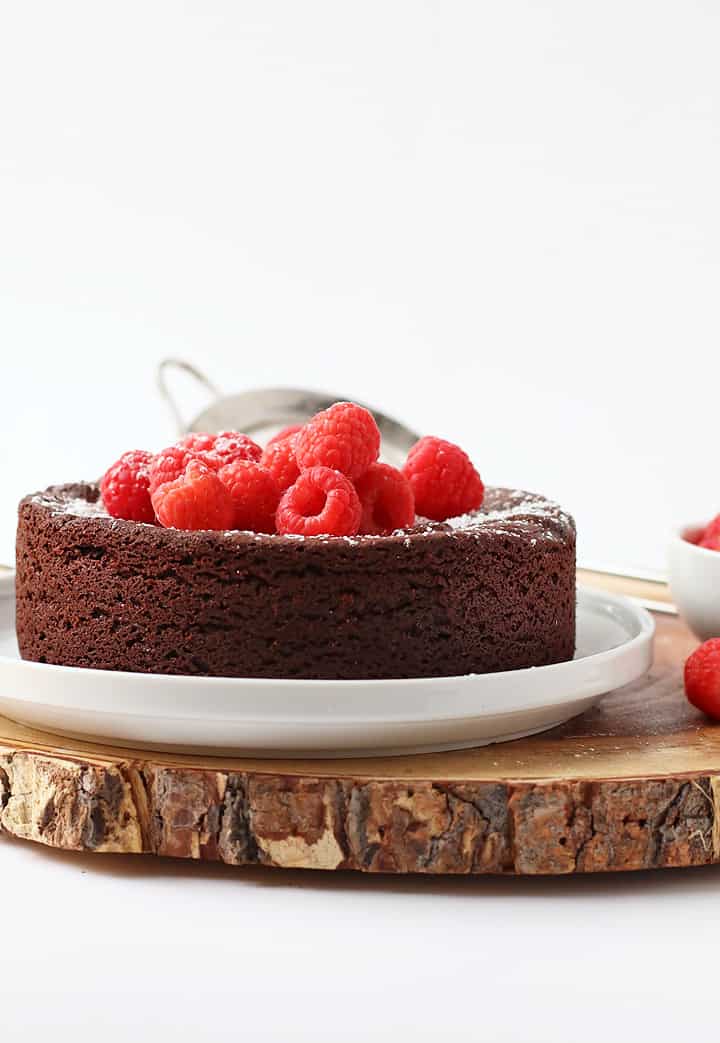 Course:
Dessert
Cuisine:
Vegan, Gluten-Free
Servings
:
6
people
Calories
: 293 kcal
Author
:
Sarah McMinn
Preheat the oven to 325 F. Generously spray a 6" cake pan and set aside. 

In a double boiler, gently melt the chocolate and butter together, stirring occasionally. 

While chocolate melts, whisk together chickpea flour and soy milk until a thick gooey paste has formed. Make sure the chickpea mixture is evenly hydrated throughout. 

Once the chocolate and butter are melted, stir in sugar until it is dissolved. Add chickpea/milk mixture, stirring with a spatula to combine. Fold in cocoa powder and baking soda until a uniform batter is achieved. 

Transfer batter to the prepared cake pan and bake for 35-40 minutes, until a thin crust has formed and cake doesn't wobble when gently shaken.

Remove from the oven and let set up in the pan for 30 minutes before transferring to a wire cooling rack to cool completely. Refrigerate until ready to serve. Dust with powdered sugar and fresh raspberries to serve. 
Serving and Storing - Let the cake cool in the pan for at least 30 minutes before removing it. Because this cake lacks the same structure that flour gives the cake, it could fall apart if removed too early from pan. Serve the cake chilled with fresh berries and powdered sugar. Leftover cake can be wrapped tightly and stored in the refrigerator. Eat leftover cake within 5 days.
Recipe Tips
Make sure not to over-mix your chocolate. This can agitate the chocolate, causing it to clump and lose its shine.
When making the chickpea flour egg, mix the chickpea flour and soy milk completely. This is best done by using a small blender.
Gently fold the dry ingredients into the wet. The more you mix, the more deflated your cake will be.
Do not eat this batter raw. Chickpea flour has an unpleasant raw taste that goes away completely once it is baked. 
Do not open the oven door while the cake is baking or it may fall. Check the cake at 35 minutes and give it a gentle shake. To know the cake is ready, the cake should not be wobbly and a thin top crust will have formed.
Frequently Asked Questions
Can I use something other than chickpea flour? Unfortunately no. Chickpea flour has serious binding powder, similar to that of eggs, which gives the cake it's structure. It also is completely flavorless* meaning it won't affect the taste of the cake itself. I've tried this cake with other egg replacers without success. 
Calories Per Serving:
293
% Daily Value