Vegan Korean BBQ Bowl
A delicious Korean BBQ bowl filled with cabbage slaw, spicy pan-fried tofu, and sautéed broccoli and carrots, this weeknight meal is hearty and delicious. Vegan and Gluten-free!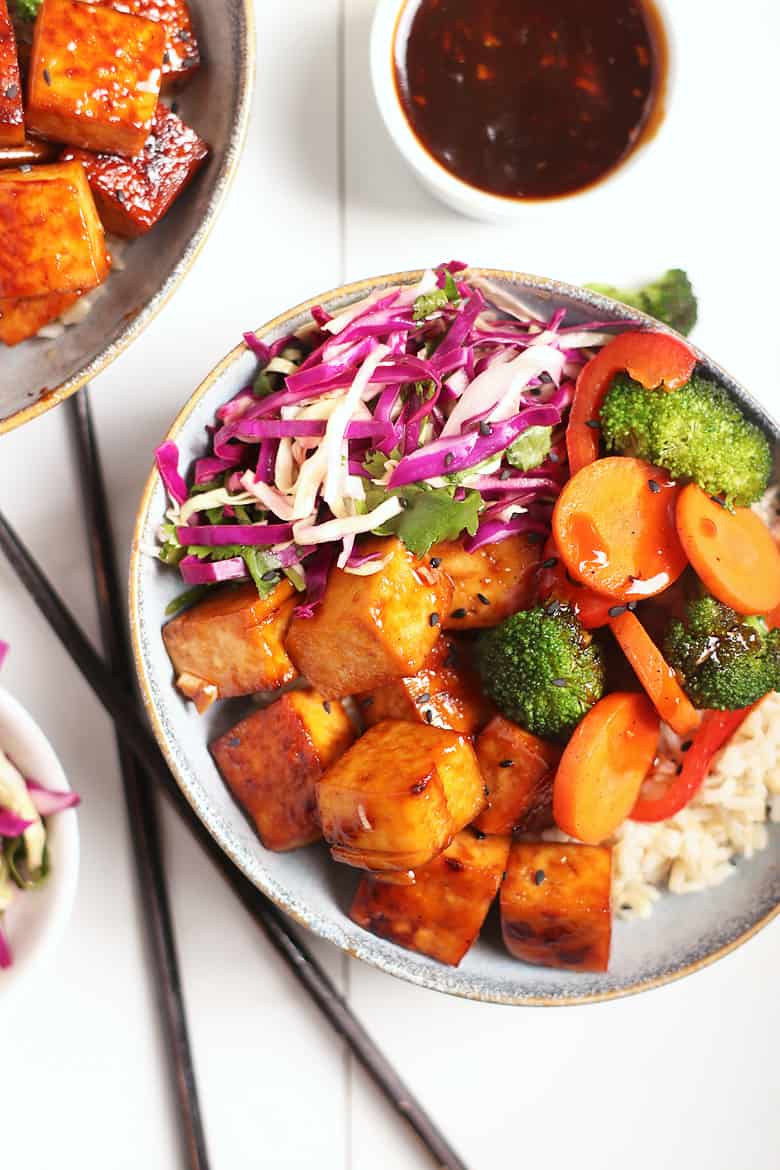 Course:
Main Course
Cuisine:
Vegan
Servings
:
4
servings
Calories
: 342 kcal
Author
:
Sarah McMinn
You will need
1

cup

cooked brown rice

16

ounces extra-firm tofu, cut into 1/2" cubes

2

tbsp. sesame oil

2

cups

broccoli, chopped

2

large carrot, thinly sliced

1

red bell pepper
Cilantro Lime Slaw, recipe below
Barbecue Marinade, recipe below
Cilantro Lime Slaw
1 1/2

cups

mixed red and white cabbage, shredded

2

tbsp fresh cilantro, minced

1

tbsp fresh lime juice

1/4

tsp salt
Combine all the ingredients for Barbecue Marinade in a shallow dish. Add cubed tofu, making sure it's fully submerged and let it marinate for at least one hour.

Meanwhile, mix together the ingredients for Cilantro Lime Slaw in a small bowl. Refrigerate until ready to use.

Add rice and 2 cups of water to a small saucepot. Bring to a boil. Cover and reduce heat to a simmer and simmer for 40 minutes or until all the water has absorbed.

Heat up 1 tablespoon of sesame oil in a sauté pan. Add carrots, broccoli, and bell pepper and sauté for 5 minutes over medium heat until vegetables are tender. Remove and set aside.

In the same pan, heat up the remaining tablespoon of sesame oil. Remove tofu from Barbecue Marinade with a slotted spoon, reserving the marinade, and sauté for 5-10 minutes until the tofu has begun to brown. Add 1/4 cup of marinade to the tofu, stirring to combine. Cook until all the marinade has absorbed. Remove from heat.

To assemble, place rice at the bottom of three bowls. Add tofu, carrots, broccoli, and slaw. Top with extra marinade, sesame seeds, and cilantro. Serve immediately.
Serving and Storing - Serve these bowls immediately. To assemble the bowls, place a scoop of rice at the bottom of the bowl. Evenly divide the tofu, vegetables, and slaw between 4 bowls. Add additional toppings: cilantro, hot sauce, jalapeños, and extra marinade. Store leftovers in separate containers. Store leftover cabbage slaw and tofu in the refrigerator for 5 days and leftover marinade in the refrigerator for 7 days.
Calories Per Serving:
342
% Daily Value