Vegan Molten Lava Cake
This vegan molten lava cake is unbelievably decadent and surprisingly simple to make. In under 30 minutes, you could be cutting into one of these cakes yourself.
Did you make this recipe? Leave a comment and rate it below.
If you made any substitutions, let us know how it turned out!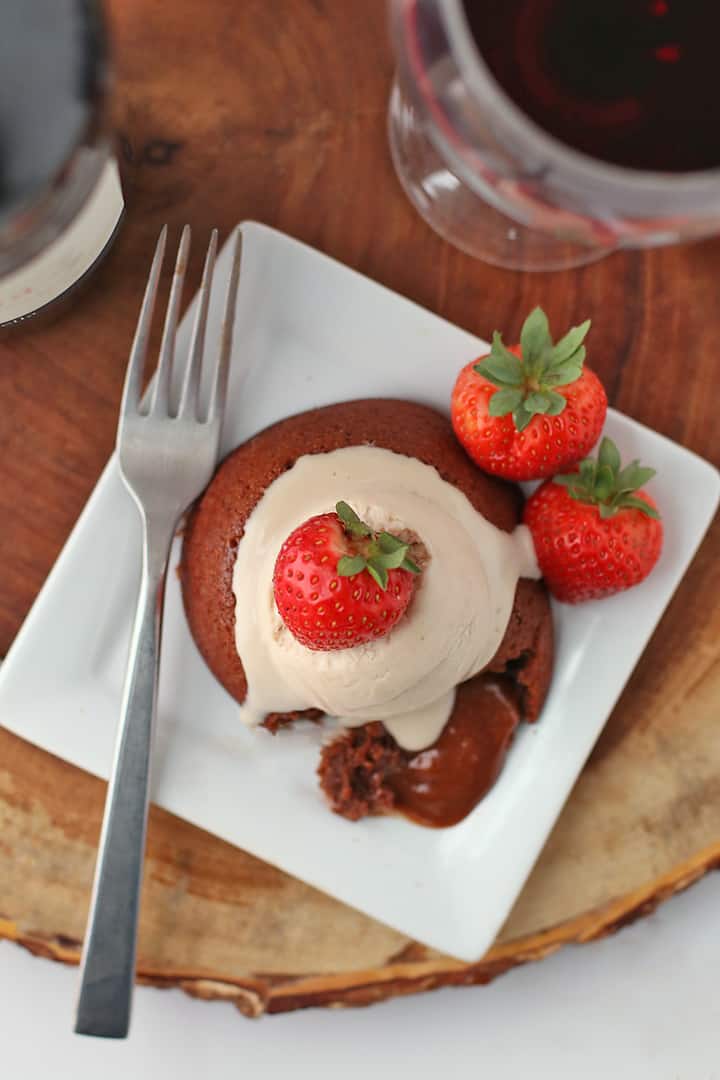 Course:
Dessert
Cuisine:
French, Vegan
Keyword:
Vegan Molten Lava Cake
Servings
:
2
people
Calories
: 472 kcal
Author
:
Sarah McMinn
2

ounces vegan chocolate chips

4

tbsp vegan butter, cut into 1 tbsp pieces

1/4

cup

aquafaba (the brine of a can of chickpeas)

1/4

cup

chickpea flour

3

tbsp water

1/2

tsp vanilla extract

1/2

cup + 2 tbsp powdered sugar

1/4

cup

all-purpose flour

1/4

tsp baking powder
Preheat the oven to 425 degrees F. Spray 2 (6 oz) ramekins with oil and set aside. 

In a double boiler or a microwave, gently heat vegan chocolate and butter, stirring occasionally, until completely melted. Set aside.

In a separate bowl combine chickpea flour and water until thick and gooey. Stir in aquafaba and vanilla extract. Add chickpea flour/aquafaba mixture to chocolate/butter and stir to combine. 

Sift in flour, powdered sugar, and baking powder. Gently fold in the dry ingredients until a thick uniform batter has formed. 

Divide batter evenly between the two ramekins and bake for 12-14 minutes until the edges are firm but the middle is still soft. Remove from oven and let sit 1 minute before flipping over onto two plates. Serve immediately with your choice of non-dairy ice cream and berries. 
Serving and Storing - Serve this cake immediately for the chocolate lava effect. Serve with coconut whipped cream or non-dairy vanilla ice cream. This vegan chocolate cake does not store well. It should be eaten on the same day.
Make in Advance - If you want to make the batter in advance, prepare the batter and divide it between two ramekins. Cover and let the batter sit in the refrigerator for up to 4 hours. When you are ready to serve, simply preheat the oven, bake the cakes for 12-14 minutes and serve hot.
Recipe Tips 
Chickpea flour has a strong taste when raw which you will notice if you try the batter unbaked. Don't worry, when baked you won't taste the chickpea flour at all!
Make sure not to over-mix your chocolate. This can agitate the chocolate, causing it to clump and lose its shine.
Gently fold the dry ingredients into the wet. The more you mix, the more deflated your cake will be.
Do not open the oven door while the cake is baking or it may fall. Check the cake at 12 minutes and give it a gentle shake. To know the cake is ready, the cake should not be wobbly and a thin top crust will have formed.
Calories Per Serving:
472
% Daily Value