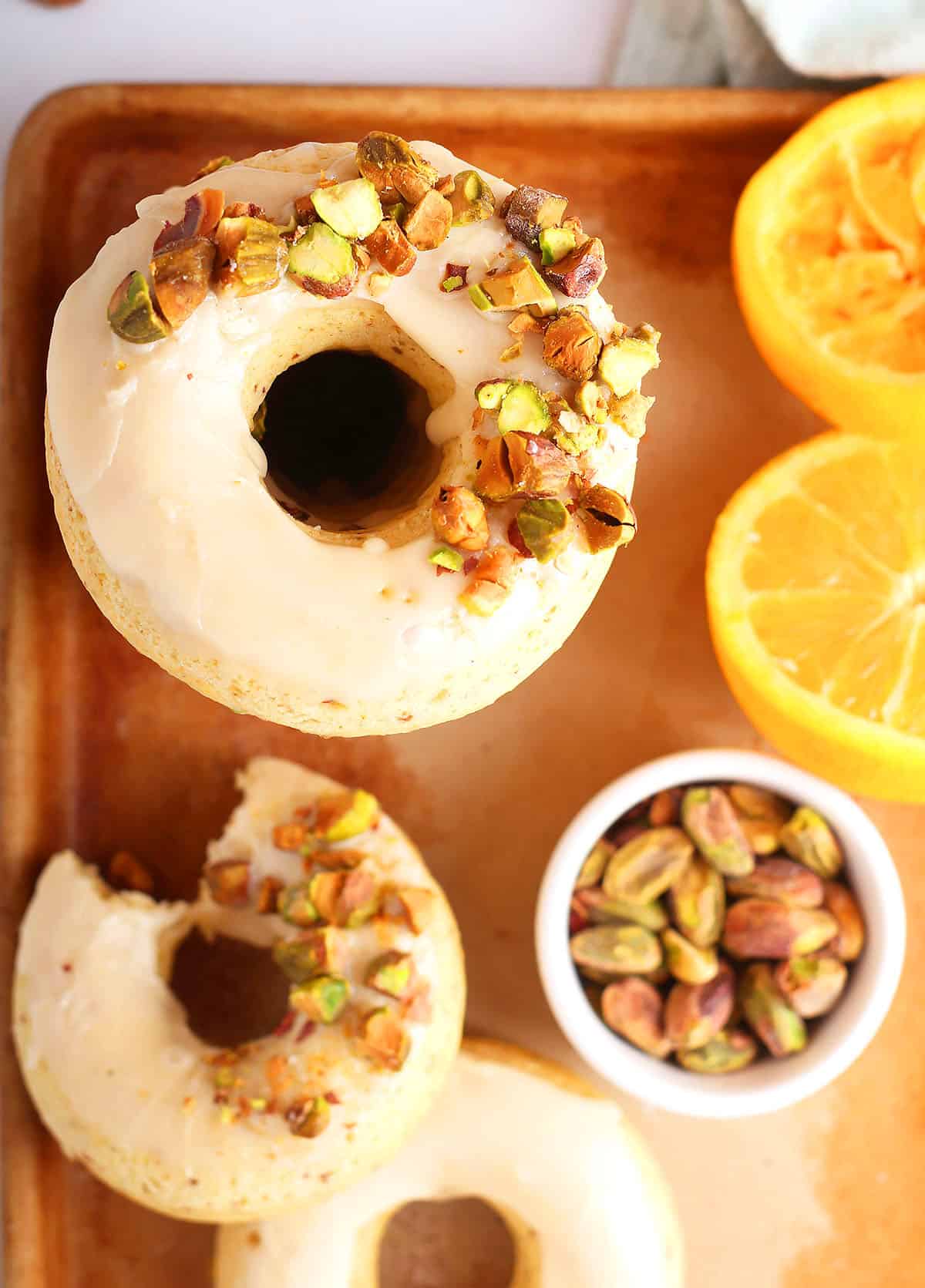 Course:
Dessert
Cuisine:
Vegan
Servings
:
12
doughnuts
Calories
: 218 kcal
Author
:
Sarah McMinn
Coconut Orange Doughnuts
1/2

cup

granulated sugar

1/2

cup

applesauce

1/4

cup

coconut oil, melted

1/4

cup

fresh orange juice

1/2

cup

light coconut milk

1

tbsp orange zest

1 1/2

cup

flour

1/4

cup

pistachios, ground

2 1/4

tsp baking powder

1/2

tsp salt
Orange Glaze
1 1/2

cups

powdered sugar

2-3

tbsp orange juice
Preheat the oven to 350F. Lightly spray a donut pan and set aside.

In a small bowl whisk together sugar, applesauce, oil, orange juice, coconut milk, and orange zest. In a larger bowl combine flour, pistachios, baking powder, and salt. Add the wet ingredients to the dry and mix until just combined.

With a piping bag fill doughnut cavities ⅔ full. Bake 12-13 minutes, until lightly golden and doughnut springs back when gently touched.

Allow the donuts to cool ten minutes before removing from the pan. Transfer to a wire cooling rack to cool completely.

Meanwhile, make the orange glaze by stirring together powdered sugar and orange juice with a whisk until desired consistency; it should be thick, but not clumpy.

Dip the top half of each donut in the orange glaze and top with crushed pistachios. Serve immediately or store in an airtight container at room temperature for up to 5 days.
Serving and Storing - Serve donuts immediately as a morning pastry or afternoon snack. Store leftover donuts in an airtight container at room temperature for up to 4 days. They can also be frozen for up to 2 months. When ready to eat, pull them out of the freezer and let them thaw at room temperature for 2-3 hours
Make in Advance – You can make this batter up to 1 day in advance. Store the batter in an airtight container in the refrigerator. When ready to bake, pipe the batter into the donut pan and bake in a preheated oven. If the batter is chilled, the donuts may need a minute or two extra in the oven.
Recipe Tips
Generously spray the donut pan before piping in the batter to ensure the donuts do not stick to the pan.
The most accurate way to measure flour is to spoon it into your measuring cup, leveling it off with the back of a knife.
Let the donuts rest in the pan for 10 minutes before flipping them onto a wire cooling rack. Let donuts cool completely before dipping them in the glaze to prevent the glaze from melting.
Variations - Make this recipe into muffins! I prefer using a mini-muffin pan for these as they do tend to be a bit sweeter than ordinary muffins.
Calories Per Serving:
218
% Daily Value