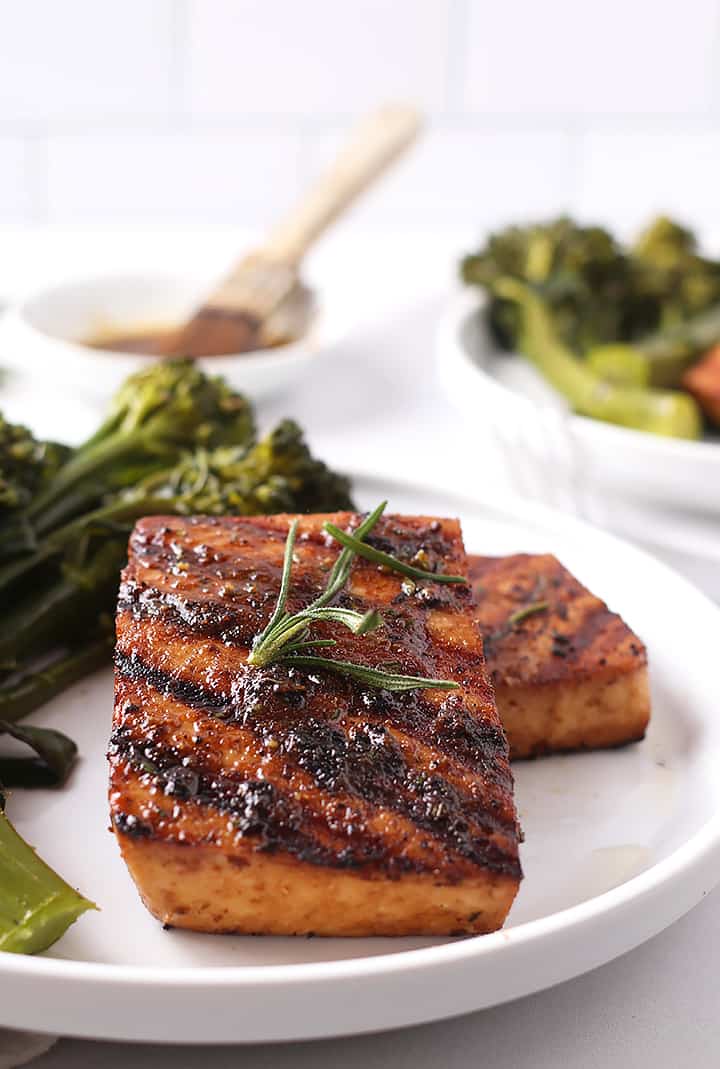 Course:
Main Course, Main Dish
Cuisine:
American, Vegan
Servings
:
4
people
Calories
: 140 kcal
Author
:
Sarah McMinn
To begin, whisk together the ingredients for the marinade in a shallow baking dish.  Cut the tofu into 3 even slices (about 3/4" thick) and cut each of those slices into half. Add the thickly cut slabs of tofu to the marinade, ensuring the tofu is fully submerged. Marinade the tofu for at least two hours. Reserve the marinade.

Once the tofu has marinated, add it to a preheated grill. You can either use an electric grill or outside grill. Grill the tofu for 6-8 minutes per side, until the tofu is slightly charred and cooked all the way through.

Brush the tofu with extra marinade and serve with steamed vegetables and potatoes.
Serving and Storing - Serve these steaks immediately alongside grilled vegetables or roasted potatoes. Store leftovers in an airtight container in the refrigerator for up to 2 days. To serve, reheat the steaks in a hot skillet with 1 tablespoon of oil until the tofu is heated all the way through.
Recipe Tips
If you get water-packed tofu, make sure to press it for at least one hour first to drain any excess water.
Marinate the tofu for at least 2 hours. Consider marinating overnight for the best results.
Variations - If you'd rather bake these steaks, preheat the oven to 400F. Place the marinated tofu on a baking sheet and bake for about 20 minutes, flipping once halfway through.  Once the tofu is firm and cooked all the way through, remove it from the oven. Brush extra marinade on tofu steaks and let sit 5 minutes before serving.
Calories Per Serving:
140
% Daily Value