BBQ Tofu Steaks w/ Grilled Pineapple Salsa
Jump into summer with these BBQ Tofu Steaks with Grilled Pineapple Salsa. It's the perfect grillable recipe that combines the sweetness of BBQ sauce with spicy jalapeños and zesty pineapple.  A delicious vegan and gluten-free meal.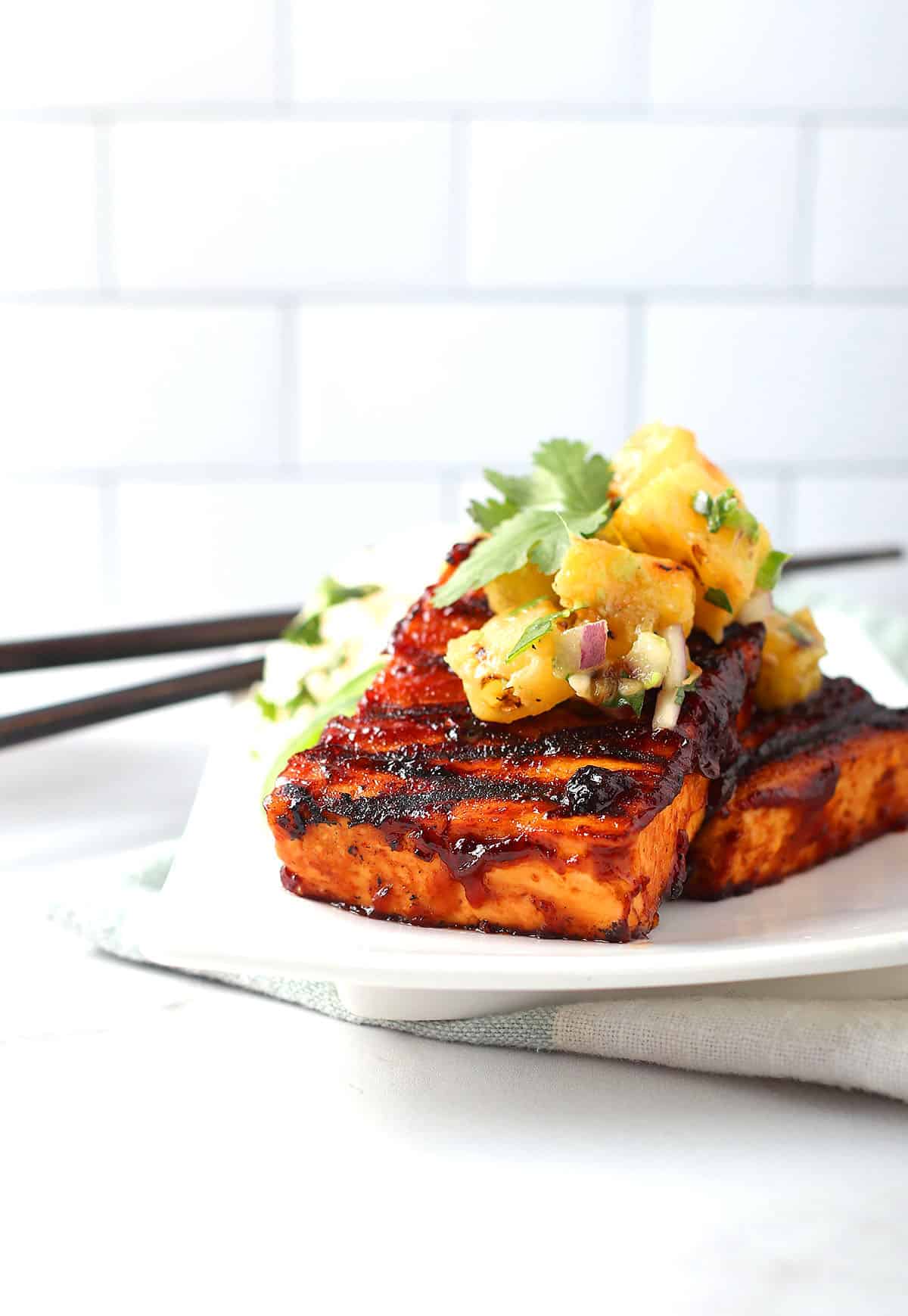 Course:
Main Course, Main Dish
Cuisine:
Vegan
Servings
:
4
people
Calories
: 386 kcal
Author
:
Sarah McMinn
Grilled Pineapple Salsa
1/2

small pineapple, peeled, cored, and chopped into 1/2" rings

1

tbsp. Bari Jalapeño Infused Olive Oil

1/2

small avocado, diced

1/4

cup

red onion, finely chopped

2

tbsp. fresh cilantro, minced

1/2

small jalapeño, seeded and diced
juice of 1 lime

pinch

of salt, to taste
Coconut Rice (optional)
1

cup

light coconut milk

1

cup

water

1

tsp. sugar

pinch

of salt

1

cup

jasmine rice
To make the rice, bring coconut milk, water, sugar, and salt to a boil. Add rice, cover, and reduce to a simmer. Simmer for 20 minutes, until all the liquid has evaporated. Fluff with a fork and set aside.

To grill the pineapple, preheat your grill to 400F. You can either use an electric grill or an outdoor grill. Brush the pineapple with jalapeño infused olive oil and grill for about 5 minutes, on both sides, until the pineapple has char lines and is cooked all the way through. Remove from the grill and cut into 1/2" pieces. Refrigerate while preparing the remaining components.

Cut the tofu into 3 even slices (about 3/4" thick) and cut each of those slices into half. Brush both sides with BBQ sauce. Place the tofu on the hot grill and cover with a lid. Grill tofu on each side for about 7 minutes, until the sides are blackened and the tofu is cooked all the way through. Brush with remaining BBQ sauce and set aside.

Combine the ingredients for the grilled pineapple salsa. Taste and adjust seasonings.

To serve, place one scoop of rice on each plate. Top with 1-2 slices of BBQ tofu and a scoop of pineapple salsa. Serve immediately.
Serving and Storing -  If you do have uneaten tofu, store it in an airtight container in the refrigerator for up to 3 days. Reheat the steaks in a hot skillet with 1 tablespoon of oil until the tofu is heated all the way through. Leftover pineapple salsa can be stored in the refrigerator for up to 2 days. 
Recipe Tips 
Look for extra-firm tofu that is not water-packed, such as Trader Joe's High-Protein Tofu or Super Firm Sprouted Tofu. These types of tofu do not have excess water and do not need to be pressed. 
This meal is best served fresh. Prepare the rice and pineapple salsa just before serving. If you need to save on time, you can grill the tofu in advance and gently reheat it just before serving.
Variations - If you'd rather bake these steaks, preheat the oven to 400F. Place on a baking sheet and bake for about 20 minutes, flipping once halfway through. Once the tofu is firm and cooked all the way through, remove it from the oven. Brush extra BBQ sauce on tofu steaks and let sit 5 minutes before serving.
Calories Per Serving:
386
% Daily Value