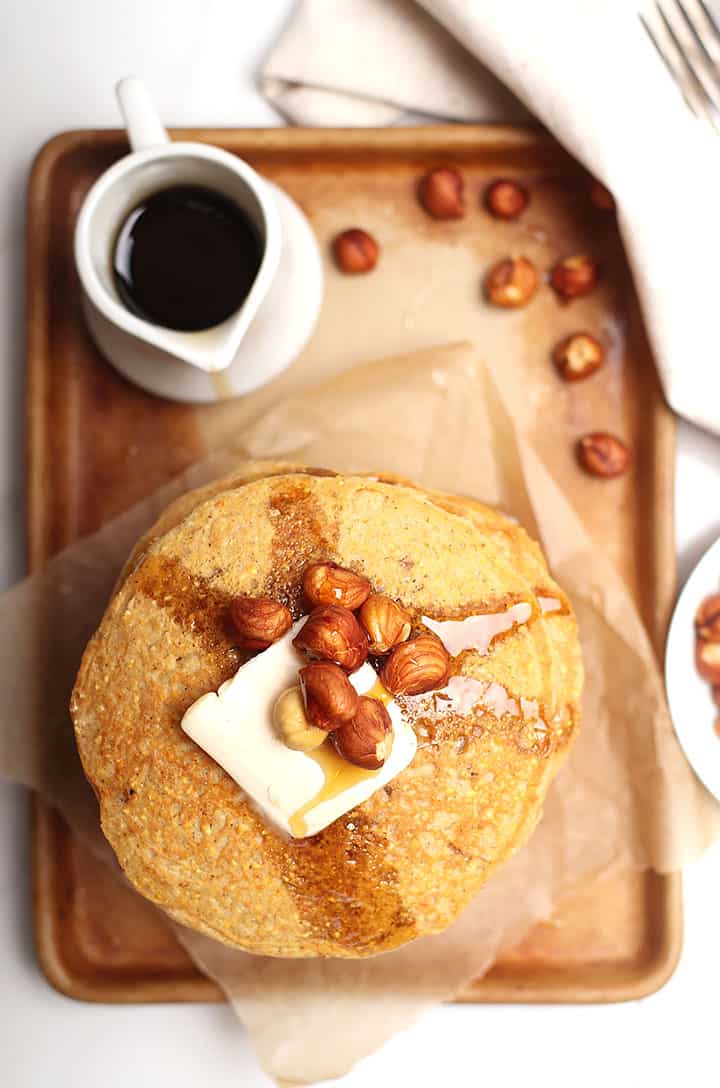 Course:
Breakfast
Cuisine:
Vegan
Servings
:
8
pancakes
Calories
: 148 kcal
Author
:
Sarah McMinn
1

cup

soy milk

1

tsp. apple cider vinegar

1/4

cup

maple syrup, plus more for topping

1

tsp. vanilla extract

3/4

cup

all-purpose flour

1/2

cup

cornmeal

1 1/2

tsp. baking powder

1/2

tsp. baking soda

1/2

tsp salt

1/2

tsp cinnamon

1/4

cup

hazelnuts, chopped
Brush a pancake griddle with oil and preheat over medium heat.

In a large bowl whisk together soy milk and vinegar and set aside. Meanwhile in a separate bowl combine flour, cornmeal, salt, baking powder, baking soda, and cinnamon. Once soy milk and vinegar begin to curdle, add maple syrup and vanilla extract and whisk together. Pour the dry ingredients into the wet and mix until well combined. Fold in the hazelnuts. Do not overmix; a few lumps are okay.

Using a 1/4 measuring cup, pour batter onto hot skillet. Cook for 3-4 minutes. Once bubbles begin forming on the top, flip and cook another 2-3 minutes. Repeat until the batter is gone.

Serve immediately with maple syrup and hazelnuts.
Serving and Storing -Serve with vegan butter, pure maple syrup, and chopped hazelnuts. Tightly wrap leftover pancakes and store them in the refrigerator for 2-3 days. Gently reheat them in the oven or microwave to enjoy.  Or freeze your tightly wrapped pancakes for up to 1 month.
Recipe Tips
This recipe is fairly versatile. You can swap out hazelnuts or any other nut or add additional mixins like mini chocolate chips.
Take care that these pancakes are not over-mixed. When pancakes are over-mixed, gluten gets overworked and becomes tough and gummy. When mixing, a few small lumps are always okay. The less you mix, the more tender and delicate the texture of the pancake will be.
Make sure the griddle is preheated and spray between each batch. This is important in getting that golden crispy outside. When the batter hits the hot oiled griddle, it should immediately start to form a crust which gives the pancake it's perfect texture while also preventing it from spreading.
Frequently Asked Questions 
Do I have to use soy milk? While I've had good results with oat and cashew milk, I have always had the best results with soy. I recommend soy but if you can't do soy, go for something equally thick and rich.
Can I make this pancake batter in advance? Yes! If you want to make this batter in advance, store it in an airtight container in the refrigerator for up to 48 hours. To cook the pancakes, preheat your griddle and bake according to the instructions. The pancakes may take a few minutes longer to bake since the batter will be chilled.
Calories Per Serving:
148
% Daily Value