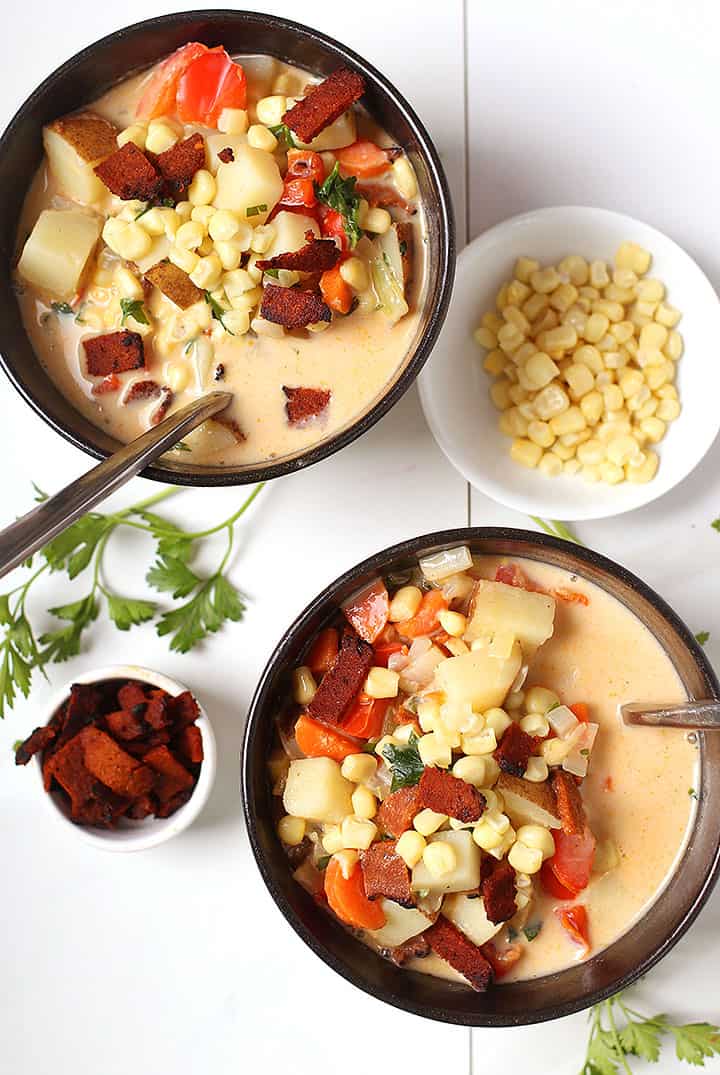 Course:
Soup
Cuisine:
Vegan
Servings
:
6
people
Calories
: 188 kcal
Author
:
Sarah McMinn
1

tbsp. olive oil

1/2

large yellow onion, chopped

1

medium carrot, chopped

1/2

red bell pepper, diced

2

cups

vegetable stock

2

cups

cubed potatoes, (about 2 small Russet potatoes)

3

cups

corn

1

bay leaf

1

tsp. fresh thyme

1

tsp salt

2 1/2

cups

unsweetened soy milk, or non-dairy milk of choice.

1/4

cup parsley, loosely packed

1/4

tsp freshly ground pepper
Heat olive oil in a large soup pot over medium heat. Add onions, carrot, and red bell pepper and sauté, stirring occasionally, for 5 minutes, until the onions are translucent and fragrant.

Add vegetable broth, cubed potatoes, corn, bay leaf, thyme, and salt. Bring to boil and reduce heat to a simmer. Simmer for about 10 minutes until potatoes are tender and easily pierced with a fork. Add soy milk, parsley, and pepper. Cook for an additional 3 minutes, until the soup is heated all the way through.

Serve immediately with fresh herbs and tofu bacon (optional)
Serving and Storing - Let soup cool 10 minutes before serving it. Serve it with fresh ground pepper and crackers. For extra protein, add tofu bacon on the top. Store the soup in an airtight container in the refrigerator for up to 5 days.
Recipe Tips
Keep a close eye on the potatoes; you want to add the soy milk when the potatoes are pierceable with a fork but not overly soft. If they are cooked beyond 10-12 minutes, the potatoes will get mushy.
When corn is at it's freshest, this recipe is best made with corn on the cob. Simply cut the corn kernels off the cob and place them directly in the soup.
Make sure to use unsweetened non-dairy milk. Typically non-dairy milk is slightly sweetened and, when used, creates an overpowering sweetness to this soup.
Variations - This corn chowder is very versatile. That means you can adjust herbs and spices as you please and experiment with different vegetables. Zucchini and mushrooms make a nice addition.
Calories Per Serving:
188
% Daily Value